Spoiler alert: Montreal wins.
OK. Just because we know how the Winter Classic ends doesn't mean the fourth installment of Road to the Winter Classic isn't worth your time.
Mike Condon and Frank Vatrano offer feel-good B-plots, and the Bruins' and Canadiens' throwback sweaters look brilliant in close-up high-def. But in Episode 4, the series circles back to where Episode 1 kicked off — as a P.K. Subban star-making vehicle.
From his impassioned pump-up speech in Tampa to his blunt assessment of former teammate Matt Beleskey, Subban packs the loudest, funniest and most constant voice of the show.
Here are the best moments from the miniseries, which wrapped up Wednesday night. Watch the entire Episode 4 in the player above.
---
Need to catch up on 'Road to the Winter Classic' episodes?
Watch Episode 1 here // Watch Episode 2 here // Watch Episode 3 here
---
Habs should stick to hockey
With the Canadiens trying to bust their slump on the road, the final episode of Road to the Winter Classic opens in sunny Florida — Grapefruit League country. We watch the Habs mess around on a baseball diamond before a match with modern playoff rival Tampa, and we get a bit envious of the pro-athlete downtime fun.
Now, we won't go so far as to say there aren't a lot of Canadiens who grew up playing baseball, but judging from some errant throws and botched catches, most of these guys aren't exactly five-tool players.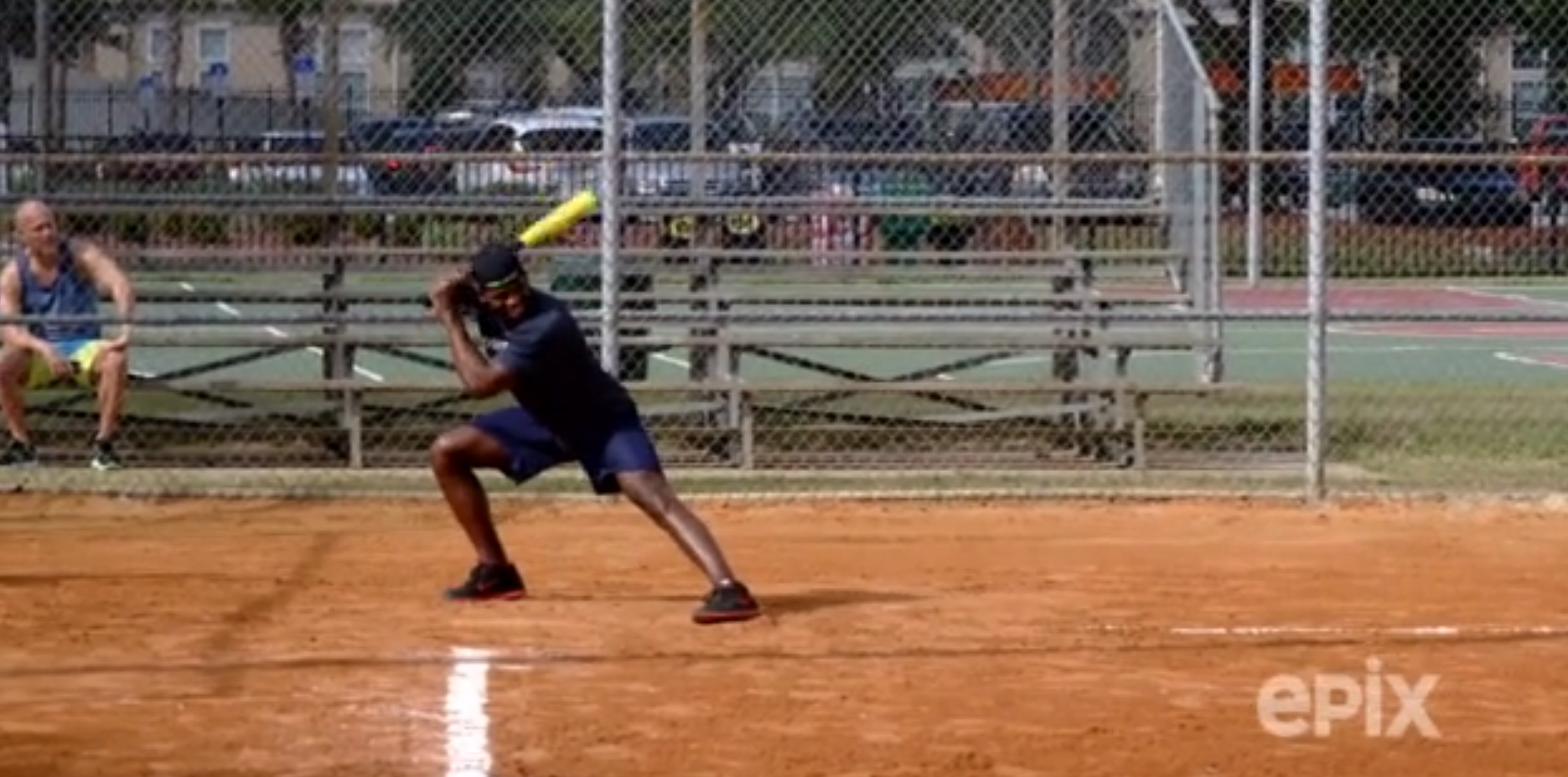 From bleeping Winnipeg!
The best scene from Episode 4, and possibly the whole miniseries, comes early. Subban is charged with announcing the Habs' lineup pump-up rant is worth the price of admission alone.
"Let's [bleeping] go here. Let's [bleeping] go, boys. [Bleeping] startin' up, my [bleeping] boy from [bleeping] Winnipeg — Dale Weise! Let's go. Holy [bleep]."
It worked. Montreal snapped its six-game losing skid with a shootout winner by Max Pacioretty — "The [bleeping] captain! The [bleeping] leader! The [bleeping] man!"
If nothing else, go to the 3:50 mark in the video above now.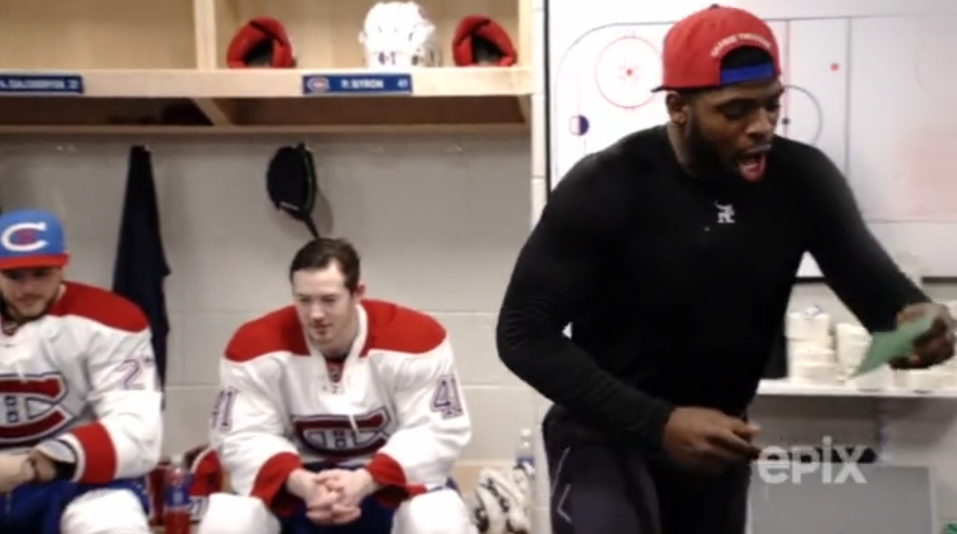 Buy one pizza, get 30 Winter Classic tickets free

Eighty miles west of Boston, 21-year-old Frank Vatrano returns to the family business, a mom-and-pop (literally) pizza joint called Antonio's.
After trying his hand at making a pepperoni pie, the rookie is seen giving a kid at the restaurant 30 tickets so he can take his entire minor hockey team to the Winter Classic.
Marchand's dangerous hit

I was curious to see how Epix would handle Brad Marchand's controversial low hit on Ottawa's Mark Borowiecki and subsequent suspension, which blew his shot at participating in the Classic.
The in-game moment is executed well, and we hear Senators captain Erik Karlsson calmly but assertively plead his team's case with the ref: "That's a dangerous play right there. I think it's a reckless play and intentional."
But we don't get to drop in on Marchand's phone call with player safety, nor see any of his raw reaction to the three-game ban. Just press scrum footage. It's a missed opportunity for compelling TV.
Belichick's hoodie looks good on ice
Bruins coach Claude Julien goes for an open-air skate with Bill Belichick on New Year's Eve and then jokes that since the New England Patriots coach is a left shot, perhaps he could take the suspended Marchand's place on the left wing.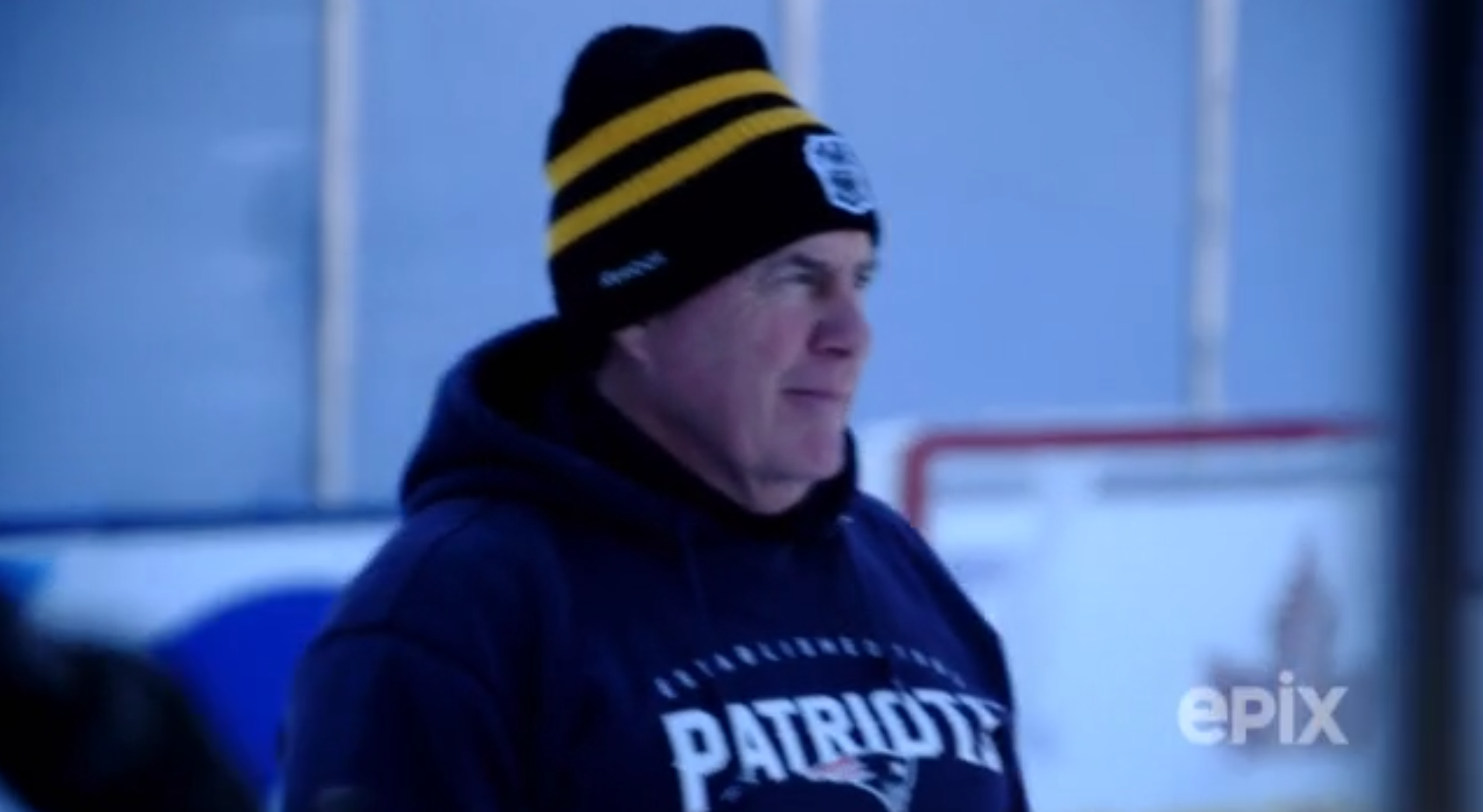 Local boy makes good

Boston native Mike Condon gets the starting nod for the big game, and we really feel how much it means to the young goalie.
"I don't think words can describe it right now," says Condon, checking into his hotel. "It's a very surreal moment."
Even better, Mike's father, Ted, a Boston cop, gets to serve as the Canadiens' police escort into the stadium for practice.
"Hopefully Sarge knows where he's going," Condon chirps his dad.
Don't you know who I think I am?

It took until the fourth episode, but we finally see the MVP grace the RTTWC screen. The injured Carey Price slips on a toque and pops by to visit his teammates and check out the rink, but he's worried about getting his badge so he can walk out to the Gillette field.
"You're Carey Price," Subban scoffs. "You don't need accreditation."
Then we're treated to a making-of documentary of this Subban-tweeted photo, snapped by Price:
Give us more of this, please!
After the Habs bench chirps Boston's Matt Beleskey, Subban and Pacioretty have a little chat about Subban's former Belleville Bulls teammate. It's the best conversation of the show.
Pacioretty: "Is he tough? You played with him, right?"
Subban: "Yeah, he's tough. He's not, like, Wayne Simmonds tough, but he's tough."
Pacioretty: "Oh, so I can get him on my card?"
Subban: "No. You cannot fight Wayne Simmonds."
Boston speeches galore
The documentary does a good job painting the type of leader Zdeno Chara is. With the Bruins trailing after the first period of the Classic, Big Z gives an impassioned speech as he undresses. It's not the first time we've seen this. Chara wants more positivity and encouragement and less negativity from the bench.
Then Julien comes in and warns his team they're risking embarrassing the Bruins fans who braved the cold: "Let's show some pride from the first guy to the last," the coach barks. "This isn't good enough."
With the Bruins still in a hole for the second intermission, the usually silent Patrice Bergeron pipes up, politely but sternly, and goes on a rant of his own: "We grab that puck like we mean it!"
It's intense.
"Are we shaking hands?"
When the game — superbly filmed, as always — ends, it's funny to hear the victorious, mic'd-up Canadiens confused about whether or not they should shake hands. The teams decide to salute fans instead. Always a safe option.