The 2018 NHL Draft Lottery is upon us, but as we find out what the order of the first 15 picks will be when the draft arrives, Sam Cosentino breaks down the top 31 prospects eligible to be picked.
The very top of the draft remains the same, as Swedish defenceman Rasmus Dahlin will not relinquish the label of top prospect in 2018. But the further you go down the list, the more movement there's been from our initial rankings in October.
Here are the top players who could hear their names called in the first round.
[snippet id=3918715]
1. Rasmus Dahlin, D, 6-foot-2, 181 ounds (Frolunda, SHL): He's a one-man band and has essentially made this draft a 2-31 affair.
2. Andrei Svechnikov, RW, 6-foot-2, 188 pounds (Barrie, OHL): OHL Rookie of the Year is quite an honour considering he played in just 44 regular season games, or roughly two-thirds of the season. He can impact the game in several areas. He has size and is incredibly dedicated to the craft.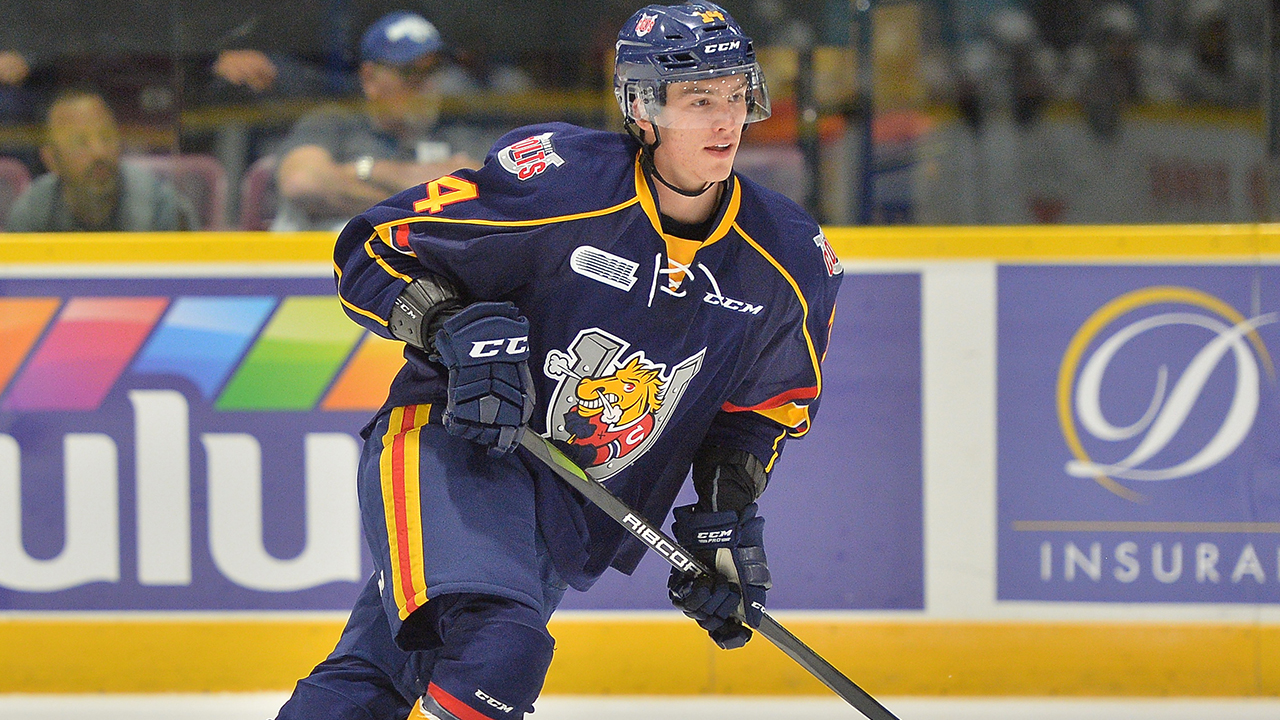 3. Filip Zadina, RW, 6-foot, 195 pounds (Halifax, QMJHL): His innate ability to score goals is translatable in that he knows where to go to get into scoring position. Zadina has pro bloodlines and answered every task asked of him all season in a variety of events.
4. Brady Tkachuk, LW, 6-foot-3, 196 pounds (Boston University, NCAA): All of the elements are in place to become a producing power forward who is responsible enough to play in all situations. Oh, and he'll be good at drawing the opposition's attention, too.
5. Adam Boqvist, D, 5-foot-11, 168 pounds (Brynas Jr, Sweden): Much is made about the new-age defenceman and no doubt he fits that bill, but it's his goal scoring ability that separates him from the crowd.
6. Oliver Wahlstrom, RW, 6-foot, 205 pounds (USNTDP): Everything we've heard all season long was confirmed with a stellar U-18 performance. He can score and score in bunches.
7. Noah Dobson, D, 6-foot-3, 180 pounds (Acadie-Bathurst, QMJHL): Playoff point production is down, but that doesn't mean he hasn't been effective. An all-around game that is good at the junior level, but has so much room to grow.
8. Evan Bouchard, D, 6-foot-2, 193 pounds (London, OHL): Did more than enough in the regular season to earn his meteoric rise up everyone's list. He thinks the game well well, shoots the puck a ton, and is as strong as an ox, which will allow him to log big minutes down the road.
9. Quinn Hughes, D, 5-foot-10, 170 pounds (University of Michigan, NCAA): There's no denying his play with the puck. He has power play QB potential because of elite puck poise and puck-moving abilities.
10. Barrett Hayton, C, 6-foot-1, 190 pounds (Sault Ste. Marie, OHL): Continues to improve on a daily basis, he has undercover skill and is world-class when it comes to character. He's a top-15 pick all day, but is helped by a weaker centre crop.
11. Joel Farabee, LW, 5-foot-11, 164 pounds (USNTDP): Perfect combination of work ethic, production and character. He will have to add to his slight frame.
12. Ty Smith, D, 5-foot-11, 175 pounds (Spokane, WHL): Class and character best describe Canada's U-18 captain. Smith performed well for Spokane in the playoffs before heading overseas. One of the best skaters in the draft he has a never ending thirst to improve.
13. Joe Veleno, C, 6-foot-1, 195 pounds (Drummondville, QMJHL): Got back on track after being moved to Drummondville. He's never performed at "exceptional player" levels, but he's played well at every calling and should end up being a solid pick.
14. Bode Wilde, D, 6-foot-2, 195 pounds (USNTDP): Big shot, wild pony who is a bit risky even for those who enjoy the new-aged defencemen. Uses size to add bite to his game.
15. Serron Noel, RW, 6-foot-5, 205 pounds (Oshawa, OHL): A player who saves his best for games, Noel has everything required to be a power forward at the next level. It's the rawness that speaks to a high ceiling.
[snippet id=3816507]
16. Grigori Denisenko, LW, 5-foot-11, 176 pounds (Yarolsavl Jr, Russia): Mysterious circumstances surrounding his absence from the U-18s aside, when he's on his game, he has world-class speed, skill and hands.
17. Martin Kaut, RW, 6-foot-1, 176 pounds (Pardubice, Czech): The eye test says he looks like a pro. Has good compete, rarely takes shifts off and plays an honest game in an underrated Czech league.
18. Jared McIsaac, D, 6-foot-1, 196 pounds (Halifax, QMJHL): Rebounded slightly at the U-18s after having slipped some in the second half of the regular season.
19. Jesperi Kotkaniemi, C, 6-foot-1, 188 pounds (Assat, Finland): Has been on an upward trend dating back to the Ivan Hlinka tournament last August. Displays some heaviness in his game.
20. Mattias Samuelsson, D, 6-foot-3, 217 pounds (USNTDP): There's lots of room in the game for someone who is adept on the defensive side of the puck, with leadership capabilities and unearthed offensive upside.
21. Rasmus Kupari, C, 6-foot-1, 183 pounds (Karpat, Finland): A very difficult player to scout as he barely played at the world juniors and was scratched on several occasions while playing in Finland's top men's league.
22. Vitali Kravtsov, RW, 6-foot-2, 170 pounds (Chelyabinsk, KHL): No world juniors hurt and limited time in the KHL didn't help either. He made plays, created and produced when given the opportunity. It just happened that most of the opportunity came in the playoffs.
[relatedlinks]
23. Isac Lundestrom, C, 6-foot, 185 pounds (Lulea, SHL): A solid pick for his ability to play a two-way game with good energy. Does the skill set project him to be in your top six? If not, are you OK with the back-up plan of a responsible third line centre?
24. K'Andre Miller, D, 6-foot-2 206 pounds (USNTDP): Upside is too much to ignore when you consider the size, skating ability, and athleticism. Has cleaned-up his game from the start of the season.
25. Rasmus Sandin, D, 5-foot-11, 184 pounds (Sault Ste. Marie, OHL): Another elite puck mover who makes quick decisions and passes with pace. Underrated defender who benefitted moving to the OHL.
26. Benoit Olivier-Groulx, C, 6-foot 192 pounds (Halifax, QMJHL): Solid two-way player, with great work ethic and determination. Improving on first-step quickness will be key moving forward.
27. Akil Thomas, C, 5-foot-11, 171 pounds (Niagara, OHL): Not sure if he'll play centre or the wing at the next level. He is a jack-of-all-trades player who understands the game well. Could stand to be more selfish at times.
28. Dominik Bokk, LW, 6-foot-1, 180 pounds (Vaxjo, Sweden Jr.): Not easy to play out of country, but necessary in this case to forward his cause. Playmaker with speed and skill will get people talking about German hockey again.
29. Ryan McLeod, C, 6-foot-2, 203 pounds (Mississauga, OHL): One of the most fascinating players in this draft class. At this point, the parts are greater than the sum. If and when it all comes together, you have a player who should impact the game at the next level.
30. Jacob Olofsson, C, 6-foot-2, 192 pounds (Timra, Allsvenskan): A safe pick who possesses size at the centre position. He has produced at second line centre levels, but that may be a bit of a stretch at the next level.
31. Ryan Merkley, D, 5-foot-11 170 pounds (Guelph, OHL): If this were a mock draft, it might be a different story, but based on pure skill alone, Merkley is a first-rounder. There are many layers to this onion.