The year of the defenceman.
That's the way it's shaping up early in our evaluation of the top prospects available for the 2018 NHL Draft.
Rasmus Dahlin of Frolunda still leads the entire pack and for good reason — he has everything you'd crave in a blueliner in the new NHL.
If Dahlin needed any more validation of his skills there's talk that Sweden may take him to the Olympics in Pyeongchang.
And while Dahlin is the best of the crop he's not the only high-end blueliner up for grabs this year. In my rankings for November (Sam Cosentino and I will alternate publishing the monthly lists) I have 13 defencemen in the top 31 and I could have made the case for the inclusion of four or five more.
[snippet id=3700369]
Last year we saw defenceman Miro Heiskanen rise all season long and up getting picked third by Dallas and many scouts wonder if Noah Dobson of Acadie-Bathurst could play that role in this year's draft. Just about every scout I talk to who views Dobson gushes about his potential.
But it's a long season and these lists won't really start to take a sharp focus until the New Year after we've seen more club play and international competition.
1. Rasmus Dahlin, D, (Frolunda, SHL): Every game he plays produces a new highlight reel for the Internet. His talents can't be overstated. Skill, skating, size, creativity, physicality, Dahlin is the total package. Is he the best 17-year old blue line talent the country has ever produced? Many say yes.
2. Andrei Svechnikov, RW, (Barrie Colts, OHL): Currently out eight weeks with a broken hand. Won't alter his draft stock one bit. Dynamic, supremely skilled player who can impact a game quickly.
3. Filip Zadina, RW, (Halifax Mooseheads, QMJHL): Such a skilled player. Moves around the rink easily and finds open ice quickly. Has a great snap shot.
4. Adam Boqvist, D, (Brynas, SHL): Described by some as the most Erik Karlsson-like player to come out of Sweden. That's the comparison that keeps coming up when you talk to scouts.
5. Brady Tkachuk, C, (Boston University, NCAA): A really tough player to play against and loves it best when the game gets a little dirty. Has skills and instinct to go along with the toughness.
6. Joe Veleno, C, (Saint John Sea Dogs, QMJHL): Quick, plays with pace and is an above average skater. Plays the 200-foot game and can stickhandle in a phone booth.
7. Quinn Hughes, D, (U of Michigan, NCAA): Ideal blueliner for the way the game is played now. Can create offence out of thin air. Supremely skilled and quick.
8. Rasmus Kupari, C, (Karpat, Liiga): This right shot centre has a great set of hands and speed to go along with it.
9. Jared McIsaac, D, (Halifax Mooseheads, QMJHL): Plays with a nasty edge and moves pucks with purpose and intelligence.
10. Bode Wilde, D, (USNTDP): Having a great season with the NDP. Great offensive player with a wicked shot.
[snippet ID=3322139]
11. Jack McBain, C, (Toronto Junior Canadiens, OJHL): A big kid with the skills of a smaller player. Is dominating at the Junior A level. Could use more challenging competition to take his game to the next level. Loaded with potential.
12. Oliver Wahlstrom, RW, (USNTDP): A skilled, natural goal scorer, Wahlstrom gets to pucks quick. An offensive force.
13. Evan Bouchard, D, (London Knights): His shot is a weapon and can run an effective PP. Very calm with the puck. Really high ceiling here.
14. Joel Farabee, LW, (USNTDP): Plays both ends of the ice and has a natural ability to find the back of the net.
15. Ty Smith, D (Spokane Chiefs, WHL): A really smart player, smooth skater and tone setter.
16. Noah Dobson, D, (Acadie-Bathurst Titan, QMJHL): An effortless and quick skater who moves the puck efficiently. His wheels and good stick keeps players away from danger areas.
17. Ryan McLeod, C, (Mississauga Steelheads, OHL): Like his brother Mike (Devils first rounder from 2016), Ryan loves the puck on his stick. Where is older sibling uses his physicality to get to the net, Ryan uses his smarts and natural finishing ability.
18. Akil Thomas, C, (Niagara Ice Dogs, OHL): Has physical gifts and the tools to play a strong, well-rounded game. A really quick player.
19. Isac Lundestrom, C/LW, (Lulea, SHL): Has had a great start to his season and is already one of the top players with Lulea. Creates offence and scores big goals.
20. Allan McShane, C, (Oshawa Generals, OHL): A really smart player with great vision. Has a great release and just needs to fire it more.
[relatedlinks]
21. Jet Woo, D, (Moose Jaw Warriors, WHL): With Josh Brook injured, Woo has been the Warriors' best defenceman. A throwback player who loves to hit, Woo also has a good first pass and can skate out of trouble. His father Larry played with Victoria and Swift Current.
22. Benoit-Olivier Groulx, C, (Halifax Mooseheads, QMJHL): Nothing flashy about Groulx, but is solid at all aspects of the game. Positionally sound and unselfish.
23. Jacob Olofsson, C, (Timra, Hockey Allsvenskan): A speedy centre who can both distribute and score off the rush with a deadly shot. His line in Timra with draft eligible Filip Hallander and Canucks prospect Jonathan Dahlen has been on fire this season.
24. Jesperi Kotkaniemi, C, (Assat, Liiga): Physically mature and has a great internal drive. Kotkaniemi is a strong skater with good separation speed.
25. Barrett Hayton, C, (Sault Ste. Marie Greyhounds, OHL): He gets himself into scoring areas easily and can really fire it when he gets there. Strong, but needs to engage more physically.
26. Serron Noel, RW (Oshawa Generals OHL): A highly skilled player with a large frame who is only scratching the surface of his talent. Can beat players one-on-one. Father was ex-CFL running back "Dean, Dean the Touchdown Machine" Noel.
27. Ryan Merkley, D, (Guelph Storm, OHL): The good: he can make passes and plays that most NHLers can't. The bad: his play away from the puck. We know he can play in one zone, but the question is, does he want to play in all three?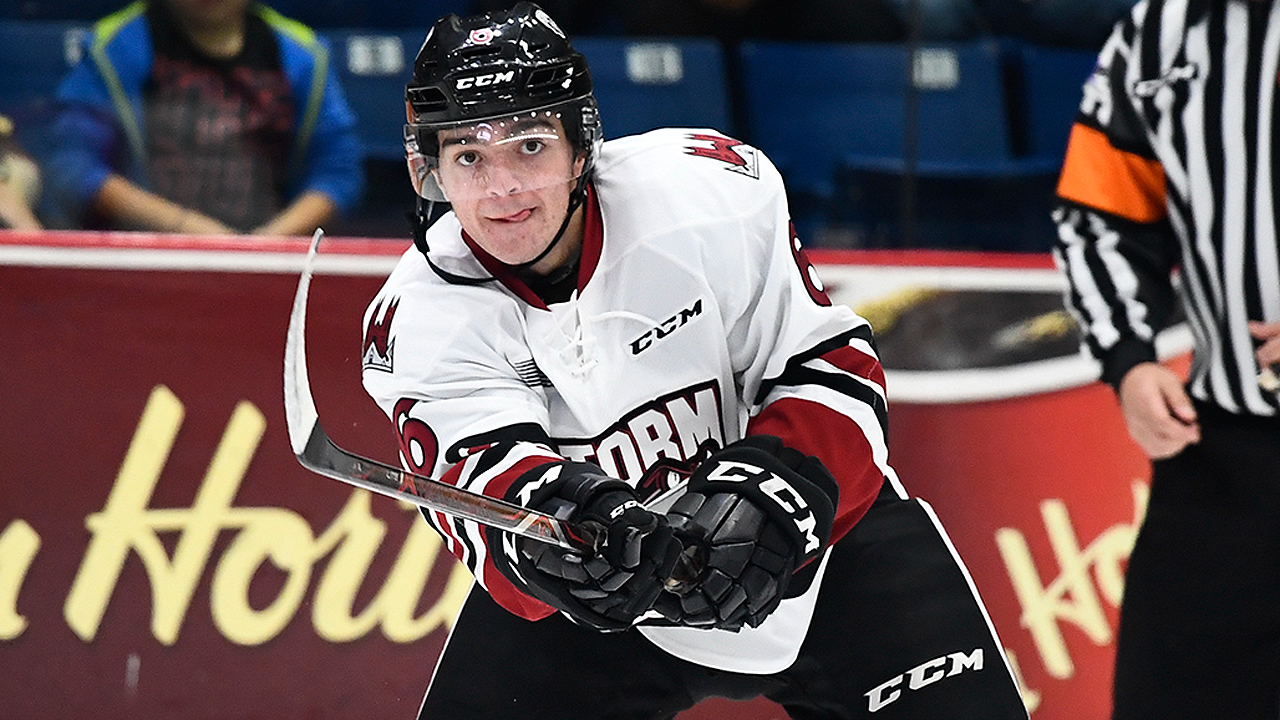 28. Calen Addison, D, (Lethbridge Hurricanes, WHL): This right shot defenceman was one of the reasons Canada won gold at the Ivan Hlinka this past summer. His 5-foot-10, 179-pound size is an issue for some, but his skill compensates.
29. Grigori Denisenko, LW, (Yaroslavl Loko, MHL): Still needs to fill out his 5-foot-10, 165-pound frame, but has legit skills. Can create and finish.
30. Rasmus Sandin, D, (Sault Ste. Marie Greyhounds, OHL): Smart, smooth skater who can jump-start an offence from his own zone in transition.
31. Mattias Samuelsson, D, (USNTDP): A second-generation player who takes care of his own zone first. Physically he's already set for the next level.