In a playoff season that had its share of upsets, improbable goalie performances, overtimes and Game 7s we end up with a terrific matchup between the defending Stanley Cup champions and a first-time finalist.
The Penguins survived the Eastern Conference with plenty of injury problems, including starting the playoffs without both their top defenceman and No. 1 goalie. Most teams couldn't survive a hit like that. But with a sum-of-its-parts defence and a couple of superstars up front, Pittsburgh found a way to eliminate Columbus in five games, and Washington and Ottawa in seven.
The Predators broke through for the first time as the eighth seed in the West and the No. 16 seed overall with their 94 points. But don't mistake them as some fluke. Pekka Rinne has been excellent, sure, but the Predators' biggest strength is Pittsburgh's biggest weakness, their defence. With a collection of blue-liners that can do everything at both ends of the ice, Nashville upset Chicago in a shocking sweep and then got past St. Louis and Anaheim in six games each.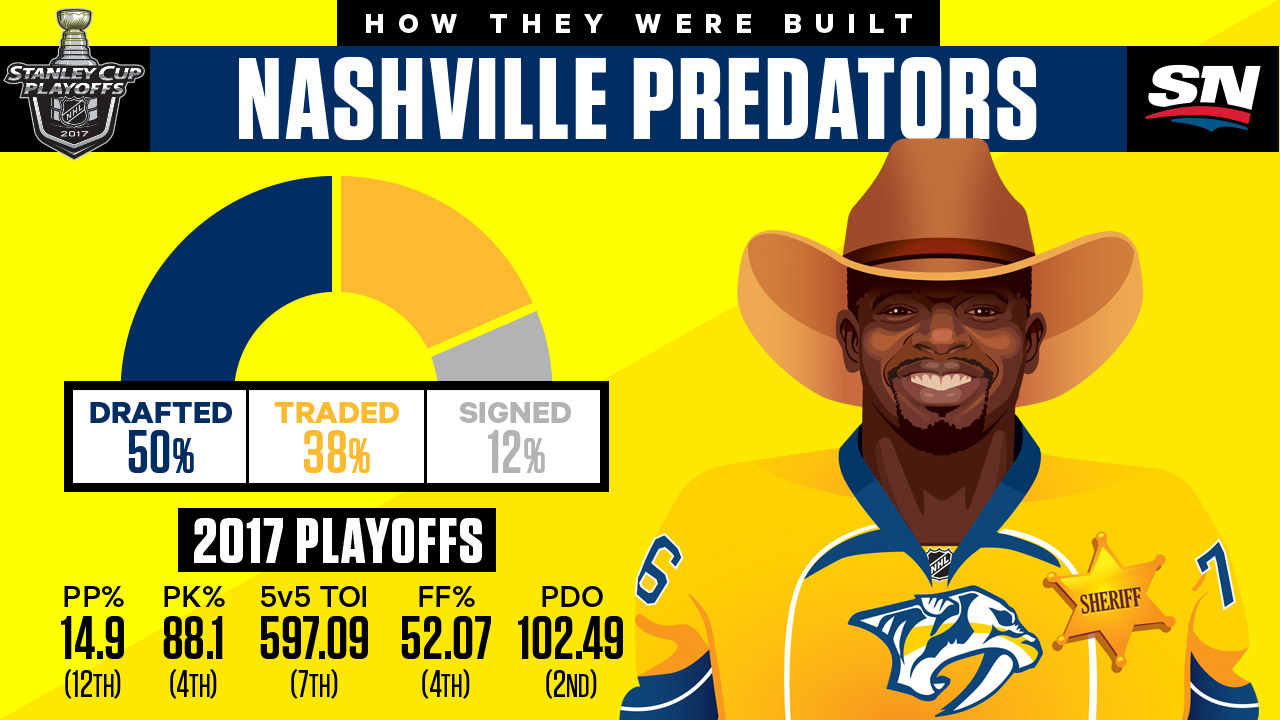 Here's the story heading into the Stanley Cup Final for both teams.
ADVANCED STATS (playoffs)
Nashville: 51.07 5on5 CF% (8th), .945 5on5 Sv% (3rd), 8.93 5on5 Sh% (2nd)
Pittsburgh: 42.04 5on5 CF% (16th), .929 5on5 Sv% (10th), 9.59 5on5 Sh% (1st)
TEAM STATS (playoffs)
Nashville: 14.9 PP% (12th), 88.1 PK% (4th), 2.94 GF/GP (1st), 1.81 GA/GP (1st)
Pittsburgh: 23.6 PP% (3rd), 84.9 PK% (9th), 2.89 GF/GP (3rd), 2.21 GA/GP (5th)
HEAD-TO-HEAD RECORD
Nashville: 1-1-0
Pittsburgh: 1-1-0
INJURY NOTES
Nashville: The biggest loss for the Predators is, of course, No. 1 centre Ryan Johansen, who nonetheless was part of the Clarence Campbell Bowl celebration. Johansen is out the rest of the Stanley Cup Playoffs with suffered compartment syndrome in his left thigh.
Kevin Fiala is also out for the remainder of the playoffs after sustaining a fractured femur in Game 1 of Nashville's second-round series against St. Louis.
Mike Fisher is day-to-day with an undisclosed injury that kept him out of Nashville's lineup for the last two games of the Western Conference Final. Craig Smith also remains day-to-day with an undisclosed injury that has kept him out of the lineup since May 7 against the Blues — although he was on the ice for pre-game warmups prior to Game 6 of the West final. The Predators are optimistic both will be ready for Game 1 of the Stanley Cup Final.
Pittsburgh: Patric Hornqvist, Justin Schultz, Tom Kuhnhackl and Chad Ruhwedel each missed most or all of the Eastern Conference Final. Schultz was the only one who returned to the lineup for Game 7, scoring a goal and adding an assist on the OT winner. Hornqvist's availability for the Stanley Cup Final is unknown, but he did return to morning skate with the Penguins on Thursday.
Welcome back to team skate, Patric Hornqvist! pic.twitter.com/B5t93L3qEo

— Pittsburgh Penguins (@penguins) May 25, 2017
And of course, star defenceman Kris Letang has missed the entire Stanley Cup Playoffs with a neck injury and will not return. Sidney Crosby and Conor Sheary are healthy now, but it's worth noting both have suffered concussions during this run.
TOP STORY
Nashville: This marks the first time the Predators franchise has reached the Stanley Cup Final. It's also the first time their general manager, David Poile, has made it this far after more than 40 years in the business — his Washington Capitals reached the final right after he left. The only GM the Preds have ever had, Poile has for years built competitive teams on a budget in Nashville and has a reputation for being an excellent trader (see Forsberg-for-Erat). He has a long history of running a team that has drafted and developed top-notch defenders, which these Predators are all about. But their best blue-liner came via trade.
The 2017 Stanley Cup final may go down as a decisive moment in the post-P.K. Subban-for-Shea Weber trade debate. Should the Predators win the Cup in Year 1 of this major change, and with the Habs facing some difficult decisions and an apparent closing window in the next two to three years, it would be impossible to say Montreal came away winners. And if Subban wins the Conn Smythe? Hoo boy.
More than anything, Nashville has earned some long-overdue attention from die-hard hockey fans in other markets, who are realizing something followers of the Predators have known for years: This is not only a hockey market, but a unique hockey market. The atmosphere in and around Bridgestone Arena is unlike any other in the NHL and with a fun, underdog group on the ice, Nashville is an easy team to like.
Stanley Cup Final Preview ft. Justin Bradford
May 26 2017
Pittsburgh: The Penguins seek to become the first back-to-back Stanley Cup champions since the Detroit Red Wings in 1997 and 1998. In the salary cap era, and especially at the end of a playoff season that has advertised parity in the NHL, a Penguins repeat would stand out even more with that context.
The story with this team, however, is how they've gotten this far with a ragtag group of blue-liners that are led by Justin Schultz in points, a player who didn't even stick with the Edmonton Oilers at their low point. Not only that, but Schultz was one of the many Penguins players who missed playoff time with an injury, sitting out four games in the Eastern Conference Final. Brian Dumoulin and 36-year-old playoff-rookie Ron Hainsey average the most time on ice, but Olli Maatta was given the most in Game 7. A true blue-line by committee. The defence was recognized as Pittsburgh's chief weakness when they won the Cup last year, but at least they still had Letang.
With Marc-Andre Fleury highly likely to move on this summer, the Penguins will have an opportunity to use that cap space to improve the defence, so they might be able to come back even better next season. When the Crosby/Malkin Pens won their first Cup in 2009, it was seen as a passing of the torch from one great team (Detroit) to another and a run of championships could be envisioned. Since then, Chicago and Los Angeles emerged as powerhouses, but the Penguins would take that crown back with another win. Malkin (30) and Crosby (29) are getting up there in age, but are still young enough (and clearly good enough) to win more.
CONN SMYTHE CANDIDATES
Nashville:
1. Pekka Rinne: Has been helped by a great defence corps in front of him, but Rinne has been a brick wall for Nashville from the first game of the playoffs. His .941 save percentage is the best of any starting goalie this post-season as is his 1.70 GAA. His save percentage has fallen each series, but that more has to do with how incredible he was against Chicago in Round 1. Against Anaheim, Rinne still posted a .925 SP.
2. Filip Forsberg: Nashville's top scorer with 15 points in 16 games, Forsberg has been their most dominant possession player and leads the team with 53 shots — which is third in the NHL to Phil Kessel and the eliminated Jakob Silfverberg. Forsberg's 14 even-strength points are the most of any forward still playing.
3. P.K. Subban: Johansen would have fit in here had he not gone down with an injury, but Subban also fits the bill. Just one point behind the team leader for scoring among defencemen with 10, Subban has really excelled as a shutdown defender against opposing teams' top forwards in the first three rounds.
Pittsburgh:
1. Sidney Crosby: To see the impact Crosby has had, look no further than Jake Guentzel, who is your league leader in playoff goals with nine — Crosby makes others around him better. He is tied with Malkin for the most even-strength points on the Penguins with 12 (in one less game played), and gets the most ice time of any Pittsburgh forward.
2. Evgeni Malkin: Leads the Penguins in total points by five over Crosby, but the reason why he's ranked below No. 87 is because many of those points were bunched in the first round. Malkin earned 11 points against the Blue Jackets in Round 1, and in the East final he got most of his production in a 7-0 romp.
3. Phil Kessel: Penguins team leader in shots on goal, Kessel has been a consistent producer throughout the post-season. Had Fleury not lost the crease to Matt Murray he'd make this list, but with the goalie out Kessel is the best forward option. No one from the depleted blue-line will be winning the Conn Smythe on this team.
X-FACTOR
Colton Sissons: The loss of Johansen was devastating and although no one player can fill that hole in the lineup, as Andrew Berkshire pointed out for Sportsnet, at least the Predators have options to try and bridge some of the gap. Enter Sissons, who got an assist in the first game Johansen missed, and then scored a hat trick in the series-clincher against Anaheim.
Matt Murray: Breaking news: As good as Fleury was to get the Penguins to the Eastern Conference Final, Murray was the better goalie all along. Coming back from injury in a Game 3 relief appearance for Fleury, Murray took the reins in Game 4, making 24 saves in a 3-2 win, then shut out Ottawa in Game 5. He didn't allow more than two goals against in a game to close out Ottawa. He's fresh after not having to play through the grind of the first two rounds.
[relatedlinks]