If the St. Louis Blues are going to conquer their recent run of playoff disappointments, they're going to have to do so against the most successful team of this era.
The Blues have won just one playoff series since the 2002-03 season and have been eliminated in the first round, despite fantastic regular-season success, three straight seasons.
Chicago, on the other hand, has won three Stanley Cups since the 2009-10 season and are the defending champions after beating the Tampa Bay Lightning in the Cup final last year.
Broadcast Schedule: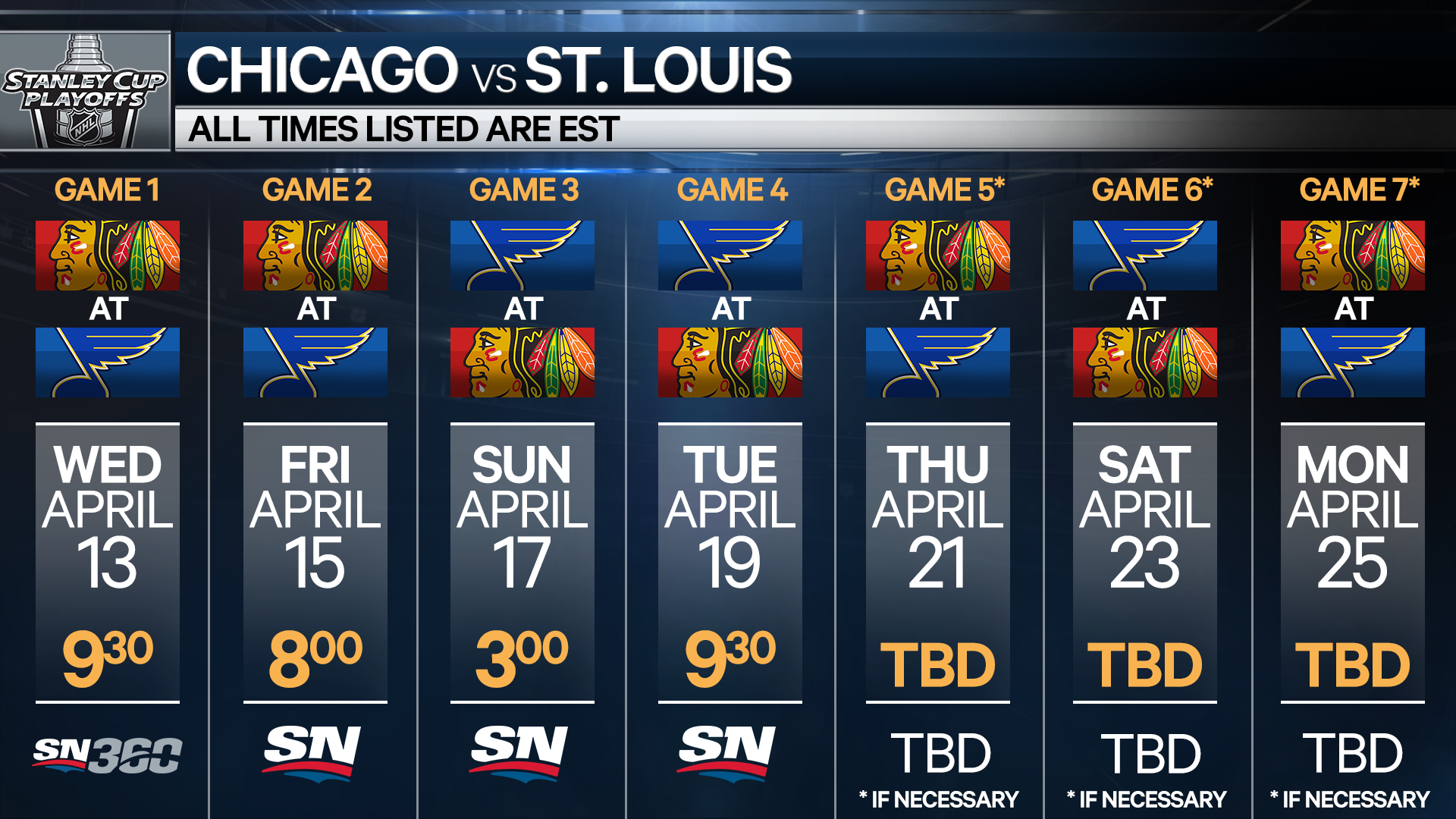 • Mark Spector covers the series for sportsnet.ca
The Blues could be catching Chicago at the right time as star defenceman Duncan Keith (suspension) will not play in Game 1 of the series, while longtime starting goalie Corey Crawford is just returning from a lengthy absence following an upper-body injury.
But will the Blues get enough scoring or goaltending? And can they shut down the Blackhawks' deep and dynamic group of scorers?
Here's a look at how the two teams match up.
ADVANCED STATS:
St. Louis: 5on5CF% – 52.1; 5on5Sv% – .933; 5on5Sh% – 7.06; PDO = 100.4
Chicago: 5on5CF% – 50.7; 5on5Sv% – .930; 5on5Sh% – 6.66; PDO = 997
(via stats.hockeyanalysis.com)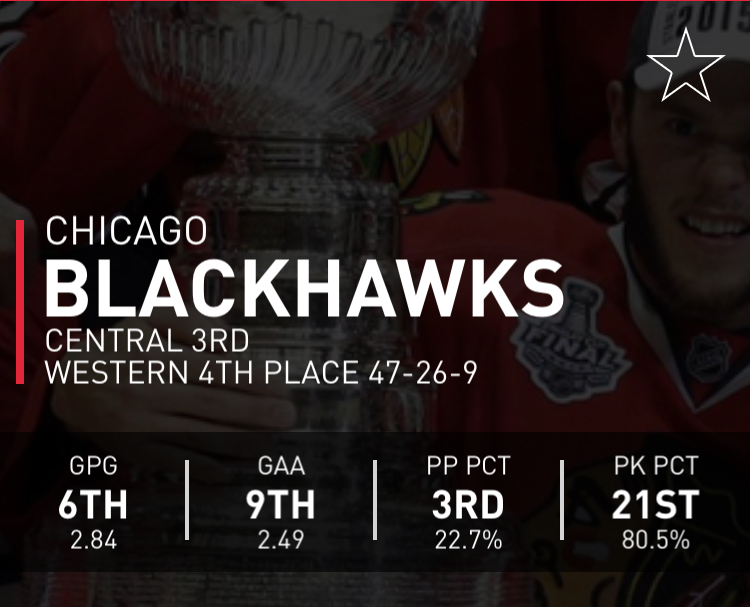 Head-to-head
St. Louis: 3-2-0
Chicago: 2-0-3
LAST GAME PLAYED HEAD-TO-HEAD:
Blues sniper Vladimir Tarasenko scored twice, including the overtime winner, to beat the Blackhawks 2-1 on Apr. 7.
LAST TIME THEY MET IN THE PLAYOFFS:
The Blues and Blackhawks went head-to-head in the first round of the 2014 playoffs.
In identical fashion to this season, St. Louis finished second in the Central Division and ended the regular season four points up on Chicago.
The Blues opened the series by winning two straight — both coming in overtime on goals from Alex Steen (triple OT) and Barret Jackman — but once the matchup shifted to Chicago, the Blackhawks took over.
Corey Crawford started the turnaround with a Game 3 shut out and the Blackhawks swung the series when Jonathan Toews scored an overtime winner on a breakaway, past goaltender Ryan Miller, to win Game 5. The Blackhawks wrapped up the series with a 5-1 victory in Game 6.
ST. LOUIS' HIGHLIGHT OF THE YEAR:
Marko Dano is no longer on the Blackhawks but he was the victim of an unbelievable goal line save from Jake Allen when the Blues played Chicago in November.
CHICAGO'S HIGHLIGHT OF THE YEAR:
There were many highlight-reel plays involving Patrick Kane or rookie sensation Artemi Panarin, so we tried to find a highlight that included the two of them. This beautiful tic-tac-toe between them and forward Artem Anisimov was a picturesque play that perfectly depicted the Blackhawks' season.