The Dallas Stars secured the top seed in the Western Conference on Saturday night and the Central Division winners have an interesting matchup as they kick off the Stanley Cup playoffs.
For those who forget, the Stars franchise originated in Minnesota (they were called the North Stars back then) before the club relocated to Dallas for the start of the 1993-94 season.
Minnesota eventually got a new franchise, the Wild, and there will definitely be some revenge on the minds of local hockey fans (at least, the older ones) when the Stars come to town for the post-season.
The Wild and Stars played each other pretty closely during the regular season, evidenced by three of their five games going to overtime. Dallas will be a fascinating team to watch because they scored more goals than any other playoff team, but also allowed the highest number of goals.
The health of Tyler Seguin is another key storyline as the 24-year-old forward has been out since Mar. 17 with an Achilles injury.
Here's a look at how the two teams match up.
ADVANCED STATS:
Dallas: 5on5CF% – 52.6%; 5on5Sv% – .918%; 5on5Sh% – 7.89%; PDO = 99.8
Minnesota: 5on5CF% – 47.7%; 5on5Sv% – .930%; 5on5Sh% – 7.74%; PDO = 100.8
(via stats.hockeyanalysis.com)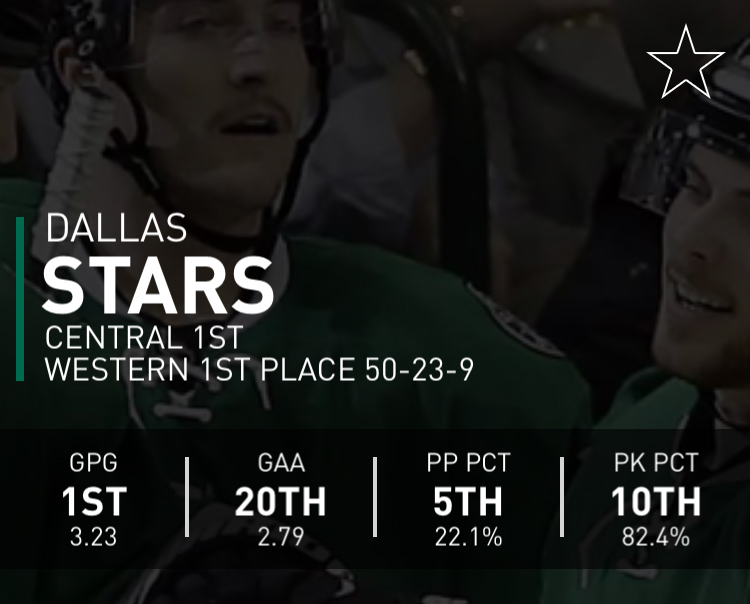 Head-to-head
Dallas: 4-0-1
Minnesota: 1-1-3
LAST GAME PLAYED HEAD-TO-HEAD:
Kari Lehtonen made 37 saves and John Klingberg scored in overtime to give the Ducks a 4-3 OT win against the Wild on Feb. 9.
LAST TIME THEY MET IN THE PLAYOFFS:
The Wild and Stars have never faced off in the post-season.
DALLAS' HIGHLIGHT OF THE YEAR
Jamie Benn not only led Dallas in goals and points, but he did it in style as the Stars captain deked past a sliding defenceman before beating Flames goaltender Karri Ramo with a slick move to his backhand.
MINNESOTA'S HIGHLIGHT OF THE YEAR
Two of Minnesota's top forwards connect as Mikael Granlund fires a ridiculous saucer pass off his back foot to Zach Parise, who goes top shelf after a beautiful individual move to score on the Blue Jackets.