The hours and minutes are ticking down until the most high profile unrestricted free agent in the salary cap era chooses his destination, and we find out which team of the six that he met with John Tavares decides he wants to play for.
We already know how he fits in Long Island, so I don't think it makes much sense to break that down, but of the five other teams bidding for his services, is Tavares guaranteed to even be the first line centre?
When I ranked the NHL's centres at the beginning of last season, Tavares finished sixth, sandwiched between Boston's Patrice Bergeron at five and Tampa Bay's Steven Stamkos at seven. Both those teams are in the running to be his next team, so one of the questions that must be on his mind is whether he will get the ice time he's used to.
In order to address that, and also to see which team would benefit the most at the top of the lineup from signing him, we can compare him to the top line centres of the five teams trying to lure him away from the Islanders.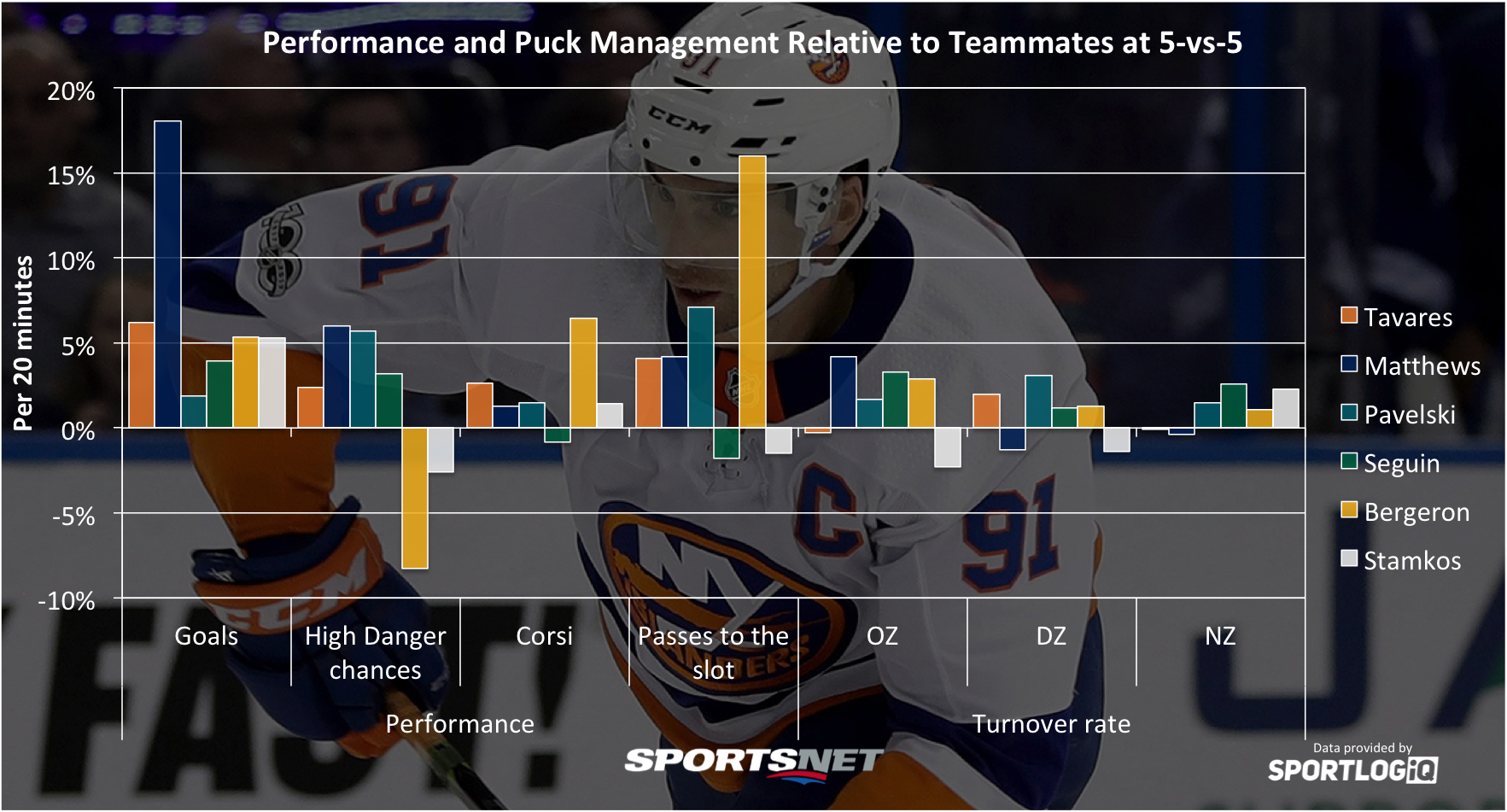 While Tavares manages to come out favourably in almost every category, he didn't blow the doors off the field in any of these measures last season. Auston Matthews had an absurd season in on-ice goal differential compared to the rest of the Maple Leafs, partially driven by on-ice percentages to be sure, but he also has one of the best high danger scoring chance differentials in the NHL over the last two seasons. On a team that dominate passes to the slot both in terms of creating them offensively and maintaining a positive differential, he stood out.
Bergeron had an off year in high danger chance differential, but he made up for it by being the best player in the NHL at controlling slot passes. No one else is even comparable.
Overall Tavares ranked second in goals for percentage relative to teammates, fourth in high danger chances, second in Corsi, and fourth in on-ice passes to the slot. He doesn't seem to be dangerous with the puck as his turnover rates aren't too far from team average, and are a bit better in the defensive zone. That's not bad considering the strength of the field, but I'm not sure it answers any of our questions. We'll have to dig a little deeper to see which players Tavares is clearly superior to.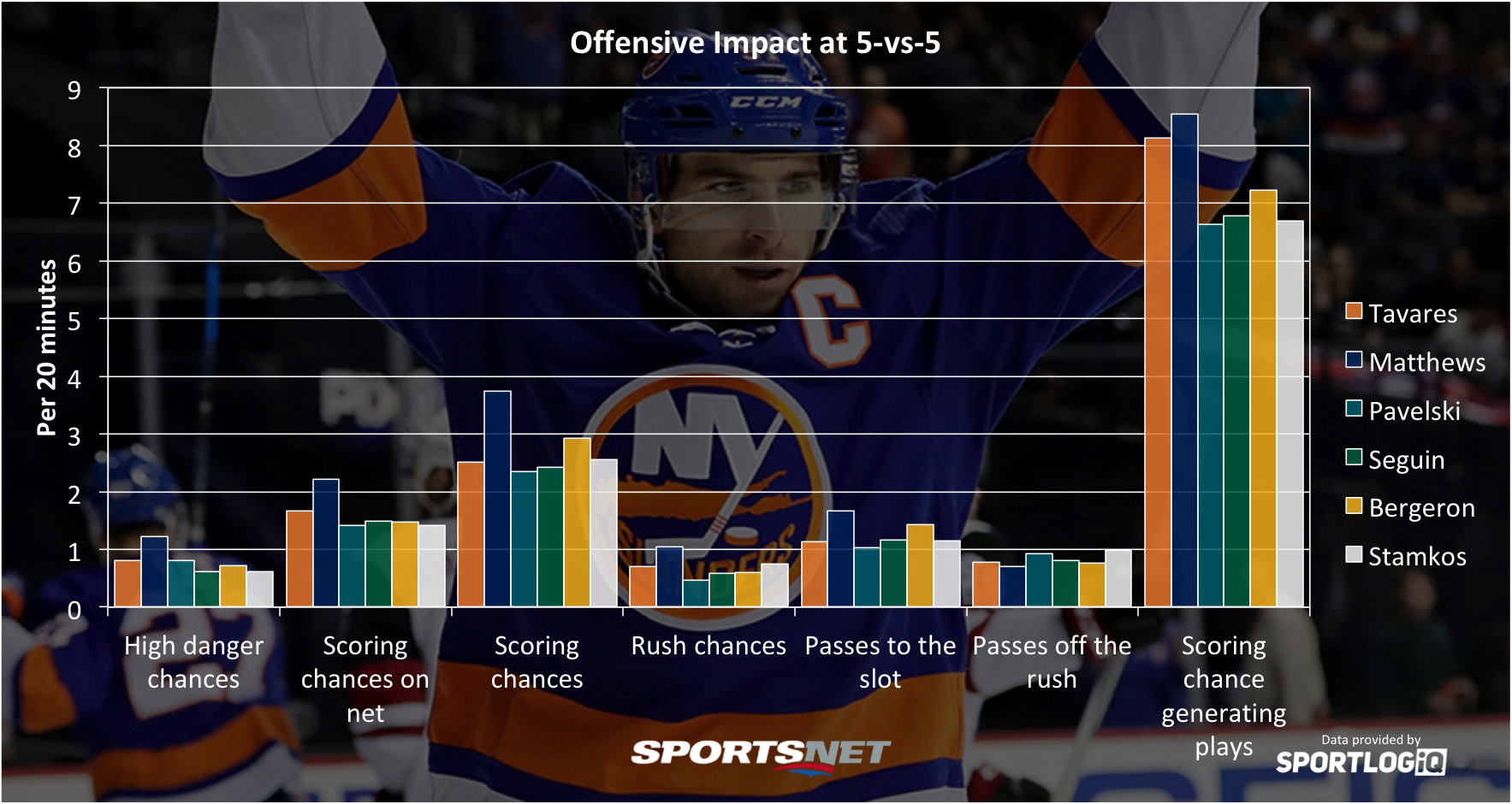 Offence is what Tavares is known for, so it should be no surprise that he's one of the most potent players in the NHL when in the offensive zone, but one thing that immediately stands out here is that he isn't Auston Matthews at 5-vs-5.
Matthews leads the pack in every single stat here except for passes off the rush, which is due to the fact that Nylander is the one carrying the puck into the offensive zone more often than not on Matthews' line. As great as Matthews is as a shooter, his playmaking has untapped potential. Because of this, we can assume that, at 5-vs-5 at least, should Tavares join the Leafs, he would clearly be the second-line centre if we're judging by offence.
Though Bergeron gets more scoring chances overall than Tavares does, and completes more passes to the slot, Tavares is more exacting with his shots and passes. That leads to more of his scoring chances getting on net, from slightly better areas, and he creates the second-most scoring chances for his teammates of all these players.
Based on that, Matthews is the only one who seems solidly above him so far, but we also need to look at play without the puck.
Tavares has taken great leaps in his play without the puck in recent years, though he was better in 2016-17 than he was last year. In fact in 2016-17 he was one of, if not the most effective defensive forwards in the entire league.
Last season he remained strong, but on an Islanders team that was particularly bad defensively, his individual statistics suffered as well.
What's interesting in looking at the plays without the puck by this group isn't that Patrice Bergeron crushes everyone, that's to be expected. It's that Auston Matthews looks almost comparable. Matthews is once again far ahead of Tavares in impact in this area, and Bergeron's contributions here also might be enough to push him ahead.
With those two excluded though, Tavares leads the pack in offensive and defensive zone loose puck recoveries, and successful stick checks. He's not a great body checker or shot and pass blocker, but overall I think we can say that he would be the top centre at even strength for every team pursuing him except for Boston and Toronto.
Ironically, that probably means those two teams stand to gain the most by signing him, which would allow Tavares to face secondary assignments and tear teams to shreds.
Ultimately, none of the players we're comparing Tavares to are bad in any way. They're all top end NHL centres, which might tell us a bit about his thought process.
If these are the teams that Tavares is interested in joining, he wants to be on a team that's stacked down the middle. We haven't even looked at how many of these teams have an arguably first line centre on their second line, like Logan Couture in San Jose, Nazem Kadri in Toronto, David Krejci in Boston, and Brayden Point in Tampa Bay.
Signing Tavares for most of these teams would create a dominant triumvirate up the middle that any team would be scared to face come playoff time. Assuming he wants to be the top centre, Toronto and Boston should probably be out, but that's a huge assumption. Based solely on the profile of the teams Tavares wanted to talk to, Dallas seems to be the one that doesn't fit, though maybe the allure of playing with Jamie Benn is just that strong.
The opposite of Dallas would be San Jose, who could conceivably run a centre line of Tavares, Pavelski, Couture, and Thornton, and I'm not sure how you beat that even if they had no wingers.
The big wild card is whether Tavares returns to Long Island, but looking at how these other teams stack up, it gets more and more difficult to see the immediate benefit for him. Tt's probably tough to sell a soon-to-be 28-year-old superstar on the future, even with the plethora of excellent young players in their system.