Taylor Hall is scorching hot right now. Since the calendar turned to 2018, only Evgeni Malkin and Sidney Crosby have more than Hall's 33 points in 23 games, and there hasn't been a single one of those games in which he's failed to record a point. That streak is one of the most impressive in the modern era.
#NJDevils Taylor Hall is on one of the longest point streaks in the past 25 seasons pic.twitter.com/8gckNqncDD

— Sportsnet Stats (@SNstats) February 28, 2018
The streak has propelled Hall into the Hart Trophy conversation, not just because he's now 12th in the NHL in points, but also because he has been involved in 37.1 per cent of the goals the New Jersey Devils have scored this season. That's the fifth-best mark in the league after Connor McDavid, Johnny Gaudreau, Claude Giroux, and Anze Kopitar.
Bolstering Hall's case is the fact that no player leading their team in scoring has as big of a gap between them and the second place scorer on their team than does Hall, who has 28 more points than rookie Nico Hischier — not to mention he has more than twice as many points as third place Jesper Bratt.
Those numbers alone would put a player in conversation for the Hart Trophy, but it's easy to be in consideration for the award in the midst of a hot streak. So, despite a hot two months, it's important to look at Hall's season as a whole to see if his stats back up the hype.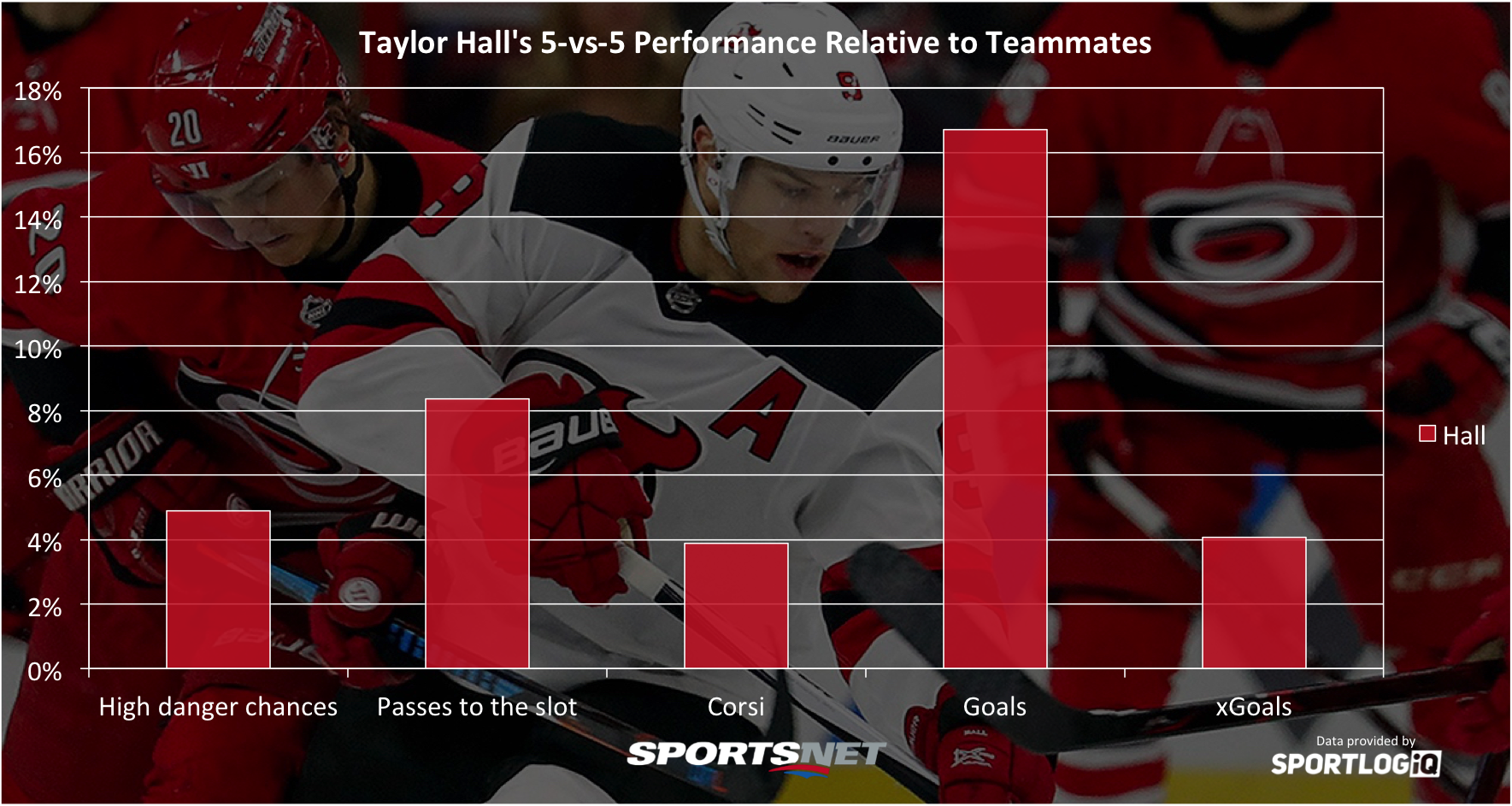 Relative to his teammates, Hall is easily one of the strongest players in the league, not just because he makes his teammates better in every category, but because he brings them from below 50 per cent to above it in all those categories as well; he's a one-man, play-driving machine.
He's getting some good fortune in on-ice goals, with a 102.74 PDO driven by an 11.11 per cent on-ice shooting percentage, so there's some luck in these numbers for sure. However, at the end of the season, whether it's repeatable or not, the deed is done and it's just an accomplishment.
The fact is, when you look at the offensive numbers behind Hall's production, it's not surprising that he's had a brilliant year.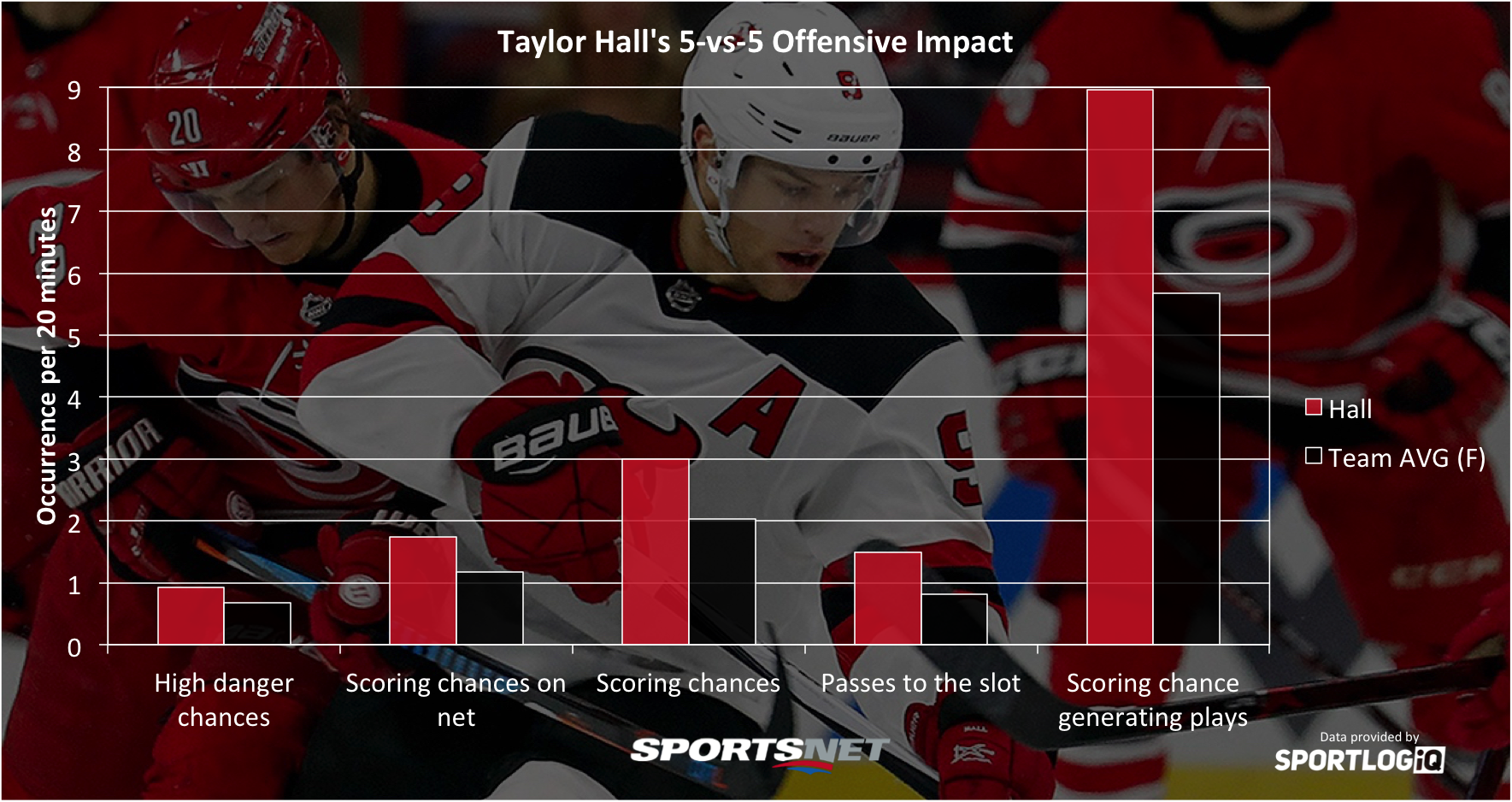 Hall is one of the NHL's rare players who is elite from a shooting and playmaking perspective, the same sort of skillset that has continued to make Phil Kessel an impact player despite a very real defensive deficiency.
Hall doesn't have that deficiency, though. In fact even after last season's underwhelming offensive totals, he ranked second among left wingers over the past three seasons in my rankings project because he was the best transition player in the league at his position, and nearly as strong defensively as offensively.
Hall is 14th in the league in chances generated for his teammates, and 19th in personal scoring chances league-wide at 5-on-5. Only McDavid, Nathan MacKinnon, Vladimir Tarasenko, and Travis Konecny create more scoring chances off the rush than Hall.
Hall has always been able to produce goals without much talent around him, but this season he's turned the dial up to 11 (per cent on-ice shooting percentage) and dragged an OK Devils team into playoff position with a seven-point cushion and 18 games remaining.
Maybe you're thinking that there are conspicuously few areas where Hall is ranking first or second in the league, and that should take him a notch down for the Hart. But you should remember what the Hart Trophy actually is.
Too many people believe that the Hart Trophy is for the league's best player, but it isn't. The Hart is given out annually to the "player judged to be most valuable to his team." If you want an award for the league's best player, you should be looking at the oft-ignored Ted Lindsay Award, which is actually given to the "NHL's most outstanding player" by the NHLPA.
If you're looking at players who are most valuable to their teams, it's almost impossible to say Hall doesn't at least deserve to be nominated.
[relatedlinks]