We wouldn't even recognize the game of hockey the Toronto St. Patricks — and later Maple Leafs — played back in the 1920's.
It was known as an "onside" sport back then, which meant that forward passes weren't permitted. Imagine rugby on ice, with the centre often leading rushes into the offensive zone while his wingers trailed behind at the sides.
The game was slow and plodding and defensive. It could move only at the speed of the puck-carrier and was essentially 60 minutes of a controlled trap by both teams.
Not since that period have the Maple Leafs gone through an entire month of schedule while scoring at the paltry rate the head-scratching 2014-15 squad managed in January.
---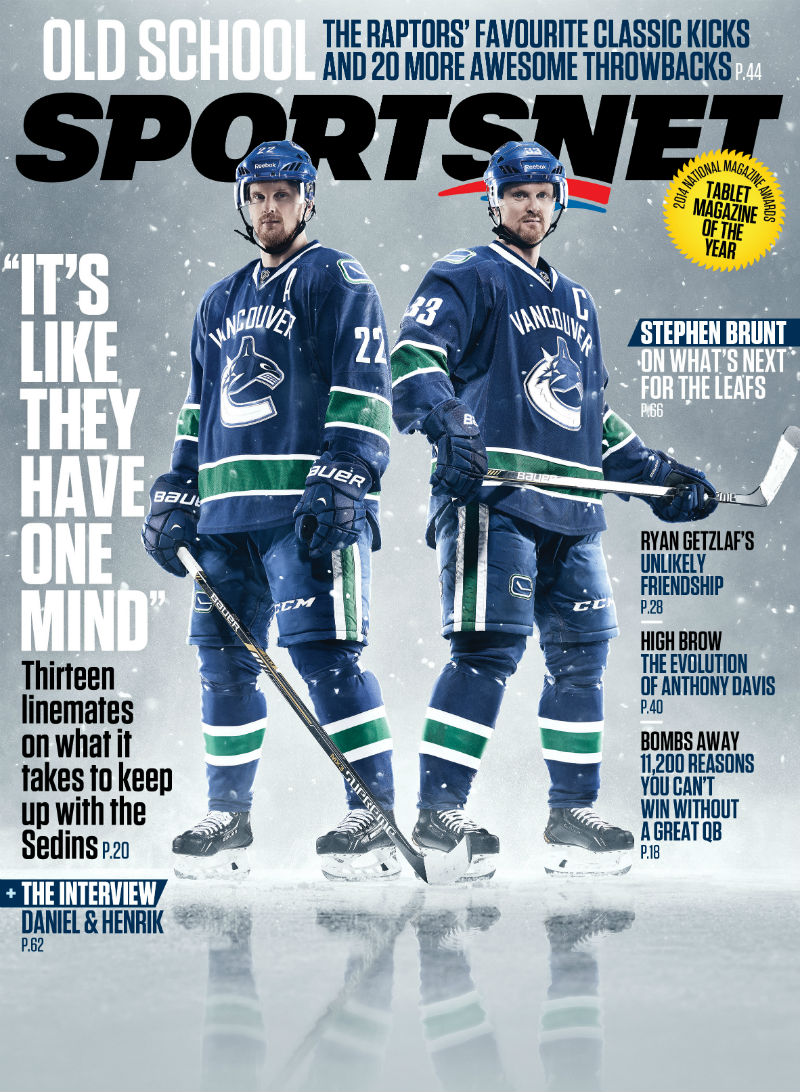 ATTENTION Rogers and Shaw customers.
Already enjoying Sportsnet ONE? Now get access to digital editions of Sportsnet magazine at no extra cost.
---
It's incredible, really. Beyond simple or complex explanation.
"Never seen it before," said interim Peter Horachek, off to the worst start by a coach in the organization's 98-year history.
Toronto produced just 16 goals in 13 January games — five of which came in the only victory it registered all month. That average of 1.23 was slightly worse than what the St. Patricks had in February 1927 (1.25) and the rebranded Maple Leafs had in January 1929 (1.31), which happens to be the last NHL season before the forward pass was introduced.
This is a team with Phil Kessel and James van Riemsdyk and Nazem Kadri at forward and offensively-minded Cody Franson, Morgan Rielly and Jake Gardiner on defence. It is a flawed group, one that will again miss the playoffs, but there was absolutely nothing to forecast the depths of futility it would mine during an ice-cold January.
As a collective, the Leafs managed just a 4.2 shooting percentage while actually playing a style more conducive to success than they did under previous coach Randy Carlyle. They have cut down significantly on the number of chances against while generating shots at a similar rate to when they were the NHL's highest-scoring outfit.
Toronto might not be very good, but it is clearly not very lucky either.
This poses some difficult questions for Brendan Shanahan and a revamped Leafs front office whose lone holdover from the collapses of the past three seasons is Dave Nonis. Four weeks out from the March 2 trade deadline, how drastic should the changes be? How much stock should be placed in the results of the last month? Is it time to start some form of rebuild?
Shanahan challenged his players in the days after Carlyle's firing, telling them (and later the media) that their performance in the second half would reveal to management who they really are. Toronto is 1-8-1 since he made that address on Jan. 9.
"I wanted to make it very clear that we're watching and that we're on it," Shanahan said. "Whether we've seen good things or we've seen some bad things, they're not getting by us, they're not escaping us, and we're not going to be a (management) group that is afraid to act if we feel that we're going to be able to make ourselves better."
The clock is ticking on this core group. It would be madness to keep coming back with the same set of key players every season and expect a different outcome.
Kessel, Dion Phaneuf, Tyler Bozak, Joffrey Lupul, Jake Gardiner and David Clarkson signed long-term deals with the organization in recent years and they won't all finish them in Toronto.
However, it's unlikely that a series of blockbuster trades are immediately on the horizon. You just don't see that happen in a salary cap world. Even dismantling takes time.
As with all of these things, history looms somewhere in the shadows.
One terribly unlucky month of losing isn't viewed as just one awful month here — not around an organization with a single playoff appearance in a decade; not with a group of players that seem to fall to pieces at least once a year.
Some fans have tried to find hope in the high draft pick the Leafs are tracking towards after sliding all the way to 24th overall. That would give them a longshot ticket in the Connor McDavid lottery and … hey, maybe the luck can turn?
However, all that will likely change with the turning of the calendar to February is the on-ice luck. This team won't shoot at 4 percent for the rest of the season and it is bound to start winning enough games to remain stuck in the mushy middle.
They've been there before.
There are still 30 games remaining on the schedule, starting with Tuesday's visit to Nashville, and a city wonders what's left to watch. The Leafs current 3-16-1 tailspin is the organization's worst stretch in nearly 25 years — back to the period just after Harold Ballard's death — and that is a reminder that dark days are here again in Toronto.
For the Maple Leafs, it may never have looked quite so bleak.