After striking first-round gold with their selections in the past three drafts—Auston Matthews, Mitchell Marner, and William Nylander—the Toronto Maple Leafs will be picking outside the top eight for the first time since 2013.
While always listening to offers, it seems unlikely that draft guru Mark Hunter would be interested in trading his first-rounder this spring. Unlike recent years, the Leafs don't hold any extra picks in the first two rounds. Their second-rounder is late (59th overall, via Ottawa) and they've have already traded away their third-round pick.
So with the 17th-overall pick, we expect Toronto to add a defenceman to its very forward-heavy prospect pool.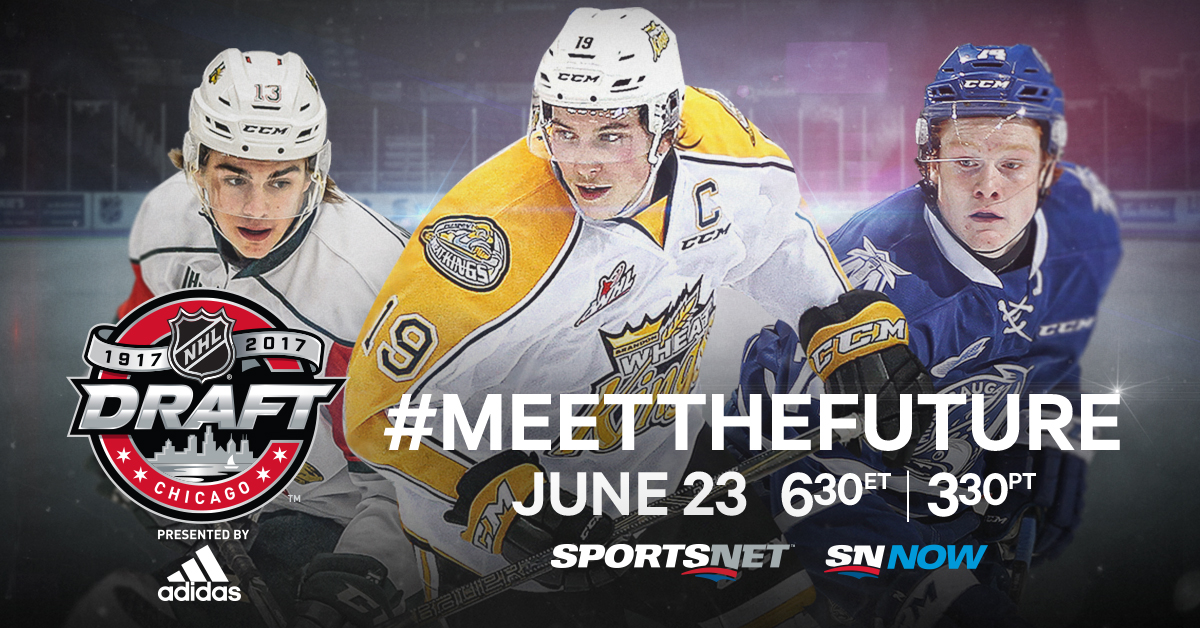 2017 draft picks
17
59 (from OTT)
110
124 (from PIT)
141
172
203
Top 3 prospects currently in the system
Jeremy Bracco, RW – The 20-year-old playmaker inked his entry-level deal with Toronto in late March, then went out and capped off his spectacular sophomore junior season as first star of the Memorial Cup championship game. Bracco's 83-point tear in 2016-17 featured a record-setting 25-game point streak and world junior gold. Not bad for a 61st-overall pick (2015).
Josh Leivo, RW – A casualty of the Maple Leafs' ridiculous depth at the wing position, Leivo only squeaked into 13 NHL games last season and still managed to impress with 10 points. Determined, fast and fresh, the 24-year-old third-rounder has paid his AHL dues and is ready for an elevated role. That the Leafs elected to protect Leivo over Kerby Rychel and Brendan Leipsic, who had monster offensive years in the AHL, shows how highly they think of him.
Travis Dermott, D – The most promising defender in the Leafs' system is considered by GM Lou Lamoriello as a good bet to fight for a spot on the big club's third pairing heading into camp. Though he suffered a high-ankle sprain last October, the 20-year-old Newmarket, Ont., native battled on to put up 24 points and a plus-9 rating in his first year as a pro.
Two players who may be available in Round 1
Cal Foote – Toronto has selected a forward with each of its past four first-round draft picks. Time to tear a page from the book of Anaheim, Minnesota and Carolina and start building a better prospect pool of defencemen. Foote is the eldest hockey-playing son of Olympic and Stanley Cup champion stay-at-home blueliner Adam Foote. The 18-year-old right shot brings a more offensive side to his game than Dad. He put up 57 points and a plus-39 rating with the Kelowna Rockets in 2016-17. A big body (six foot three, 209 pounds) who can contribute on the power play and reads the game well.
Timothy Liljegren – Like Foote, Liljegren is a right-shot defenceman with natural playmaking talents. Tabbed as an elite skater out of Sweden (how about that?), the six-foot, 191-pound prospect impressed during the Five Nations Tournament in the spring. Agile and smooth, he wants the puck on his stick. And when he has it, he makes smart, crisp passes or can let loose with a heavy slapper.
Senior Writer Ryan Dixon and NHL Editor Rory Boylen always give it 110%, but never rely on clichés when it comes to podcasting. Instead, they use a mix of facts, fun and a varied group of hockey voices to cover Canada's most beloved game.
Best 17th overall picks in NHL history
Kevin Hatcher (Washington, 1984) – A member of the 1,000-game and 600-point clubs, big, bad Hatcher is one of the best U.S.-born defencemen to ever play the game. Hatcher once scored 34 goals and 79 points for the Caps. He was selected to five All-Star Games and was inducted into the U.S. Hockey Hall of Fame in 2010.
Zach Parise (New Jersey, 2003) – The most handsomely paid 17th-overall pick left the city that drafted him when he struck free agency gold to the tune of $98 million in the summer of 2012. Parise's sparkling career includes USA national team appearances, a 45-goal campaign, and an impressive 661 points over 830 games.
Brent Sutter (New York, 1980) – One of the many Sutter brothers to make his impact on the game, Brent succeeded Denis Potvin as captain of the Islanders, with whom he won two Cups. Sutter also won three Canada Cups, appeared in four Stanley Cup finals, and scored 829 points over 1,111 games. He'd go on to coach the Devils (2007-09) and Flames (2009-12).
Other notable picks at 17th overall
• Anaheim Ducks selected Jake Gardiner with the 17th pick in 2008.
• Phoenix Coyotes selected Martin Hanzal with the 17th pick in 2005.
• Washington Capitals selected Jason Allison with the 17th pick in 1993.
Dimitri Filipovic provides entertaining and thoughtful dialogue about the game of hockey with an analytical edge. Not as nerdy as it sounds.
Worst 17th overall picks in NHL history
Marek Schwarz (2004, St. Louis Blues) – The Schwarz was with you, NHL, for a grand total of four games played (.809 save percentage) before tumbling to ECHL Alaska. The Czech-born goaltender enjoyed a nice stretch in the Czech Elite League before joining Znojmo in Austria for 2016-17. The Blues passed on another first-round goalie that spring—some guy named Cory Schneider—in order to take Schwarz. Oh, and they also missed out on a good defenceman (Mike Green) and centre (David Krejci).
Joey Hishon (2010, Colorado Avalanche) – An offensive monster with the Owen Sound Attack, Hishon was coming off a 37-goal, 87-point OHL campaign when the Avs drafted him right after Vladimir Tarasenko. How high were hopes for Hishon, whose NHL career amounted to one goal and an unlucky 13 games played? Well, Colorado took him over fellow centremen Evgeny Kuznetsov, Nick Bjugstad, Austin Watson and Charlie Coyle. Hishon scored nine points and was minus-10 for the KHL's Jokerit Helsinki in 2016-17.
Brad Church (1995, Washington Capitals) – Sandwiched between Martin Biron (508-game NHL career) and Petr Sykora (1,017-game, 721-point NHL career) in the '95 draft was Church, a cup-of-coffee winger whose NHL stat line amounts to this: two GP. The feisty Prince Albert Raiders star ended his pro journey 10 years and 15(!) teams after he was drafted. Church retired and joined the ECHL Phoenix RoadRunners as a coach. He was last seen as CEO of the AHL's Portland Pirates.
History of picking 17th overall
Carlo Colaiacovo, D – The Maple Leafs have made just one 17th-overall selection in their draft history. They chose Colaiacovo, a local boy, from the Erie Otters back in 2001. Suffering a series of injuries early in his career, Colaiacovo skated in just 109 big-league games with Toronto over parts of six seasons before the Leafs traded him (and Alexander Steen) to St. Louis for Lee Stempniak. After 470 games with a handful of NHL clubs, Colaiacovo tore it up at a nearly point-per-game pace for Germany's Manneheim Eagles last season.