A 40-year-old is attending his first live Toronto Maple Leafs game on Opening Night and has a story he'd like to share with Mike Wilson.
The man had spent a life watching every game with his father on TV. If, for some reason, they couldn't watch together, his dad would ring the next morning and — before a hello — open with "What was the score?"
The grown son was inside the arena, watching his dad's favourite team alone, and explaining what being inside the building means to him.
"The father's dying words to his son: 'What was the score?' " Wilson says. "He's telling me this and tears are streaming down his face. I'm trying not to cry myself. How do you top that story?"
You don't top it. You just add another chapter, 89 of them in all.
Mike Wilson is the self-branded Ultimate Leafs Fan — with a custom jacket and cap to prove it — and after his latest accomplishment, it would be impossible to argue the contrary.
Exhausting his collecting of Leafs memorabilia, an obsession going back 50 years, Wilson set out to collect stories, interacting with fellow diehard fans as he devoted more than six months of his life to attend every single Maple Leafs game, including playoffs, on the 2018-19 schedule.
With children all grown up, an ultra-supportive wife, Debbie, who pitched in on the social-media front, and a swath of free time since he left Bay Street, Wilson budgeted $35,000, began travel-planning as soon as the Leafs schedule was released last summer and took planes, trains and automobiles to live out a dream.
"Everybody's saying, 'Oh, jeez, wow.' But think about it: Go to Hawaii or Europe for two weeks — what's that gonna cost you? It's really not as crazy as you think," Wilson says. "The worst part of it is every game I get offered probably 10 beers."
Um. The worst or the best?
"It's the worst because I don't drink at the games, because I talk to a lot of people, a lot of kids, a lot of families. I don't want to have booze on my breath. I don't want any excuses. That part of the trip is businesslike."
In 2015, Canadian superfan Rob Suggitt memorably visited all 30 NHL arenas in a whirlwind 30 nights, but until 2018-19, no fan had followed an NHL team for 82-plus.
In Pittsburgh, Wilson watched the Leafs with a first responder who was wearing a cast having been shot by the Tree of Life Synagogue gunman. He was moved taking in a game with members of the Humboldt Broncos.
Wilson swapped hockey tales with Harry Sinden in Florida, Jimmy Devellano in Detroit and Bruce Boudreau in Anaheim. He'd bump into Auston Matthews in the hotel lobby, find common ground with Habs nut Jay Baruchel, and teach kids in Colorado the trick to getting Mitch Marner to toss them a warm-up puck.
Leafs Nation, Wilson discovered up-close, knows no borders. He'll write a book about his couch-surfing adventures one day, but he won't quote that one guy who drove from Thunder Bay to Minnesota.
"His buddies were all going, but his wife didn't want him to, so he sneaked out of the house with a Leafs sweater tucked under his coat, jumped in his buddy's car and drove to the game. Six and a half hours," Wilson laughs. "This is a 50-year-old man. He thought I was reporting, and he didn't want his name or picture in the paper because his wife would see it."
Prior to the real game in St. Paul, Wilson stood outside to take in the "Gardiner Classic," a blue-and-white shinny game on a small pad outside Xcel Center. The Toronto Maple Leafs playing hockey for the sake of it, then untying their skates, grabbing hot dogs and hopping on a bus like 10-year-old kids.
"You hear that sound of pucks hitting boards and skates clamping ice and voices cheering, and you see them chirping and yelling, and you see their breath," Wilson recalls.
"I had a tear in my eye looking at that. I thought, 'This is what the game is all about. This is why I did this.'"
We sat down with Wilson to gather the highlights and lowlights from his unprecedented trek.
SPORTSNET: What's the most common question you fielded when people found out you were following the Leafs to every game?
MIKE WILSON: "How much is this costing you?" First thing. And the next thing: "Are you retired?" Yes.
Best rink food?
I don't eat usually at the rinks because I'm so busy talking to people, I can't carry food around. Every arena has its own nuance. They have pickerel on a stick in Winnipeg. Perogies on pizza in Winnipeg. Nashville, you get the pulled pork and barbecue. It's basically the same type of fare everywhere. Macaroni and cheese is big — you get it on hot dogs now, you get it on burgers, or as a separate entity.
Most surprisingly quality road city?
The surprise city would be Columbus. Lots of history, arena downtown, very sophisticated crowd, and they know their stuff. Nashville was the best city on the tour, a nice surprise because I'm not a big country-and-western guy.
Best in-game arena experience?
Vegas. All the hoopla and dancers and bands playing — it's a Vegas show. The best is, their 50/50 draw is 51/49 because the house never loses. I thought that was pretty good. Best rink, too.
Best souvenir?
I wanted to collect something the same from all 31 rinks, but something you couldn't find online. Used pucks from warm-ups were too expensive, or sometimes the lines were too long, like in Detroit they start lining up for them before warm-ups start. What did I end up with? Newspaper. I got one from every road game, the game report the next day. I'm going to do a big scrapbook when I'm finished.
Most dominant performance by the opposition?
The Blues in St. Louis [where they beat the Leafs 3-2 in overtime on Feb. 19]. That first six minutes, I've never seen a team dominate these Leafs like they did. Their heads were spinning. Goaltending, defence, forwards, skill, toughness — it was the dictionary version of what a Stanley Cup team should look like. And this team was in last place in January. My goodness was that a heck of a hockey team. And the thing about that building, it's a very sophisticated crowd. They know the game and appreciate good plays. They weren't sarcastic like the New York Islanders fans. They're screaming and yelling, but it's a very hockey-educated crowd.
Safe to say Long Island had the harshest crowd?
Totally obnoxious. Swearing. The rink holds 13,500 people. It's a low roof, so it's really loud. You gotta remember, New York City has the Yankees, the glamour, all the stars playing for them. Even New Jersey is home to the Giants, the Jets, the Devils have won some Stanley Cups. What do the Islanders got? They had John Tavares, their star player. Now he's taken away from them and they have nothing else. The place is barren. You think Kanata is barren? Kanata looks like the middle of Manhattan compared to this, with a hotel and a rink. So, they tailgate. I got out of the car. They tailgate in three places: Philadelphia, Carolina and the Island. Barbeque smell, the music — it was just like a football game. It was terrific, a great atmosphere, but all of a sudden people would walk by in their [altered] Tavares sweaters and be swearing and yelling. Is that necessary? I mean, really. I check the pre-game warm-ups and take a little video at every game. Without fail, from centre ice to around the [Leafs] net, that whole horseshoe, is five, 10, as many as 15 rows deep with Leafs fans. Not just Buffalo, Montreal and Ottawa. It was like that in Columbus, Anaheim, San Jose. All the way around the arena. Long Island? I think I saw maybe half a dozen Leafs sweaters, let alone rows of people. All Islanders fans. And the jeering? I've never heard anything so loud. Swearing at him, the chants, it went on for 15 minutes. You could see it affected him. I mean, he's human. He was fumbling the puck a bit, trying to settle down, but it gets to you.
Most enjoyable game?
Going into Chicago [on Oct. 7], Stan Mikita Night. Really loud building. Back and forth, goal after goal. Here they play this tight game against Montreal to win on Opening Night, then they play firebrand in Chicago and outlast them. As a fan, you're thinking, They can do it all!
Most complete Leafs victory?
In San Jose [a 5-3 win on Nov. 15]. That was their most complete game in all facets for 60 minutes, from goaltending to defence to forwards. They didn't stop moving their feet the whole game.
Best effort that ended in a loss?
The best game they played was the one they lost 4-1 in Tampa [on Dec. 13]. That first period they hit the post three times. Tampa capitalized on their chances in the second period. Freddy [Andersen] maybe didn't have his greatest game, but that was their best effort. Then they went back to Tampa and beat them [4-2 on Jan. 17] and played not as good. The best game after that was in Calgary [on March 4]. Won 6-2. I went to the morning skate that day, and they were buzzed. Fired up. Active. Excited. You could tell they had this feeling about them, first game of the [Western Canada] trip, and they took it right to the ice with them and played terrific.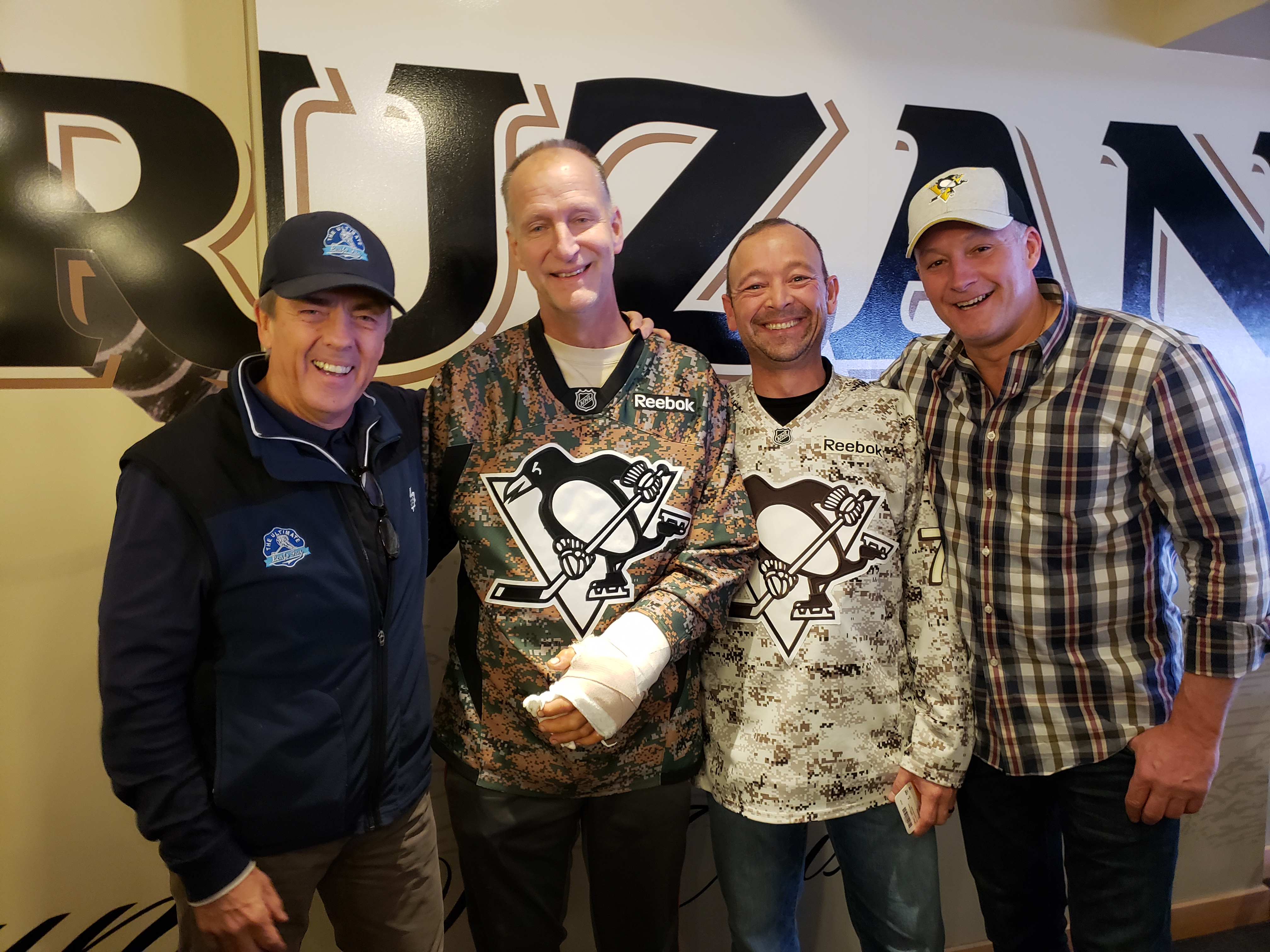 Biggest dud?
The one rink I hated going to was Boston, because everything disastrous always seems to happen there. First eight minutes in that first trip [on Nov. 18], the Leafs were outshooting them 15-2. I thought maybe here's the turnaround. Then all of a sudden that fluky goal goes in, and we were sunk. The two Ottawa games in March [6-2 and 4-2 losses] were probably as bad as it gets. And the first two Islanders games, on Long Island and here. Those were disappointing.
Who is your Leafs MVP?
John Tavares. Not because he got 47 goals. It's the way this guy plays. I'd never watched him so close for 82 games; I'd just see his stats and scoring highlights. Watching him consistently for 82 games, this guy never takes a shift off. He doesn't look like he ever smiles, unless he scores. Then he goes back to the bench and has a frown on his face again. He works as hard without the puck as he does without it. This guy gets hit as much as anybody, and he takes it. His tenacity on the puck has impressed me beyond. He is clearly the leader of this hockey club.
Greatest stumbling block with this team?
Using Tavares as the prototype of the perfect forward, these other kids have been star players all the way. The thing about these guys, they've had the puck their whole life, from six years old until they got to the pros. And if they didn't have the puck, the guy playing with them would get it to them. Now they get to the NHL, well, you've got to get the puck. They have to grasp the idea that you have to go get the puck. Mike Babcock has preached it since the day he got here: Never let your talent override your work ethic. That means everything. John Tavares exemplifies that. The sooner these guys realize that – and some of them are starting to – they'll go far.
How did it feel leaving Game 7, when the journey was finally over?
I left with two minutes remaining, and crowd was quietest leaving of the four games [in Boston]. I drove for a couple hours and pulled over for the night. Next morning, I was doing a national radio interview with CBC at 6:10 a.m. The producers asked me to pull over to cut sound, even though there weren't any cars on road, so I did. I'm speaking live on the radio when a Massachusetts state trooper pulls in behind my car. I tried to keep my window up as long as possible and whispered, "I'm doing a live radio interview on the car speaker phone." Well, Barney Fife would hear nothing of the sort and proceeded to scold me for sitting on the shoulder off the highway — heard across the country. Meanwhile, the broadcaster kept speaking. I wanted to say to Barney, "Was this really necessary? I mean, geez. After you guys won, for crying out loud? Let me suffer in peace."
Would you do all 82 again?
No. I would, but I wouldn't. Because there's all the things I can't talk about: people too big next to me, sitting in a middle seat, guys bumping you, can't see, people smell, they're drunk. I've had to watch some periods out in the hall on TV because of the guy beside me is crowding me or too drunk. All those nuisances, you can take it every few games. But I'll always go to live games. I love them. There's nothing better than being in an arena, feeding off the crowd, the energy, watching the players, hearing the sticks.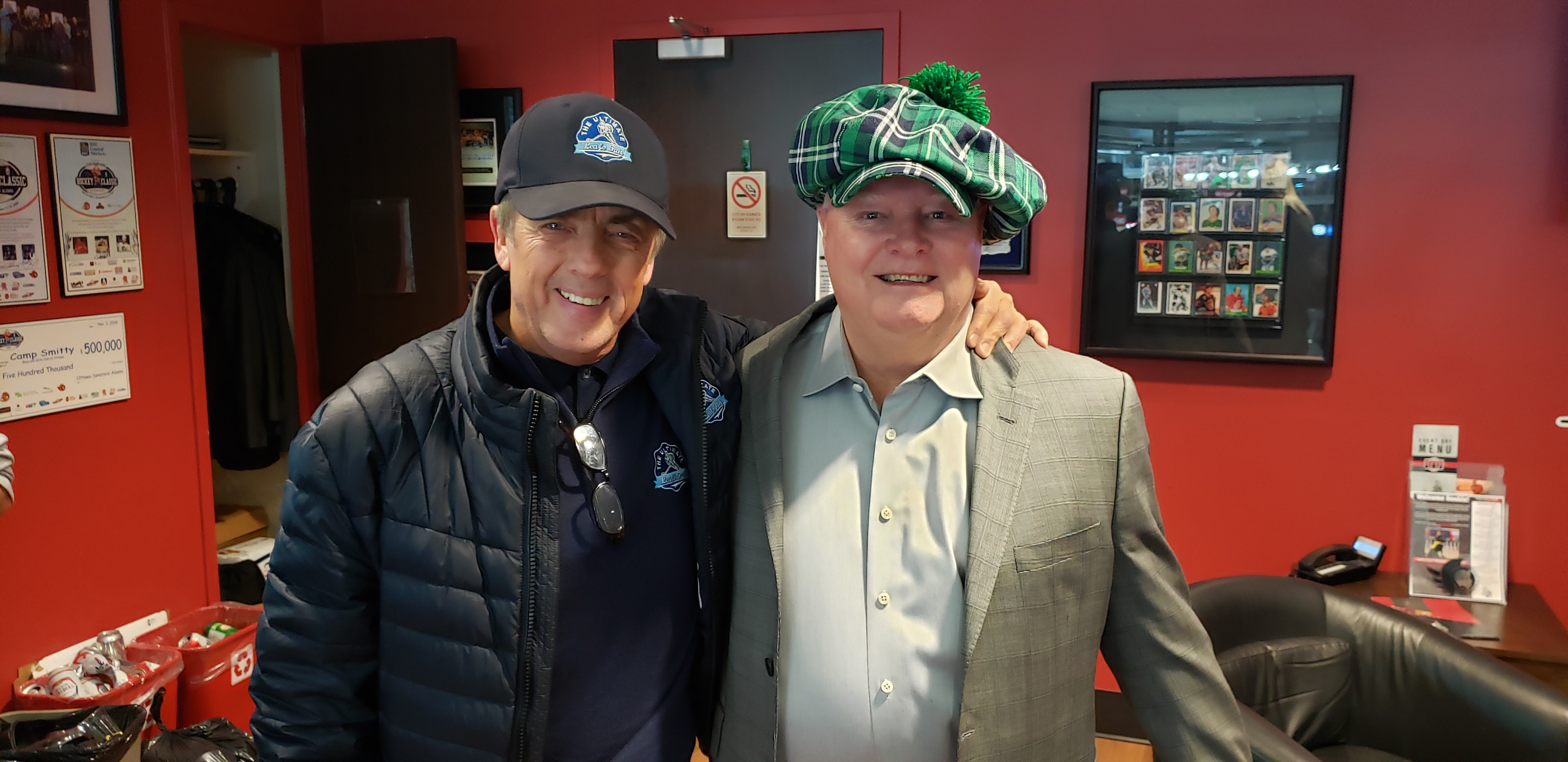 Photos courtesy of Mike Wilson