Now in Vegas, we knew Mark Stone was going to be a huge upgrade for the Golden Knights, but now that we know who his linemates are, just what have the early returns been?
Plus, we drill into what makes the Islanders tick and what it says about their playoff expectations and hit on a few other notable scoring chance generators in this week's column.
SPOTLIGHT PERFORMANCE
With the addition of Mark Stone, it's clear that the Vegas Golden Knights are going for it once again this season, and no offence to Tomas Tatar who is having a fantastic season in Montreal, but Stone is a much more significant and fool proof addition heading into the playoffs.
I already wrote about the kind of impact Stone has on shot and pass differentials while he's on the ice, but now that it seems the Golden Knights are going to place Stone on a line with Max Pacioretty and Paul Stastny, two players who historically have also had pretty strong on-ice impact, it's got to be terrifying for opponents.
The Golden Knights have played a couple games with that line in tact, and while Pacioretty and Stastny were already dominant before Stone arrived, the first two games with him have been unbelievable. Unfortunately, I don't have linemate data from Sportlogiq to use, but using Natural Stat Trick gives us some frightening numbers for this trio.
It's a miniscule sample size to work with here, and it likely won't stay this crazy because that would be the best line the NHL has seen in the analytics era, but the early returns have to make Vegas fans salivate a little bit.
If that line settles in even around 60 per cent in those differentials, it would be competing with the Bergeron line in Boston for the best in hockey,
What's mind-blowing about that possibility isn't just that Vegas has assembled one of the best lines in the league, it's that they did so with three players who weren't even on the team last season. They acquired two of these players through trades and one in free agency. Normally that's just not an efficient way to build things, and you would assume an expansion team would be focused on building through the draft, but Vegas has arguably been the most aggressive team in the league in trying to improve their roster since they arrived.
How the Pacioretty and Stone contracts look in a couple years might be up for debate, but right now, Vegas is a Stanley Cup contender once more.
THE QUESTION
There's been so much talk of trades over the past several weeks because of the trade deadline this past Monday, so I asked Steve Dangle to please not make the question this week about a trade. Thankfully he agreed, and asked…
"At first we said the Islanders were lucky, then we wondered if they might be better than we gave them credit for, and they're still first in the Metropolitan. What are the New York Islanders?"
Looking at the Islanders' roster, it's hard to imagine that they're full value for where they are in the standings.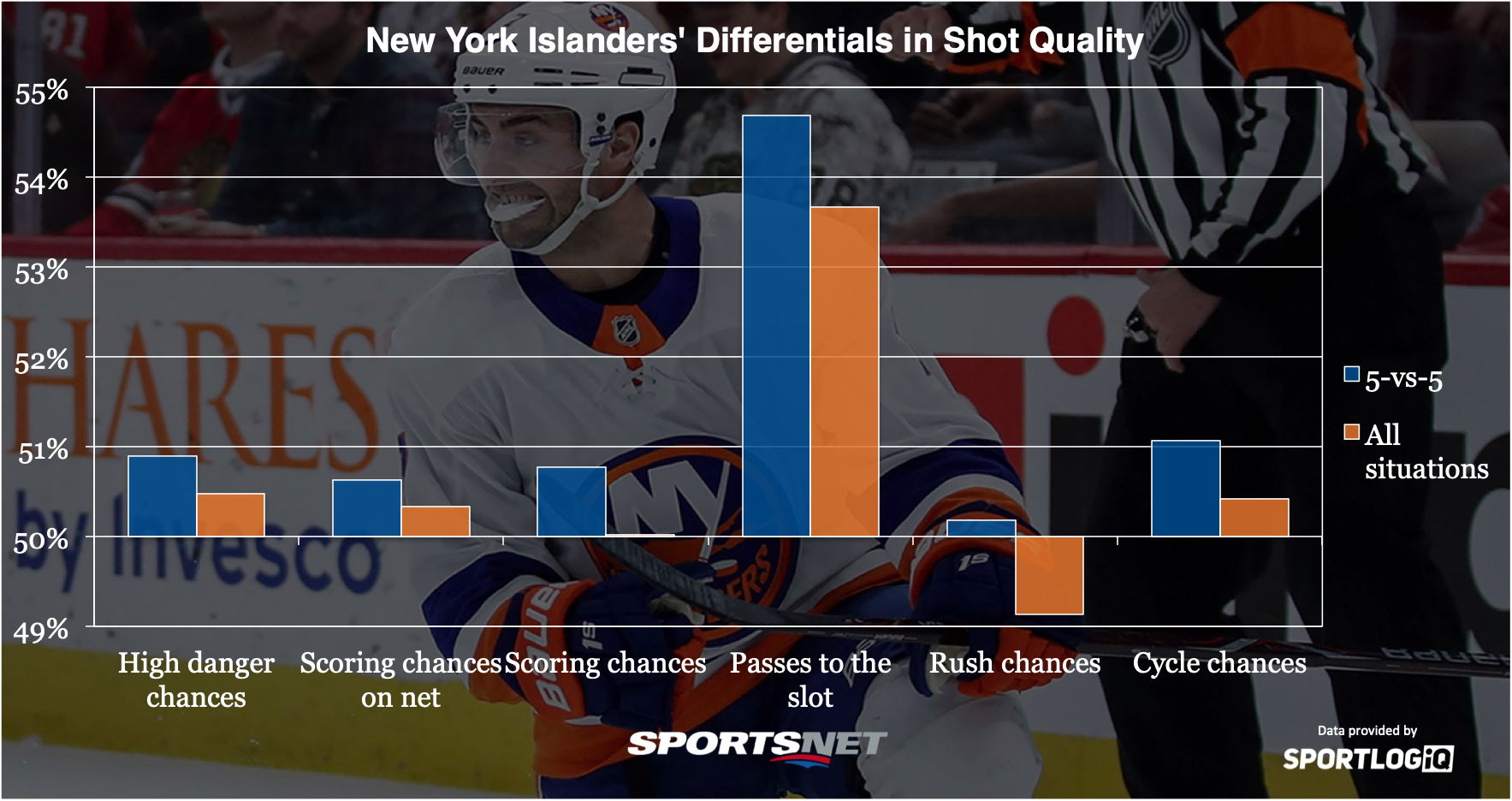 Overall, the differentials are positive but not stellar, which means the Islanders are a full value playoff team, though maybe not the expected quality of a division winner.
One of the reasons the Islanders have been so successful this season has been a drastic change in strategic play compared to last season, where they were among the worst defensive teams in hockey.
This season, the Islanders have shifted focus to a heavy dump and chase system, where they dump the puck in on 57.3 per cent of their zone entries at 5-on-5, and 51.6 per cent in all situations. That cuts down on their ability to create scoring chances overall, especially off the rush. That's why Mathew Barzal, a player who thrives on playing off the rush, has seen a drop in his point production, but it also comes with less defensive risk.
Last season the Islanders were entertaining, but didn't have the tactical or roster strength defensively to prevent chances against when they took risks to make plays. As a result both their goaltenders were continually lit up behind a defence that couldn't make up for every little mistake and bad pinch the rest of the team made.
This season, no one is giving up fewer chances off the rush than the Islanders, and they're a top-four team in fewest high danger chances, scoring chances on net, and passes to the slot allowed. That makes things easier on their goalies, and they also do some nice number fudging by taking 41.4 per cent of their shot attempts from the slot, while their opponents take just 35.9 per cent of their shot attempts from the slot.
That all combines to mean that the Islanders' goaltenders face lower quality scoring chances, and a ton of perimeter shots, which boosts their save percentage considerably.
Because the style they play doesn't create much offence overall, the Islanders' margins for outscoring opponents remain extremely thin despite playing excellent defensive hockey. They make up for the thin numbers in chances by controlling passes to the slot to a higher degree, making the chances that they do create more dangerous than the ones their opponents get.
Leaning on players like Barzal, Jordan Eberle, Josh Bailey, and Brock Nelson to find players in the slot and generate those high quality chances has worked out really well, though based on the numbers I think the Islanders are still on precarious ground.
They're a good team, but not a great team, and though they're playing well, things have still gone their way more often than you would expect.
Senior Writer Ryan Dixon and NHL Editor Rory Boylen always give it 110%, but never rely on clichés when it comes to podcasting. Instead, they use a mix of facts, fun and a varied group of hockey voices to cover Canada's most beloved game.
BUY OR SELL
• The arrivals of Wayne Simmonds and Mikael Granlund couldn't have come soon enough for the Predators, who since the New Year have converted on just 7.1 per cent of their power plays. That number is made even worse by the fact that only the Colorado Avalanche have had more than Nashville's 84 power play opportunities over that time. A league average power play would have scored an extra 11 man advantage goals in those games — that's nearly two wins worth of goals lost by power play ineptitude.
• Also since the New Year, the St. Louis Blues have generated the most high danger chances, the most scoring chances on net, and the second-most passes to the slot at even strength. They've done so without sacrificing defensive responsibility. They're a team to fear heading into the playoffs if they keep getting good goaltending.
• After a hot start Max Domi slowed down slightly in the middle of the season, but in February he was third in the entire NHL in scoring chances created per minute at 5-on-5. He has his issues defensively, but this offensive breakout season looks very real, not just good fortune.
• Sticking with the Habs, in February Brendan Gallagher averaged more than six scoring chances per 20 minutes at 5-on-5, the next-highest mark in the league was Vladimir Tarasenko at 4.94, then Auston Matthews at 4.14, huge gaps. Gallagher has led the league in scoring chances all year long, but he gets just under half of those scoring chances on net. His potential could be even higher if he was a bit more accurate.