It sure didn't seem like it, but Monday's NHL Trade Deadline was more active than usual, with a bunch of players and draft picks swapped around. But the big takeaway was that the Western Conference has really geared up.
Going back further than the deadline, four of the five most dangerous teams in the Western Conference all brought in offensive help. Before the day got going, San Jose brought in Gustav Nyquist to bolster their middle-six forward group.
While Calgary ended up standing pat, the other three major powers in the West made my list of three favourite deals of the day.
Mark Stone to the Vegas Golden Knights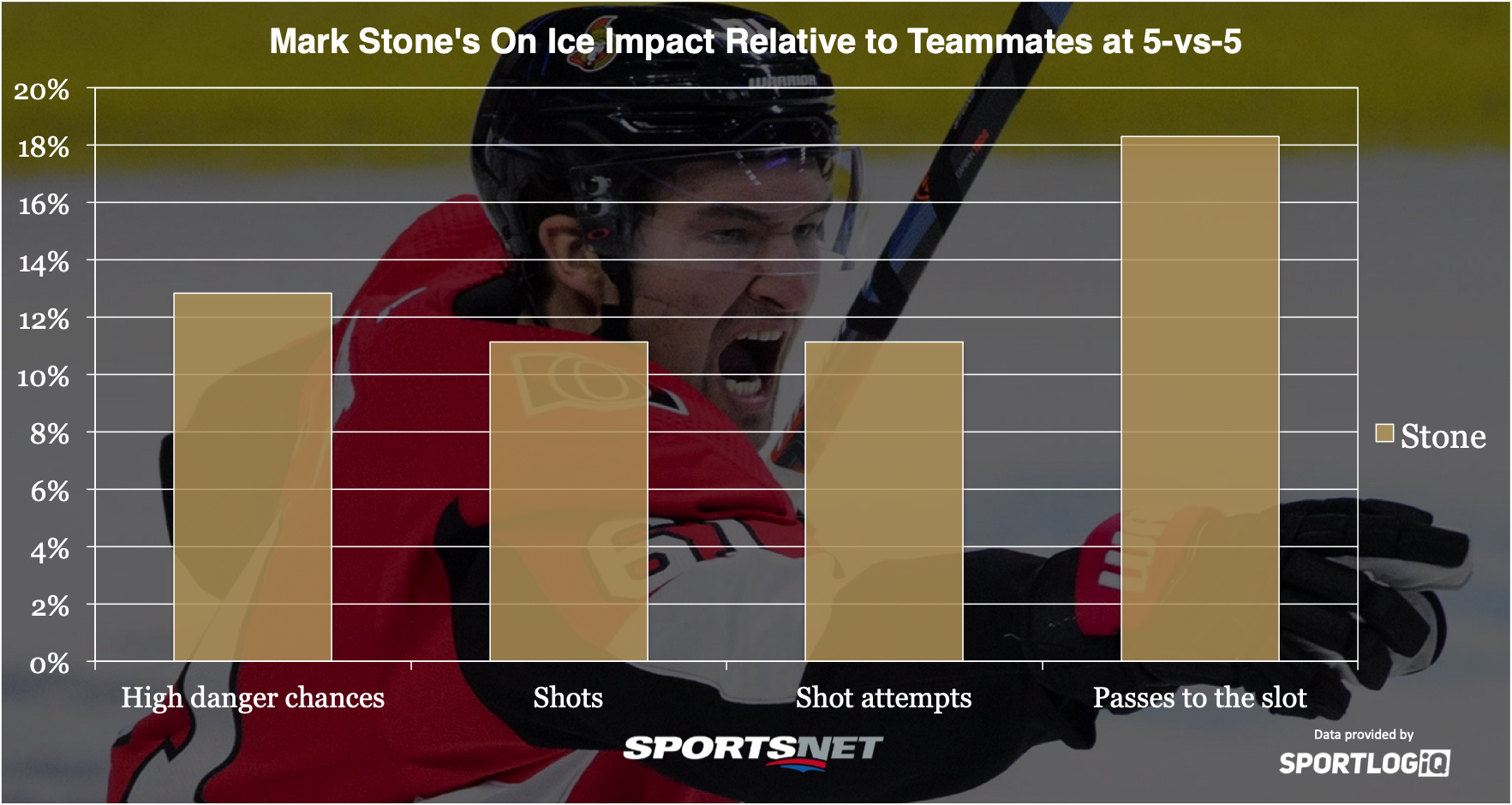 The reason to love this trade for Vegas is obvious. By now everyone knows that Stone is a high-impact player, and the opportunity to place him on a line with Paul Stastny and Max Pacioretty is just a hilarious embarrassment of riches for the Golden Knights.
The cost of acquiring and then signing Stone to a contract was fairly high, but we're talking about an elite player here.
Coming into the season I had Stone ranked as the fourth-best right winger in the NHL, and if anything he's been even more dominant this season. The impact Stone had on the Senators this season was gargantuan, with Ottawa being at least 11 per cent better when he was on the ice by all measures, but look specifically at his impact on the two most important areas: high danger chances and passes to the slot.
In passes to the slot in particular, the Senators were a whopping 18 per cent better when Stone was on the ice than when he was off. That is absolutely absurd. Even though part of that is due to the Senators' lack of depth, remember that Stone is playing with the same poor teammates everyone else is. On a stacked team like Vegas, he's going to be a force to be reckoned with.
Mikael Granlund to the Nashville Predators for Kevin Fiala
I really like Kevin Fiala as a player and I believe he has tons of potential, which makes sense as an acquisition for the Wild who look to be doing a bit of a soft rebuild on the fly. But Mikael Granlund is a great fit on the Predators, whereas Fiala could never seem to gain the team's trust.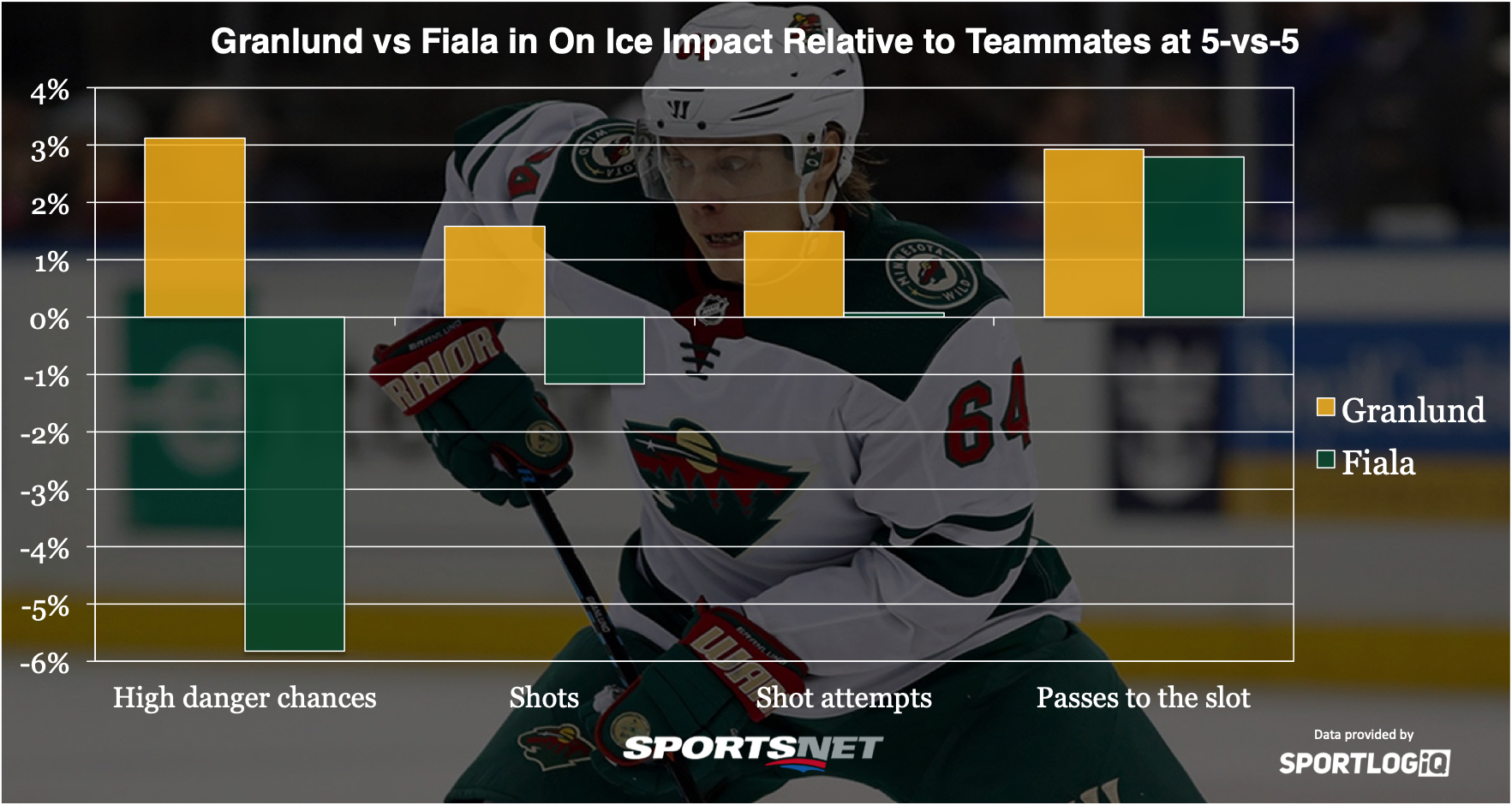 Over the past couple of years, Granlund has transformed himself from a fairly one-dimensional playmaking forward, into a stellar two-way player, and that improvement defensively has come with three straight years of top line production, which brought him up to the 15th spot on the right winger rankings that I linked to earlier.
Where Fiala has been a defensive liability in allowing a crazy number of high danger scoring chances against, Granlund has been a consistently positive force all over the ice for years now. And at 27 years old, he is at the tail end of his prime years, unlikely to decline drastically while under contract, as he only has one year left at a very reasonable $5.75 million cap hit.
Granlund is also a strong playmaking option on the power play, something that Nashville desperately needs, and they seem to have done a good job addressing their power play personnel in recent weeks, acquiring Brian Boyle and Wayne Simmonds for net front presence, and now Granlund to make plays and take the odd shot as well. Theoretically, the Predators should be able to ice two decent units with the man advantage with this lineup.
Kevin Hayes to the Winnipeg Jets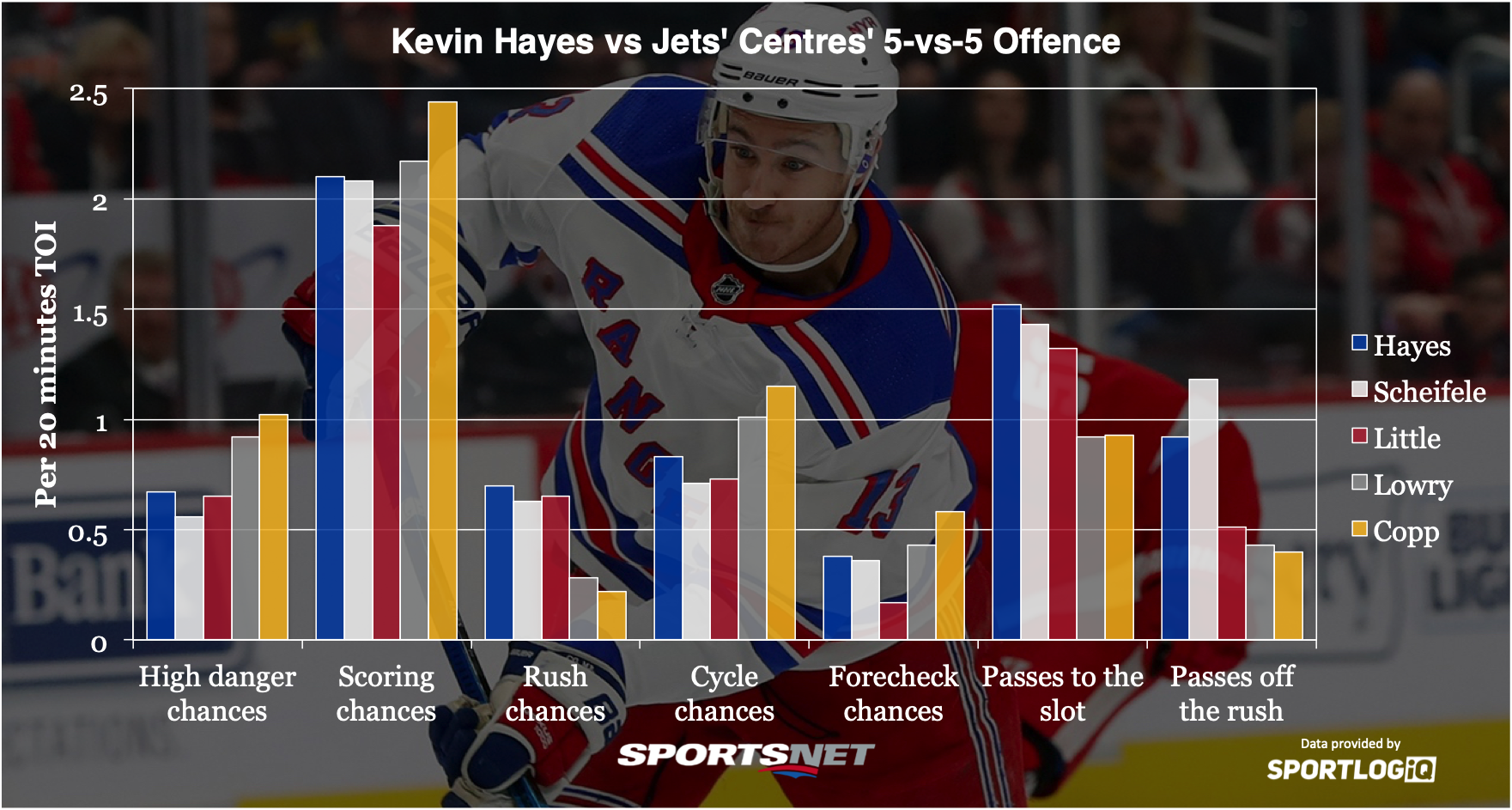 Kevin Hayes is having a career year and has been a productive player for the Rangers for a while, but what stands out about him for me is that he plays the exact way that most of the Jets' lineup struggles to: he attacks off the rush.
Comparing Hayes to the rest of the Jets' centres, it's obvious that he can hang in there offensively — he's right there with Scheifele in terms of playmaking overall, and he creates more off the rush than the rest of the Jets' centre line.
The combination of Nikolaj Ehlers and Mark Scheifele has been dynamite when together this season, but it left the rest of the Jets' lineup gaining the offensive zone more by dumping and chasing than you want for a lineup this talented. Hayes may not be a swift skater, but he's excellent at finding lanes to skate through, get shots off from, and to pass through to find shooters.
The most interesting possibility I can see in this acquisition, though, is the specific interaction between Hayes and Patrik Laine. Laine recently busted his extended scoring slump, but he hasn't really been in a situation at any point where he's getting shots off the rush.
If Hayes is able to take some of the puck-carrying responsibility away from Laine in the neutral zone and find him with speed while in the offensive zone, that could be an untapped well of goals for the Jets come playoff time, and I love that bet.
[relatedlinks]