They did it! The Maple Leafs have officially finished dead-last in the NHL standings.
At the start of the season, team president Brendan Shanahan and new head coach Mike Babcock made sure fans understood it would be a difficult season by promising pain and the start of a process to rebuild the organization. Even after Game 82, Babcock noted it would be "short-term pain for long-term gain."
---
Watch Sunday:
Flyers @ Islanders, live on Sportsnet at 7 p.m. ET | Ducks @ Capitals, live on Sportsnet 360 at 7:30 p.m. ET.
---
Sure enough, the Maple Leafs will go into the April 30 draft lottery with the best odds of picking first — where they'd likely take top-ranked prospect Auston Matthews. They also have Pittsburgh's first round pick, but it's still to be determined where that one will slot. For the purpose of this article, we're focusing on Toronto's pick.
Keep in mind, there is only a 20 per cent chance the Leafs will win that lottery. Last season, the Buffalo Sabres finished last in the league, but of course, Edmonton won the lottery and bumped Buffalo down to No. 2, where they took Jack Eichel.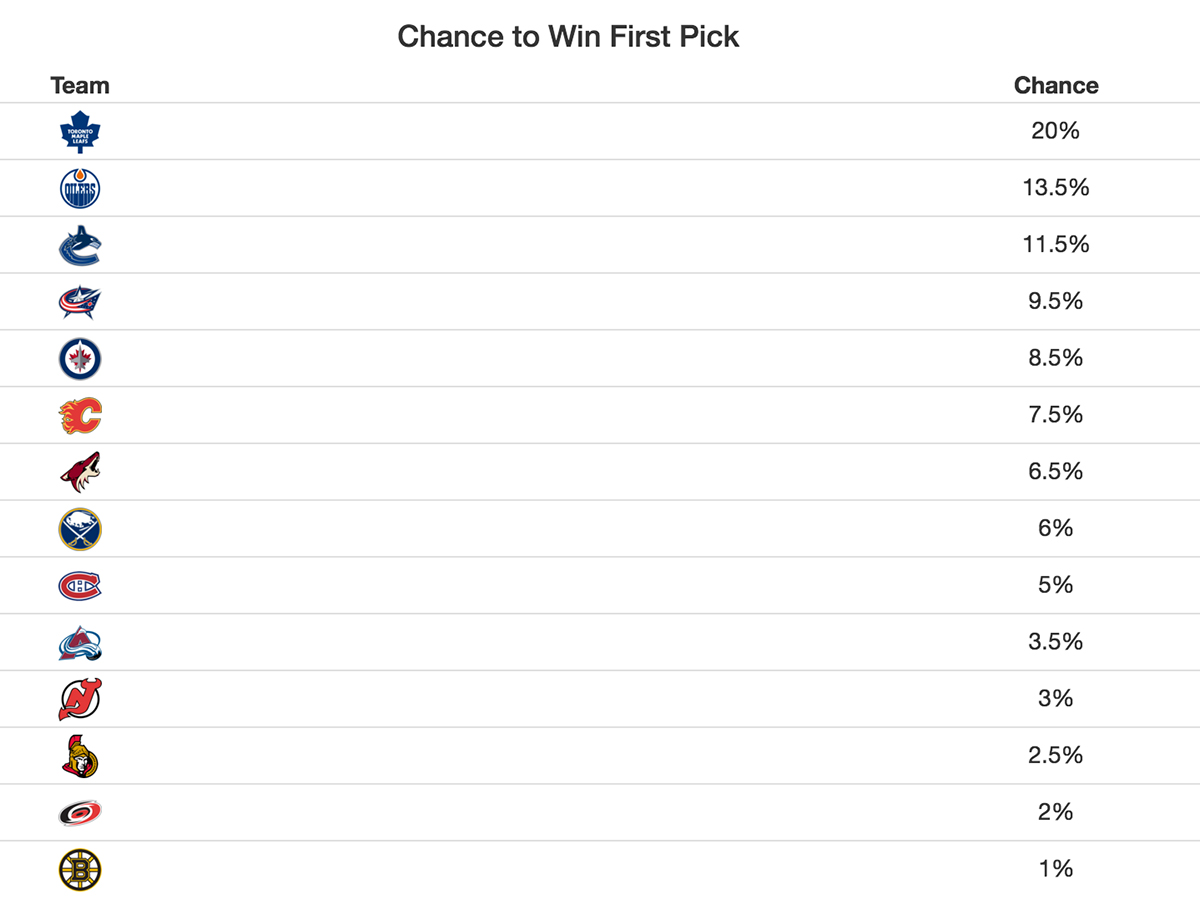 The big difference this year is that the Maple Leafs aren't even guaranteed the No. 2 pick. Under the new rules, the lottery will decide the first three picks, so Toronto could fall as far as the No. 4 pick overall.
STANLEY CUP PLAYOFFS:
First Round Series Previews | Stanley Cup Playoffs Fantasy Hockey
So who will they end up getting?
Well, if they do pick first overall, all likelihood is that they'd take Matthews, who bucked the traditional route a top prospect takes to the NHL by instead going to play this season in Switzerland. In 36 games with Zurich, Matthews scored 46 points and led his team with 24 goals under head coach Marc Crawford.
For more information on this top prospect from Scottsdale, Arizona, check out our profile.
WHAT IF THE LEAFS PICK NO. 2 or 3…
If Toronto falls a pick or two, they could be looking to acquire one of two Finnish players. According to Damien Cox's draft rankings, Patrik Laine and Jesse Puljujarvi are the second- and third-ranked prospects.
Laine, a 6-foot-3, 200-pound left winger, has 17 goals and 33 points in 46 games with Tappara Tampere in Finland's top league this season. And recently he's been getting a lot of attention for his highlight reel plays — which had one commentator using the name "Ovechkin" as a comparison.
And he had another highlight play Saturday:
Puljujarvi, a 6-foot-3, 198-pound right winger, has 13 goals and 28 points in 50 games for Karpat in the same Finnish league. He led all players in scoring at the World Junior Championship with 17 points in seven games for the gold-medal winning Finns.
For comparison's sake, Aleksander Barkov scored 48 points in 53 Finnish League games in his draft year. He was picked second overall in 2013.
WHAT IF THE LEAFS PICK NO. 4…
Don't worry, Leafs fans. If Toronto doesn't get its name called at all during this year's lottery, they'll still get a darn good prospect at No. 4.
Next up on Cox's draft rankings is Matthew Tkachuk, a 6-foot-1, 188-pound left winger for London of the OHL. The son of former NHLer Keith, he scored 107 points in 57 games this season, finishing third in Knights scoring behind…Mitch Marner, who the Leafs picked fourth overall last year.
And that's not the only Leafs connection who could get picked at No. 4. Alexander Nylander, brother of Toronto's William, is ranked No. 5 on Cox's list. Alexander made the jump to North America this season and led the OHL's Mississauga Steelheads with 75 points in 57 games.
If the Leafs picked anyone else, they would be going a bit off the board. The next two prospects by Cox's rankings are defencemen: Olli Juolevi and Jakob Chychrun. Juolevi stands 6-foot-2 and 180 pounds and spent this season with the London Knights, while Chychrun is 6-foot-2, 194 pounds and was the top scorer from the blueline on the Sarnia Sting.
Of course, they could always trade the pick…