The Toronto Blue Jays were dubbed "The Kings of Fun" last season and while that moniker was intended by opponents as a slight, it certainly applies in a more positive manner to their footwear.
The Blue Jays are one of the more stylish teams in the majors when it comes to cleats, with the likes of Russell Martin, Marcus Stroman and Josh Donaldson among players rocking customized shoes on any given day.
The club can thank Martin for that, says Custom Cleats Inc. owner Anthony Ambrosini, who converts sneakers into cleats for more than 60 MLB players, including a long list of Blue Jays.
"When he went to (Toronto), everything took off for our customer base on the Blue Jays," Ambrosini said. "He talks well about what the conversions do for him and in turn, it ends up getting us more customers in the clubhouse."
While playing for the New York Yankees, Martin learned of Ambrosini's Holbrook, N.Y.-based company and enlisted it to customize a few pairs of basketball shoes. His Yankees teammates immediately took notice. Later, when Martin moved on to the Pittsburgh Pirates, the same thing happened.
"You can have a pair of Jordans that nobody else has in the game," Martin said when discussing Custom Cleats in a 2016 interview with the YES Network. "Guys will notice. Guys step up into the (batter's) box and they're like, 'Hey dude, nice shoes.' And I do the same thing for guys when I see them wearing nice cleats."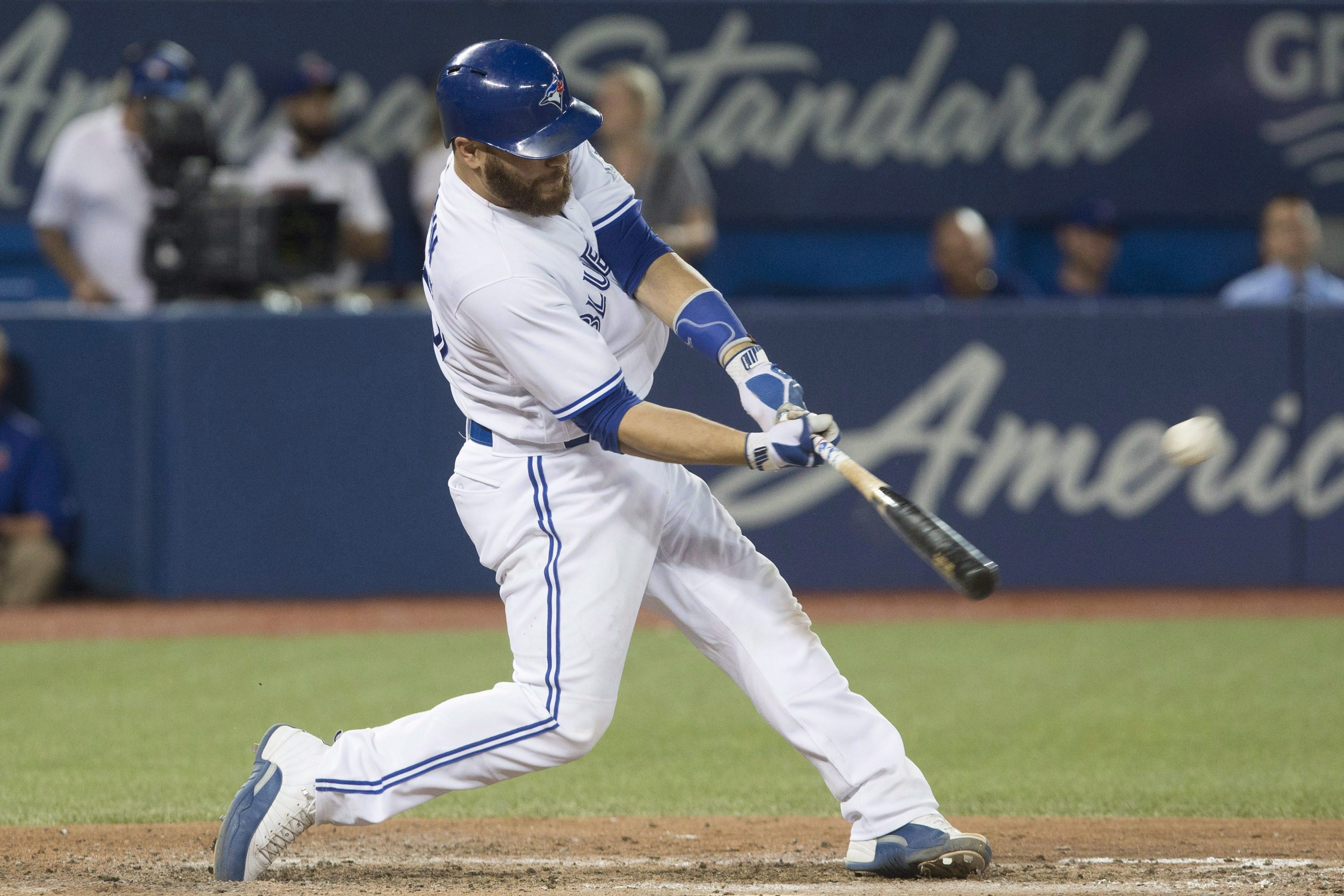 For most of 2016 Martin sported Jordan XII French Blue basketball shoes that were converted to cleats. (Chris Young/CP)
Ambrosini, who spent parts of four seasons as a catcher in the Rookie and Class-A levels of the Montreal Expos system, personally handles the conversion of all footwear. He came up with the idea in 2004 while playing on the Expos-affiliate Brevard County Manatees of the Florida State League with his younger brother Dominick.
The younger Ambrosini, an outfielder, was trying to play through a stress fracture in his foot. He would wear turf shoes all day long because the spike-less sneakers offered more comfort, donning cleats only for games.
"I said to myself 'How can I help my brother stay in the lineup and not sacrifice his performance?" said Ambrosini. "I came up with the idea to try to make the turf shoe that he had into a cleat."
Ambrosini went through hundreds of prototypes over the next year and a half before settling on a method of fitting spikes onto sneakers that worked seamlessly. He found a new manufacturer to provide parts and gradually built up his client base before receiving a major boost from Martin, his first big-name customer.
Now, players, MLB equipment managers and fans send him all types of sneakers to customize with the typical turnaround time of about one week.
Basketball shoes are the most popular choice, even though they're designed with hardwood, not a baseball diamond, in mind. Ambrosini says those sneakers tend to offer the best stability.
"You're looking at a basketball shoe designed for when guys come down on someone's foot and hopefully helps prevent rolling over their ankles," he said. "It could affect speed if a player chooses a more heavier shoe, but the beauty of what we're doing is you're able to choose whatever shoe fits your game."
Different position players will employ varying types of footwear. Pitchers like Stroman and catchers like Martin use Jordans, which are usually on the heavy side. That's OK because they're not traversing the outfield or running the bases in the way, say, Donaldson would.
That's why the Blue Jays third baseman sent Custom Cleats a pair of LeBron Soldier 10s late last season. The result was a look that created significant social media buzz and even earned Donaldson a shout out from King James.
Ambrosini said the LeBron James signature sneaker is a clear favourite among customers because of its style, colourways and lack of laces. It has a set of Velcro straps that allow you to easily tighten or loosen the shoe for the perfect fit.
"Oh my God, Soldier 10s were the most popular shoe that we did last year," he said. "It was unbelievable. There's nothing bad about that shoe. The support on the shoe is excellent, the look of the shoe is great, the durability — as far as taking some lumps and not ripping."
James alerting the world to the modification of the shoe was also good for business.
"That was a great piece of advertisement," said Ambrosini. "I would definitely say it helped, but I would say we're on our way up no matter what."
Thanks in large part to Russell Martin.