It's been 25 years since the Toronto Blue Jays reached the World Series for the first time in franchise history. We all know the result—the Blue Jays beat the Braves in six games—but the specifics of the series can fade over the years.
In 1992, I was a kid listening to Tom Cheek and Jerry Howarth call the games on the radio. Over the next week I'll be looking back at each game of the series on the 25-year-anniversary of the night it was played.
Final score: Braves 7, Blue Jays 2
Blue Jays lead series 3-2
The champagne was on ice and the fans were ready to celebrate, but the Blue Jays would have to wait a little longer because of John Smoltz. The Braves right-hander out-pitched Jack Morris in a rematch of Game 7 of the 1991 World Series to send the series back to Atlanta. Smoltz allowed just two runs in six innings, while the Braves scored seven against Morris.
The game was nearly much closer, though. Morris was one out away from escaping the fifth inning unscathed when the Braves rallied. The biggest blow, a grand slam from Lonnie Smith, chased Morris from the game and gave the Braves a lopsided win in a series otherwise characterized by close games (the Braves actually out-scored the Blue Jays during the 1992 series despite losing four of the six games).
How it looked on Toronto TV in 1992
City Toronto's post-game highlight pack from Oct. 22, 1992:

City Toronto's post-game coverage: Jack Morris says 'I'm not Superman":

Conventional-then-but-controversial-now managerial move:
This game looks completely different if Lonnie Smith doesn't hit a grand slam in the fifth inning, so let's revisit that moment. Jack Morris was struggling, having allowed three consecutive hits after recording two quick outs. The Braves took the lead on the second of those hits, but the Blue Jays were still within one.
In stepped David Justice, who had homered off Morris the previous inning. With that in mind, the Blue Jays didn't want Morris facing Justice again. By now, they appeared to be losing confidence in their starting pitcher, but they stuck with him regardless, perhaps in deference to his regular season success, perhaps in an attempt to ensure Morris qualified for a win—he was just one out away from completing five innings, after all.
In 1992, just about every manager sticks with a 20-game winner in this spot. It was expected, not controversial. Either way, it's not a great strategy when you have capable relievers available and an off-day ahead. This time it backfired. After an intentional walk to Justice, Smith stepped in and hit the grand slam that put the game out of reach for the Blue Jays.
Game 5 Boxscore (via Baseball Almanac)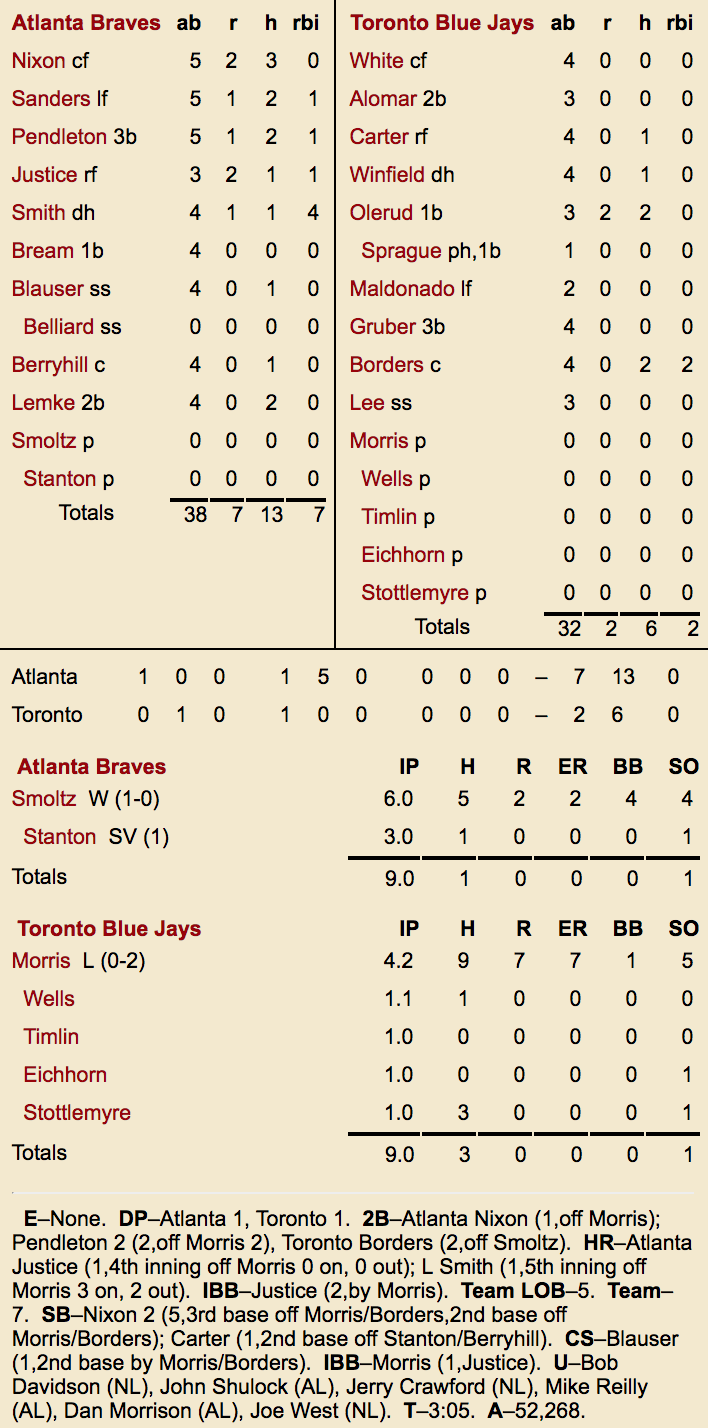 Game 1: Oct. 17
Game 2: Oct. 18
Game 3: Oct. 20
Game 4: Oct. 21
Game 5: Oct. 22
Game 6: Oct. 24