Answering the question of "who is the greatest Raptor of all time?" may not be easy, but realistically comes down to only a few names— Carter, DeRozan, Bosh, or Lowry.
"Who is your favourite Raptor?," on the other hand… Well, that might not be so simple.
So who takes the title? After more than 20 seasons and an eclectic cast of characters donning a Raptors jersey in that span, there are certainly no shortage of options. In the spirit of March Madness, Sportsnet devised the Raptors Bracket Challenge to find out.
After much deliberation, the field was whittled down to a final group of 24 split into four regions based on position, with the seeding determined with consultation from Raptors play-by-play voice and Sportsnet host Eric Smith. And although it's for you to decide, we urge you to keep in mind production and vote with both your head and your heart.
Monday Mar. 27: Round One (G/F Region 1, Bigs Region)
Tuesday Mar. 28: Round One (G/F Region 2, Guards Region)
Wednesday Mar. 29: 'Final Four' for each region
Thursday Mar. 30: Regional finals
Friday Mar. 31: The Final Four
Monday Apr 3: Championships
Check out the full updated bracket here, and then cast your votes in the Final Four of each G/F region below.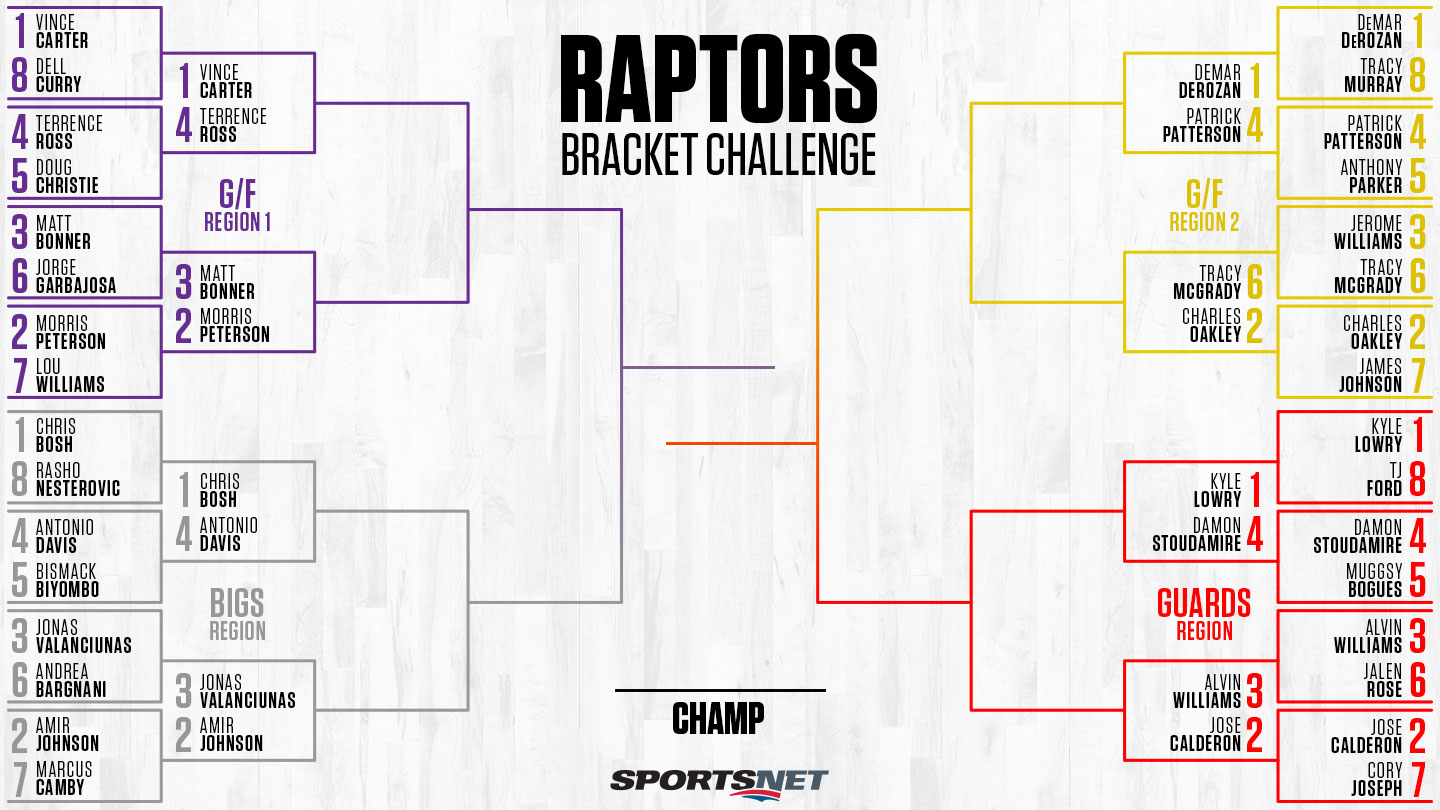 G/F Region 1
VINCE CARTER (1) vs. TERRENCE ROSS (4)
Carter: Round one: Carter (96% of votes) over Dell Curry.
The first true face of the franchise, Carter was the NBA's most electrifying athlete during his Toronto tenure, leading the Raptors to their first playoff birth and helping to popularize and legitimize not only the young franchise but the sport of basketball in Canada.
403 games (1998-05), 23.4 ppg, 5.2 rpg, 3.9 apg, 1.3 spg, 1 bpg, 43.8 FG% (37.3 3P%). '99 Rookie of the Year, 5X All-Star, 2X All-NBA.
Ross: Round one: Ross (59%) over Doug Christie.
Though he was inconsistent, there was no doubting Ross' talent while in Toronto. He tied a franchise record by dropping 51 points in a game and picked up the mantle from Vince Carter as the Raptors' best dunker while providing the team with its best three-point shooting threat during its most successful seasons.
363 games (5 seasons, '12-'17), 9.5 ppg, 2.6 rpg, 0.7 spg, 42.2 FG% (37.6 3P%).
MORRIS PETERSON (2) vs. MATT BONNER (3)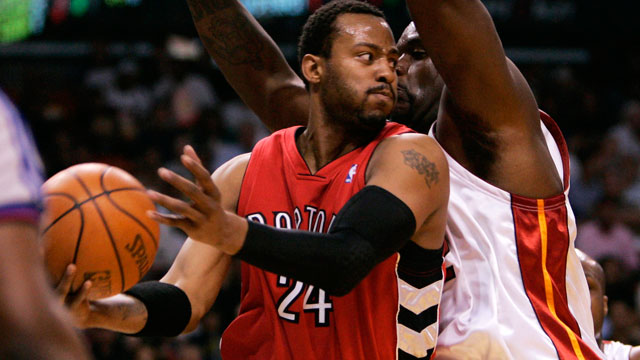 Peterson: Round one: Peterson (85%) over Lou Williams.
Second all-time in both games played and three-pointers made (801) for the Raptors, "MoPete" was a key contributor both as a starter and sixth man during his Toronto tenure, and chalked up plenty of iconic moments to boot.
542 games (2000-'07), 12 ppg, 3.8 rpg, 1 spg, 42.1 FG% (37.1 3P%), 2001 All-Rookie team
Bonner: Round one: Bonner (73%) over Jorge Garbajosa.
The "Red Rocket" admittedly wouldn't crack a list like this based on performance alone, but there's no doubting his status as one of the all-time fan favourites, despite a relatively short stint with the Raps. Maybe it was his famous love for Toronto's public transit system, or local submarine sandwich shops, but don't forget that Bonner did have his share of memorable on-court moments, too, including, for my money, one of the greatest in franchise history.
160 games (2004-06), 7.3 ppg, 3.6 rpg, 49.0 FG% (42.1 3P%).
G/F Region 2
DEMAR DEROZAN (1) vs. PATRICK PATTERSON (4)
DeRozan: Round one: DeRozan (98%) over Tracy Murray.
What can you say? Since being drafted in 2009, DeRozan has improved every year to reach his status today as one of the NBA's deadliest scorers and a perennial all-star. In the process he's proudly advocated for Toronto as a basketball city and his loyalty, longevity (franchise leader in games played) and production (all-time franchise scoring leader) are literally unmatched.
588 games (2009-), 19.1 ppg, 4.1 rpg, 2.8 apg, 1.0 spg, 44.6 FG% (28.8 3P%).21.5 ppg in 31 playoff games. 3X All-Star.
Patterson: Round one: Patterson (71%) over Anthony Parker.
He's established himself as a key contributor to the current Raptors core, where his shooting ability and defense make him one of the team's most impactful reserves.
265 games (2013-), 7.6 ppg, 4.9 rpg, 0.7 spg, 0.5 bpg, 43.4 FG% (37.3 3P%).
CHARLES OAKLEY (2) vs. TRACY MCGRADY (6)
Oakley: Round one: Oakley (73%) over James Johnson.
Oak brought his reliable toughness and an enforcer's mentality to Toronto, making him a fan-favourite from day one.
208 games (1998-01), 7.9 ppg, 8.0 rpg, 3.3 apg, 1.1 spg, 40.6 FG% (81.3 FT%)
McGrady: Round one: McGrady (56%) over Jerome Williams.
Though it wasn't until he left the Raptors that he truly blossomed, McGrady was cut his teeth in the NBA as a teenage Raptors draft pick, wowing fans with flashes of his potential, and putting on a show representing the franchise alongside Vince Carter at the 2000 slam dunk contest.
192 games (1997-2000), 11.1 ppg, 5.5 rpg, 2.5 apg, 1.0 spg, 1.4 bpg, 44.8 FG% (28.4 3P%).
CHECK BACK TO SPORTSNET.CA THROUGHOUT THE WEEK TO VOTE IN THE OTHER REGIONS AND TO KEEP CASTING YOUR VOTES AS THE TOURNEY PROGRESSES AND YOU CHOOSE YOUR FAVOURITE RAPTOR OF ALL-TIME!