The three championship Canadian Hockey League teams plus this year's host are set to drop the puck on the 2018 Mastercard Memorial Cup from Regina, Sask.
The 100th edition of the major junior tournament features the host Pats, WHL champion Swift Current Broncos, OHL champion Hamilton Bulldogs and QMJHL champion Acadie-Bathurst Titan. These are the best teams Canadian major junior hockey has to offer this season, and plenty of prospects will be on a big national stage, some of whom we may see in the NHL one day.
Surprisingly, none of the three CHL leagues have their regular-season champions at this year's Memorial Cup. Each of the Moose Jaw Warriors (WHL), Sault Ste. Marie Greyhounds (OHL) and Blainville-Boisbriand Armada (QMJHL) were eliminated in their league's playoffs, falling short of the CHL's top tournament.
This Memorial Cup also has an interesting mix of big and small markets. While Acadie-Bathurst and Swift Current represent two of the smaller markets in the CHL, Hamilton and host Regina are both large cities.
Another interesting wrinkle is that none of this year's teams have had much recent success at the Memorial Cup. The Broncos, fresh off their first WHL title since 1993, are the most recent Memorial Cup winner in this group and their last championship came all the way back in 1989. The Pats last won in 1974 and Acadie-Bathurst has never raised the Cup. The Bulldogs, previously known as the Belleville Bulls, haven't won either, but the city of Hamilton has won it twice: once in 1962 when they were known as the Red Wings, and again in 1976 as the Fincups. The Belleville Bulls last played for the Memorial Cup in 2008, but did not reach the final.
The round robin is set to begin Friday night with a game between Regina and Hamilton. Here are some reasons to tune in and watch the 2018 Memorial Cup from beginning to end, and where you can see the games.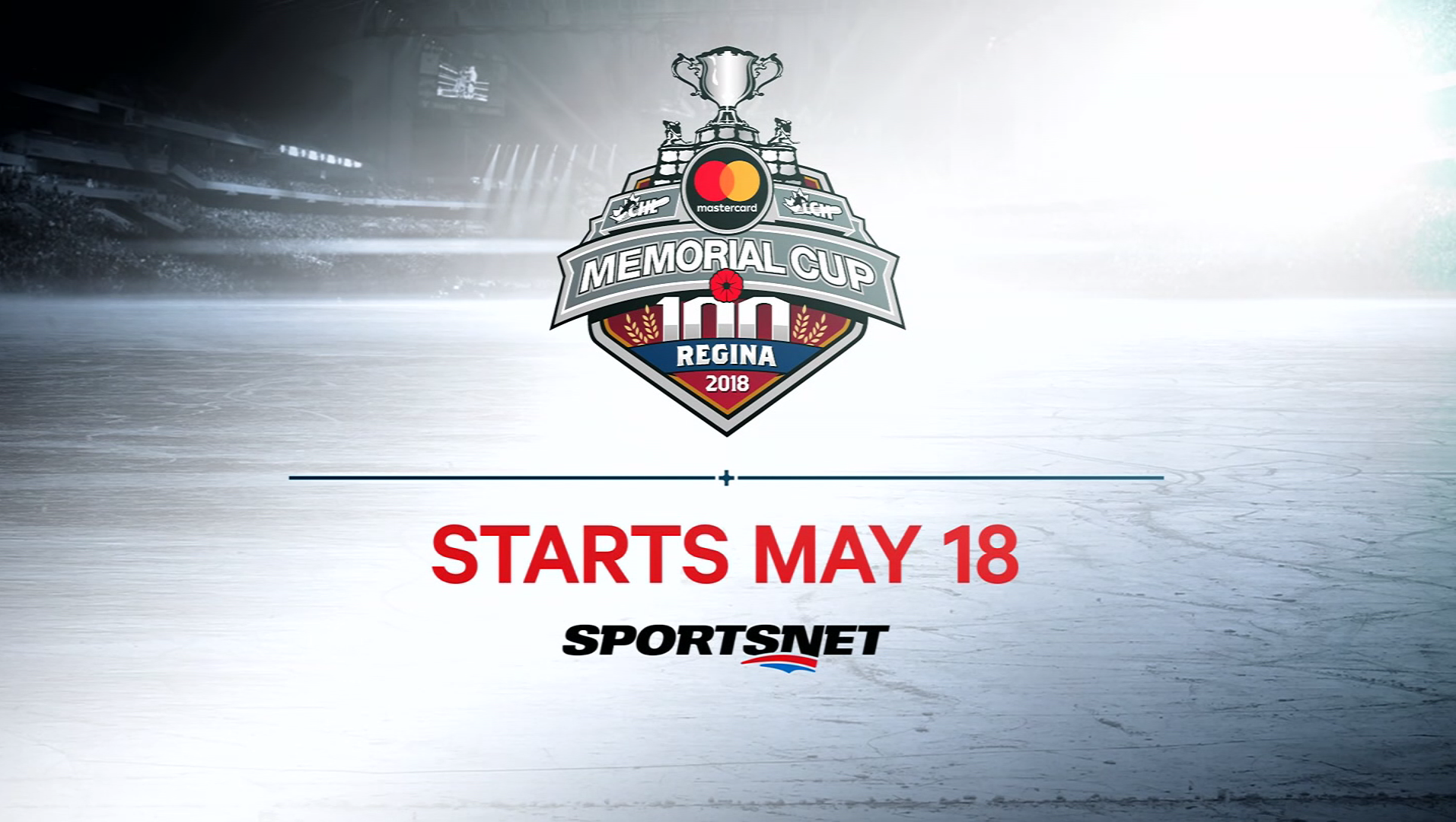 CANADIAN TEAM NHL PROSPECTS IN THE SPOTLIGHT
Two of the Canadian NHL teams don't have a player at the Memorial Cup. Ottawa and Winnipeg are without prospects at the tournament, but the other five teams have at least one representative.
It's hard to say any of these guys are blue-chip prospects as there are no first- or second-rounders in the bunch, but there could be a diamond in the rough here.
Leading the way is Will Bitten. The Canadiens prospect was initially ranked as a first-rounder in his 2016 draft year, but was caught up in the Flint Firebirds drama and didn't perform at the level expected. He still managed 30 goals and 65 points in 67 games, totals he hasn't equaled since, but slipped to the third round. He scored 20 goals and 64 points in 62 games this year, his second with the Bulldogs. At the beginning of this season, Canadiens director of player personnel Martin Lapointe talked about Bitten with Sportsnet's Eric Engels:
"I like Will's competitiveness, but sometimes he competes the wrong way. He tries to hit guys, be physical, and he wastes a lot of energy doing that. I see him jump to hit a guy, and he's smaller and wasting a lot of energy with that. I want him to go into those battles, but instead of finishing a guy and trying to put him in the fourth row I'd rather see him try to dig pucks out. Knock the player off balance with a hip and win the space to come out of the corner. He's quick. I think he has a tendency of — when things aren't going well — he wants to come out like a pinball. That's not going to be his game at the next level."
Another big one to watch is goalie Stuart Skinner of the Broncos. A third-round pick of the Edmonton Oilers last year, Skinner was acquired by the Broncos from the Lethbridge Hurricanes at the trade deadline. After that trade was made, Skinner's play took off.
He posted a .914 save percentage and 2.68 GAA in 25 games with Swift Current, much better numbers then he had in Lethbridge (3.38, .897). In the playoffs Skinner was even better (2.20, .932) and his most impressive performance came in the WHL final, where he outduelled three-time WHL Top Goaltender of the Year, and Team Canada's WJC starter, Carter Hart. Skinner shut out the Everett Silvertips in Game 6 to clinch the title.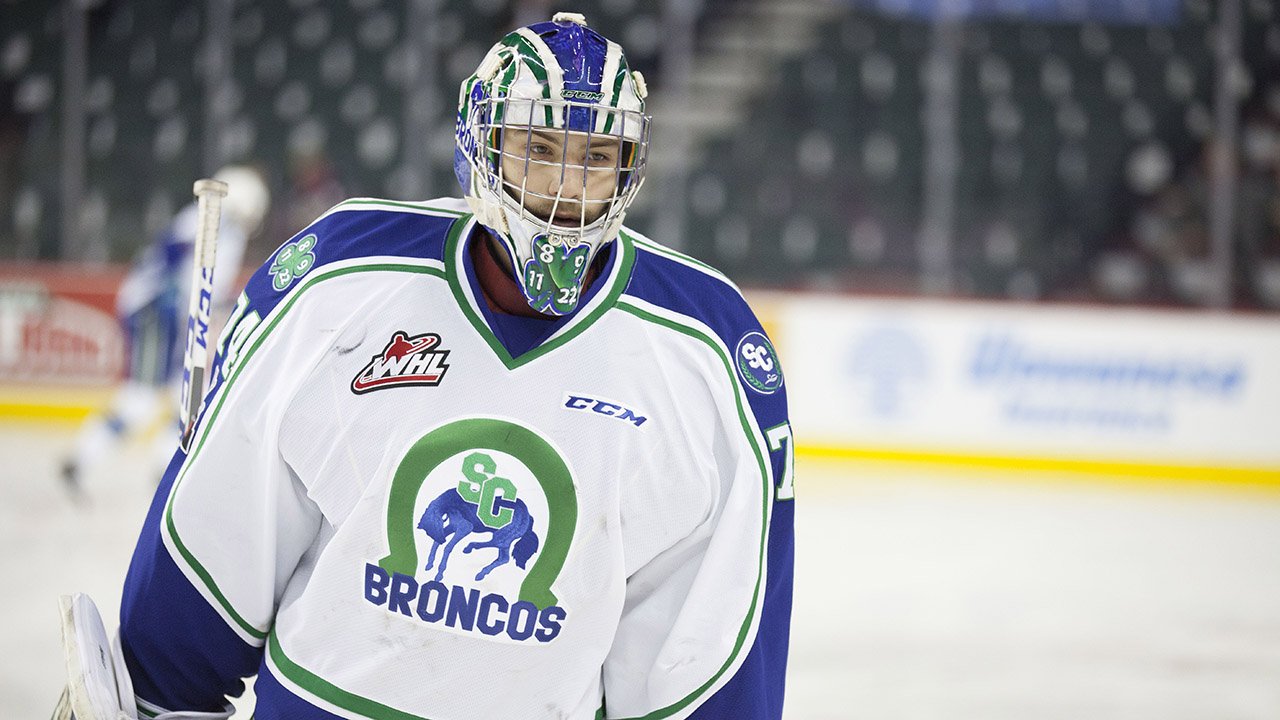 Here's a quick look at the rest of the Canadian team-affiliated prospects:
Glenn Gawdin, Calgary: A six-foot-one centre, Gawdin was a fourth-round pick of St. Louis in 2015, but was left unsigned by the Blues. The Calgary Flames swooped in and signed the 21-year-old to a contract in November and he had a monster year, finishing second in WHL scoring with 125 points in 67 games. The Broncos captain added 32 points in 24 playoff games and was named the post-season MVP.
Cale Fleury, Montreal: Brother of Carolina first-round draft pick Haydn, Cale is a six-foot-one defenceman picked in the third round by Montreal in 2017. He was dealt to the Pats this season and will now play for the host team in the Memorial Cup — something his brother did for Red Deer in 2016. Cale posted 51 points in 68 games this season, but acknowledges his main strength is his defence.
"My game really needs to be focused on defence first. I'm a pretty physical guy, too. I'd like to throw some hits, and hopefully join in offensively when I can," he told NHL.com.
Cameron Hebig, Edmonton: An undrafted six-foot centre, the 21-year-old Hebig signed on with the Oilers this past December. He was one of the best players on the Saskatoon Blades before being traded to Regina, where he finished with 32 points in 26 games. Hebig scored six goals in the Pats' first-round playoff loss.
Nicolas Mattinen, Toronto: Traded twice in his junior career, Mattinen has gone from London to Flint and was sent to the Bulldogs earlier this season. A sixth-round pick of Toronto's in 2016, the towering 6-foot-5 defenceman isn't going to bring an overwhelming amount of offence, but he's grown as a player. In his draft year, Mattinen was a healthy scratch in the playoffs, but now he's a valued asset to the OHL champs. The Leafs have to sign him by the end of this season to his entry-level contract or he will go back into the draft.
WHEN ARE THE GAMES?
As noted above, the host Pats take on the OHL champion Hamilton Bulldogs on Friday, May 18 to open the tournament.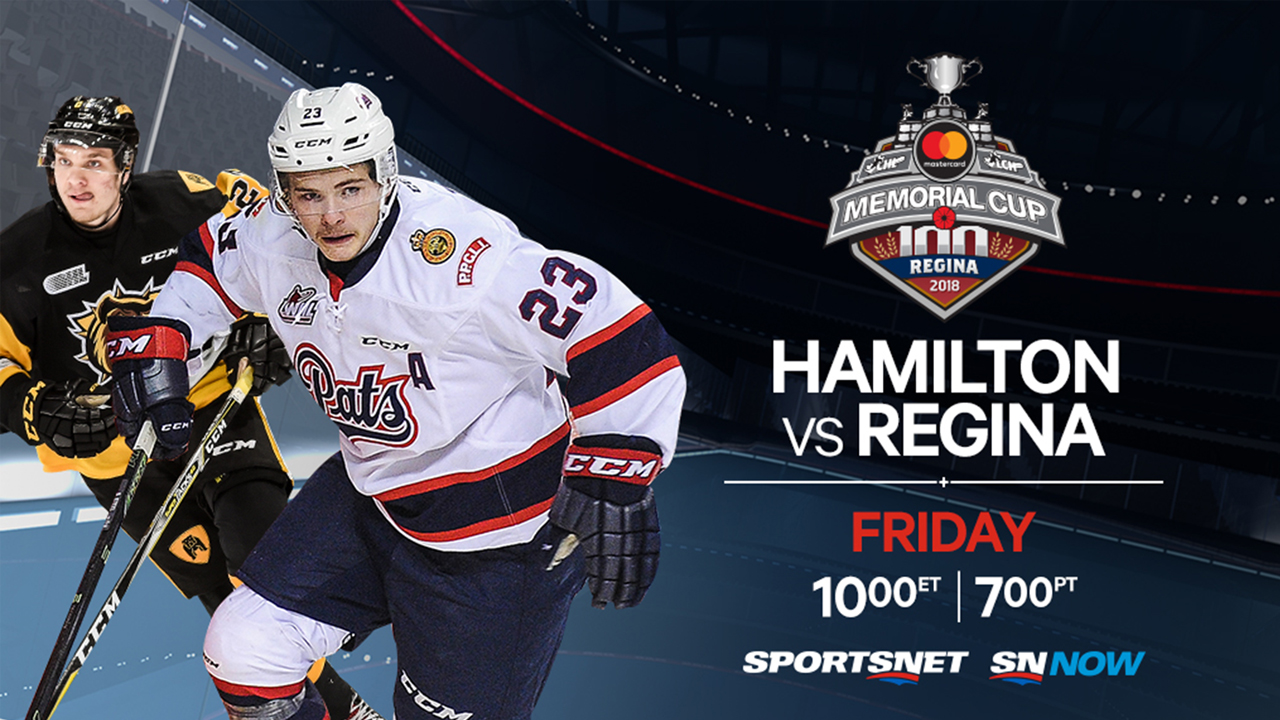 If you're not familiar with the Memorial Cup format, here's how it works. Each of the four teams face each other once in a three-game round robin. Whichever team finishes in fourth place after that is eliminated. The second- and third-place teams then face off in a one-game semifinal, with the winner facing the first-place team in a winner-take-all game for the Memorial Cup.
One game is played per day and the six round robin games run from May 18-23. Thursday, May 24 is set aside for a tiebreak game, should one be necessary to settle which team is knocked out of the first round. If no tiebreaker is required, that will be an off-day.
The semifinal is Friday, May 25 at 8:00 p.m. MT and the championship is set for Sunday, May 27 at 5:00 p.m. MT. You can watch all the games on Sportsnet and Sportsnet NOW. (All times are from the Mountain Time Zone, two hours behind the East and one hour ahead of the Pacific.)
OTHER PLAYERS OF INTEREST
Although this isn't the deepest year in terms of players with ties to Canadian NHL teams, there are still players of note to keep an eye on.
Three players from Canada's 2018 WJC gold medal team are in the tournament: Regina's Sam Steel (Anaheim), Hamilton's Robert Thomas (St. Louis) and Swift Current's Tyler Steenbergen (Arizona), each of whom are key scorers on their CHL teams. Thomas, in fact, was a member of the London Knights in 2015-16 when that team won both the OHL title and the Memorial Cup.
Regina's Josh Mahura (Anaheim), the seventh-highest scoring blueliner in the WHL with 69 points in 60 games, was a close call for Team Canada. At first he was one of the last cuts, but when Dante Fabbro's availability was in question, Mahura was put back on the team and got into some pre-tournament games. But just before the tournament started Fabbro was cleared to play, which led to Mahura being sent home again. If you're looking for a player with a chip on his shoulder, Mahura is it.
There are also some players with family ties to the NHL.
Hamilton right-winger Isaac Nurse, once passed over in the NHL Draft already, is ranked 180th by Central Scouting among North American skaters for the 2018 draft. He is the cousin of Oilers defenceman Darnell Nurse, and scored 17 goals and 30 points in 68 games.
Riley Stillman's dad, Cory, played 1,025 games and scored 727 points in his NHL career. Riley was a fourth-round pick of the Florida Panthers, one of his dad's former teams, and scored 21 points in 33 games with Hamilton after he was traded there from Oshawa.
Sahvan Khaira is the brother of Oilers forward Jujhar Khaira. Sahvan is an undrafted 20-year-old defenceman playing for the Broncos, who will need to play a collapse and block style that focuses on defence to have success, as pointed out by our own Sam Cosentino.
And finally there's Jake Leschyshyn, whose father Curtis played 1,033 games in his career as an NHL defenceman. Jake is a five-foot-11 centre for Regina, and he scored 40 points in 64 games for the Pats this season. He was a second-round pick of the Vegas Golden Knights last summer.
WHO IS THE TOP 2018 NHL DRAFT ELIGIBLE PLAYER?
The Memorial Cup isn't an event that usually features a lot of high-end draft eligibles, but there is one player this year who could end up going in the top 10.
Titan defenceman Noah Dobson has seen his stock rise all season long. In Sportsnet's initial rankings in October he didn't crack the top 31. But by our November rankings he was positioned in 16th and being compared to 2017 draftee Miro Heiskanen, who similarly shot up lists all season before going third overall to Dallas. In our final rankings, released at the draft lottery, Dobson came in at seventh overall.
A six-foot-3, 178-pound defenceman, Dobson has good size and room to fill out and excels with an all-around game. He scored 69 points in 67 QMJHL games this season to finish second in scoring at his position league-wide. He added 13 points in 20 playoff games.