In my first job interview for a position at Sportsnet, I was told (half-jokingly), "It wouldn't bother us if we never heard the word escrow on Hockey Night in Canada again."
Good thing this is a blog, then.
As we close in on the trade deadline, one of the concerns NHL teams have with their planning is what exactly are we looking at for a cap next season? At all-star weekend, commissioner Gary Bettman provided a couple of estimates in the $72-million range, provided the Canadian dollar stays around 80 cents.
Bettman's predictions also depend on the players voting to use their "escalator," which they have done every time they've been eligible to do so, with one exception. (The escalator allows a five per cent raise to the ceiling.) Trouble is, teams are wondering if this summer will be the second time the NHLPA votes against doing so. That wouldn't be a squeeze but a full-on anaconda-style choke.
---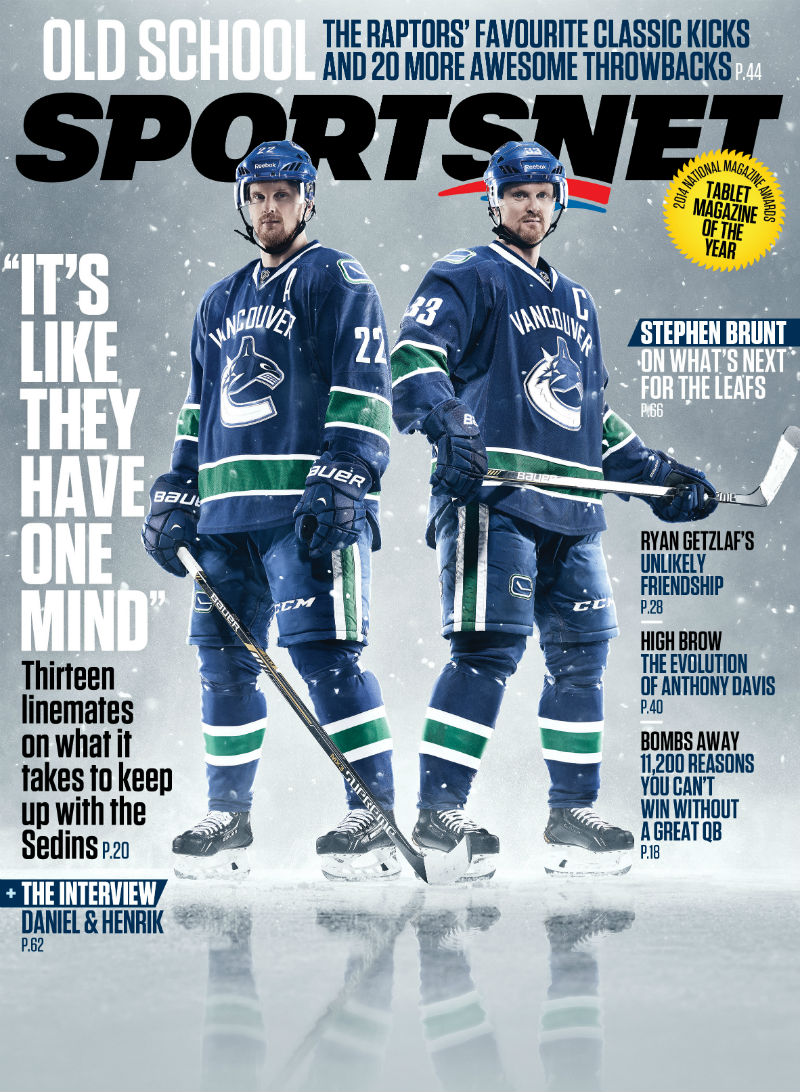 ATTENTION Rogers and Shaw customers.
Already enjoying Sportsnet ONE? Now get access to digital editions of Sportsnet magazine at no extra cost.
---
The players sent a shot across the bow in 2014 when they did not allow the NHL to put the full value of the new television money toward this year's limit, as is allowed under CBA rules. There was much arm-twisting to get $1 million of that total applied, which put the cap at its current $69 million. Just think how tight things would be if that money was not in the system.
According to several sources, numerous players complained to the NHLPA about escrow during its fall tour this season, and that grumbling will only get louder now that 16 per cent of their paycheque is being held back.
There is a legendary story about two players who got into an argument during one team's escrow vote several years ago. As the tale goes, one star, who had already signed a long-term contract, said his teammates should vote against raising the ceiling this time. Another star, heading into free agency, exploded at him, saying, "Oh, so the maximum should be available when it benefits you but not me?"
The team voted in favour of lifting the bar.
When current broadcast partner Glenn Healy worked for the NHLPA, he had a similar situation in June 2008. If he could not convince one team to change its mind, there would be no escalator used for the 2008-09 season. Healy, a staunch union man during his career, believes players should always opt to have the most money in the system.
"There are two ways to look at it," he said Monday. "First, star players almost always take a hometown discount to stay in a city. One of the reasons you do it is to win a Stanley Cup. If you vote against a maximum cap, you are refusing to enable your team to be better. You want to add another player or two players to a team at the deadline? Not if you don't give your team a mechanism to do that."
The second part of the equation is the human factor. Healy wouldn't say which team was involved, but he appealed to some of the veterans by pointing at another experienced player and saying if he didn't vote in favour, that player's career would be over.
"Once you are done, you don't seriously expect to come back next year. You're finished. It's stark and harsh," he said. "And that one more year can be so critical in so many ways. Your pension. You can set yourself up for another three years of your life. It's not the core players or the entry-level guys who are in danger, it's the mid-level guy that loses his job."
In the end, Healy's lobbying paid off.
"Once they understood the issues, it was an easy vote. It makes sense. They looked at each other and said, 'Last year he could sign because we raised it, two years ago he could, so why not the same for whoever needed it this time?'"
I don't like to tell people what to do with their money. Hey, you earned it, your choice. If it was me, I'd want to know how much the escalator really increases escrow. Anyway, Healy feels strongly about this issue.
"This shouldn't even be a close vote," he believes.
30 THOUGHTS
1. There was a bit of reaction to the Wayne Gretzky/Vancouver Canucks story from 1996 I told last week on Sportsnet The Fan 590, so I went back through my notes to see how the late Pat Quinn explained it. He went to bed after lengthy negotiations knowing Gretzky needed to run it by his family but felt things would get done. I said then-owner John McCaw pressured for an answer that night, but I misspoke. It was former Orca Bay CEO Stan McCammon who demanded it, threatening to pull the offer if there was no immediate commitment. When McCammon could not be persuaded to wait, things unravelled. It's common knowledge Gretzky and Cliff Fletcher hoped to work out a deal in Toronto, only to have it fall apart without ownership support.
2. The circumstances are eerily similar. High-profile game? Check. Surprise scratch? Check. Tight-lipped coach not giving away much? Check. For the second time in less than a calendar year, Paul Maurice wasn't offering many clues about a decision to bench Evander Kane. The first occasion was last April on a Saturday Hockey Night in Canada broadcast, the second was Tuesday in Vancouver, Kane's hometown. Kane's been hurt, but if this is injury-related, Maurice would say so. Jets GM Kevin Cheveldayoff better charge his Mophie for Wednesday. He's going to get 29 calls asking what's happening.
3. The only difference is in the immediate aftermath. Last spring, Maurice was asked what it would take for the forward to get back into the lineup. He replied, "Probably just show up at the rink." This time, the coach was non-committal. Keep an eye on Kane's usage. He averaged 20:17 per game last season, highest among Winnipeg forwards. In his first game after sitting, he came in it at 19:03, second to Blake Wheeler. But Maurice rode him hard the final two nights of the season, 22:03 and 21:18, comfortably ahead of the other forwards. He's at 19:18 this year, slightly behind Andrew Ladd, Bryan Little and Wheeler.
4. There's something about Vancouver. Cody Hodgson was benched there last Friday, a true slap considering Sabres coach Ted Nolan would know how much Hodgson desired to face his his former team. He recovered with his second point in 15 games, an assist that helped open the scoring in Buffalo's 3-2 upset of Montreal. Hodgson will be 25 in February, relevant because players bought out before they turn 26 are owed one-third of their remaining monies instead of two-thirds. Buffalo has to be thinking it. Hodgson, drafted 10th overall in 2008, seemed like a great pick. It's stunning to see how this evolved. He's really got to show them something.
5. Montreal's first goal in that game came when Tyler Myers didn't see Brandon Prust and was run over. Seconds later, Prust scored. I've written before how I can't see Marc Bergevin being comfortable with his blueline. He knows defencemen and assistant coach J.J. Daigneault has an excellent reputation for teaching them. Myers is notoriously hard on himself, so how he'd handle Montreal is a question. The Canadiens do have a good prospect goalie-thin Buffalo could use, a prospect blocked by someone named Price: Zach Fucale. Anyway, just thinking out loud.
6. He's probably not available now, but another goalie attracting interest is Kings backup Martin Jones. He's at the same contract point Jonathan Bernier was when Los Angeles traded him, a restricted free agent finishing a bridge contract after his entry-level deal. (Bernier was making twice as much as Jones is now, though.) He is the fastest ever to seven shutouts. Chances are if your team is looking for a goalie, it asked about Jones.
7. No contract talks yet between unrestricted free agent Devan Dubnyk and Minnesota. His save percentage is .943 with the Wild, reviving the team's playoff chances after a netminding meltdown. It is .923 for the season in 27 appearances. Who is better than that in as many opportunities? Craig Anderson, Braden Holtby, Steve Mason, Carey Price, Tuukka Rask and Pekka Rinne. Dubnyk lacks their pedigree, as he was staring into the abyss last summer. He is putting himself into a nice bargaining position, but you wonder if, after everything he's been through, fit is the most important thing.
8. Arizona goalie whisperer Sean Burke gets (and deserves) a ton of credit for helping rebuild Dubnyk's game. In August, former Ottawa goaltender coach Eli Wilson spent four days with the netminder in Edmonton, trying to simplify his game. As much as they worked on technical details, they also tried to clear Dubnyk's head. In a very negative spot, he was advised, "Don't look back… focus on the good things in life… bring good thoughts to the ice."
9. Burke had a great story about the world juniors. There were 27 medals to be handed out after the championship, and he was 27th in line. The Hockey Hall of Fame grabbed one and, as the procession moved towards him, he could see they were short. "I almost jumped in front of Bruce Hamilton to take his," a laughing Burke said of the WHL Kelowna owner, also part of the management group. "I knew I wasn't going to get one." One is coming — eventually.
10. Coyotes GM Don Maloney is on-record as saying the team craves young assets (particularly offensive ones) as he looks to move several veterans, but there is a secondary wish — a stout defenceman or two. Arizona feels it has plenty of puck-movers but lacks those who make it hard to get to your net, at least not without some pain. The Coyotes believe they are too easily manhandled in their own zone and must address that.
11. For all of the talk about Antoine Vermette and/or Keith Yandle, Maloney said last week he's received the most calls on centre Martin Hanzal. He has trouble staying healthy but is a large body at a critical position with an excellent contract (two more years at $3.1 million). It will take a big offer to get him out of there. Maloney knows if he gets one of the young centres, it would be nice to have Hanzal shield them from Ryan Getzlaf and Anze Kopitar.
12. There are a couple teams who suspect Colorado, which has fought its way into the race, is a stealth Vermette candidate. (Since we now know the government listens to everything we do, I'd love a transcript of recent Maloney/Sakic/Roy conversations. Some creative possibilities there.) Vermette could replace what the Avalanche lost in Paul Stastny, at least in the short term.
13. While the McDavid/Eichel watch has everyone fixated on the bottom of the standings, there is another effect. Pittsburgh was unafraid to deal its first-rounder, because the Penguins know they will be in the playoffs. (The Blues, Islanders and Rangers already traded them last year.) But, teams who are uncertain of a post-season position are loathe to give up such a pick, knowing if they don't make it, they've given up a lottery spot. And God help them if it actually wins.
14. Also to be part of the redesigned NHL.com? Every NHL game sheet dating back to the 1917-18 season. That probably won't be ready until next fall, though.
15. Rob Blake has heard the rumours. That he's going to Toronto to work with Brendan Shanahan. That he's going somewhere else to run his own show. He wants everyone to know: not happening. "I'm set in Los Angeles for awhile. This is a perfect setup for my family. And I've still got a lot to learn. This is the best place to do it." Blake stressed he did not talk to Toronto, but I don't think his feelings would be a surprise to them. There's a sense across the league it would take an awful lot to get him out of Manhattan Beach for the foreseeable future.
16. Some interesting reaction to the news Toronto was not interested in a Dion Phaneuf-Mike Richards trade without some kind of sweetener. "It says they think they can make a really good hockey deal for him," one executive said. There's definitely interest, as other teams believe Phaneuf can be reborn where the spotlight is not as intense and he's not the No. 1 defenceman. "The challenge for them will be what happened with Roberto Luongo," the exec continued. "Big contract and a player with some control [although not as much as Roberto Luongo had]."
17. Cody Franson told reporters Monday in Nashville contract talks are "what I pay my agent for so I don't have to stress about it." The Maple Leafs came in with an offer averaging approximately $4.6 million per season, which didn't get it done. (The pitch was believed to be for three years.) I don't like saying "rejected" because, if you've ever been in a negotiation, you know it is all about offers and counter-offers. Another agent likened it to a situation where the team comes with something it knows the player will veto but gives the club the right to say, "We tried." We'll see.
18. One scout had good insight into right-shot defenders like Franson and Jeff Petry. Some teams are still unsure about them, but compared the two to left-handed pitchers in baseball. A valuable and difficult-to-find commodity. Now that so many teams are sending two forecheckers hard (and you can't slow them up), it's tough to play defence on your weak side. That extra split-second makes a huge difference.
19. That said, one of the adjustments New Jersey is trying since its coaching change flies in the face of that. According to one coach, the Devils are asking that second forechecker to pull up if too far from the opposing defender. "They don't want him to get pinned against boards," the coach said. "If two of them are pinned, you can create a foot-race and they aren't fast enough. This way, their F2 gets more pucks."
20. Jason Spezza had a good line about Lindy Ruff, that the two of them can finally joke about the 2007 Buffalo-Ottawa brawl. "I told him I didn't like Adam Mair coming after me," the centre joked. More seriously, Spezza added he liked playing for Ruff, but the two both said it was a challenge getting the player to where the team needs him to be. "I'm trying to change my game a little bit," the ex-Senator said. "So, maybe doing that outside the limelight is… beneficial to me." Spezza said there were times he wasn't generating any offence because he was trying to be responsible, which didn't help either. "Taking some risk out of my game is something that I'm working on. I'm probably backchecking better than I ever have…. When I was in Ottawa… I got the puck a lot more, the power play was always run through me. Here, I'm in a different role." Spezza hopes to develop into Jeff Carter, who was once a 21-minute player in Philadelphia but now averages 18 for Los Angeles. Maybe it is a smaller role, but it doesn't mean you can't have an impact.
21. It is expected that 2001 Calder Trophy winner Evgeni Nabokov will announce his retirement this week. In 2004, the late Warren Strelow, who developed both him and Miikka Kiprusoff in San Jose, remembered the first time he worked with Nabokov on-ice. "We took him out to the rink, and he didn't have any equipment. We got him some… new skates, new pads, new chest protector, new mask, new everything and he didn't miss a beat. We said, 'This is some athlete.'" Steve Webb, who played 321 NHL games, was on Nabokov's first North American team, the 1997-98 AHL Kentucky Thoroughblades. Webb remembered Nabokov really put in the work, going out early before practice, then staying later to do more. On Long Island, GM Garth Snow said Nabokov had a lot to do with teaching the Islanders the commitment it took to be successful. Then he added, "Not only was he a solid presence on our team, but his son Andre was missed on our mite team."
22. Strelow explained how Nabokov got his North American moniker, John. "We nicknamed him John because we couldn't say Evgeni." There you go.
23. We'll get a true indicator of how annoyed the NHL is (or isn't) at referee Tim Peel when playoff assignments are revealed in April. Peel was suspended one game after he did an interview with Puck Daddy's Greg Wyshynski while downing shots at a New York establishment. This doesn't bother me, but, as I've been told recently, not everyone has my sense of humour. The league was not pleased with the accompanying photo. Peel handled himself well in a conversation with his harshest critic, but I would wager this: He knows he's got to have a great year and will work hard to deliver.
24. Wager number 2: teams weren't upset about the photo. But they didn't like the "game management" stuff, because it drives them crazy.
25. Best referee story: When their names were taken off the jerseys, one had a new sweater made with larger numbers than regulation size. At least that way, he would be a little more recognizable. He was caught, but you have to admit that's pretty funny.
26. Martin Brodeur, asked if he could see himself being GM of the Devils with son Anthony a New Jersey draft pick: "That's a tough one… you have to make decisions on prospects. To do it for your son, that's something difficult." He laughed and said he'd need "assistants do the job for me. Would be tough, that's for sure." Best advice he received from former players now working for teams? "If you don't have a passion for it, don't do it."
27. I'm going to burn a few here with outtakes from the Brodeur interview. His stuff was very good (as usual), and we didn't have room for it all. (Nick Kypreos reddens when he doesn't get his face time.) Did Brodeur come close to signing with the Canadiens last summer? "No. I talked to them, I loved their team, but I wanted to go out west if I was going to go somewhere."
28. Asked about the NHL today, Brodeur said he loves the skill of the players but is concerned about the speed making it too dangerous because they cannot protect themselves — especially defencemen. He would get rid of the trapezoid and allow slight interference, if it protects those going back for the puck. He would not allow it on a puck-carrier skating through the neutral zone. He picked Sidney Crosby as his franchise player, Carey Price as his franchise goalie, made a total homer selection of Vladimir Tarasenko as a someone he loves to watch and "can't wait to see what Connor McDavid brings to our game."
29. Asked to choose the sniper with the most deceptive shot, he admitted a respect for Russian shooters: "The way the Russians are shooting the puck… their curves… their release." When Ilya Kovalchuk shot, "the puck never came in really straight on you; it would find ways to go through you." Alexander Semin and Tarasenko are the same. Russians caused big problems for him.
30. A few weeks ago, there were some notes about David Levin, a Toronto-area minor-midget prospect born in Israel to Russian parents. Living with his aunt and uncle, Levin hoped to be made eligible for the upcoming OHL draft instead of going through the CHL import draft, which would stay his eligibility for another season. Two weeks ago, Ontario teams were notified Levin can indeed be taken this year. He will be a high selection.