After months of trade rumours and speculation, the Montreal Canadiens finally traded Max Pacioretty, sending him to the Vegas Golden Knights in exchange for Tomas Tatar, prospect Nick Suzuki, and a 2019 second-round draft pick that previously belonged to the Columbus Blue Jackets.
The Athletic's Corey Pronman placed Suzuki as the Golden Knights' fourth-best prospect in a system he ranked eighth in the NHL, so the 100-point centre from the OHL's Owen Sound Attack is a big piece, and a second round mystery box is always a bonus, but the return on the trade that will have an immediate impact is Tomas Tatar.
Tatar, like Pacioretty, is coming off a bad season, but is a better player than he's currently recognized as around the NHL. Considering the data is ready to go at left wing for the positional rankings project I do every summer (check out last season's for a detailed explanation), we can compare Pacioretty and Tatar directly in overall impact.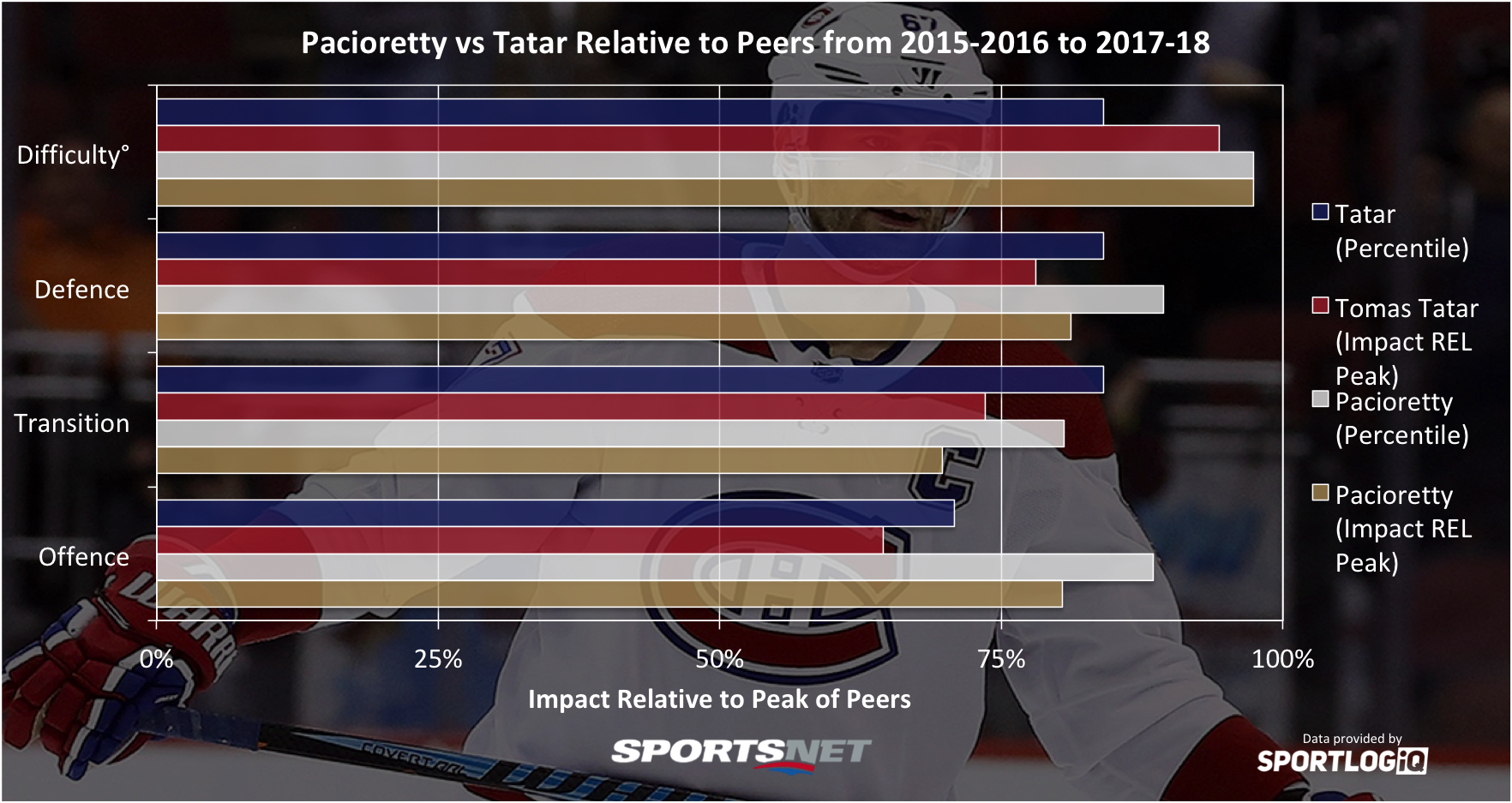 The players are compared against each other in two ways here. With simple percentiles we can see how they rank against the rest of the NHL at their position over the past three seasons, showing the percentage of left wingers they're superior to in each category. The other comparison is in their relative peak impact, where we can see how they compare to the top left wingers in the league in each category as a percentage of total impact on play.
Both Tatar and Pacioretty have played first line minutes over the past three seasons for bad teams, though the Canadiens did have one good season in the middle of two stinkers. Pacioretty has played the minutes of a franchise-level left winger, while Tatar has been a solid first liner.
Tatar compares quite well to Pacioretty both in transition and on defence, ranking slightly ahead of Pacioretty in transition due to the former Hab being a below average passer and failing on an especially high number of passes last season. Despite poor 2017-18 campaigns from both of them, they remain first line capable defensive and transition forwards.
The separation begins on offence, where Tatar rates as a decent second-line forward, but Pacioretty remains an upper tier first-liner. He's nearly in the 89th percentile on offence despite a horrible season where nothing went right for him.
Both players should be expected to rebound this year, as they suffered from horrid on-ice percentages that made their production look poorer than the underlying numbers would suggest.
But Pacioretty has a much higher ceiling.
Ryan Dixon and Rory Boylen go deep on pucks with a mix of facts and fun, leaning on a varied group of hockey voices to give their take on the country's most beloved game.
Without giving too much of this year's positional rankings away, the gap in terms of overall impact between these two players over the past three seasons was 15 players deep. There's no doubt that in the immediate aftermath of the trade, the Canadiens take a hit.
What's up for debate is whether the combination of having a younger Tatar at a reasonable salary for longer term, highly touted prospect Nick Suzuki, and a low-end second-round draft choice this season are enough to bridge the gap.
Opinions on that are bound to vary, and while I usually prefer to get the best player in a trade, I think this makes sense for the Canadiens as a club. There's quite a bit of pressure for Suzuki to pan out now, but he adds to a growing depth at the centre position in the Canadiens' prospect cupboard that now includes Suzuki, Jesperi Kotkaniemi, Ryan Poehling, Joni Ikonen, and Jake Evans. None of them appear to be budding superstars, but there's a good chance these players can address a glaring need.
Where Pacioretty fits with Vegas
Tatar wasn't a fit on Vegas' roster, though despite their fairy tale run to the Stanley Cup final I fail to see how it's possible a player of Tatar's calibre can be scratched for Ryan Reaves (no disrespect to Reaves).
The Golden Knights chose to move on from James Neal in free agency and brought in Paul Stastny to add to their centre depth. In making this trade, they have now replaced Neal with the same type of player, one who comes with a lower salary for at least one season.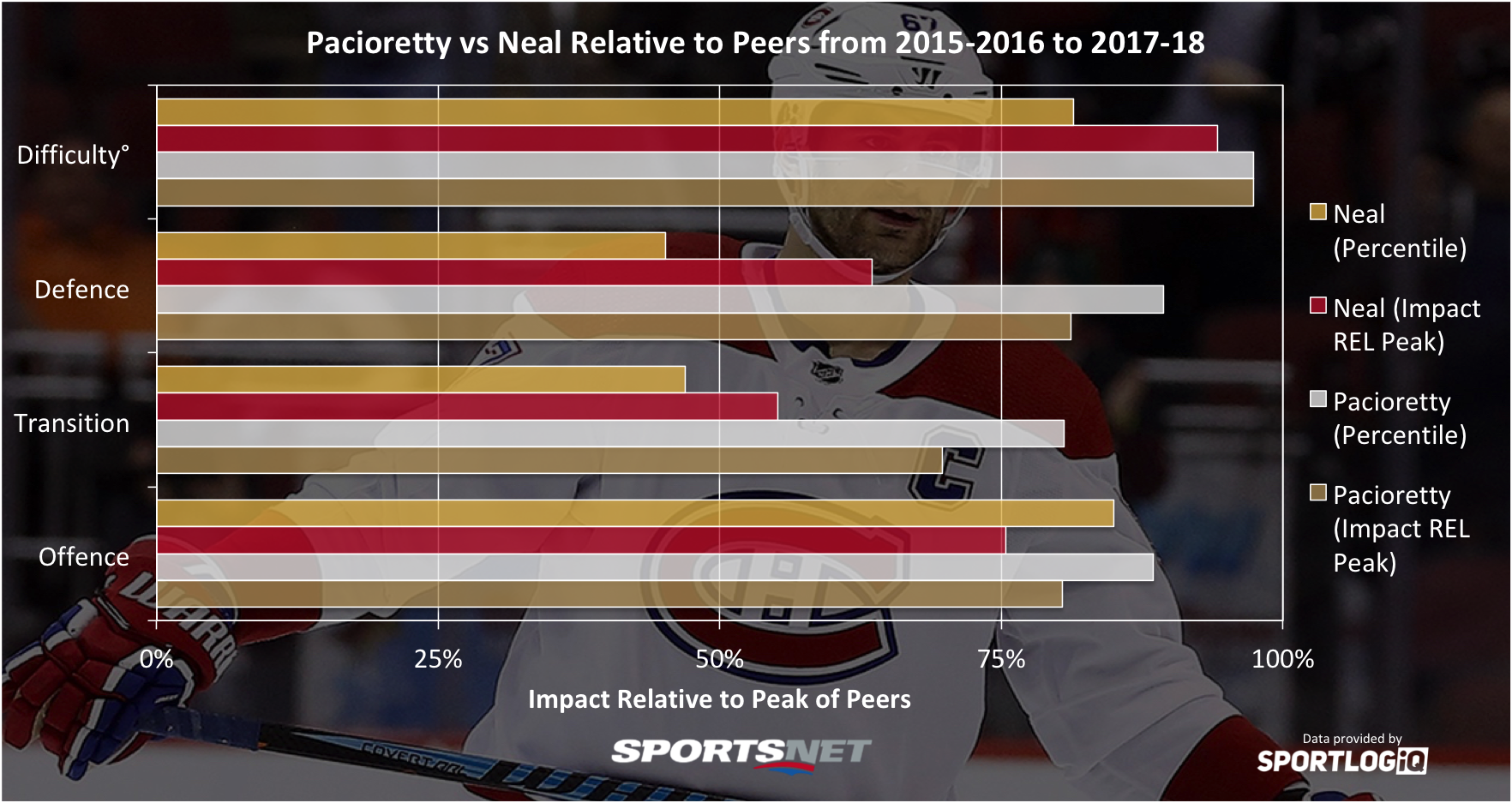 Neal is a very good player and should fit well in Calgary, but he is far more one-dimensional than Pacioretty. While Pacioretty is a first-line forward any way you slice it, Neal is a first-line forward offensively, and a good third-liner defensively and in transition up the ice.
Since Vegas was given both the pick used to take Suzuki and the second-round draft pick in this trade for non-roster considerations, they essentially moved picks to upgrade their left winger after already upgrading at centre. Put together, this is a slick bit of maneuvering by general manager George McPhee.
Where does Tatar fit?
Recently I looked at how some players who moved to new teams this summer would fit with different linemates, and one of the duos that looked like a smart bet was Max Domi with Artturi Lehkonen in Montreal.
So in looking at how Tatar generates offence, the question becomes whether he can slot in beside Jonathan Drouin and Brendan Gallagher on what I expect to be the top line, or if his addition requires a full re-shuffling of the deck.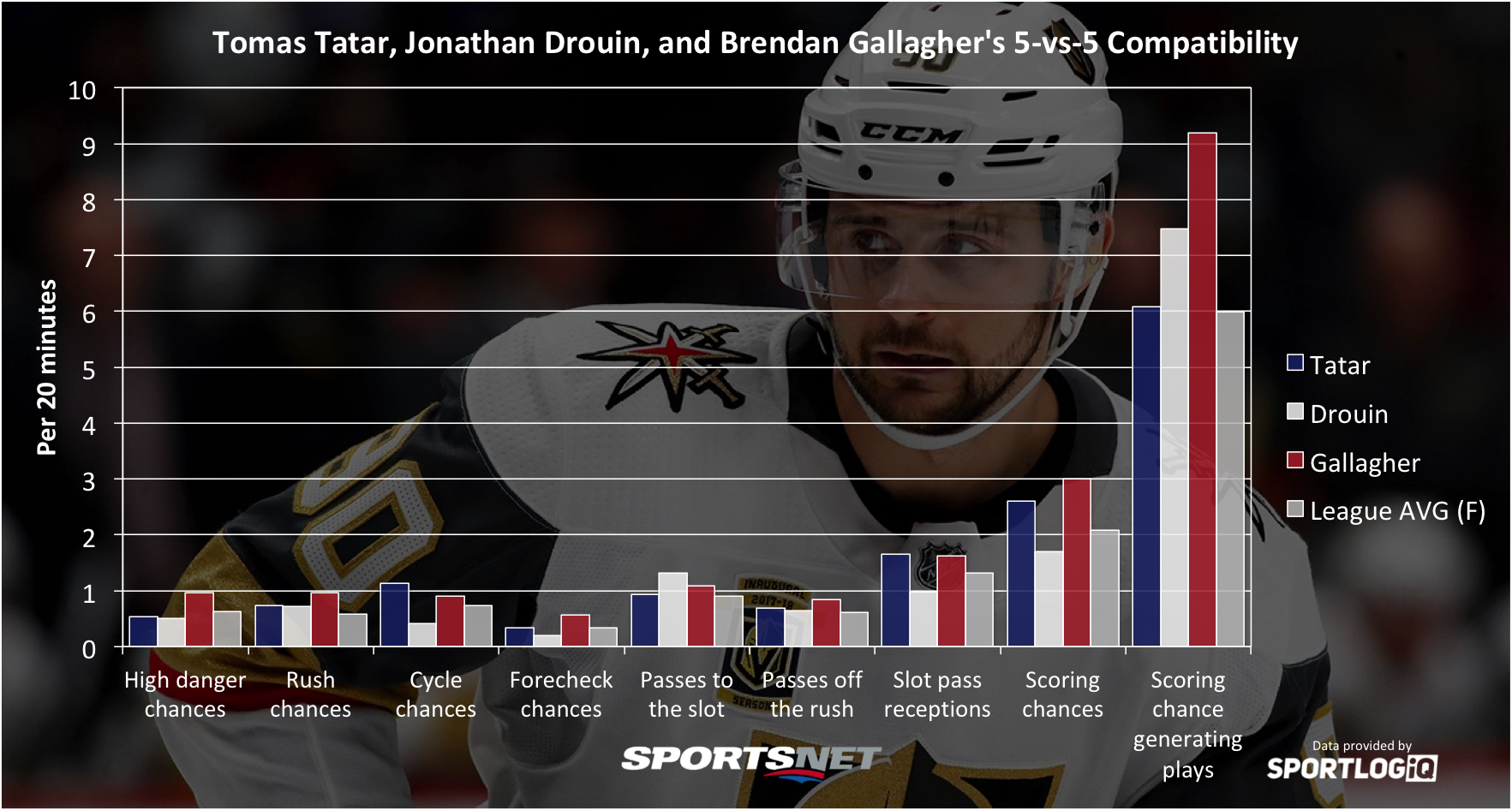 Tatar is an above average scoring chance producer both off the rush and off the cycle, while he's about league average off the forecheck. Gallagher can play it any way you want and essentially has chemistry with everyone. But it's important that Tatar can hang with Drouin off the rush and gets to the slot often enough that Drouin can maintain his perimeter-playmaking style that makes him successful.
All three are better than average playmakers, though only Drouin is a first line-calibre passer when it comes to moving the puck into or through the slot area.
Last season Gallagher diversified his shooting style significantly by moving further from the net and taking more of a sniper's position in the high slot as opposed to his usual tipping pucks and jamming at rebounds. And though Gallagher was still in the top 50 in the NHL in high danger chances, in order for this line to work he may need to get closer to the net again. Tatar will likely want to occupy the space in the high slot.
If Tatar-Gallagher-Drouin becomes a line, it will be interesting to see how dangerous their counter-attacks can be. All three players are very effective at gaining the offensive zone, which gives them a layered attack off the rush, and all three are capable of making plays at speed.
Gallagher's presence on a line is essentially hockey's version of flux in metal work: he makes everything easier. More than any other, this is the reason why I wouldn't be surprised if this line clicks.
The Canadiens could still absolutely use more goal scoring talent, but with Lehkonen and Charles Hudon poised to break out, Tatar a consistent 20-goal scorer, and some added playmaking from Max Domi, their forward group looks like a deep one that could surprise.
Their defence, however, is a different story.