When he signed with the Calgary Flames in July, I wrote about how James Neal should be a decent fit with their forward group — at least in the short term — based on the fact that he remained a productive even-strength player despite some overall decline in his play entering his 30s. So far, that take hasn't been looking so great.
One of the assumptions that I made was that Neal would get a chance to play with Sean Monahan and Johnny Gaudreau, bringing a scoring and agitating presence to that line. That would complement not just that line, but the agitating presence of Matthew Tkachuk on the second line, making the Flames very frustrating to play against, on top of being tough to defend.
Unfortunately, in limited minutes (only 22), Neal has not been successful on that line at all. In fact they've been torn to shreds while together, and Elias Lindholm has stolen Neal's spot there with a career high shooting percentage and over a point per game pace. Another thing I didn't expect to happen.
Without a spot that makes sense for him to play in, Neal has been bounced around the Flames' lineup to a ridiculous degree, playing 10 minutes or more with seven different line combinations in his just 191.35 minutes of 5-vs-5 ice time, according to Corsica.Hockey's line combination tool.
The result has been a terrible start for Neal, where his minor penalties outnumber his points by a 5-4 margin over 15 games. Looking strictly at his on-ice statistics, his performance is below team average, but that's not unexpected for a player slotted on the third line of a very top-heavy team, so the question I have is whether Neal has hit a sharp decline to begin this year.
Let's look at the same statistics I presented over the summer and compare Neal's year in Vegas to his first 15 games in Calgary.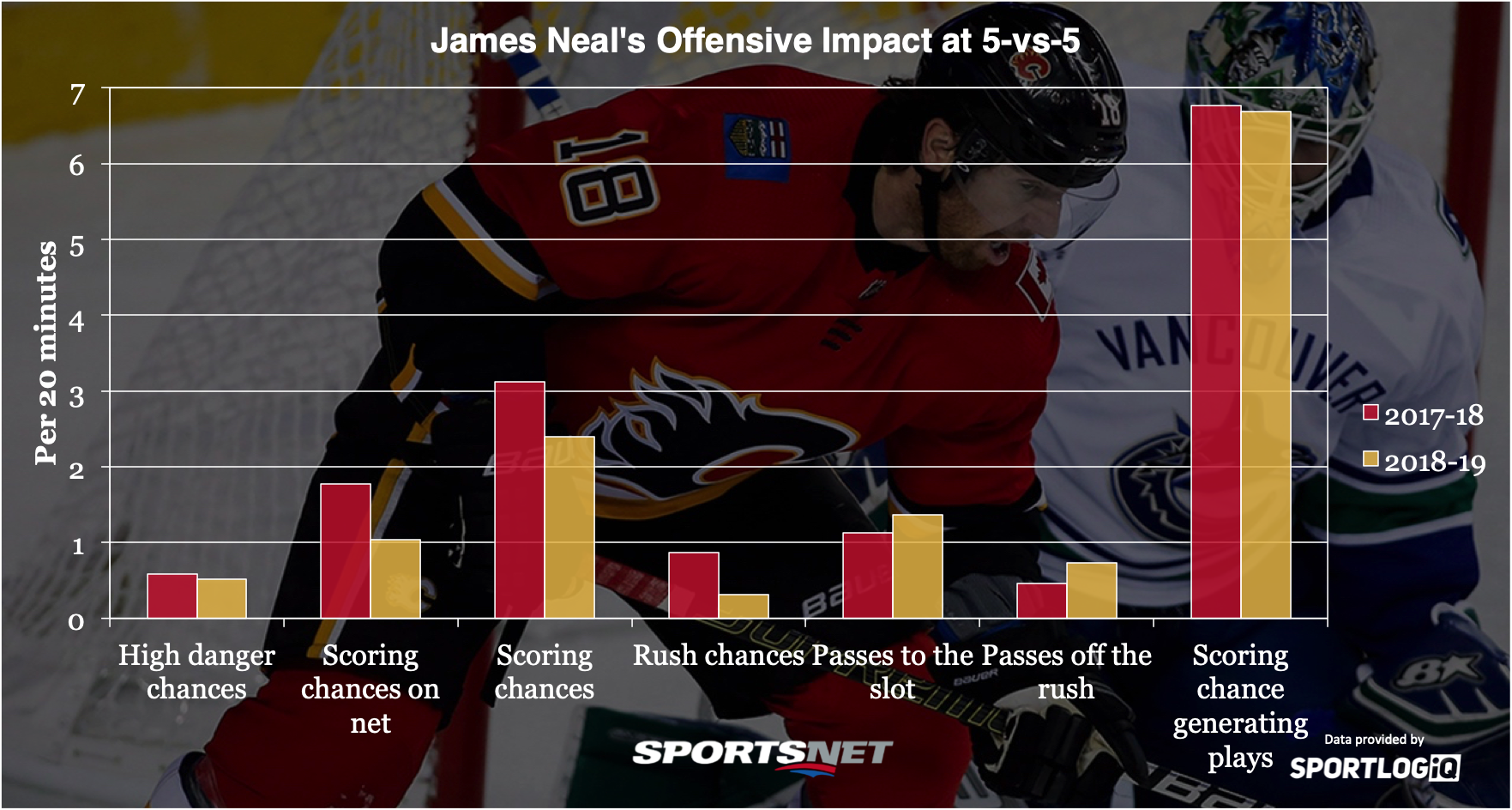 Overall, Neal is about as involved in creating scoring chances as he was last year, still at a top-six forward rate, which is a good sign for him. However, his tendencies are all backwards.
Throughout his career, Neal has been a pretty decent playmaker in getting the puck to the slot, but he's always been a shoot-first player with the playmaking being a secondary option. This year his shot rates from the slot are all down, while his passing rates are up.
In a vacuum, this is not necessarily bad, but I have noticed over the last couple years that when snipers are in a funk, this is often what's happening — they're not being selfish enough with the puck.
The issue isn't his teammates not finding him either. Neal is receiving 2.72 passes in the slot per 20 minutes played at 5-vs-5, the highest rate on the Flames, significantly ahead of Sean Monahan in second at 2.47. So not only should he be getting more scoring chances, most of them should be involving pre-shot movement as well, making them extra dangerous. But he's not getting his shots off.
A similar problem has happened with Neal's attacking off the rush. While the Flames aren't quite the rushing team that Vegas was last season, Neal ranks 12th among Flames forwards in scoring chances off the rush, where he's been preferring to pass, something he has never shown himself to be adept at before.
If this is just a struggling player in a small sample size trying to find teammates to score while feeling like he's in a rut, it's probably nothing to worry about for the Flames. But the trouble with Neal is that he has been on a shooting decline in recent years.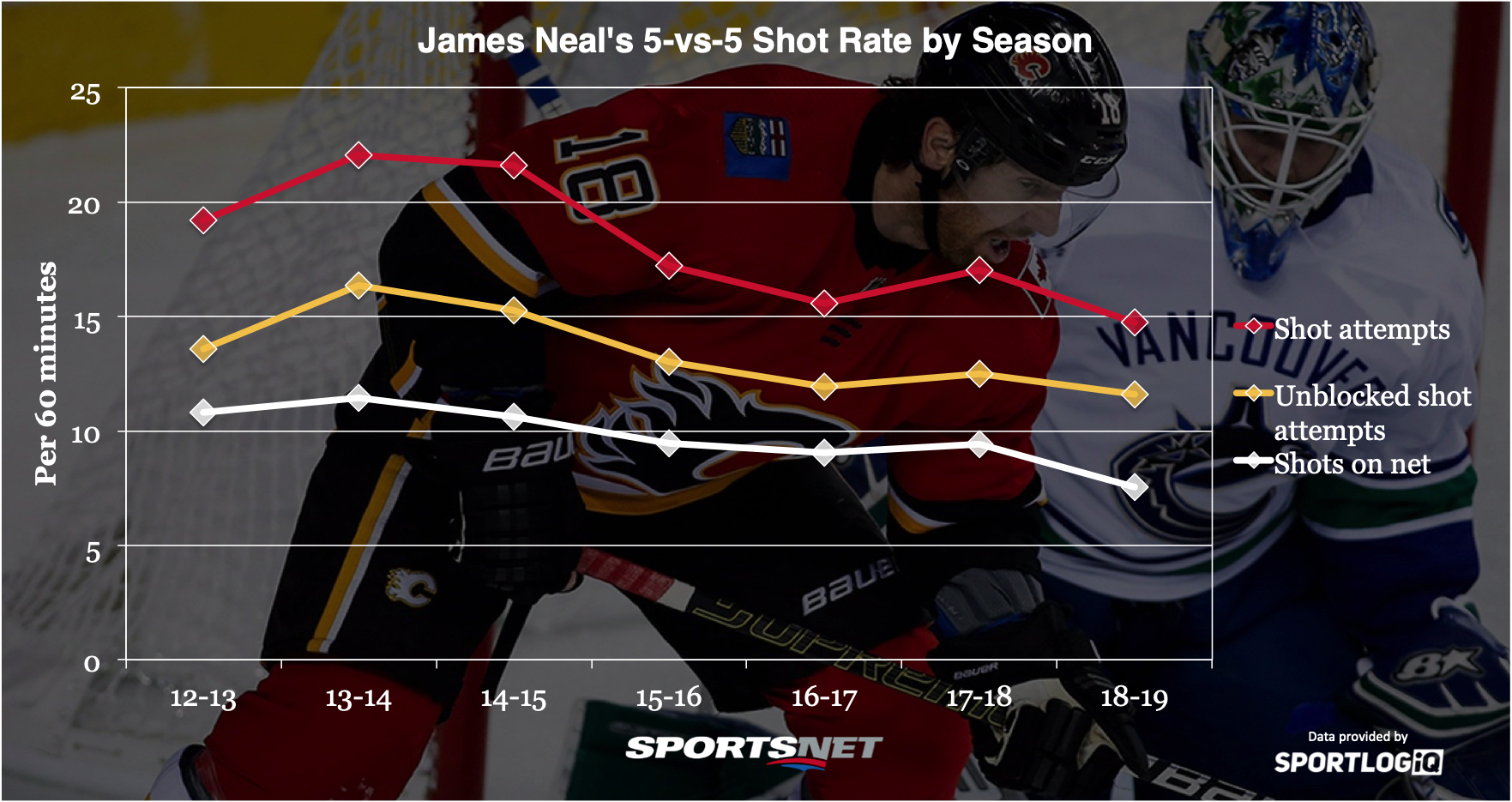 Going back to the lockout-shortened season of 2012-13, Neal has seen his shot rates fall since 2014-15, and while there was a rise last season, it would make sense that he benefitted from the Vegas bump that many other players did. This season's rates seem in line with the rate of decline he was seeing in Nashville.
None of this means that Neal is a useless player by any means — he has demonstrated that he's still capable of putting up a decent number of shots, and he has been a consistent 10-12 per cent shooter for the last five seasons. What it does mean, though, is that expectations should probably be lowered for his output unless he can get more shots, from better locations.
In previous years, Neal has compensated for lower shot rates by moving closer to the net, which kept him as a 30-goal threat in recent years, but this season so far we've seen his scoring chances go down with his shots.
I'm not convinced that Neal is incapable of recovering, but he's a player to watch right now, because Calgary will need to get him going once Elias Lindholm's hot streak cools off a little.