They say it's a copycat league, but when an idea is this fun, it deserves repeating.
The New Jersey Devils hired graphic designer Anthony Zych, employed in 2015-16 by the Columbus Blue Jackets, to draft a fresh game-day poster for each one of the club's home games — starting with Tuesday night's Prudential Center opener versus the Anaheim Ducks.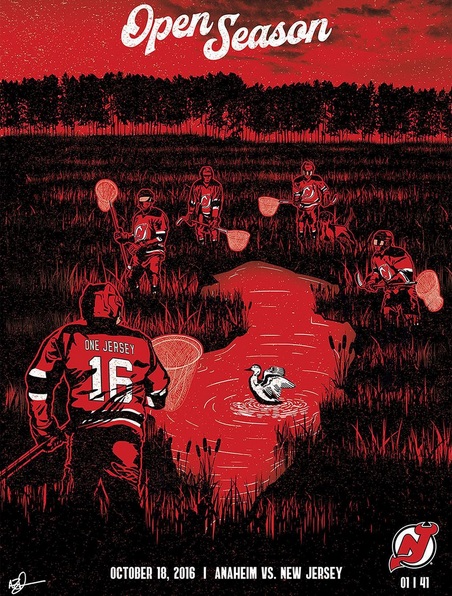 For a mellow five bucks, fans can scoop up one of Zych's limited-edition posters at the Devils team store. Only 300 are released for each of Jersey's 41 home games. (Price may vary depending on the game.)
The Devils will also selling a limited number of complete poster series upon conclusion of the season.
"We want to find new ways to connect to our communities and share Devils hockey in different ways, from the diehard fanatics to the people that have never thought about the sport," says Hugh Weber, president of the Devils and Prudential Center. "These amazing posters are another touch point for new fan engagement, and we think our core Devils fans will really like them as well."
An Ohio State University student who now lives in Jersey City, Zych told Sportsnet's Joe Pack last season that his classic-feel hockey posters are inspired by old theatre billboards you might see advertising a Broadway show.
The posters mark another step into the now for a New Jersey franchise that has been doing more interesting executions with social media and in-house video productions. The Devils have also loosened up their stance on facial hair and have been including player salary information in their press releases.
All of this is a good look.