The National Hockey League has its eyes on a lofty international schedule.
The NHL board of governors met this week with an eye towards producing a slate of events well into the next decade.
Sportsnet's Elliotte Friedman detailed a rough outline of what the league was hoping for on this Saturday's Headlines segment.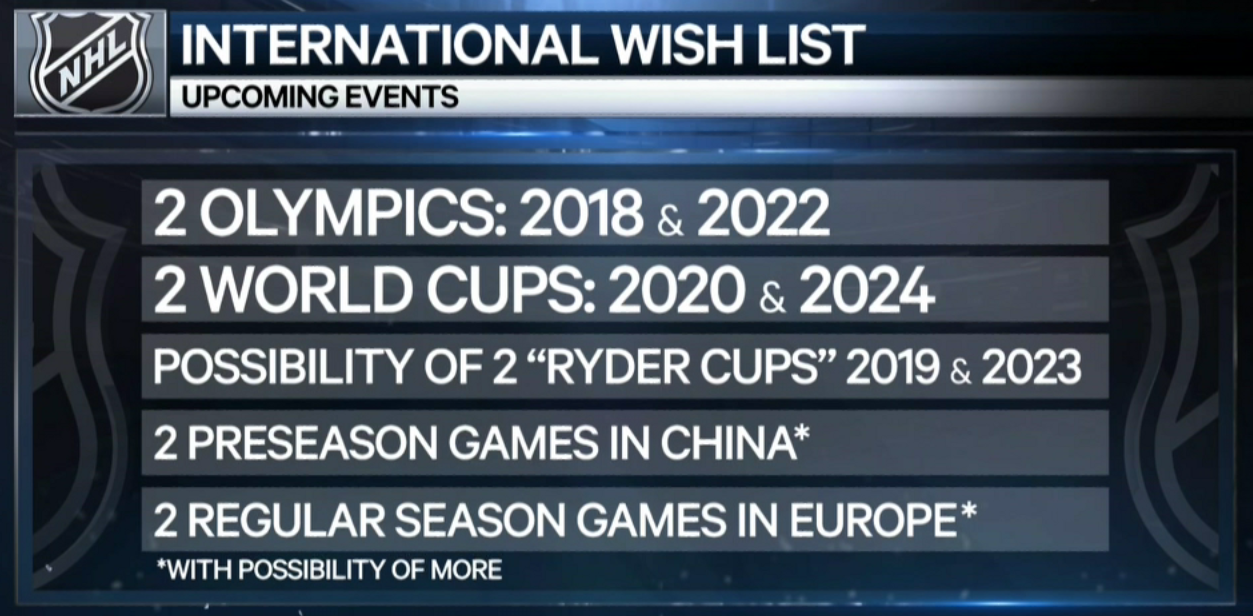 Participation in the next two Winter Games, and two more World Cups were mentioned, as well as some intriguing ideas that haven't been done before which were alluded to on Thursday.
"I believe on the table are two 'Ryder Cup' events, either Canada versus the rest of the world or North America versus the rest of the world replacing All-Star Games in 2019 and '23, that's a concept," said Friedman. "Two pre-season games in China hopefully starting next year and then more to come. That could be the Canucks and Kings, and two regular season games in Europe hopefully as soon as next year with the possibility of more."
Commissioner Gary Bettman and the NHL owners are hoping that the players' association will extend the current collective bargaining agreement in exchange for these international opportunities. The current CBA expires in 2022.
"We all know what's at stake here, what the league wants in exchange for that. It's their position that they will grow the game and make up some of the money that the players are concerned about [that] they're losing for escrow," said Friedman. "We've got five-six weeks to go here and it always comes down to the deadline.
"I believe, speaking to some governors today, that their position is 'Look, we've made our offer it's out there. Who wants to come talk to us?' and we'll see where it goes over the next six weeks."
Sportsnet's Nick Kypreos seemed to think it was likely that the league and the union would work together to extend their influence further across the globe.
"The good news in all of this is [NHLPA executive director] Donald Fehr and Gary Bettman both know that they've exhausted almost everything they can in North America," said Kypreos. "The new fresh money is international.
"This has to go, they cannot set themselves back here and wait another 12 years for another World Cup."