The dark cloud hovering over the 2018 men's Olympic hockey tournament hasn't dissolved yet, and we don't expect it to for a while.
Even on a summer morning brimming with promise, challenge and the unknown — when Hockey Canada announced the decision-makers who will attempt to complete the first golden threepeat since Russia ran the ice world in the '60 and '70s — a cloud hung overhead, and it was shaped like the NHL shield.
Because it's impossible to hold a true best-on-best tournament if the employer of the best 700 some-odd hockey players won't release its talent, the '18 men's tourney will be something else. Something, most assume, destined to be lesser than.
If you hear a Team Canada skater scream "Iggy!" in PyeongChang this winter, it won't be emanating from Sidney Crosby's lungs and it will only be because Jarome Iginla didn't continue his NHL career.
Hockey Canada chief Tom Renney will join GM Sean Burke, goaltending legend Martin Brodeur, Scott Smith and Scott Salmond in cobbling together a hodgepodge Team Canada to be coached by bench boss Willie Desjardins and assistants Scott Walker and Craig Woodcroft.
Some of the Canadian players will look too young. Others too old. Many will yield unsatisfying Google results.
The defending champs twice over will find themselves in the unusual predicament of underdog against nations like Finland, Sweden and Russia.
"When you represent Canada, your expectations are always high," said Burke, also a pro scout for the Montreal Canadiens. "We'll leave no stone unturned."
The European outfits won't require name tags during team meetings, and their native club leagues have done what the injury-averse, money-enjoying NHL owners have not: they've welcomed breaks for Olympic involvement and growing the game. Mind you, they have less at stake.
Tasked as the puzzle master of Canada's roster, Burke is no doubt hopeful to spin a positive national turn into an NHL management gig. This is the first Games in years that the men's gold will feel completely up for grabs.
And that, good reader, is why the cloud will disintegrate. Gradually at first, then all at once in February.
A few days ago, Ron MacLean's gut instructed him to cling to hope.
"My own personal view is that there are levers of power — including American network television — that still may influence this and create a happy outcome for fans," MacLean, a voice synonymous with both NHL and Olympic coverage in this country, told us.
As recently as this week, reports surfaced of a second, Olympic-friendly NHL schedule for 2017-18. Those were snuffed out by deputy commissioner Bill Daly (to The Hockey News) as if Gary Bettman's assertions and re-assertions that the issue is "officially closed" weren't satisfactory.
Hockey Canada's management unveiling should make the NHL pullout and the uniqueness of the landscape in its absence feel a little more real. For all the experience and hockey brain power within the Burke-Desjardins regime — and the Brodeur inclusion certainly adds a credible touch — this isn't Yzerman-Babcock, and it won't be Bergeron-to-Crosby.
"When you listen to the NHL player that's not going, you kinda get it," Renney told Sportsnet's 960's Rob Kerr. "They want to go, they want to be there, they want to play for their country."
NHL superstars were quick to voice their disappointment. Erik Karlsson, Jonathan Toews, and Brad Marchand were among the loudest.
"I look at it as it's misrepresenting our sport," Canada's Mark Scheifele, too young in '14 but a would-be shoe-in now, said recently. "The Olympics is a big honour, and for us to turn that honour down is junky."
For Russian stars, however, it's not just junky. It's unacceptable.
"Somebody going to tell me I don't go, I don't care, I just go," said Alex Ovechkin, the unofficial spokesperson for a two-week NHL defection.
The eastward pull for Ovechkin's Washington/Russian teammates, Evgeny Kuznetsov and Dmitry Orlov, is similar. And a major reason why Ilya Kovalchuk opted to remain in the KHL this season is because that league will facilitate his international participation.
"It's in the heart, you know?" said Kuznetsov, to whom Capitals owner Ted Leonsis recently committed $62.4 million. "That's why we're playing hockey. To play for national team."
Evgeni Malkin told a Russian outlet this week that he plans to approach Penguins owner Mario Lemieux around Christmastime with a leave-of-absence request.
"It will be difficult to go if the league refuses. Mario may not be able to influence their decision. But I want to talk to the owners," Malkin told Sovetsky Sport (translated). "It's necessary to know what they think."
Ovechkin & Co. — perhaps with the aid of the NHLPA — may attempt to chew through whatever red tape Bettman and IIHF president Rene Fasel string in their path. "We've done the work," PA honcho Donald Fehr told us earlier this month. "It is an individual club decision on whether he would go."
But these juicy, controversy-based stories (and possibly a seed for the next lockout?) threaten to overshadow richer, personal ones. The kind of perseverance tales more in line with the Olympics' amateur ethos.
As part of its Plan B preparation strategy, Team Canada has identified 45 potential Olympians from the AHL, junior ranks, and European pro circuits over the past 18 months. The national squad will play five tournaments in seven months leading up to the show in South Korea.
Familiar unrestricted free agents still looking to hook an NHL job — Iginla? Shane Doan? Mike Fisher? — are on Hockey Canada's radar as well.
"Some of those people I'm sure would love to part of the team. They are people we're paying attention to. We've got them on the list," Renney said.
"We'll certainly indulge ourselves that opportunity. Having said that, we won't discriminate against a set of good young legs that can skate on a big rink and go win an Olympic medal."
Canada's player evaluation process begins Aug. 6 at the Sochi Hockey Open, a KHL tourney. By mid-December's Channel One Cup in Moscow, Desjardins should be working with a group resembling the final lineup.
A defenceman like Chris Lee — the only non-NHLer who won silver with Canada at the '17 worlds — pops to mind. These guys have wonderful individual journeys and the hope of pulling off a once-in-a-lifetime feat, for the NHL won't be able to resist China in 2022.
"We better embrace this. We better be enthusiastic. And we better love every second we have," Renney said.
"I wouldn't call it by default at all; I would call it by destiny."
So, yes, it sure would be sweet to see Scheifele and Connor McDavid and Steven Stamkos and Brent Burns and Nathan MacKinnon realize their Olympic dreams. Considering the 2016 World Cup brought fun-but-marketing-sprung teams North America and Europe, it appears we'll now be waiting eight years for true best-on-best hockey action.
But this is something else, and it may just be greater in drama and meaning for those involved and those who buy in.
"It gives you chills," Desjardins said Tuesday.
The fired NHL coach was thinking of that first O Canada ringing through a rink on the other side of Earth and wearing a bright red tie atop a white shirt.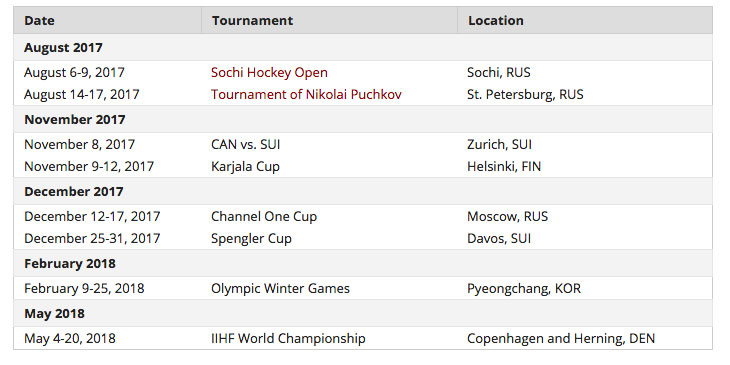 Team Canada's rosters for August's tournaments
Sochi Hockey Open
Forwards: Justin Azevedo, Gilbert Brulé, Brandon Buck, Kevin Clark, Andrew Ebbett, Bud Holloway, Rob Klinkhammer, Brandon Kozun, Ben Maxwell, Brandon McMillan, Eric O'Dell, Daniel Paille, Mason Raymond, Max Talbot, Linden Vey
Defence: Chay Genoway, Geoff Kinrade, Patrick McNeill, Maxim Noreau, Mat Robinson, Jonathan Sigalet, Karl Stollery
Goaltenders: Justin Peters, Kevin Poulin
Tournament of Nikolai Puchkov
Forwards: Taylor Beck, Sean Collins, Cory Emmerton, Ryan Garbutt, Andrew Gordon, David McIntyre, Jacob Micflikier, Trevor Parkes, Marc-Antoine Pouliot, Derek Roy, Greg Scott, Paul Szczechura, James Wright
Defence: Cam Barker, Carlo Colaiacovo, Stefan Elliott, Marc-Andre Gragnani, Kevin Klein, Shawn Lalonde, Craig Schira
Goaltenders: Kevin Poulin, Ben Scrivens