There is yet another Nylander bound for the NHL and he might be the best one yet.
Director of NHL Central Scouting Dan Marr describes Alexander Nylander as "a dynamic player who is an elite skater with a creative skill-set. He has very good offensive hockey sense allowing him to create scoring chances in a variety of ways while making plays at top speed. His offensive instincts make him extremely dangerous in one-on-one situations and a scoring threat every time he is on the ice."
His brother, Toronto Maple Leafs youngster William Nylander, was taken eighth overall in 2014 and Alex could end up also being a top-10 pick in 2016.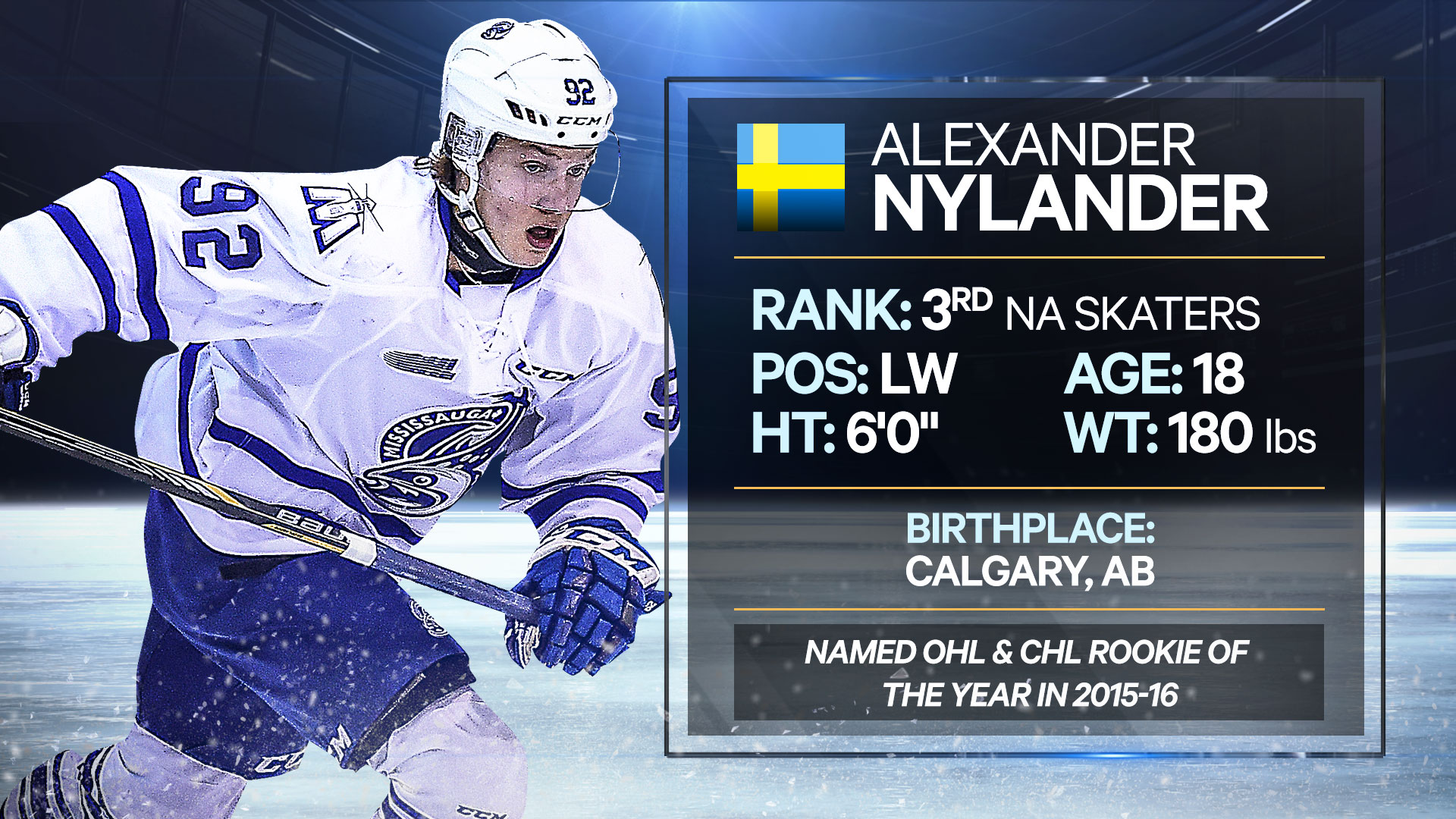 Here's what you need to know about the newest Nylander on the block:
Age on draft day: 18
From: Stockholm, Sweden
Current Team: Mississauga Steelheads, OHL
Position: Left Winger
Shoots: Right
Height: 6-foot
Weight: 180 pounds
Twitter account: @snipeshow98
NHL Central Scouting Rank (North America): 3rd
Jeff Marek's Take: Such a slick playmaker. Blessed with great vision and creativity. Potential to be high end offensive force.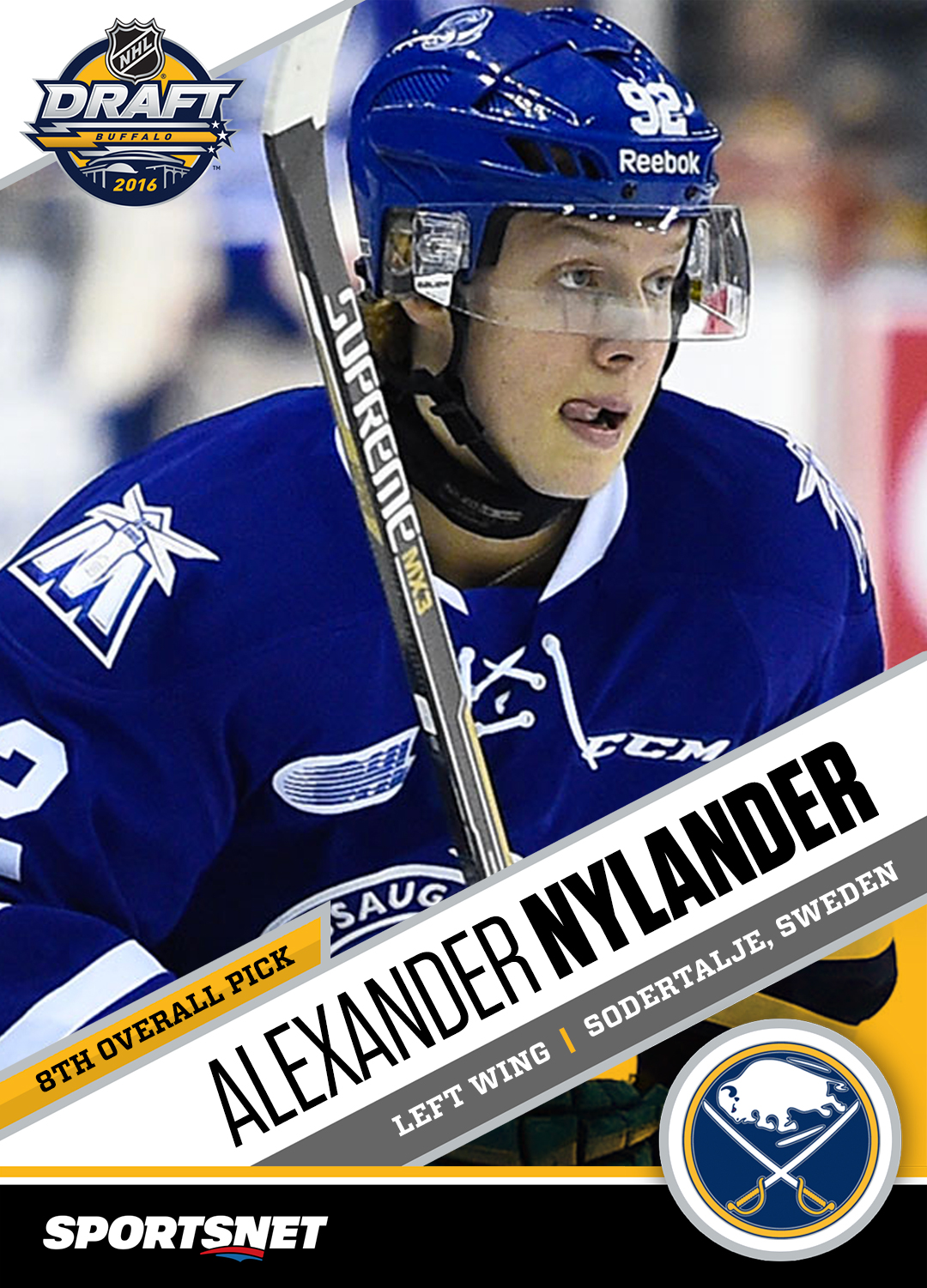 He adapted to the North American style quickly…
After spending last season with AIK in Sweden, Nylander was selected 12th overall by the Steelheads in the 2015 CHL Import Draft and excelled with the team in his first season. He led them in goals (28), assists (47) and points (75) in 57 regular season games then averaged two points per game in the playoffs.
If he ever decides to give the KHL a try, Metallurg Magnitogorsk hold his rights after picking him 53rd overall in the 2016 KHL Draft but he seems to enjoy playing in North America. His 75 points led all OHL rookies this season and he was named OHL and CHL Rookie of the Year.
He was born in Calgary…
His father, Michael Nylander, spent 14 seasons in the NHL and Alexander was born while he was a member of the Calgary Flames in the second half of the 1997-98 campaign. Although his infancy was spent in Alberta, and much of his childhood in the United States, he represents Sweden internationally. In fact, he racked up nine points in seven games during this past world juniors. He also helped lead his team to a silver at the 2016 U-18s with 11 points in seven games.
William thinks Alexander is the better Nylander…
"He's a little better version of me."
That's what William told Hockey Central at Noon back in November. William had 45 points in 38 AHL games with the Toronto Marlies this season and showed promise in his first 22 NHL games, so if his brother is better then don't be surprised if within a few years Alex is considered one of the most dynamic young players in the NHL.
He has his own bobble head doll…
The Steelheads hosted Nylander bobble head night during a game against the Oshawa Generals in March. There were only 2,000 handed out so who knows, maybe one day they'll be a valuable commodity, especially if he goes on to have a successful NHL career.
He's a Belieber…
The Biebs played a show at the Air Canada Centre on May 19 and Alex was there with his brother and William's Maple Leafs teammate Victor Loov. Sources indicate Bieber wore a custom No. 6 Leafs jersey while on stage. Two minutes for pandering to the home crowd! Here is documented proof the trio was there.