If you're unfamiliar with the name "Auston Matthews" you probably didn't watch any hockey whatsoever during the 2015-16 season.
The American prodigy has been regarded as the sport's top prospect from the moment Connor McDavid and Jack Eichel went 1-2 last year and he's virtually a lock to go No. 1 to the Toronto Maple Leafs in the 2016 NHL Draft.
Matthews had been honing his skills with the U.S. National Development Program but elected to play professionally in Switzerland last season rather than attending college or play major junior.
The skilled, two-way centre uses his size and strength to protect the puck in the offensive zone, while also priding himself on being difficult to go up against in his own end.
"He looks like a prototypical No. 1 centre," Matthews' most recent coach Marc Crawford says. "He's got that package."
With that in mind, here's what you need to know about the future NHL star:
Age on June 24: 18
From: Scottsdale, Ariz.
Current Team: Zurich Lions, Swiss National League A
Position: Centre
Shoots: Left
Height: 6-foot-2
Weight: 210 pounds
Twitter account: @A_Matthews34
NHL Central Scouting Rank (European) : 1st
Jeff Marek's Take: Franchise-changing centre who could have gone second in the draft last year over Jack Eichel. Has all the skills you want a No. 1 centre to possess.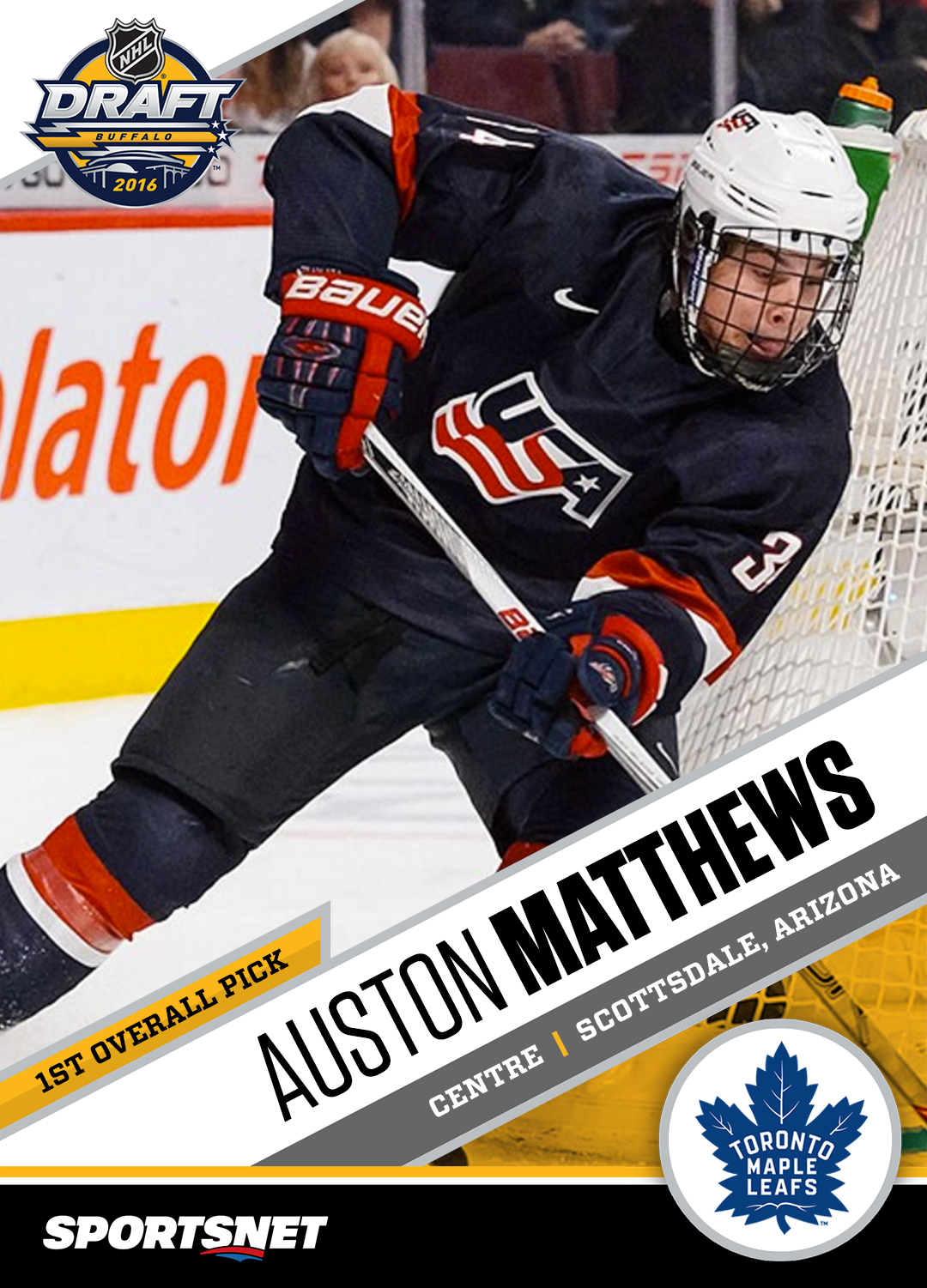 He's ready for the NHL spotlight and has been for a year…
Matthews was born on Sept. 17, 1997, which means he was two days too young to be eligible for the 2015 draft. If he had been eligible for last year's draft, the consensus among scouts is that he would've been a guaranteed top-five pick and likely would've gone third overall. His favourite team growing up was the Coyotes, which just happened to hold the No. 3 pick last year. Oh the irony.
"If he was in [the 2015] draft he'd be right up there and talked about in the same breath with [McDavid and Eichel]," NHL director of Central Scouting Dan Marr told NHL.com last year. "The thing about Auston is, game in and game out for two years now, it's been the same thing. He only knows one speed and that's full speed, and he does it at practice and game situations."
You know who else was born on Sept. 17 and ended up being a first-overall pick? Alex Ovechkin — he of six Maurice "Rocket" Richard Trophies. While Matthews' birth date meant hockey fans had to wait an extra year to see him in the NHL, sharing a birthday with Ovie might be a good omen…if you believe in that kind of stuff.
Also, the fact he didn't get drafted last year despite being NHL ready resulted in Matthews taking an unconventional route to the NHL, but it never lowered his draft stock. He led the Zurich Lions in goals and finished two back of the league lead this season with 24. The crazy part is he did it in just 36 games. Fredrik Pettersson and Lino Martschini lead the league with 26 goals but they each played 50 games.
He joins a quality group of his countrymen…
If and when Matthews does in fact go No. 1, he'll become the seventh player from the United States to hold that honour and the first since Erik Johnson and Patrick Kane went back-to-back in 2006 and 2007, respectively. Americans taken first overall: Brian Lawton (1983), Mike Modano (1988), Bryan Berard (1995), Rick DiPietro (2000), Johnson (2006), Kane (2007).
He's drawing lofty comparisons…
Jonathan Toews, Aleksander Barkov, Jack Eichel. These are some of the names you'll hear Matthews compared to. His most recent coach offered a couple more players that remind him of Matthews.
"He's a little like Anze Kopitar and a little like Jamie Benn," Crawford told Yahoo Canada Sports. "His speed and the way he drives the net is like Anze. He shoots like Benn and stays on the puck for second chances like him."
"The player he reminds me most of is Joe Sakic," Crawford, who coached Sakic for four seasons in the '90s, added. "Joe didn't need to play with outstandingly great players, he made people better by converting passes that seemingly weren't very good. He was good at putting pucks in really good areas. His release and shot is like Sakic's. Joe was deceptive with shooting angles. Auston has those same abilities. He is a great scoring centre."
If Matthews does develop into a player of that calibre, the 2016 draft will undoubtedly be a franchise changer for the Maple Leafs.
He was highly coveted in both college and junior…
Prior to Matthews throwing the hockey world a curveball and playing in Switzerland, he had many North American offers to mull over.
"The bidding and pushing is fierce on Auston Matthews," Damien Cox said during a Hockey Night in Canada broadcast in March of 2015.
Matthews had been considering attending elite hockey programs at Boston University, Boston College, Michigan, North Dakota, Wisconsin and the University of Denver. His CHL rights belong to the Western Hockey League's Everett Silvertips after they drafted him 57th overall in the WHL Bantam Draft in 2012.
He has an impressive international resume…
Matthews made a bit of history last year when he played an exhibition game with Team USA at the 2015 IIHF World Championships against Austria, becoming the first player to suit up at the worlds before reaching draft eligibility.
In 60 games with the U.S. National Under-18 team last season he set a couple records by registering 55 goals, 62 assists for 117 points and only 30 penalty minutes. Patrick Kane previously held the program's U-18 records for goals in a season with 52 and points with 102.
Some of his other notable accomplishments while representing his country include: Helping lead Team USA to back-to-back gold medals at the U18s in 2014 and 2015, scoring eight goals and 14 points in 12 total games at the world juniors in the last two years, and winning USA Hockey's Bob Johnson Award in 2014-15 for excellence in international hockey competition.
He impressed with nine points in 10 games at the recent World Championships in May, which was one of the best turnouts for a player under the age of 20 in this tournament ever.
Likely because of this strong showing, Matthews was named to the North American young guns team for the upcoming World Cup of Hockey.
He is half Mexican…
Matthews' father is from California and his mother is from Mexico. He would join a short list of NHL players with a Mexican heritage, including San Jose Sharks forward Matthew Nieto and NHL veteran Scott Gomez.
He is part of a new wave of American hockey talent…
To date it has been virtually unheard of for someone from Arizona to make it to the NHL. The last player to do it, technically, was Sean Couturier. The Philadelphia Flyers centre was born in Arizona but raised in Bathurst, N.B., and represents Canada at international tournaments. Matthews is among the wave of young American hockey players from the southwestern United States.
Last March, Damien Cox wrote: "Since 1992, the registration of hockey players in the Pacific, Rocky Mountain (Arizona, Colorado, Texas) and southeastern U.S. has increased by 240 per cent, more than half of that has come over the past 10 years. In the same time period, there have been NHL teams added in Florida, Dallas, Phoenix, Denver, Anaheim, San Jose and Nashville, joining the Los Angeles Kings, whose acquisition of Wayne Gretzky in 1988 undoubtedly accelerated interest in the sport in virgin territories."
He's a life-long Coyotes fan…
Growing up in Arizona, Matthews' began attending Coyotes games when he was two years old. His two favourite players were Shane Doan and Daniel Briere. In some ways, Matthews is a combination of his two hockey idols. He possesses skill, soft hands and finesse like Briere while also being able to outmuscle opposing players with his big frame like Doan. His upside is much higher though.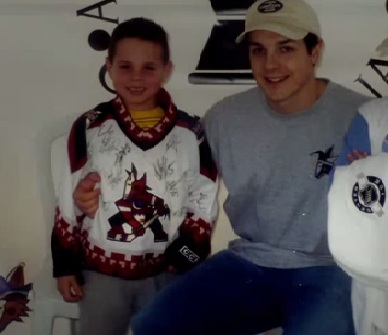 (Matthews seen here as a kid with Briere. Image from FOX Sports Arizona)
His self-proclaimed best friend, Christian Fischer, was drafted 32nd-overall by the Coyotes last year, which would have been another reason he was hoping Arizona would have won the draft lottery.
His uncle was in the NFL…
Athletics clearly run in his family as his uncle, Wes Matthews, played for the Miami Dolphins in 1966 where he finished the season with one catch for 20 yards. Now you know.
His name is Auston, not Austin…
While it might still be uncommon for athletes from the southwestern United States to excel at hockey, spelling your name A-U-S-T-O-N is even less common. According to Wikipedia, the only other notable Austons are: Former CFL/NFL defensive end Auston English, American soccer player Auston Trusty and Irish polo player Auston Rotheram who competed at the 1908 Summer Olympics. That's it!
Morgan Rielly is a bit jealous of him…
Maple Leafs head coach Mike Babcock spent a lot of time speaking with and getting to know Matthews in Russia during the IIHF World Championship. Future (probably) teammate Morgan Rielly, who represented Canada at the tournament was a bit envious.
"[Babcock] spent more time talking to him than he was talking to me, so I was a bit jealous," Rielly joked on Hockey Central at Noon. "I said, 'Babs, he's not on our team yet. I'd like to talk to you. How was the travel?'"
He has some fancy golf tricks up his sleeves…
The fact he'll (likely) be drafted by the Maple Leafs is bound to result in copious golfing jokes — at least initially — so why not include this video of Matthews horsing around on the course?