Matthew Tkachuk has been described as an ideal modern day power forward, with a solid combination of size, finesse, intelligence and a willingness to put in work in the dirty areas.
"Tkachuk is unique in that he brings both skill and a physical package to game situations," according to director of NHL Central Scouting Dan Marr. "He possesses elite hockey sense and vision, has a very good scoring touch and makes players around him better. One of the best puck protection players eligible for the 2016 NHL Draft, he is difficult to check and willing to go to the hard areas to score goals."
His favorite NHL player is Sidney Crosby and he compares himself to fellow American James van Riemsdyk in terms of his style of play. When you hear that it makes perfect sense when you see how strong he is on the puck down low.
A no-doubt top 10 talent, Tkachuk has also proven to be mature for his age off the ice and has gained momentum heading into the draft. Elliotte Friedman recently suggested in his 30 Thoughts column that some teams might rank Tkachuk as high as third overall. The Blue Jackets hold the No. 3 pick and they'll have a tough choice between Jesse Puljujarvi and Tkachuk – that is assuming Auston Matthews and Patrik Laine go 1-2 as most expect.
With that in mind, here's what you need to know about the winger.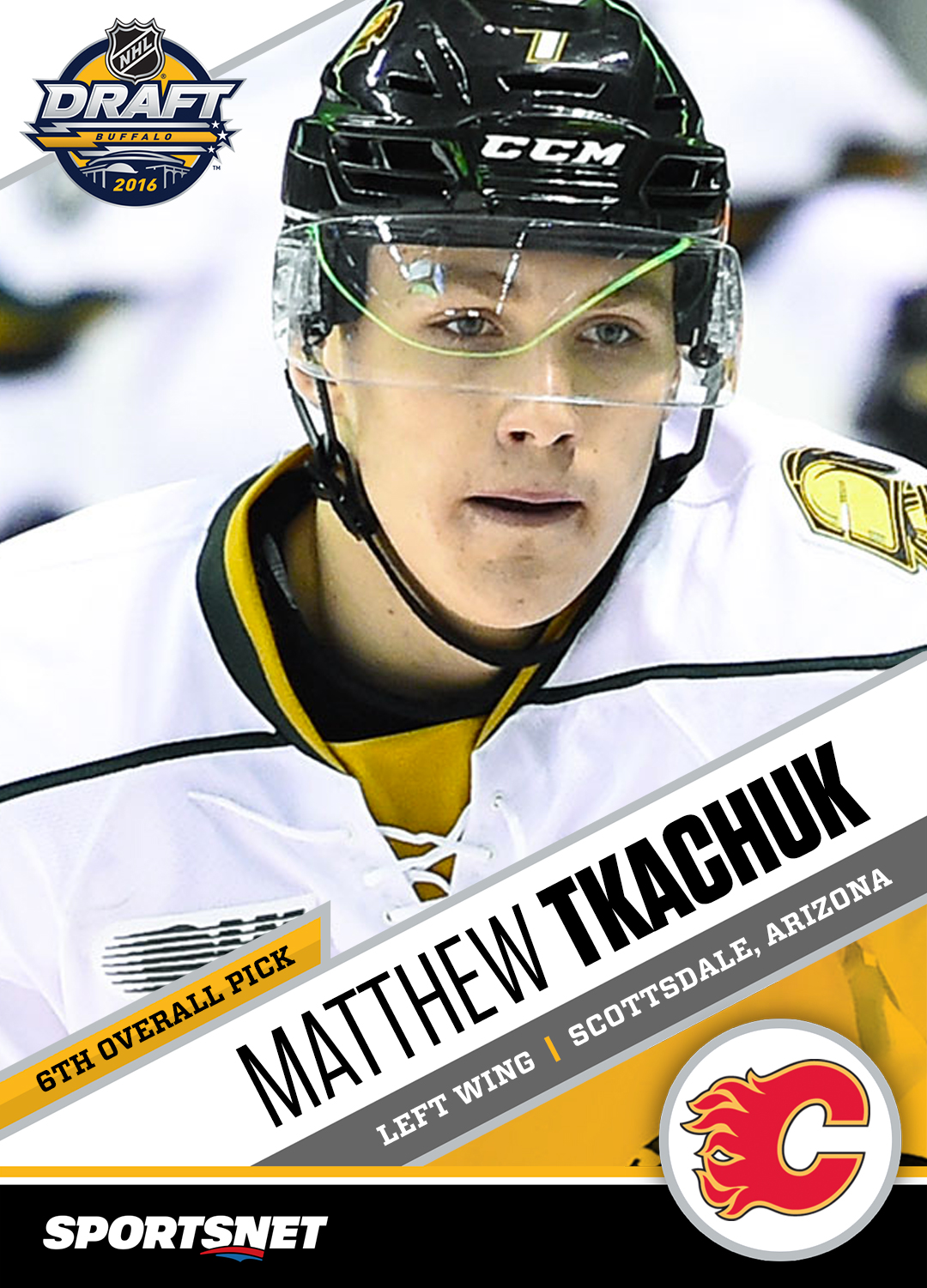 Age on June 24: 18
From: Scottsdale, Ariz.
Current Team: London Knights, OHL
Position: Left Winger
Shoots: Left
Height: 6-foot-2
Weight: 200 pounds
Twitter account: @TKACHUKycheese_
NHL Central Scouting Rank (North America) : 2nd
Jeff Marek's Take: Nobody in this year's draft plays better in the tough areas. Has great touch and feel around the net and is downright nasty to play against.
He was on the best line in junior hockey…
In his first season with the Knights, Tkachuk had 107 points (30 goals, 77 assists) in 57 regular season games. An integral reason for his tremendous production was the fact he played on a line with Maple Leafs prospect Mitch Marner (116 points) and Coyotes prospect Christian Dvorak (121 points) – all three finished among the top five in OHL scoring.
They took things to an entirely new level in the playoffs. Tkachuk lead all players in post-season goals with 20 and the trio combined for an absurd 119 points in 18 games. That's an average of 6.61 points per game. No wonder the Knights finished the season on a 17-game winning streak.
Marner and Dvorak had already played two seasons together in London before Tkachuk joined the team, but it didn't take too long for the three of them to gel.
"It was a feeling out process for myself for a couple games just to get used to them, 'cause they played together for the last couple years," Tkachuk told Sportsnet's Kristina Rutherford in late May. "Once one game or two games went by, it started to click."
Their chemistry was unmatched and the ease in which they sliced through opposing defences was terrific to watch. Here's a sample of their work.
The line's momentum continued into the 2016 MasterCard Memorial Cup. Marner, Dvorak and Tkachuk finished as the top three scorers, respectively, and Tkachuk capped off his first season in the OHL by scoring the overtime winner in the final.
Hockey runs in his family…
The name Tkachuk should be quite familiar to hockey fans because Matthew's father, Keith Tkachuk, was a popular NHLer for 18 seasons. Keith spent the better part of five seasons with the Coyotes – Matthew was born in Scottsdale, Ariz., in 1997 while Keith played for Phoenix. It's possible the younger Tkachuk ends up with that franchise as well. The Coyotes currently hold the No. 7 pick, although it seem unlikely Tkachuk will fall that low in the draft. It's also very possible he ends up being drafted by one of the three Western Canadian teams. The Oilers, Canucks and Flames pick 4, 5, 6 respectively.
"Judging by what I experienced here in Alberta this last week, it wouldn't be a bad spot [for Matthew to end up]," Keith told Gene Principe after Matthew's OT Memorial Cup-winner. Keith spent the first five years of his NHL career in Winnipeg, so he knows a thing or two about playing in Western Canada.
His dad isn't the only other hockey talent in the family either. Matthew is second cousins with former NHLer Tom Fitzgerald and his younger brother Brady Tkachuk spent the 2015-16 campaign with the U.S. National Under-17 Team. Brady was born on Sept. 16, 1999, which means he missed being eligible for the 2017 NHL Draft by just one day. Brady committed to Boston University, which is where Keith played one season prior to debuting with the Winnipeg Jets and, interestingly enough, the Knights hold his junior rights after selecting him 67th overall in the 2015 OHL Priority Selection.
He cut his teeth with the U.S. National Team Development Program…
Prior to joining the Knights, Tkachuk spent two seasons in the USHL. He registered 96 points in 65 games with the program in 2014-15 playing alongside Auston Matthews, at whom he marvelled.
"Playing with a guy that good and that determined was just breathtaking," Tkachuk told Sportsnet's Ryan Dixon last August. "He's just so skilled, so smart. His work ethic, above all else, is his biggest attribute."
He helped lead Team USA to gold medals at the 2014 World Under-17 Hockey Challenge and 2015 Under-18 World Championship. He tied Matthews for the team lead in scoring with 11 points in seven games at the 2016 world juniors en route to winning bronze.
He didn't participate in the NHL Combine because of an injury…
A sprained ankle kept Tkachuk from doing any of the testing at the NHL Scouting Combine at the beginning of June, an injury he said he sustained in the OHL Final against the Niagara IceDogs. He played through it at the MasterCard Memorial Cup, though, scoring eight points in four games.
"There's no point in doing any of the bike tests or the testing right now if I'm not 100 per cent," Tkachuk said to NHL.com. "Whichever team drafts me, I'll be excited to test at development camp and see where I rank. We'll see what they think and go from there."
He has the best Twitter handle in the draft class…
It's @TKACHUKycheese_
That's beautiful. He even added an underscore at the end as a garnish. If this is any indication of his sense of humour and personality, any NHL team will be lucky to have him.