At the conclusion of the Calgary Flames' first-round face-plant, GM Brad Treliving insisted he needed time to assess how his team went from finishing tops in the west to being ousted by the Avalanche in five games.
More than five weeks later he was finally able to talk about some of the team's springtime shortfalls, which included an inability to use the speed and attack mentality they thrived on during the regular season.
In a wide-ranging interview Tuesday from the scouting combine in Buffalo, Treliving also addressed Johnny Gaudreau's playoff struggles, the importance internal growth will play in his team's evolution, trade speculation, the free buffet at the draft and his focus on signing Matthew Tkachuk, David Rittich and other free agents:
Sportsnet: You've had plenty of time to digest and delve into your team's playoff failure. Have you uncovered why the team underachieved when it mattered most?
Treliving: Everybody wants to put it in a nice little box and have all the answers, but it's not that easy.
When we watch the games again and break things down, at second blush some guys did better than I thought and some guys didn't do as well. Obviously collectively we didn't do enough.
As a hockey department, with our coaches and scouts, we have formalized a plan we want to move forward with here.
We'll see how the weeks and month unfold. The general statement is we've got to get better. Not all of that is just airlifting in people. We think there are some areas we can improve on internally and we're going to be better off for the experiences we went through.
We're in a competitive market and a competitive business so we don't want to announce we're going to do this, that and the other, but there are certainly areas we've identified to improve.
Livestream every game of the Stanley Cup Playoffs, blackout-free. Plus stream the Blue Jays & MLB, Raptors and NBA Playoffs matchups and more.
Does that mean significant change is in the works like last year when you altered the culture with a new coach and a significant trade?
At the end of the day who knows what's going to happen, but the idea that we're going to take all of our young or core players and change them, that's not going to happen.
Every year teams change. In a couple weeks somebody is going to win the Stanley Cup and I can guarantee you there will be changes to that team.
Change is part of our league. It happens for a whole bunch of different reasons — financial plays a big role in that.
We're looking to make some improvements in our team as we do every year, but we're not out there saying we have to turn over this roster.
It's not just about changing the faces. We have to work with some people to help change their games a little bit.
Captain Mark Giordano suggested the team played it too safe in the post-season, didn't attack and couldn't find a way to stop Colorado's momentum. Fair comment?
That's probably fair. We didn't generate enough and we didn't defend well enough. I don't know if there's a third one. (chuckling)
You're either generating or defending, and we were poor on both sides.
The question is why?
I didn't think we played with the speed that we did in the regular season. I thought we gave up a lot, which was uncommon for us in the regular season.
We've identified some specific areas and now you start that process of bettering yourself and a lot of that happens internally, talking with sever players and having internal growth.
It's my job as a manager to continue to look at if there are some external ways to help us.
This is a good team.
Rightly so, the most important time of the season is the playoffs — we get focused on nine days — but we have a tendency to forget the growth this team has taken.
This was a team that was picking fourth overall five years ago to a team that won a division title in the regular season and won a western conference.
Everybody wants instant results and wants everything to change, and that's not reality.
We've taken significant steps and it's our job to continue to improve the team because everybody else is getting better.
It's not lost we accomplished some good things — we've built a strong team.
But you have to continue to get better.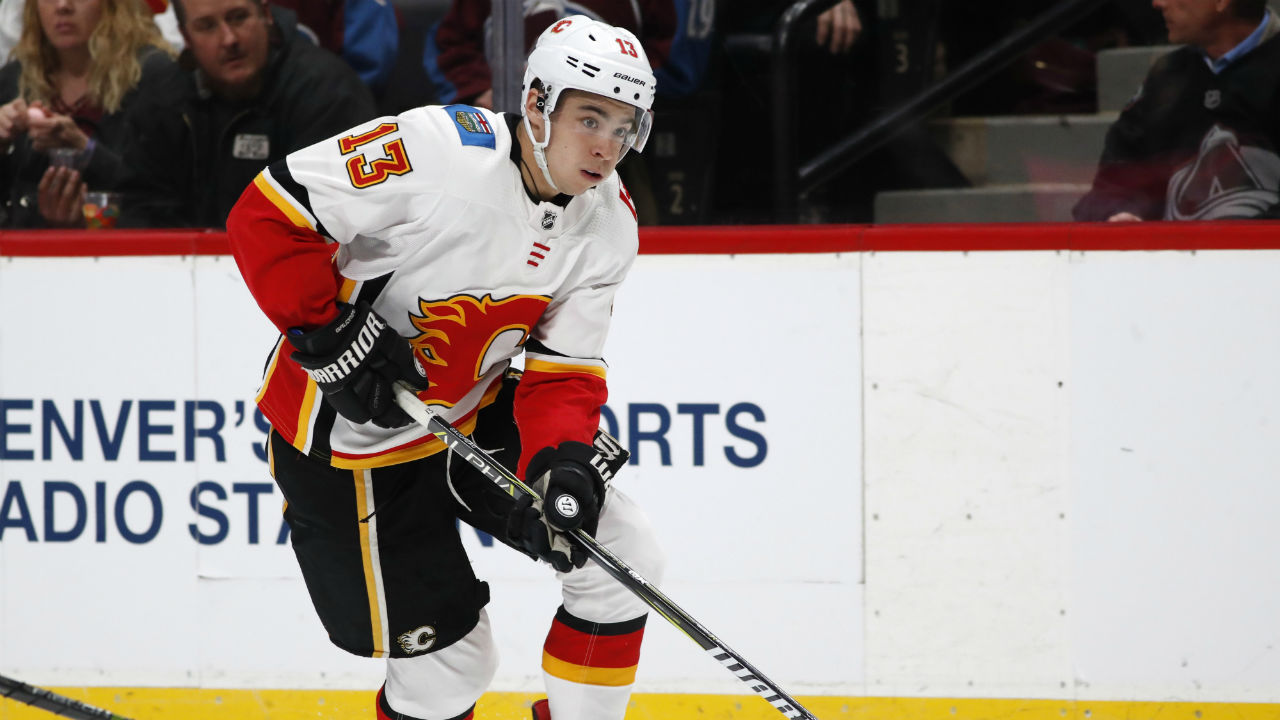 Given the team's lofty achievements during the regular season, is managing expectations a big part of moving forward?
We have high expectations of ourselves. I think externally everybody tends to ride the wave. So when the record becomes good, expectations rise. If you want to become a good team, you're going to have high expectations.
We don't pay a lot of attention to what's going on outside our room.
We know the people, character and ability we have.
You can have high expectations, but you have to manage the process of how to get there. It's a daily process — it doesn't just happen.
Because you have a really good regular season doesn't mean you're going to have success in the playoffs — it doesn't just happen like that.
We have a strong foundation here.
Was lack of size or pushback an issue in the playoffs?
No. What were the hits in the games? You've got to have a blend in the league.
Everybody grabs themes. Last year I think the theme was 'there was no character on the team.'
To me, to have success you have to be able to play the game all the different ways it is played. So we've got to make sure our team is as diverse as it can be.
In your eyes, what happened to Johnny Gaudreau in the playoffs? After tying for seventh in regular season scoring he had just one playoff assist?
To me it wasn't a question of, 'what happened in the playoffs?' He's going to get paid attention to because he's a top player.
He had lots of chances but the puck didn't go in for him. He's not the first player that's going to happen to.
We don't question anything about Johnny's will, want or drive.
He had 99 points in the regular season — those guys are going to have attention paid to him. We have to find ways to better support him and lessen the load.
The top guys are always going to have huge responsibility when the game is the most critical.
Game 5 is a perfect example — he had three breakaways but they didn't go in. He was generating a ton.
It's another learning experience. Everybody talks about experience, but you have to go through these things to get the experience.
He'll be better equipped the next time he gets in that situation.
I have zero concern about anything to do with Johnny. He's a driven guy who has proven to be a top guy in this league.
During the regular season we were a deep team and I thought we had support though the lineup, but you have to have that at the most important time too.
What would you categorize as your top priority this summer in terms of addressing team needs?
Obviously, our top priority is getting our guys signed.
We've got Matthew Tkachuk, Sam Bennett and David Rittich to sign. Matthew is obviously a very important part of our team. Getting this looked after is at the top of our to-do list.
In terms of team needs, to start making public statements of what we're looking for and how we're going to go about it — I don't think that serves us.
We've defined certain areas we'd like to see if we can improve on and have some changes. We don't want to announce them to the world because there are 30 other teams trying to accomplish the same thing.
Again, I want to recognize that change isn't just external. You have to grow the ones you have and we have to look at ways to slot people and ask whether there's a better way to put guys in positions to succeed.
We've spent a lot of time on that.
Leafs GM Kyle Dubas said his top priority is to have Mitch Marner signed by July 1. Do you feel the same about signing Matthew Tkachuk?
I'd like to sign him this afternoon, but I'm not sure that's going to happen.
We'd like to get things done as soon as possible as it gives you a better read as you get more into the summer in terms of your financial picture.
But we're going to just keep working and we'll get a contract done.
These things take time.
Have you guys starting talking?
I don't usually comment on that, but we certainly have it at the top of our list of things to get done.
It's a copycat league. What have you learned from watching the playoffs about style of play and personnel?
It's hard, there's no space. Look at the game last night — the speed of Boston has been causing fits for everybody.
You've got to be engaged, persevere though a lot of things and the battle level you need every night is confirmed rather than just a revelation.
The intensity ramps up. You have to fight for space and that's just how it is in the playoffs. Those things are never going to change and you have to be ready to play that type of game.
Jeff Marek and Elliotte Friedman talk to a lot of people around the hockey world, and then they tell listeners all about what they've heard and what they think about it.
Is David Rittich ready to be an everyday starter?
I think he took a real big step this year. We were confident in him last year and we have been for a while.
The storyline was, 'who is going to play behind Mike Smith?'
Look around the league and it's interesting if you do a study on how many guys play 60 or more games. It's becoming more and more a shared position — you need two guys.
David is a young goaltender who continues to learn and improve.
There has been a lot of speculation veterans like T.J. Brodie and/or Michael Frolik could be on the move — do you anticipate a significant player like that not on the roster next year?
I'm not going to make any predictions like that — we're trying to find ways to help our team.
Again, everyone seems to think to make your team better you have to airlift in a bunch of new bodies.
There's always change for a whole bunch of different reasons.
We graduated a whole bunch of different guys from the minors the last two years — Mark Jankowski, Andrew Mangiapane, Garnet Hathaway and Rasmus Andersson, and next year it's safe to assume Juuso Valimaki is going to be here and now Dillon Dube is pushing.
I'm not going to make predictions about camp, but we've shown in the past we will turn over every stone and be as aggressive as we can be to help our team.
We'll continue to do that.
We're talking about a team that had 107 points and 50 wins, but we're not satisfied.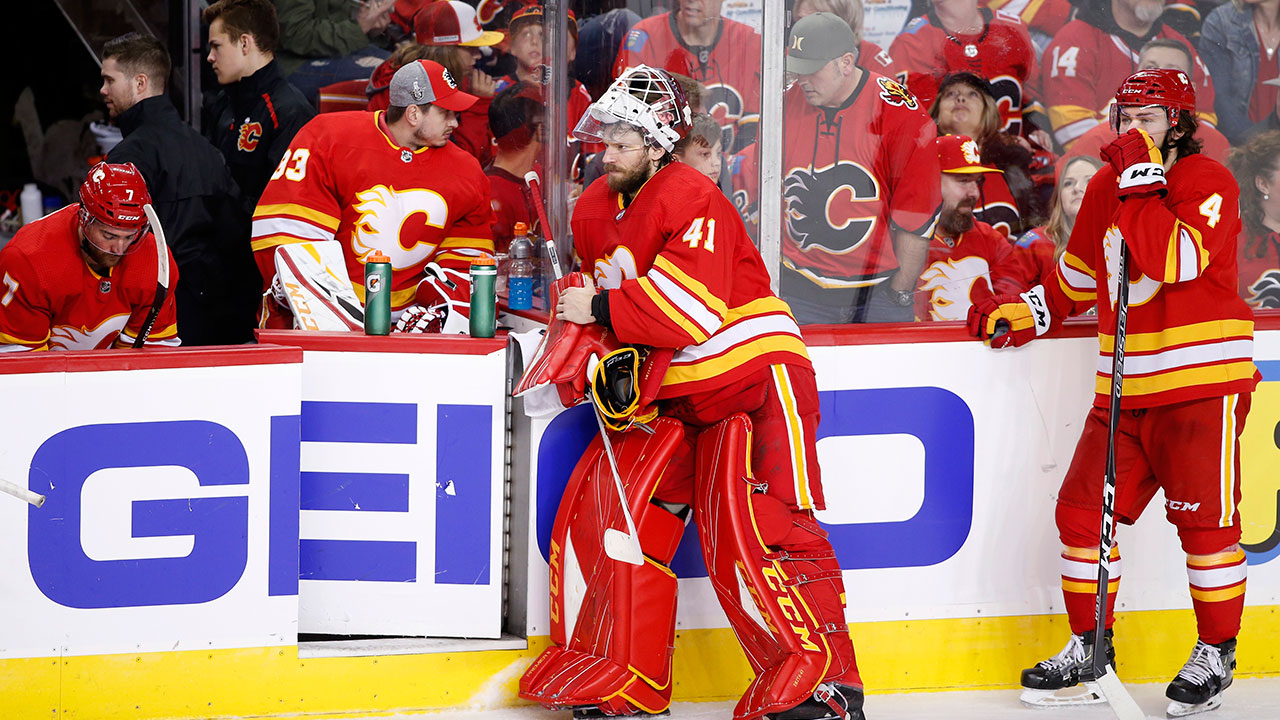 Do you expect to be pretty active at the draft — you typically love to make moves then?
We're quiet at the draft — we usually come in for the free buffet.
I don't know. We never go in just to make a splash — we are always active to help your team if you can find something that helps you.
The good news is we've got a good team. We're disappointed in how our season ended, but you get back into it.
You're pissed for a long time, but then you look back after going through that adversity and ask 'what did you learn from it?' We learned a whole bunch of stuff. So now you have to put that into action and push everyone in our organization to be better.
We're energized to build upon what we did last year.