The Florida Panthers clinched just their second playoff berth in 15 seasons by winning the Atlantic Division led by a mix of young (Aleksander Barkov, Jonathan Huberdeau, Aaron Ekblad) and old (Roberto Luongo, Jaromir Jagr). They'll face the New York Islanders, who have made the post-season for the second straight year, but haven't made it out of the first round since 1993. A a sturdy blue-line, and star forward John Tavares will look to change that.
The Panthers hold home-ice advantage for the series.
Here's a look at how the two teams match up.
ADVANCED STATS:
Panthers: 5on5CF% – 48.7; 5on5Sv% – .933; 5on5Sh% – 8.84; PDO = 102.1
Islanders: 5on5CF% – 49.6; 5on5Sv% – .926; 5on5Sh% – 8.06; PDO = 100.7
(via stats.hockeyanalysis.com)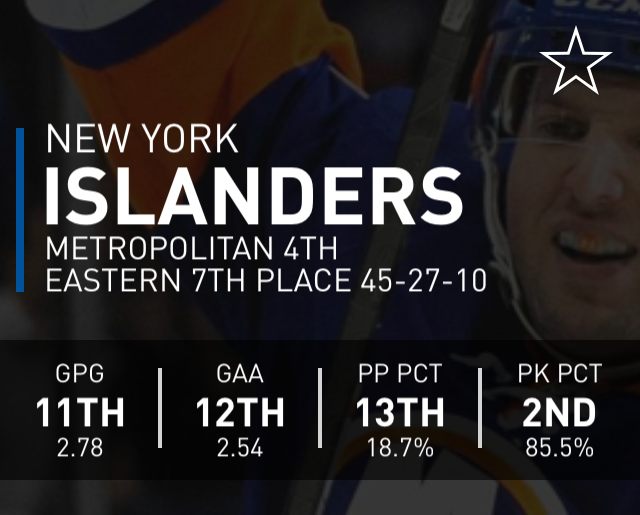 Head-to-head
Florida: 2-1-0
New York: 1-1-1
LAST GAME PLAYED HEAD-TO-HEAD:
The Panthers took a 2-0 but the Islanders stormed back with a three-goal third period capped by Cal Clutterbuck's late winner.
LAST TIME THEY MET IN THE PLAYOFFS:
These two teams have never met in the post-season.
FLORIDA'S HIGHLIGHT OF THE YEAR:
How about Jagr passing Gordie Howe to move into third on the NHL's all-time points list?
NEW YORK'S HIGHLIGHT OF THE YEAR:
It wasn't necessarily a smooth transition to the Barclays Center from old Nassau Coliseum, but who better than your captain to christen the new barn with the franchise's first goal in Brooklyn?