It's one thing to rank players by skill, scoring, Stanley Cups or individual awards, it's quite another to determine their importance to the NHL—and the game—as a whole. Here we've done exactly that.
It's not a precise science, but a decade after "Sid the Kid" and Ovie became shining lights for a league coming out of its darkest hour, we set ourselves the task of determining who will carry that torch this season and beyond. We've taken into account their abilities and achievements, but also the markets they play in and franchises they play for, on- and off-ice earnings, celebrity status, legacies carved out or those still being created and more.
Through this week, we'll release the top 50 most important players, ranked by Sportsnet Magazine. Today, we reveal players 10-1.
See also:
Players 50-41
Players 40-31
Players 30-21
Players 20-11
10. HENRIK LUNDQVIST
"King Henrik" pretty much owns New York—the largest market in the league and home to the Rangers, the NHL's No. 2-valued franchise at $1.1 billion. He's never finished worse than sixth in Vezina voting, so—with help from war-on-ice.com—we thought we'd put his career 5-on-5 consistency into perspective.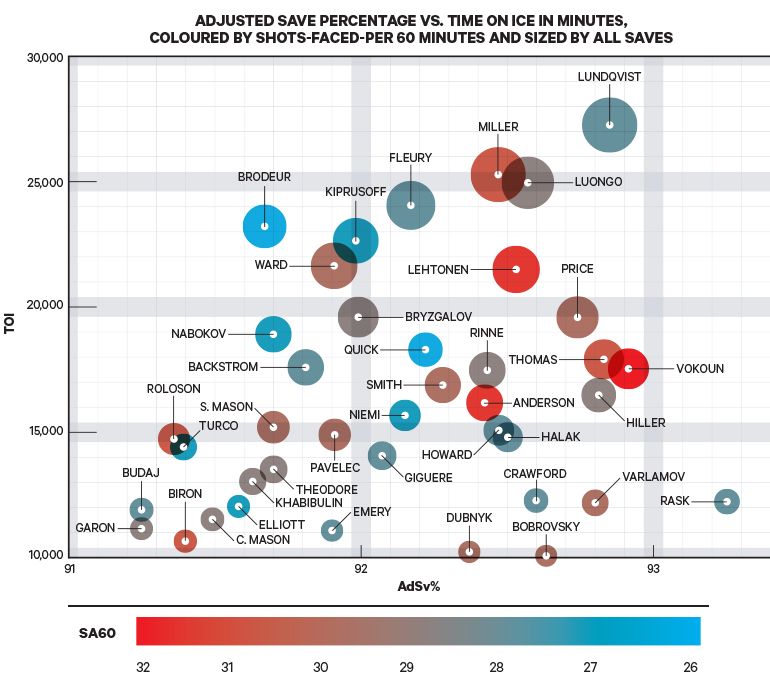 9. TYLER SEGUIN
Dallas is the NHL's fifth-largest market, and the Stars wrote the book on building a sunbelt fan base. Seguin is the cornerstone—dynamic on the ice, visible and outspoken off it. He has more than 270,000 followers on Instragram and sponsorship deals with Under Armour and BioSteel. He credits his marketability to his willingness to be himself. "I guess I get approached for endorsement opportunities because I look different. I mean, I have lots of tattoos and I'm very honest with myself; I'm a pro athlete, but I don't hide behind the closed-doors policy. When I first came into the league, I was too open. I was 18. I got thrown into the spotlight in Boston and won the Stanley Cup. There was a lot going on—I had things to learn, and I did, and now I think I have the right balance."
8. STEVEN STAMKOS
Will he or won't he? Re-sign, that is. Stamkos isn't just the biggest star on an Eastern Conference power and an early adopter of the uber-fitness trend that has changed what it means to be an NHLer—he also has a chance to set the next bar for contracts. Since his rookie season in 2008–09, only Alex Ovechkin has a higher goals-per-60-minutes-of-play mark, by .04. And if you remove Stamkos's 23-goal rookie campaign, he jumps past Ovie. The pending UFA is also just 25, meaning his prime is ahead of him. Rumours surrounding his eventual destination will make headlines until he signs. And if he hits the open market next summer, Stamkos could rewrite NHL-player economics.
7. P.K. SUBBAN
Love him or hate him, Subban is a star on and off the ice for an iconic franchise. After a $10-million donation to the Montreal Children's Hospital Foundation, you can add "philanthropist" to his bio as well.
6. JONATHAN TOEWS
He captains the league's fourth-most-valuable franchise and is a Team Canada stalwart. He—along with teammate Kane—has the top cap hit in the league and makes millions in off-ice earnings representing brands like Bauer, Canadian Tire and Chevrolet. And all he does is win. A two-time Olympic gold medallist, world champion, two-time world junior champion and three-time Stanley Cup champion, Toews leads the NHL's 21st-century dynasty and says the feeling is addictive: "No doubt. It's a natural high."
5. JOHN TAVARES
If the second team in the NHL's largest market is going to blossom again, it'll be on the shoulders of New York City's best player.
4. PATRICK KANE
Patrick Kane is a lot of things to 
the NHL and hockey fans. He's a three-time Stanley Cup winner and 
a reigning champion, the face of USA Hockey, a standout player on an Original Six team. He finished fourth in points per game last year and plays in the third largest media market in the United States. He's a superstar.
Early on the morning of Aug. 2, Kane reportedly invited two women to his home in Hamburg, N.Y. One of those women alleges that while she was at the Blackhawk winger's house, he raped her. At press time, no charges have been laid in the case, which is expected to be heard by a grand jury in late September.
We have no idea how it will play out. Given Kane's status in the game and the seriousness of the accusations against him, though, it could become by far the most important hockey story of the year.
3. ALEX OVECHKIN
He's the face of the game in Europe, an all-time great goal-scorer and the voice for Russians in terms of Olympic participation. @ovi8 has 1.43 million Twitter followers and when he speaks, NHL fans around the world listen. In a large, rich U.S. market he's ensured that the Capitals are relevant. Only Crosby makes more money off the ice, but no one is more electric on it.
2. SIDNEY CROSBY
He's the best player in hockey, the face of his franchise and the NHL. Now 28, Crosby is an historic point producer and the reason the Penguins have gone from basically bankrupt 10 years ago to a reported asking price of $750 million this year. His concussions spurred the league to become a leader in head-injury protocols, he makes more money off the ice than any NHLer and is a hero to hockey-playing kids around the world.
1. CONNOR McDAVID
He's expected to be the next Crosby-Lemieux-Gretzky and also pull a franchise out of a decade-long funk…oh, and he's just 18 years old. Being "The Next One" carries a lot of expectations. McDavid, the 2015 first overall pick, leads an Edmonton Oilers team stocked with young talent into an era of hope, after years of disappointment. All eyes are on Edmonton, and we'll know soon enough if he's ready.
---

On print and digital newsstands now: iOS | Android | Windows
---