When the PHWA released its voting on mid-season awards, it included the "Rod Langway Award" — a fictional category intended to reward the best defensive defencemen. But how do you parse out all the offence to identify who the best shutdown blue liners are?
Plus, the Arizona Coyotes are on a very successful run heading into the break, so is something changing for the better that may signify a playoff push in the second half, or is it a blip on the radar?
That, and more, in this week's column.
SPOTLIGHT PERFORMANCE
The Professional Hockey Writers' Association released its mid-season votes for NHL awards, and mixed in among them is one that doesn't really exist called the Rod Langway, which was to specifically give credit to a defenceman who excels in the defensive aspects of the game.
The hypothetical award clearly exists to answer the gripes of those who feel that the Norris Trophy has often been given to defencemen who excel offensively instead of in the traditional aspects of the position. Of course, most of the best offensive defencemen in the game excel on defence too, but I get wanting to shine a light on the blueliners who don't get as much credit.
Ironically, the PHWA recognized Mattias Ekholm as the top defensive defenceman in the midst of the best offensive season of his career.
Knowing that defensive defencemen were going to be a focus, though, it makes sense to look at this analytically, and see who are actually the best defenders this season.
Looking purely at defensive statistics, meaning on-ice offence against, individual plays that gain or remove possession from opponents or defend the offensive zone, and puck management, we come up with a bit of a surprising list.
Obviously, with all this information you can't show everything on one graph, so this may not be overly illustrative, but here are the top-10 rated defensive defencemen so far this year.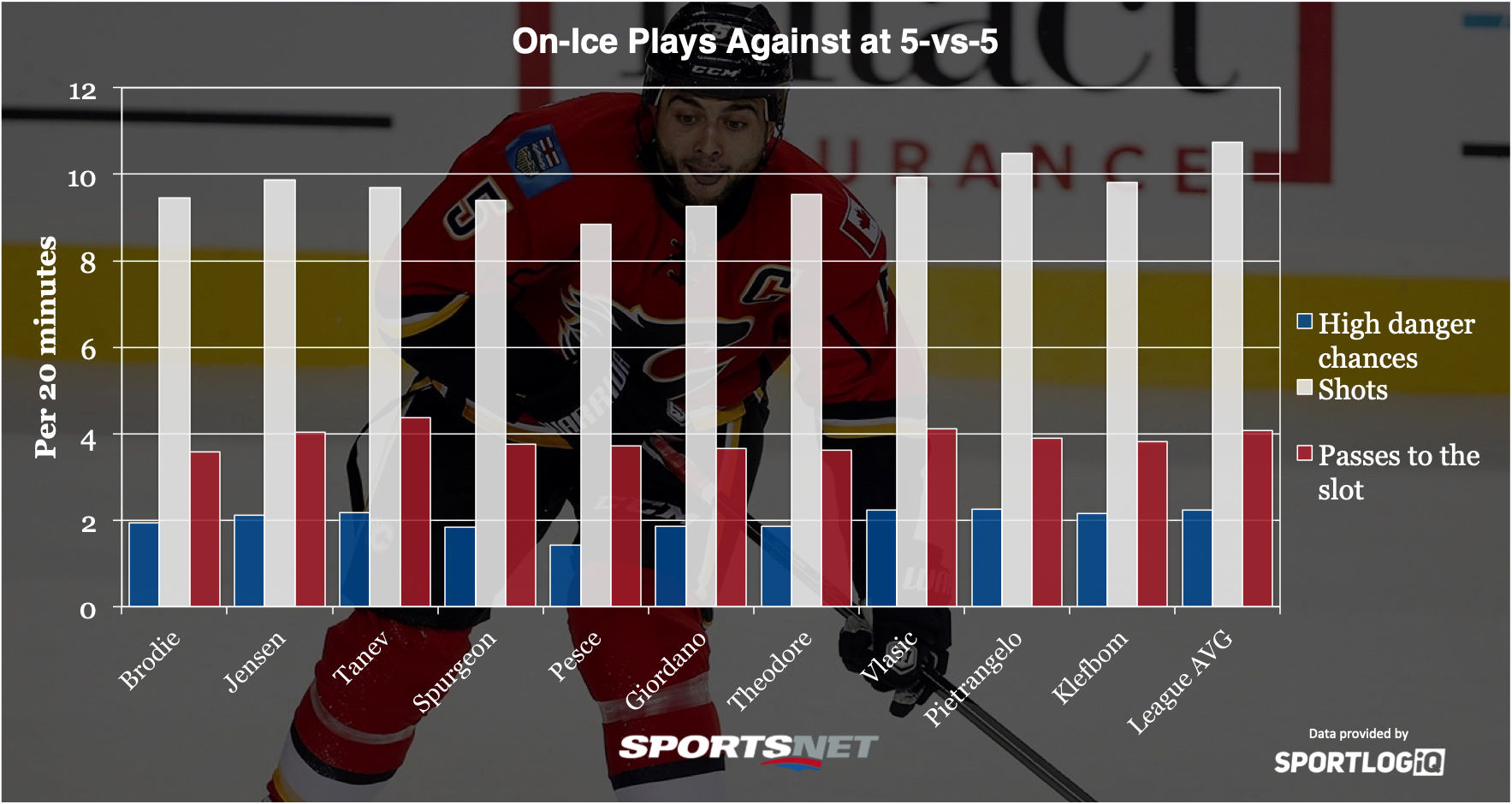 The statistics I used to come up with these names were the following:
High-danger chances against, shots against, shot attempts against, passes to the slot against, defensive zone loose puck recoveries, neutral zone loose puck recoveries, total controlled entries allowed, controlled entries denied, entry denial rate, odd man rushes against, defensive zone blocked passes, neutral zone blocked passes, penalties taken, offensive zone turnovers, offensive zone turnover rate, defensive zone turnovers, defensive zone turnover rate, neutral zone turnovers, and neutral zone turnover rate.
Some players like Brett Pesce are on-ice wunderkinds, boasting some of the lowest offensive plays against rates in the NHL, while also having the NHL's best high danger chance differential at more 66 per cent. Some others are monsters at removing the puck from opponents, such as TJ Brodie, Jared Spurgeon and Shea Theodore. And then there are puck handling wizards who just don't ever turn it over, like Nick Jensen, Alex Pietrangelo, and Spurgeon again.
There are multiple ways to be strong defensively and none of these players are exactly the same. When you remove transition play and offence from the equation, these are the players who stand out most as pure, high quality defensive impact players, with honourable mentions to Niklas Hjalmarsson, Colton Parayko, and Drew Doughty.
THE QUESTION
Heading into the All-Star Weekend, the Arizona Coyotes are 6-2-2 in their past 10 games. They're not exactly tearing up the league, but they're definitely on a bit of a heater considering they were 17-21-2 before this stretch. With that in mind, Steve Dangle asks…
"What's changed in Arizona that has them winning games all of a sudden?"
Small samples can see some real fluctuations in performance, but percentages can vary even more wildly for no apparent reason. Is it the percentages or performance for the Coyotes?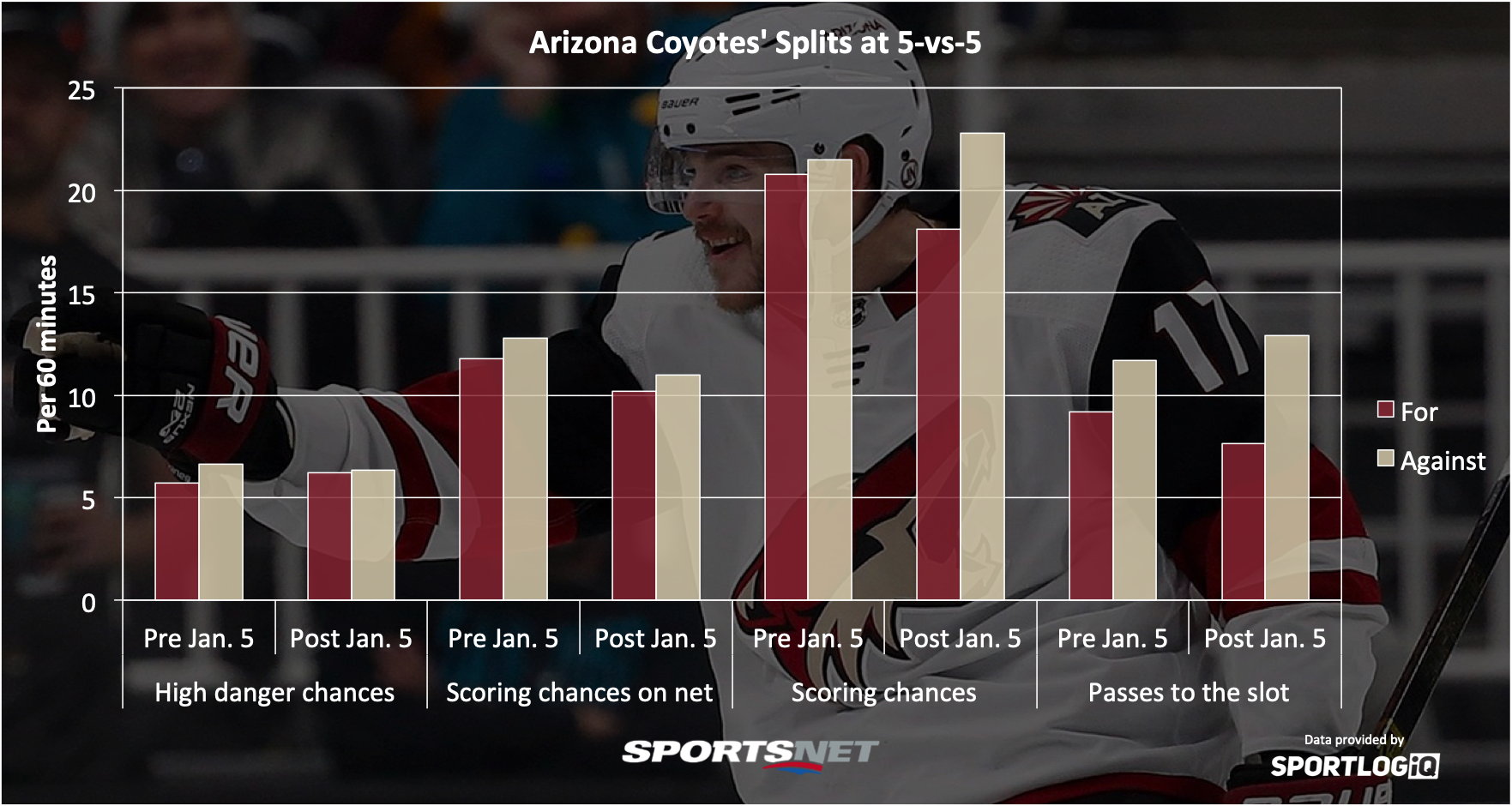 As usual when you look at streaks in small sample sizes, there's a bit of a mixed bag here. The Coyotes are doing a better job creating and defending high danger chances, with fewer scoring chances on net overall for themselves and their opponents, but their control of passes to the slot has been worse than before.
Overall the Coyotes remain in the negatives basically everywhere at even strength, so while the hot streak is a nice story it probably isn't signaling a turnaround. Too many injuries to key players has really hurt a season where Arizona has at times appeared to start finally putting things together.
Senior Writer Ryan Dixon and NHL Editor Rory Boylen always give it 110%, but never rely on clichés when it comes to podcasting. Instead, they use a mix of facts, fun and a varied group of hockey voices to cover Canada's most beloved game.
BUY OR SELL
• With a changing of the guard in Edmonton it's probably unlikely that Jesse Puljujarvi is traded even if Edmonton is disappointed in his development. While he has been relatively disappointing he's just 20 years old and is fourth among Oilers forwards in transition plays per minute and scoring chances at 5-on-5. Doesn't make sense to give up on him yet.
• The 31 Thoughts Podcast talked about the possibility of Edmonton being interested in Andreas Athanasiou, which I'm all for. He has some serious defensive inefficiencies but per minute at 5-on-5 he's getting the 44th-most scoring chances in the league. He's also creating nearly seven scoring chances every 20 minutes, the 84th-best mark in the league. Athanasiou has the speed to play with McDavid, too.
• The Ondrej Kase injury news is disappointing because he's a budding star player. He's tied for 14th in the NHL in scoring chances per minute this year with Sean Monahan and Steven Stamkos, and he's 10th in scoring chances on net, sandwiched between Vladimir Tarasenko and Taylor Hall. That's elite company and shows what kind of potential he has.
• A month ago I mentioned there was more than meets the eye with Carey Price's struggles, then I broke it down in detail, and he's only been better since then. Even without adjusting for quality of shots faced, Price is up to the 10th-best 5-on-5 save percentage in the NHL among goalies with 25 or more games played and he's ninth in overall save percentage. Price also boasts the third-best high danger save percentage in the NHL behind David Rittich and Andrei Vasilevskiy.