From their roulette-wheel loss that cost them a chance to draft Gilbert Perreault as an expansion team in 1970 – the consolation prize of Dale Tallon turned into a respected general manager – the Vancouver Canucks have had as much good luck as they have Stanley Cups.
So, the curb-stomping the Canucks suffered in the last two draft lotteries was as predictable as it was characteristic for a franchise known chiefly for its failures despite a prolonged period of NHL excellence at the start of this century.
The Canucks head to Chicago this week holding the fifth overall draft pick instead of the second despite finishing 29th in the 30-team league. Last year, they picked fifth instead of third after finishing 28th.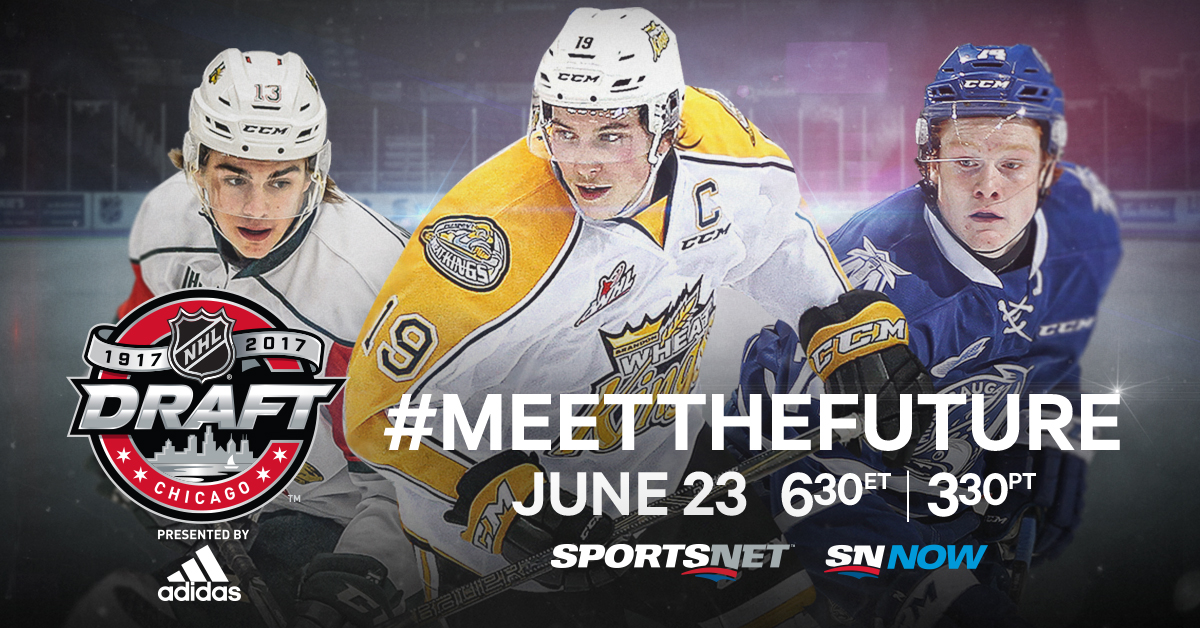 It is clear the NHL draft lottery is less a policing mechanism against tanking than a get-rich-quick scheme open to all non-playoff teams, which has turned the secretive "lottery" into a fan spectacle. Great for everyone, except the most-needy teams.
After a 10-season run by the Canucks ended in 2013 with 443 wins, seven division titles and five trips to the second round of the playoffs, general manager Jim Benning and hockey-ops president Trevor Linden have struggled to rebuild a team that became old and stale and was devoid of prospects after previous regimes traded away draft picks for rentals and chose poorly with the picks they retained.
Starting in 2007, the Canucks had a run of first-round picks that included Patrick White, Cody Hodgson, Jordan Schroeder and Nicklas Jensen. And until 2013 first-rounder Bo Horvat made the team as a 19-year-old, the previous most recent Canuck draft picks in their lineup, Alex Edler and Jannik Hansen, had been chosen in 2004.
Think about that a minute.
From this mighty black hole, the Canucks are only now starting to emerge.
Through better drafting (we think), the aggressive pursuit of free agents out of college and junior hockey and a couple of deadline trades in February, Benning has thickened the Canucks' deck of prospect cards considerably since he replaced Mike Gillis as GM in 2014.
But he remains glaringly short of aces, which is why this draft is vital to a franchise that hasn't been this poor on the ice since the 1990s.
Drafting second, the Canucks would have snared Nolan Patrick or Nico Hischier. But at No. 5, assuming Benning doesn't trade down for volume, the team will still get a promising centre like Cody Glass or Gabriel Valardi or maybe dynamic defenceman Cale Makar.
The five-hole equals the Canucks' highest draft position since Daniel and Henrik Sedin were selected second- and third-overall by Brian Burke in 1999. And with four picks in the top 64 spots and six selections in the first four rounds, the Canucks haven't had this many at-bats in the top half of the draft since the NHL was a 26-team league 20 years ago.
"I want us to hit on those top four picks," Benning says. "I want them to be NHL players and continue to add to our prospect pool.
"We want to add skill to our group. Whether it's a playmaking centre or defenceman who can run our power play on the back end, we want to continue to add skill pieces to our group."
Winger Brock Boeser, the Canucks' first-rounder in 2015, scored four times in nine games after joining the Canucks straight from the University of North Dakota late in the season. And with enticing prospects Jonathan Dahlen and Nikolay Goldobin acquired by Benning in deadline trades for Alex Burrows and Jannik Hansen, the Canucks finally have a little prospect depth on the wings.
After missing out on Pierre-Luc Dubois a year ago, when Benning made Olli Juolevi the first defenceman chosen, the Canucks were expected to target a centre exclusively in this year's draft. But the surprise return to Russia for family reasons of Nikita Tryamkin after an encouraging rookie season diminished what had looked like a strong corps of young defencemen in Vancouver.
The team has long needed a power play quarterback, but Tryamkin's defection to the Kontinental League – at the likely cost of millions of dollars – opened another spot on the blue line.
Benning will select a centre or defenceman at No. 5.
"When I look at our organization, I see those as our two biggest needs," he said. "We're going to look at everything. If we feel we can trade down and still get a grouping of players we really like, we'll look into that. But having said that, though, in the five-hole we can get a player. . . who has a potential to be a really good player and a building block for our team."
The Canucks need a few more of those.
Senior Writer Ryan Dixon and NHL Editor Rory Boylen always give it 110%, but never rely on clichés when it comes to podcasting. Instead, they use a mix of facts, fun and a varied group of hockey voices to cover Canada's most beloved game.
2017 Draft Picks
With four picks in the top 64, there is a lot riding on this draft for Benning and the Canucks. The team is at its nadir on the ice, finishing in the bottom three the past two seasons. And after a lot of mixed-messaging, Linden finally used the R-word in April: "rebuilding."
Younger, faster and with more prospects than when Linden and Benning took over from Gillis three years ago, the Canucks still need skill, depth, size and toughness. They need everything, but will focus in Chicago on drafting a playmaking centre or a defenceman capable of running a power play and contributing offence.
5
33
55 (from Columbus)
64
95
112 (from San Jose)
188
CANUCKS' TOP THREE PROSPECTS IN THE SYSTEM
Brock Boeser, 20, RW — After 43 goals and 94 points in 74 games at the University of North Dakota, this robust winger turned pro last March and had four goals in nine games with the Canucks.
Thatcher Demko, 21, G — Demko has been considered the Canucks' goalie-of-the-future since he was picked 36th in 2014, and the 6-foot-4 netminder who draws comparisons to Cory Schneider has done nothing to diminish that projection.
Olli Juolevi, 19, D — Fifth overall pick from 2016 plays a refined game and has the skating and puck-moving abilities that have become the foundation of good NHL defences.
TWO PLAYERS WHO MAY BE AVAILABLE IN ROUND 1
Cody Glass, C, Portland, WHL — Glass has the playmaking skills the Canucks need in a potential successor to top centre Henrik Sedin, but also possesses size and mobility.
Cale Makar, D, Brooks, AJHL — Canucks haven't had a natural power-play quarterback since Christian Ehrhoff left in 2011, and Makar is the best offensive defenceman in this draft.
BEST FIFTH OVERALL PICKS IN NHL HISTORY
Jaromir Jagr, 1990 — The Czech Republic's Jagr was the least-known player at the top of his spectacular draft class, which allowed the winger to slide to the Penguins at No. 5. Twenty-seven years later, Jagr still plays and is second all-time in NHL scoring with 1,914 points.
Scott Stevens, 1982 — A ferocious hitter dedicated to preventing opponents from scoring, the Hall-of-Fame defenceman led the New Jersey Devils to three Stanley Cups and in 22 seasons never finished with a negative plus/minus rating.
Carey Price, 2005 — A lot of people thought the Canadiens reached too soon to draft Price four places behind Sidney Crosby. But the goaltender is indisputably one of the best in the world, has a career save rate of .920 and won the Vezina and Hart Trophies two years ago.
OTHER NOTABLE FIFTH OVERALL PICKS
Brayden and Luke Schenn, 2009 and 2008 — The brothers from Saskatoon were drafted in the same slot, one year apart. Neither Schenn has quite lived up to projections, but the boys have already combined for 1,077 games in the NHL.
Thomas Vanek, 2003 — The forward became the highest-drafted Austrian when the Sabres chose him in 2003. Since then, Vanek has played for six NHL teams and amassed 333 goals and 697 points.
Michael Dal Colle, 2014 — Drafted ahead of William Nylander, Nick Ehlers, David Pastrnak and others, Dal Colle is still waiting for his NHL debut and just finished a slightly underwhelming first season of pro hockey, scoring only 15 goals in the AHL.
WORST FIFTH OVERALL PICKS IN NHL HISTORY
Daniel Dore, 1988 — The power forward played only 17 NHL games and traded his ice skates for roller blades after four pro seasons. It didn't help him or the Nordiques that three of the next five picks were Jeremy Roenick, Rod Brind'Amour and Teemu Selanne.
Ray Martynuik, 1970 — Chosen ahead of second-rounders Billy Smith, Dan Bouchard and Gilles Meloche, Martynuik was one of the first great goalie busts of the draft. He bounced between nine minor-league teams and never played an NHL game.
Bjorn Johanssen, 1976 — The Swedish defenceman was projected to be another Borje Salming, but lasted only two seasons in North America and logged just 15 NHL games for the Cleveland Barons after the California Seals relocated.
HISTORY OF CANUCKS PICKING FIFTH OVERALL
Olli Juolevi, 2016 — The Canucks made Juolevi the first defenceman selected last June. The Finn plays a quiet game and had a fairly quiet OHL season in London, while Matthew Tkachuk, the power forward who went sixth to Calgary, had 48 points as an NHL rookie.
Rick Vaive, 1979 — The feisty winger became a three-time 50-goal scorer and finished with 441 NHL goals – nearly all of them for other teams after the Canucks packaged Vaive to get Tiger Williams from the Toronto Maple Leafs in 1980.