Sitting second and third respectively in the NHL scoring race, Tyler Seguin and Jamie Benn are the NHL's most talked about offensive duo. Since the 2013-14 season, Benn and Seguin have been the main cogs of arguably the NHL's most dangerous line.
We know that Benn and Seguin are both elite point producers, but if you asked around the league, it would likely be rare for either of them to be named among the top five best players in the NHL. Yet here we are with over a season of sustained success above what any other line has been capable of. Together, they elevate each other to be better than they would be apart.
In many productive duos in the NHL, there are readily identifiable roles between the two players. Evgeni Malkin was the playmaker for James Neal when those two were together with the Pittsburgh Penguins; same goes for Sidney Crosby and whoever plays on his wings, or Montreal Canadiens David Desharnais and Max Pacioretty.
Seguin and Benn however, play very similar games.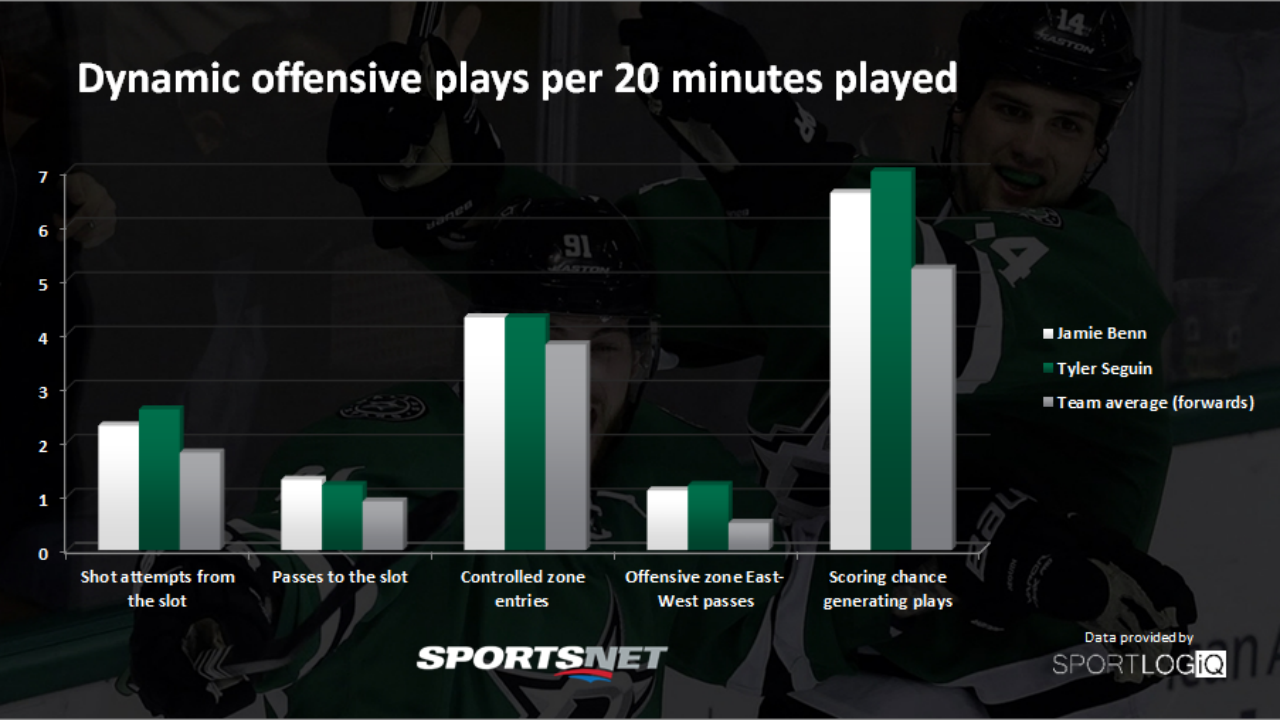 One thing to note in the above graphic is that scoring chance-generating plays is a new statistic developed by Sportlogiq. Every play that happens in an unbroken sequence of successful puck plays that leads to a scoring chance is counted here, from loose puck recoveries, to passes, to the shot taken from a scoring area. The ideal with the statistic is to give credit to every player involved in a scoring play.
Overall, Benn and Seguin don't blow the doors off the NHL in any particular offensive category — though they're both within the top 40 in scoring chances generated — but they're very good at absolutely everything important. They're significantly above team average in all offensive categories on a team that is above average offensively.
Because the two of them play similar games, they constantly keep opponents guessing as to who will be the scorer and who will be the playmaker on any given night. On top of that, their style is versatile, too.
Both players can skate with the best in the NHL, so they can kill you off the rush with controlled zone entries, but they're also adept at not only cycling the puck, but completing east-west passes low in the zone and hitting teammates — or each other — in the slot.
Another reason Seguin and Benn happen to be so versatile is that neither player is stuck to being a shooter or passer. Both are at an elite level in both areas. Defenders can't predict whether a pass or shot is more likely, creating an extra layer where defenders (not to mention goaltenders) have to read and react instantly instead of playing percentages.
Another factor adding to their ability to dominate offensively is how few mistakes Benn makes in the offensive zone. When Benn has the puck on his stick in the offensive zone, he only turns the puck over 32.5 per cent of the time, the fourth best mark among forwards in the entire NHL.
When you're facing the Dallas Stars' dynamic duo, you're unlikely to have the puck, and even less likely to get it away from them in the offensive zone. You just can't predict how they're going to attack.
It's a formidable challenge for any team. The question now is if teams can find a way to adjust to them somehow in their third full season together.