Two tweenage lads in No. 7 Anaheim Ducks sweaters sit on the bench. They're in quiet awe as a dozen sweaty, 200-pound hockey players mill about the visitors' dressing room after a game-day skate in Toronto.
"See that, boys!" barks Andrew Cogliano, tapping his young cousins on their shoulders and pointing to his stall neighbour. "One thousand games. One thousand games tonight."
The significance of Shawn Horcoff's hitting quadruple digits in National Hockey League contests played appears lost on the young kin.
But it's precisely that type of accomplishment Cogliano reveres. As the NHL's — nay, all of sport's — active ironman, the guy knows perseverance.
At 28, Cogliano has already been nominated thrice for the Bill Masterton Trophy. On Sunday in California he'll suit up for his 700th consecutive game, the second-longest streak to ever begin an NHL career.
He ranks sixth all-time in hockey's ironman slogs. If he keeps his attendance through next season, he'll move into fourth. Carry his consistency to age 33, and he'll pass Doug Jarvis (964 games) to become league's all-time Tony Stark. The closest active pursuer of Cogliano, Keith Yandle, still lags more than 150 games in his rear view.
"When I think about it sometimes, I understand it's pretty cool," Cogliano tells Sportsnet. "I'm a team guy who plays good defensively and is there every night. I just want to be that guy."
Cogliano doesn't love talking about the streak. You can tell because his interest in your questions and his volume pick up when the subject turns to his teammates. He even used to be superstitious about discussing the streak. Now he just gives a knock on wood and keeps it moving.
"I try to give different answers every time I've been asked, but it's tough," he shrugs. "There's not much to say other than I've been very, very fortunate."
No doubt that surviving 700 professional hockey games in a row — some against Dustin Byfuglien — requires a kiss from Lady Luck. But Cogliano is forever being modest.
Coach Bruce Boudreau gushes about his depth forward's toughness, his regimented training, even his diet.
"He works hard out there every game. That's what we need him to do," says captain Ryan Getzlaf. "He's a big part of this group when it comes to leading by example. Both on and off the ice, he does a lot."
Despite participating in the fastest and arguably most violent pursuit, Cogliano's stretch dwarfs the active iromen in North America's other major sports: baseball's Manny Machado (162 games), football's Shane Lechler (222), and basketball's Tristan Thompson (381).
Last week in Toronto, Cogliano batted in a second-period goal, then hobbled off to the dressing room after getting crunched into the boards. He started the third period. He left Monday's win in Edmonton early, banged up, but came back with two assists in Wednesday's win in Calgary.
Coglaino is no star. He's reached 20 goals just once, in 2013-14. So he's never been asked to sit out a meaningless game for rest. Because he forechecks like a wolverine, backchecks like he forgot his keys, and kills penalties on the NHL's most efficient special teams unit, there's no reason to sit him. It will take an injury.
His nastiest punishment? The one closest to snuffing the streak?
"The one year in Edmonton I had a bunch of hits to face. I had 30 stitches in my lip one time. I had to wear a full face mask. I've had a few things here and there," Coglaino says. "Everything I've had, to be honest, anybody would've played though. There hasn't been anything where I've toughed it out more than any other guy."
Emotionally tough, Cogliano says, was his trade in 2011 to Anaheim from Edmonton, which had selected him in the first round of the 2005 draft. Despite leading the 2007-08 Oilers in games played, game-winning goals and shooting percentage as a rookie, he had become "redundant" (his word) in their rebuild. He knew he was headed out of town, but the reality stung. Of course, he skated through that twinge, too.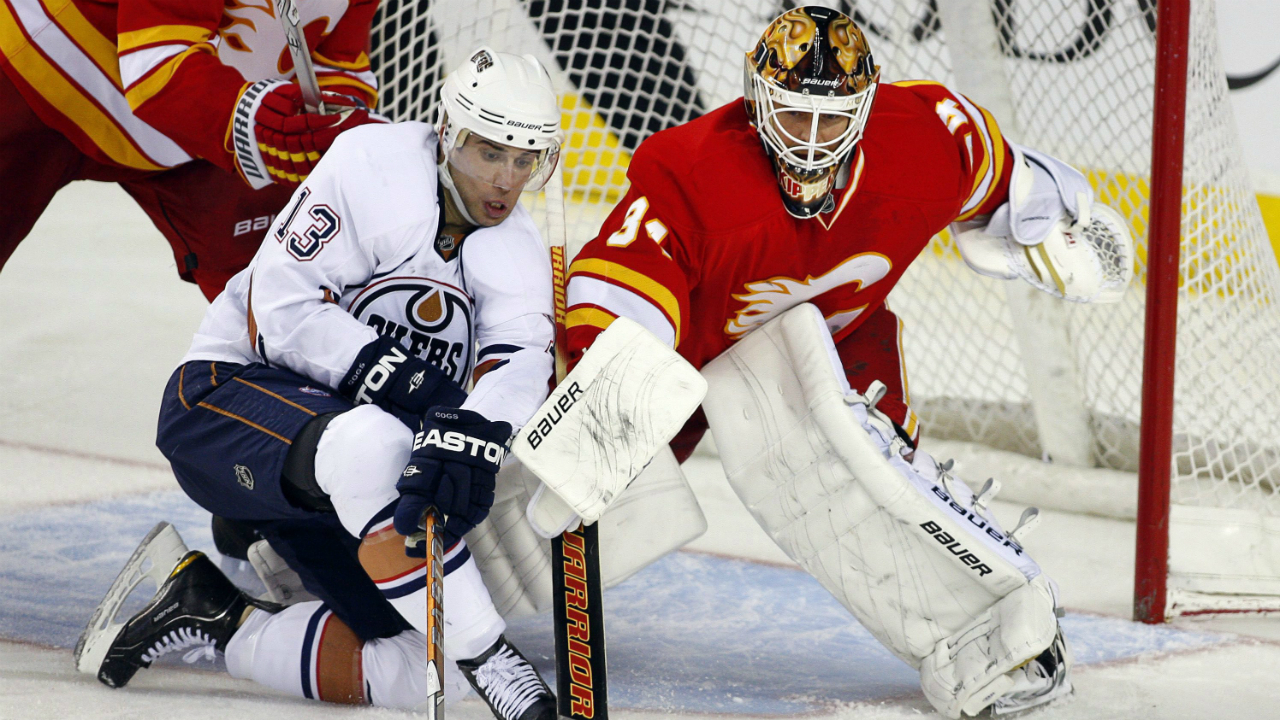 Andrew Cogliano with the Edmonton Oilers in 2011. THE CANADIAN PRESS/Jeff McIntosh
"Some guys had to go. It was unfortunate at the time because I really enjoyed playing in Edmonton and for that team, but I think I'm in a spot now where it really can't get much better," he says. "It's been a good change."
Cogliano's perfect attendance record stretches back beyond his Oilers days. Has he ever missed a game? A morning skate? At the University of Michigan? As a kid playing minor hockey in Vaughn, Ont.? Bueller?
"Probably I did," he says, guessing. "I just can't think of it. Doesn't ring a bell."
Cogliano credits his hardworking parents for instilling strong ethics. His dad is retired now, but his mom is still busy holding down two jobs.
"She's a preschool teacher and a fitness instructor. She works a lot," Cogliano explains. "I've been raised to go to work, go to school, do your job."
Every day.