Winnipeg Jets rookie Nikolaj Ehlers had a nice start to his NHL career, but has since gone 11 games with just one point, and he hasn't scored a goal in 14. Yet the young Dane remains a head turner game in and out, and Jets fans shouldn't panic about his lack of recent production.
Only Mark Scheifele and Bryan Little on the Jets are taking more shot attempts from the slot per 20 minutes than Ehlers, but more than that, Ehlers is putting together a remarkable season in terms of transitioning the puck up the ice, and creating scoring chances for his teammates.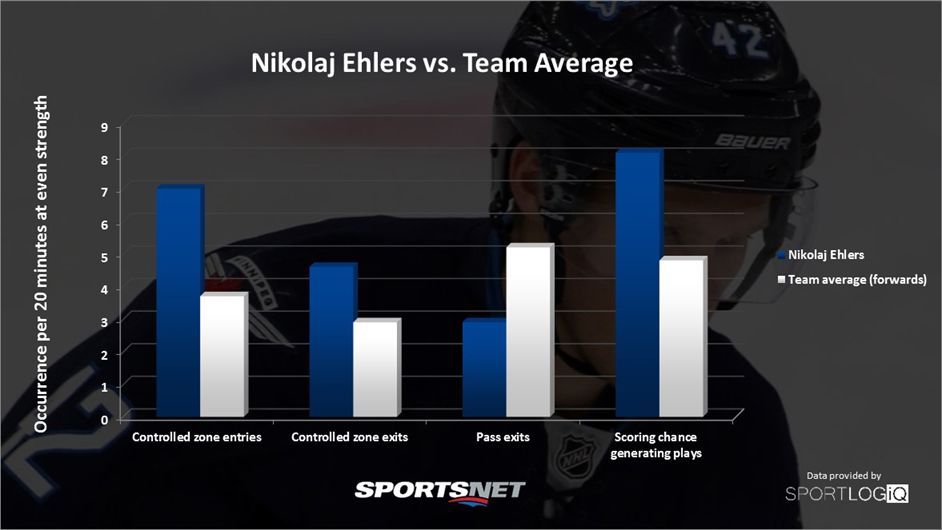 Ehlers is behind his team's average in terms of breaking the puck out of the defensive zone with a pass, but when it comes to carrying the puck, he is in elite company.
In terms of controlled zone entries, Ehlers doesn't just lead the Jets; he's actually leading the entire NHL so far this season, a hair ahead of Johnny Gaudreau and Jack Eichel. He's not quite as dominant in terms of defensive zone carry outs, but he's nearly there, placing 10th league-wide.
The ability to transition the puck up the ice with speed as Ehlers does causes absolute chaos for defenders, as it's much more difficult to defend players attacking off the rush with speed than it is on the cycle.
The result of that chaos is that Ehlers is able to make more plays to create scoring chances than most in the NHL. In fact, he's currently tied for sixth in the NHL in scoring chance-generating plays, behind superstars such as Vladimir Tarasenko and Alex Ovechkin.
When looking at how dominant Ehlers has been with the puck, keep in mind he is just 19 years old and still growing into the player he's going to be.
When players struggle, it's always tempting to look for reasons why, and our minds can form confirmation biases rather quickly to explain what's going on. A player might miss his next couple of scoring chances, so you focus on the fact he missed instead of the fact he did good work to get a shot attempt off from a high danger area.
Ehlers is doing what he needs to do to make goals happen, he's making intelligent plays that create chances, and attacking with speed. There are areas in which Ehlers can improve – for example he currently takes a large majority of his shots from the outside. But there is far more good than bad in his game, enough to suggest he may be a star in the making.