He had to play his way on to this team. But really — how could you have all the best Under 24 players in North America on a team and not include Auston Matthews?
Furthermore, think about this: Every one of the games will be played at the Air Canada Centre, home of the same Toronto Maple Leafs team that will no doubt be drafting Matthews this spring. His exclusion would have gone over like a lead balloon in Toronto.
We were told by many that the politics of including Matthews would have no affect on whether or not co-general managers Stan Bowman and Peter Chiarelli included the 18-year-old on Team North America. So when his name appeared on the final roster Friday, it was simply because Matthews didn't leave them an option with his play for the United States at the 2016 World Championships.
"Of course Auston was on our radar before the World Championships," said Team North America head coach Todd McLellan. "Then, by all accounts, he really showed over there that he was capable of helping this team."
Matthews was one of the final seven additions to the U-24 roster on Friday, alongside forwards Jonathan Drouin (Tampa Bay Lightning), Ryan Nugent-Hopkins (Edmonton Oilers) and Mark Scheifele (Winnipeg Jets). On defence, rounding out the seven-man D-corps is Colton Parayko (St. Louis Blues), Shayne Gostisbehere (Philadelphia Flyers) and Jacob Trouba (Winnipeg Jets).
Up front, Drouin narrowly won one of the 13 spots over St. Louis' Robby Fabbri, based on his speed and dynamic play through three rounds for Tampa. Experience — or inexperience — is a factor on this U-24 team, so Drouin's 23 NHL playoff games and 91 regular season games gave him the slightest edge over Fabbri.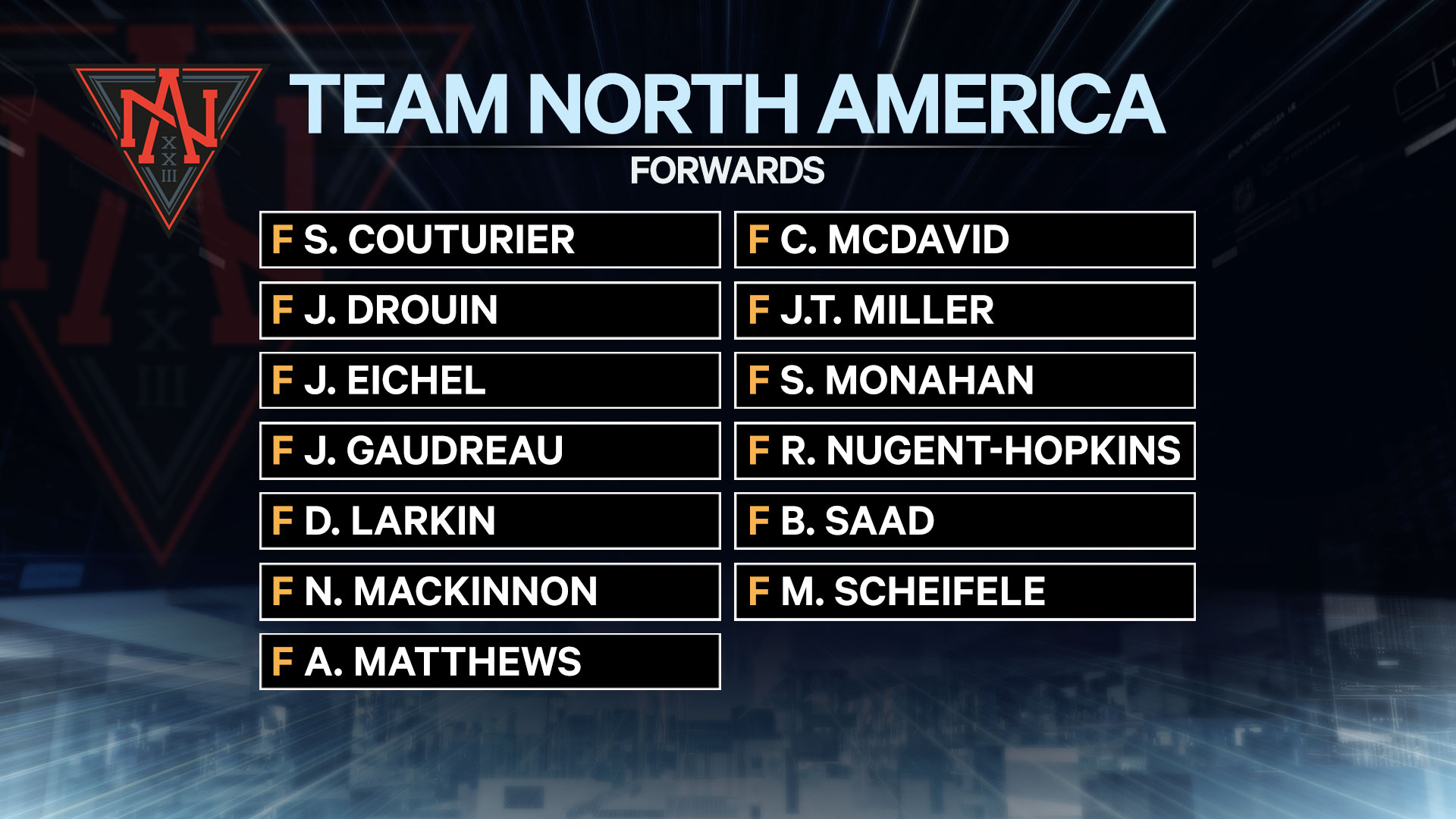 The same can be said for Nugent-Hopkins, whose 313 career games is second on this team only to Philadelphia centre Sean Couturier, who stacks up as the fourth line, checking centre here. Nugent-Hopkins may also be asked to take on more of a checking role as a third-line centre, which is an ability that helped him make this team over, say, Montreal's Alex Galchenyuk.
Scheifele's selection is a combination: he was fabulous at the Worlds, and Team North America management feels he can play a defensive role if asked — likely on right wing. This team will have only three right-handed shots up front in Nathan MacKinnon, Jack Eichel and Scheifele, and an ability to check is also key, with many of these kids having only played offensive roles in their careers.
Someone has to kill a penalty and win a faceoff, thus the earlier selection of New York's J.T. Miller and centre Sean Monahan, who was a 51 per cent faceoff man last season.
On defence, there was no keeping the six-foot-five Parayko off this team. He played Top 4 minutes (20:07 per game) for the Blues through three playoff rounds, led the Blues D-corps in shots on goal and was third with seven points.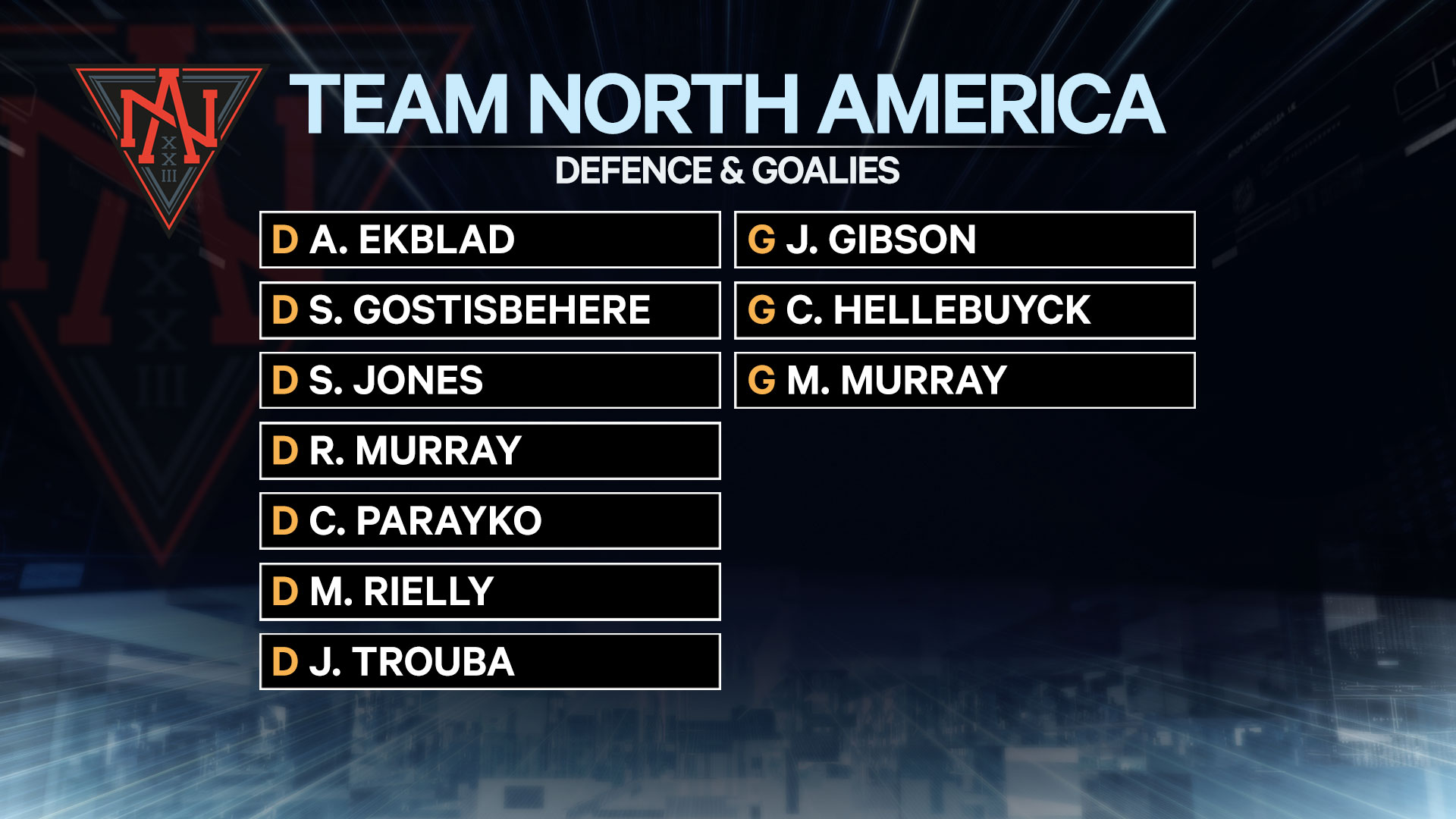 Same with Gostisbehere, a Calder Trophy finalist who, alongside Parayko, gives this team two fearsome point shots on their power play. Gostisbehere was perhaps the easiest of the final seven selections, the way the Flyers team game improved nearly the moment he joined them this season.
Jacob Trouba won out over Noah Hanifin as the seventh defenceman, the perfect all-around type to play that role.
Here's how the lines and pairings stack up
TEAM NORTH AMERICA LINEUP
* Denotes late addition
FORWARD
Dylan Larkin – Connor McDavid – Nathan MacKinnon
Johnny Gaudreau – Sean Monahan – Jack Eichel
*Jonathan Drouin – *Ryan Nugent-Hopkins – Brandon Saad
J.T. Miller – Sean Couturier – *Mark Scheifele
*Auston Matthews(?)
DEFENCE
Morgan Reilly – Aaron Ekblad
Ryan Murray – Seth Jones
*Shayne Gostisbehere – *Colton Parayko
*Jacob Trouba
GOAL
Matt Murray
John Gibson
Connor Hellebuyck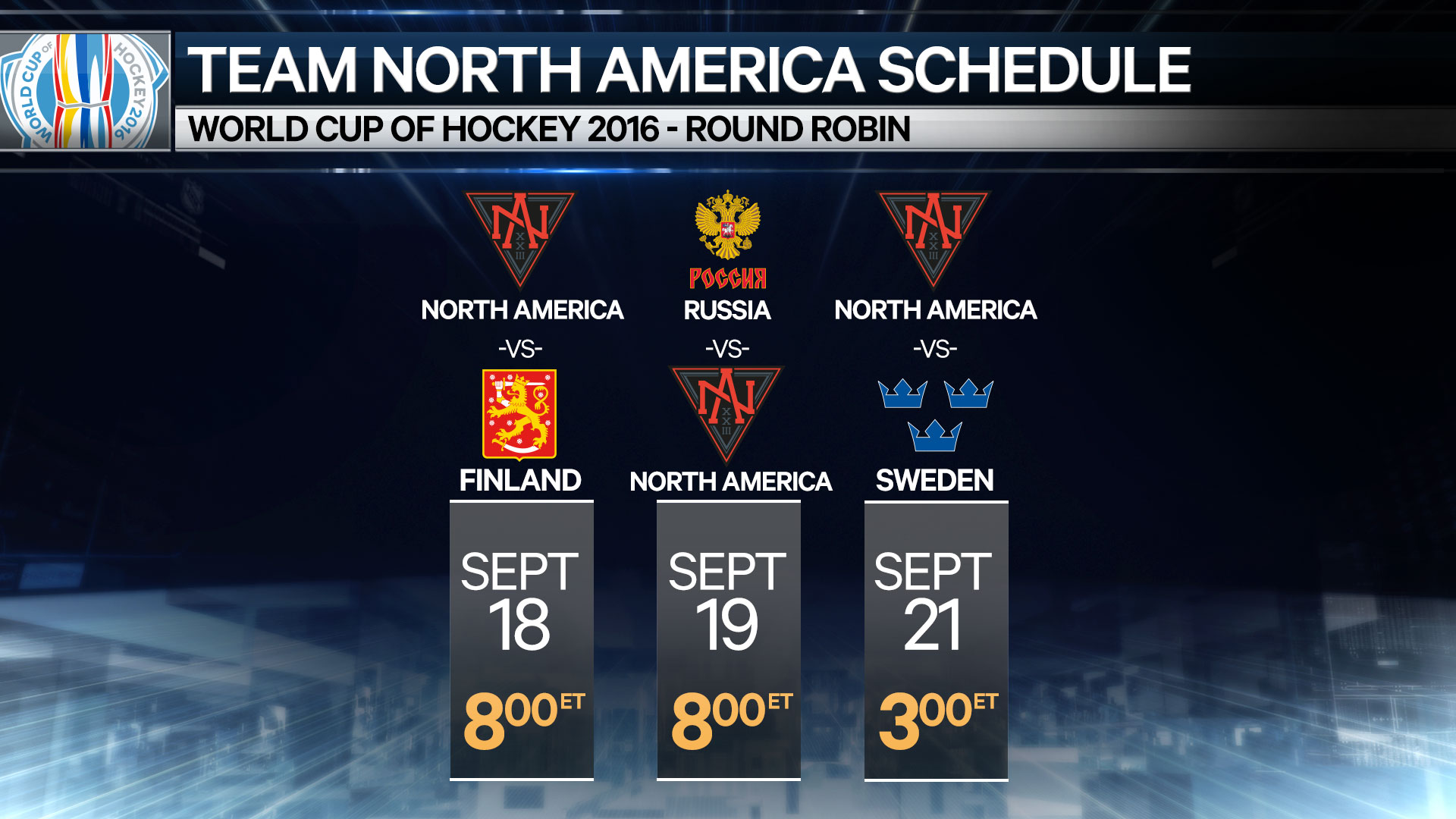 Team Finland:
Official 23-player roster
Team Russia:
Official 23-player roster
Team Czech Republic:
Official 23-player roster
Team Sweden:
Official 23-player roster
Team Europe:
Official 23-player roster
Team U.S.A.
Official 23-player roster
Team Canada
Official 23-player roster