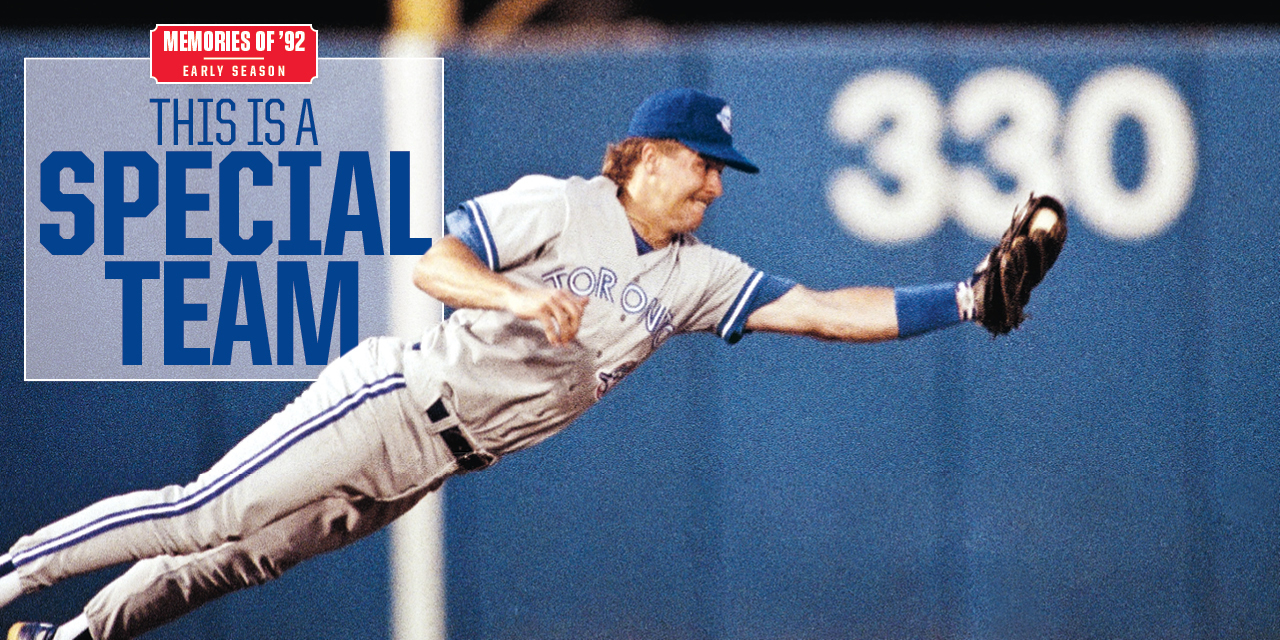 Veteran Leadership helped the Jays start strong
The Jays' pre-season woes were quickly forgotten after the club won nine of its first 10 games. Winfield delivered on his spring training promise to produce with the bat, knocking an RBI single in the first inning of the season opener in Detroit, but no one got off to a better start than catcher Pat Borders, who blasted three long balls by April 10—just four games into the year. By the end of April, the team was 16-7, good for tops in the American League. Inside the clubhouse, Winfield's leadership was paying immediate dividends.
Cito Gaston manager
Dave Winfield's one of those guys who, if I'm not in the clubhouse, makes sure that guys are doing what they're supposed to be doing.
Dave Winfield DH
My first game, I remember standing on the edge of the dugout when we did the national anthem and not everybody was there with me. Cito and I talked about it. I told him I was going to find where everybody was. Basically, I said, "You are to be finished eating; you are to be dressed; and you are to be on the top of that dugout when the anthem begins from here on. And I'm serious." There aren't too many opportunities to win it all, so sometimes I felt I had to remind the other guys that this was our opportunity.
Morris also delivered a statement in the opener, giving up just three hits and keeping the Tigers off the board through his first eight innings as a Jay. Though Detroit tagged him for two solo shots in the bottom of the ninth, Morris came away with a 4–2 complete-game victory.
Cito Gaston
He just didn't want to leave. Heck, when I was playing, I'd see Red Schoendienst try to go out and get [Bob] Gibson and Gibson would say, "I'm not going to let somebody else mess up my game." That's the kind of person Jack was. He threw 144 pitches that day. He actually threw too many. He and I talked about that later—I just sat him down and told him, "You know what? I've got two guys in the bullpen." That was [Duane] Ward and Tom Henke. "If you can get into the seventh, they will take it the rest of the way."
Pat Hentgen SP
Jack was a big influence on me. One of the things he told me that stuck was "Go as hard and as long as you can until the manager comes and gets you."
After sweeping Detroit, the Jays went home to the Dome for back-to-back series with the Orioles and Yankees. Winning all but one game, they finished their opening homestand on top of the AL East by two-and-a-half games.
Rance Mulliniks 3b
During our first homestand, Winfield called a meeting. We went over how we were going to approach the game and how we were going to go about our business. We were going to play to win, do the little things that were required to win even if that meant at times personally giving up an at-bat by moving the runner.
Kelly Gruber 3B
When the house is burning down, we all look to Winny. If he ain't panicking, I ain't panicking. He was the glue.
No one stuck to Winfield closer than Joe Carter. The two were a deadly combination, whether batting third and fourth in the order or keeping rookies in line.
Ed Sprague c, 3b, 1b
Carter and Winfield called me over and sat me down after one of the games. They set the tone and said, "This is what we're expecting of you." They probably had that conversation with a number of the guys that got called up.
Tommy Craig trainer
I remember before a game at around five in the afternoon, Derek Bell was hitting balls up into the stands, just rattling the seats. And he yelled to Dave, "Hey Winny, look here! Look what I'm doing here!" And Winfield said, "Derek, look at your watch. What time is it?" and Derek said "Five o'clock." And Winfield told him "Nobody's making money at five o'clock. How about you wait until seven?"
Pat Hentgen
Winfield was great; big-time leader. I remember him walking up and down the dugout and saying, "I can't hear you! I can't hear you!" He wanted you to root your teammates on. And you're like, "Okay, Mr. Winfield." He was six-foot-six, 220 lb.
Pat Tabler 1b
[Winfield] was very imposing, kind of a Paul Bunyan guy.
Roberto Alomar 2B
[Winfield] did a kangaroo court. He was the judge. And he decided that if somebody did something wrong they were fined. We had a box and every time somebody didn't run to first base hard, that was a fine. If it was 0-2 and you [gave up] a hit as a pitcher, it was a fine. It brought us together.
Winfield wasn't the only one uniting the clubhouse. There was also a T-shirt.
Candy Maldonado LF
When we lost to Minnesota the year before, Pat Tabler came up with a T-shirt that said "3 for 3" on the back.
Kelly Gruber
We figured we needed a mission statement. We had these dark blue T-shirts. On the front they had the Blue Jay logo and "3 for 3 in '92." What that meant was you win the regular season, then you win the playoffs, then you win the World Series. On the back was "We Can" in smaller letters, "We Will" in bigger letters and "We Are" in even bigger letters. We wore it underneath our jerseys.
One of the toughest on-field decisions facing manager Cito Gaston heading into the season was who to start in left field. Gaston had a lot of faith in veteran Candy Maldonado, but after a strong spring, rookie Derek Bell earned the opening day nod. The victory was short-lived.
Jerry Howarth radio
In April, Derek Bell, on a swing in Tiger Stadium, broke his hamate bone, so he was out for six weeks and the Blue Jays put Candy Maldonado in left. When Bell was able to come back, [Winfield] indicated, and I think Cito did, too, to Pat Gillick, that if you're going to win a regular-season championship and go on to win, you can't have kids out there making mistakes. Maldonado was hitting .167. He went on to hit, like, .350 the next month and a half.
By the end of April, the Jays had extended their lead over New York.
Buck Martinez TV
They were up by three games in the AL East after 19 games; they were 15-4, and everybody's going "Wow, this is a special team."
Tom Henke RP
It's not like we had to win 10 or 20 in a row. In our meetings, we talked about winning two out of three or three out of four.
Duane Ward RP
We won most series. We'd go in there and take two out of three or three out of four every time we played somebody, at home or on the road. It seemed like worst case, we were going .500. I think that was the confidence and the swagger we all had in the clubhouse—that we're going to win.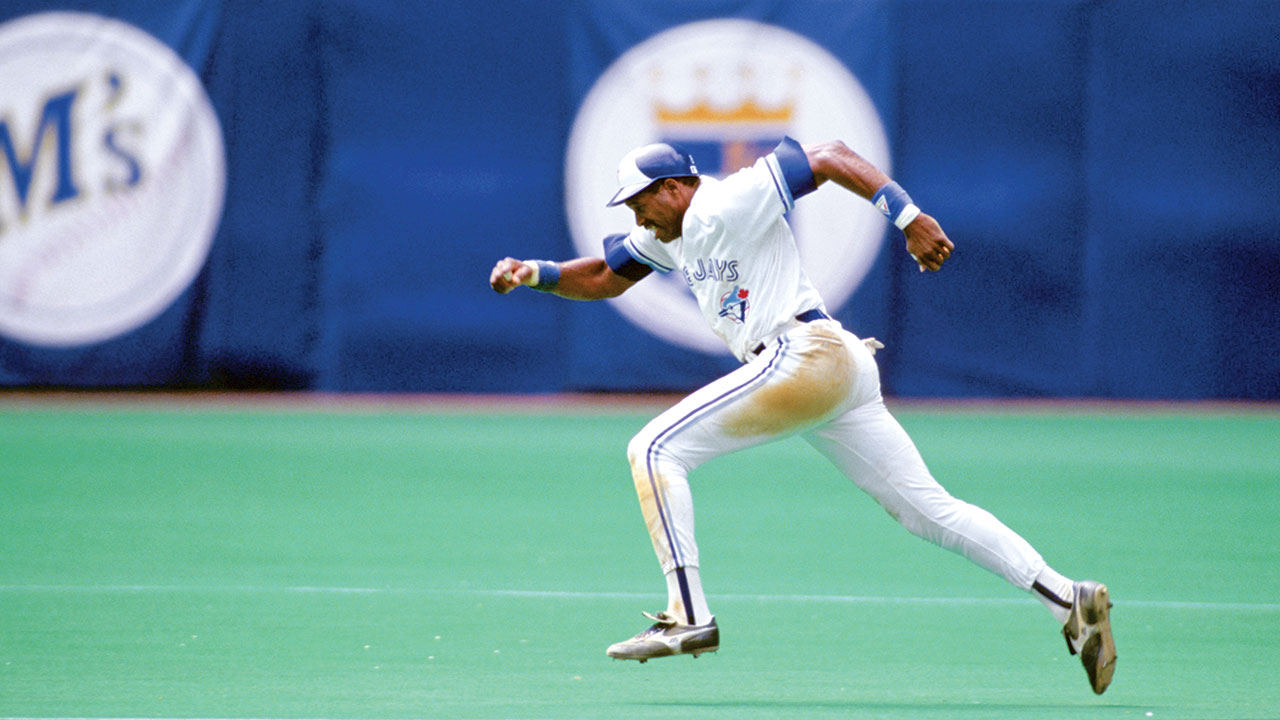 Losing Bell may have been a blessing in disguise, but how would the team handle an injury to its starting third baseman? During a late-April homestand against Kansas City, they found out.
Kelly Gruber
I took a swing, fouled it straight up. Adrenalin's flowing, I didn't feel anything. I took two more swings, struck out and felt some tension. I blew out two discs, my C3 and C4. They wanted me on the field, and I did the best I could. Sometimes I wonder how I got through it. I'm, like, immune to pain.
Gruber continued to play despite the injury, but his numbers suffered. Batting .306 heading into the Kansas City series, his average fell to .248 by the end of May. As knee and ankle injuries added to his struggles on the field, his off-field behaviour didn't do much to earn him the sympathy of his fans and teammates in Toronto.
howard Starkman pR
He was hurt and we had the all-star break and he went water-skiing. He was in Muskoka water-skiing.
Kelly Gruber
The only thing that I was in control of was giving 100 percent. I think that's why I was liked the way I was.
Dave Winfield
Gruber went through a stretch where he was struggling. Jeff Kent came in from double-A and I just told him, "Go on man, here's your opportunity, play well." Jeff played a very instrumental part in that leg of the season.
In Milwaukee to kick off May, the Jays dropped three straight to the Brewers by a single run before closing out the series with a 4–1 victory. The win kicked off a five-game winning streak versus Oakland and Seattle that ended with a dramatic come-from-behind win over the Mariners on May 7. With Morris on the mound, the Jays fell behind 6–0 by the third inning. Pat Hentgen spelled Morris with one out in the fifth and pitched solid relief, but heading into the ninth, the Jays were still down 7–3. After Manuel Lee drove in Greg Myers with an RBI single, Devon White and Joe Carter got aboard to load the bases with two out and Dave Winfield due up. Winfield delivered, taking a 2-2 pitch from Mike Schooler deep for his 10th career grand slam and an 8–7 lead. Tom Henke needed just 14 pitches to nail down the victory in the ninth.
David Wells SP
It was one of those days nothing was going right for anybody. We got down big, but when you've got an impact like Dave Winfield, one swing of the bat can make the difference. He got a hold of a pitch and launched it. If that doesn't fire a team up for quite a while, I don't know what does.
Dave Winfield
Carter and I, we knew we were RBI guys. Joe was a good friend. We cut each others' hair in the clubhouse. Joe kept me looking good.
Joe Carter RF
I was the barber. I had my own professional equipment. I cut everybody's hair, from Manny Lee to Dave Winfield to Pat Hentgen. I look back and they kind of used me the whole time because they never tipped me. I never messed up anybody's hair. When it's free they can't complain.
Aside from keeping them both looking good, Carter and Winfield's ability to work together came in handy for the occasional prank. The most memorable of which came at Derek Bell's expense.
Devon White CF
Derek was a real loud guy. He always wore loud colours and his car was a loud colour.
Turner Ward of
Joe called Derek "Wrinkles." He was like, "He's the oldest looking 22-year-old I've ever seen."
Howard Starkman
Bell had a Jeep or something like that, and it was his pride and joy. He was always chirping about his car. So the guys had enough and thought, "We'll take care of this." It was a Fan Appreciation Day on a Sunday afternoon and pregame we were announcing the prizes people could win.
Devon White
We knew they were going to give away a car, so Joe and I arranged to have Derek's car brought out onto the field.
Howard Starkman
Carter was driving. Bell was sitting in the dugout, shocked when he saw his car. Everybody knew about it but him.
Devon White
The look on Derek's face was absolutely priceless.
Veteran sluggers weren't the only ones who could put a young player in his place.
Duane Ward
In the first couple of innings, it's kind of fun and games. But if the antics keep persisting to the fourth, fifth, sixth inning, then it's, "Hey, sit there, shut up and watch the game." Know who you're going to face and what your job is; see who are the hot hitters we've gone over in the pitchers' meetings and see what they're doing during the game.
Pat Hentgen
When I was in the bullpen, I flicked a sunflower seed off the top of the seat and I remember Ward came up to me and said, "How do you pitch [Rafael] Palmeiro?" and I was like "What?" and he said "Watch the game, kid." From that day forward, I never flicked another seed.
Tom Henke
Duane was a serious guy, but the most superstitious I ever played with. He wore the same sleeves his entire career. He went to the restroom at the same time each night, same urinal, same inning. My whole career in Toronto, he had to play catch with me when we warmed up. He wouldn't let me play with anyone else.
Pat Hentgen
He had to be on the diamond at a certain time and he had to be the first guy in from batting practice.
Tom Henke
One time Todd Stottlemyre and I caught him sleeping and ran off ahead of him. He chased us down and knocked us over so he could get in there first.
Duane Ward
I had the same routine for 10 years. Same sleeves, sat in the same place in the bullpen, never touched a white line—the list goes on and on. Little superstitions get you prepared for the game. My thing was it just went overboard.
The Jays stayed hot through the first half of May, going 9-4 to bring their overall record to 25-11, but the Baltimore Orioles had also found their rhythm and, after managing a 19-6 record between April 17 and May 13, sat just a game back of Toronto. By May 18, the Jays were three games into a five-game losing streak (their worst of the season), allowing Baltimore to take over the AL East by half a game. They were also hosting the Minnesota Twins with Jack Morris on the mound. Facing his former team for the first time, Morris was out for blood. He didn't give up a hit through the first five-and-a-third, but the game eventually went into extra innings. In the 11th, the Jays committed two costly errors, giving up four runs and, ultimately, the game. The most shameful came on a pickoff throw to first from Duane Ward that John Olerud missed because he'd been distracted, chatting to the runner, Kirby Puckett.
John Olerud 1B
That goes down as one of my most embarrassing moments in baseball. We ended up losing a close game that, coming down the stretch, was an important ball game, and for it to be on something like that, just losing your focus, visiting with an opposing player, that just looks so bad. There was a story the next day from a guy who wrote, "John says he's talking to Kirby, Kirby says he wasn't talking to John; so who was John talking to?" And he sort of did this whole thing about, "Maybe he was talking to John's imaginary friend," because I was a real quiet guy. Kirby was a great guy. He read the story and he was laughing the next day at batting practice: "John, are you ever going to talk to me again?" Kirby was trying to cover for me by saying, "No I wasn't talking to him." He sort of pointed the blame on Wardo; "What's Wardo doing? He's gonna get somebody killed over there." He was sort of covering for me, which I'm sure Wardo wasn't too happy about, because it made him look bad.
The Jays snapped the skid May 20 against the Twins, thanks to some tough-guy heroics from Todd Stottlemyre. After Twins starter Scott Erickson threw at Derek Bell in response to heckling from the Blue Jays bench, Stottlemyre stormed the Minnesota dugout, attempting to take on the entire team himself. He was ejected, but sparked his teammates. Down 6–3 after four, they rallied to take the game 8–7 on an RBI single from Pat Borders in the bottom of the 10th.
David Wells
Todd was such a frickin' hot head, it didn't take much to fire him up. That was Todd's M.O. If he's going down in the fire, he's going to make sure those guys feel the wrath. That's what he did: he went over there and he got ready to start a bench-clearing brawl.
Cito Gaston
Todd always protects his hitters and the players on his team. We had a pretty big club that year. Weren't too many people that were going to mess with us.
PART ONE: "A lot to live up to"
The pre-season came with great expectations for the star-studded Jays
PART TWO: "This is a special team"
Veteran leadership helped the Jays start strong
PART THREE: "Smoking hot in the Big Smoke"
An early-summer winning streak had the Jays looking down on the AL East
PART FOUR: "Feeling the stretch"
After a shaky August, the Jays raised their game when it mattered most
PART FIVE: "Over the hump"
Seven years after choking away a 3–1 ALCS lead, the Jays found redemption
PART SIX: "Three for three"
Victory for the True North Strong and Free in the home of the Braves
This story originally appeared in Sportsnet magazine.