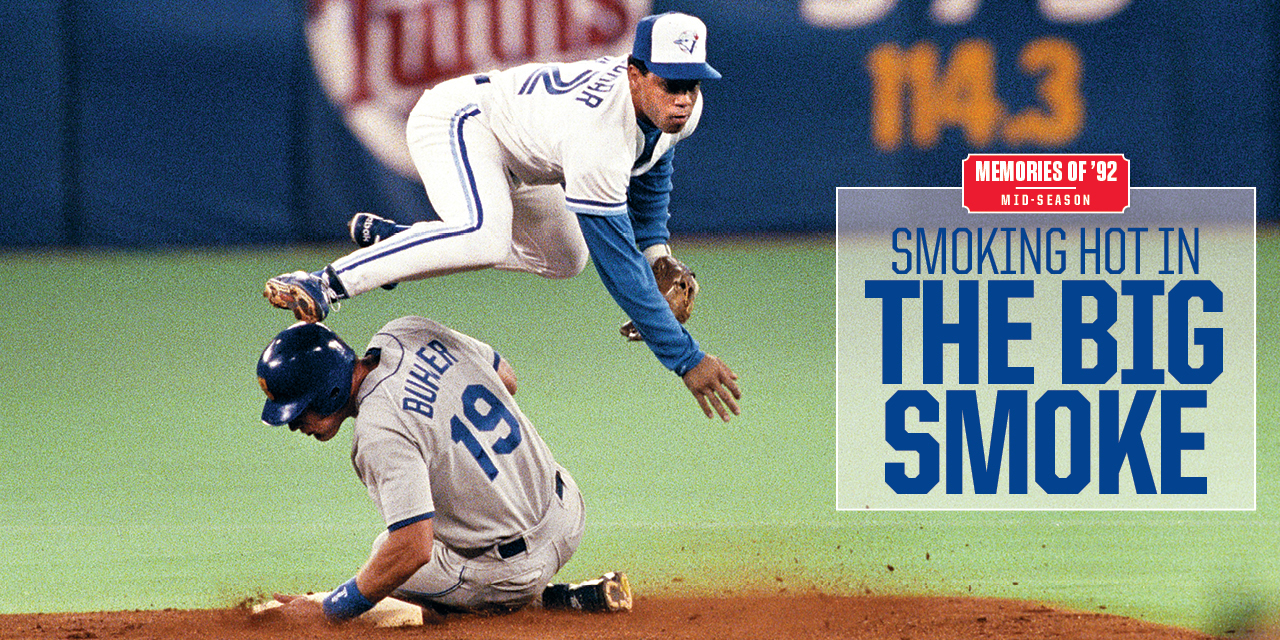 An early-summer winning streak had the Jays looking down on the AL East
An eight-game winning streak to kick off July had given Toronto four games' worth of breathing room. The Jays then came out of the all-star break firing, taking three of four games from the Mariners. By July 23, they were atop the AL East by five games, their biggest lead of the season. The team was the toast of Toronto.
Buck Martinez TV
Every single night: 50,000, 50,000, 50,000. It was a rock concert. If you weren't there, you were the biggest square in Toronto.
howard Starkman pr
There were 154 suites that were sold out every game. We capped the season tickets at 27,000 and we were still selling another 23,000 just like that. The 500 level is a long way away. To come every night and sit in the last row of the 500 level you've got to be some kind of fan.
Darren Kritzer bat boy
I actually had to sign a few gloves for kids. And I always asked them, "Are you guys sure?" I didn't know if they thought I was a player. I said, "Guys, I just want you to know I'm the bat boy." And they'd say, "Oh yeah, that's why we want you to sign it."
Carrying a .611 winning percentage (tops in the majors at that point) into late July took dedication, and the bar was set high by the team's superstars.
Cito Gaston Manager
There were a few times that Joe would suffer from migraine headaches and he'd come into my office and say, "Skip, don't put the lineup up yet. I'm going to go back here in the sauna, in the dark, and I'll be okay."
Joe Carter rf
I'd just lie on the table until game time. I never wanted to come out of the game. I'd lie there for two or three hours, try to rest it off.
Cito Gaston
He never once did not play, whether his headache was gone or not. He wouldn't have told me if it happened in the playoffs. Joe's such a competitor. I'm not sure if Joe would let his kids win a checkers game.
Joe Carter
Once the game started I was fine because I was not gonna let Cito down, I was not gonna let any of my teammates down. I just knew that I needed a little time just to make it go away. When game time came I was always ready.
In the middle of a four-game winning streak that took the team from July into August and kept them up on Baltimore by four and a half games, the Jays called up a bit of new blood.
Ed Sprague C, 3B, 1B
I was disappointed not to make the team out of spring training. But I needed to get at-bats and I knew I was going to get sent down to triple-A. [The Jays] traded Greg Myers in July, and Randy Knorr and I got called up. I had a sense I might play first against a tough lefty for John [Olerud], and I probably wasn't going to play much third because of Gruber. I figured I'd get a handful of at-bats in there. I caught a lot of bullpen, so I had a pretty good feel for the pitching staff.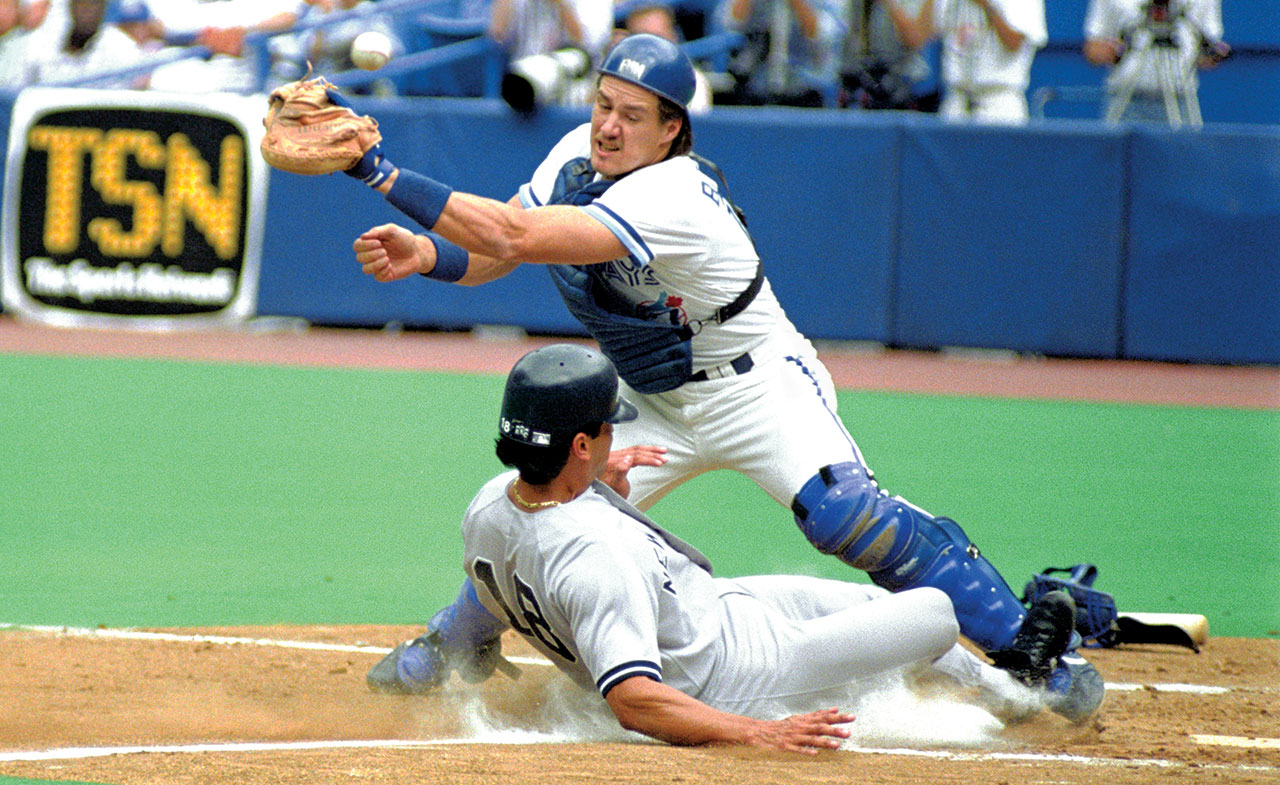 Pat Hentgen SP
Tom Henke obviously had great fastball command and was excellent at tutoring the young pitchers. When you come up, guys think you need to be better, nastier. I remember one of the things he used to tell all the young pitchers was: "Don't change a thing."
Duane Ward RP
My role was to get the ball to our closer. Tom couldn't do his job unless I got the ball to him holding that one- or three-run lead, giving him as much of a cushion as I possibly can so he can come in there and face just three guys and shut it down. And I'm only as good as David Wells or Mike Timlin in front of me.
Ed Sprague
I caught Timlin in the minor leagues. He probably had the best stuff, but he didn't have a handle on it yet, being a younger guy.
Pat Hentgen
Timlin, out of nowhere, made the team the year before—another guy who had a power sinker and a good fastball. As a starting pitcher it was very exciting to have those three guys come in behind you. Building pitching staffs was one of the things Gillick was so great at.
Duane Ward
I thought it was a six-inning ball game. We had David Wells in the bullpen; we had Mike Timlin in the bullpen; we had Todd Stottlemyre, who went from the rotation to the bullpen; and when Jimmy Key wasn't starting, he went to the bullpen. I didn't think anybody in the bullpen was going to give up any runs. We could throw some arms at you.
The staff was good, but it certainly didn't hurt to have Pat Borders behind the plate.
Tom Henke RP
Pat Borders was a blue-collar guy. When he was behind the plate, I was never afraid to throw the ball in the dirt, because he was going to block it. If you needed a big "K" and you needed to throw the big split-finger down, he was going to block it; it didn't matter if he was going to block it with his face. He called a great game. I didn't have to think and seldom shook him off.
Despite their ability to close out games, four months of regular-season ball finally started to take its toll on the Jays in August. Tough series in Boston and Detroit and at home against Baltimore saddled the team with a 5-8 record between Aug. 3 and 16, and things only got worse when the team pulled into Milwaukee to face the always-tough Brewers. After unleashing a 12–1 pounding on Aug. 18 to open the series, the Jays dropped the next two games by a combined score of 26–8. The team was in serious need of a pick-me-up.
Pat Tabler 1b
Candy and I went to Cito before the game and said, "Is it all right that we have a team party after the game?" We dipped into our Kangaroo Court money and rented out one of the halls in the hotel. Cito said it was a mandatory meeting and coaches, trainers, equipment men, players, everybody had to be there or he was going to fine you. We hung around and played cards and talked and ate and had a few drinks, kind of get everybody back together and have a few laughs, get our minds off of baseball. We needed that. Guys were pressing, barking and screaming at each other. When you're around guys for six months you get antsy.
The party came hot on the heels of another veteran prank following a road trip in Cleveland. When it came to improving morale, nothing seemed to beat torturing rookies.
Candy Maldonado LF
We worked it out with Cito that no matter where we are, win or lose, they were going to be dressed up.
Ed Sprague
Cito had a meeting and said, "I'm sick and tired of all you young guys coming back up to the clubhouse during the game, you need to sit your ass on the bench." And we're like, "Oh s–t, we can't get into the clubhouse during the game." What they were doing was replacing our clothes with a bunch of clothes from the Goodwill.
Candy Maldonado
I remember going to the Salvation Army and buying polyester tight pants. And my girlfriend [brought] in high-heel shoes for them.
Ed Sprague
[The clothes] were all cut up and ratty—that's how we went through the airport. Guzmán wouldn't do it. So they made him go home in his uniform. They had already taken all his clothes, put them in a trunk and locked them up.
Candy Maldonado
That might not have an effect on the field, but it builds that family atmosphere. I remember when Timlin was in Boston [a decade later], he called me and said he still had those high-heel shoes in his trophy room.
The clubhouse hijinks didn't have enough of an effect, as the Jays went one for three in both of their next two series. Though the team still held a two-game lead, the dog days of summer had awakened the latent pessimism of the media and fans. Would this be yet another "close but no cigar" season? On Aug. 27, the Jays front office dealt with those concerns in grand fashion, sending promising infielder Jeff Kent and a player to be named later (Ryan Thompson) to the Mets for all-star starter David Cone.
Pat Gillick GM
Al Harazin was GM of the Mets at that time. I was surprised that Cone slipped through waivers. Everybody probably thought that even if he does go through, the Mets aren't going to move him. They told us exactly what they wanted in the deal, and if we were willing to meet their demands they would move David.
Paul Beeston president
I phoned over to Labatt's [the company that owned the Jays] and said to Sid Oland—who was the president at the time—that we could get David Cone. He said, "Who's David Cone?" I said, "David Cone is a pitcher over in the National League for the Mets and he's leading the league in strikeouts." He said, "Will it help us win?" I said, "Yes." He said, "You've got the money."
I always give Sid credit for that because he could have easily said, "No, we're over budget." The fact of the matter is, I think we had crossed that divide about trying to be competitive—if this was going to give us a chance to win, that was it.
Cito Gaston
A week or two earlier, I was thinking about David Cone and how I'd love to have him.
Pat Hentgen
We were shocked. This guy's leading the National League in strikeouts and he's nasty. How did he clear waivers? That added a ton of depth. He could paint with two pitches: his fastball and his slider.
Pat Tabler
After a hundred-and-something games it was an adrenalin rush. Bam, we can see the finish line.
The move was the biggest news in baseball, but it didn't exactly return an immediate payoff.
Buck Martinez
Cone's first day with the Jays was in Milwaukee. Milwaukee wins 22–2, and Cone is charting this—he's pitching the next day—and he's going, "What have I gotten myself into?"
Darren Kritzer
They always had problems with Milwaukee—Paul Molitor was on [that Brewers] team, Jim Gantner. A ton of guys had four-hit games.
The shelling continued in Cone's first start—he gave up seven earned runs and allowed seven stolen bases in a 7–2 loss.
Cito Gaston
He had a tough first game against Milwaukee. They stole everything but his house.
That was the last time all season the Jays would lose two games in a row.
PART ONE: "A lot to live up to"
The pre-season came with great expectations for the star-studded Jays
PART TWO: "This is a special team"
Veteran leadership helped the Jays start strong
PART THREE: "Smoking hot in the Big Smoke"
An early-summer winning streak had the Jays looking down on the AL East
PART FOUR: "Feeling the stretch"
After a shaky August, the Jays raised their game when it mattered most
PART FIVE: "Over the hump"
Seven years after choking away a 3–1 ALCS lead, the Jays found redemption
PART SIX: "Three for three"
Victory for the True North Strong and Free in the home of the Braves
This story originally appeared in Sportsnet magazine.