The pre-season came with great expectations for the star-studded Jays
Would this finally be the year? That was the question that greeted the Blue Jays when they assembled in Dunedin, Fla., to prepare for the 1992 season. The '80s had been good to the club, seeing it grow from an American League expansion upstart into a perennial contender with a legion of loyal fans. But following a late-season flame-out in 1987 and tough Championship Series losses in 1985, 1989 and 1991, the club was developing an "always the bridesmaid, never the bride" reputation that lent an air of urgency to everything that took place beneath the SkyDome's retractable roof.
Tom Henke RP
The media was picking us to win it all. It was a lot of pressure.
Rance Mulliniks 3b
I had been there in '85 when we were up 3–1 and lost to K.C. And in '87, going into the last week of the season, we still had a three-and-a-half game lead on Detroit and ended up losing on the last day of the season—we lost the last seven. In '89, Oakland beat us and they were the best team; they went on to win the championship. In '91, we just didn't play real well and Minnesota had a great series.
Duane Ward RP
I don't think there was any doubt we could win; it just seemed like if something bad could happen, it would. They had a chance to get in the World Series in '85 and failed, and we had a few other times after that. It wasn't like those teams weren't worthy of going to the World Series, but I think we were better than our opponents at the time—we just couldn't beat them.
Much of the '92 roster had been in Toronto for years, but it was a blockbuster trade on Dec. 5, 1990 that landed the Jays the core of their championship team, sending fan favourites Fred McGriff and Tony Fernández to San Diego for heavy-hitting right fielder Joe Carter and a 22-year-old second baseman named Roberto Alomar.
Pat Gillick GM
Joe McIlvaine had just come over from the Mets as the new GM in San Diego. His manager at that time was Greg Riddoch and I think they were interested in making a change. We probably wouldn't have done that deal if we hadn't signed [John] Olerud [in 1989]. We signed him and thought that it probably was not a good idea after the '90 season to have him and Fred [McGriff] alternate as DH. Really, the deal was about Joe Carter. I suggested to them that we needed a right-handed bat and they were looking for a left-handed bat, so we talked about McGriff and Carter.
Buck Martinez TV
As the conversation continued, Gillick says, "I need a second baseman, and they needed a shortstop"—they traded four all-stars in one deal in a matter of minutes.
Pat Gillick
I mentioned, "Well, would you talk about Alomar?" and they said, "If we talk about Alomar then you gotta talk about Fernández." We probably got the thing done in one afternoon and part of the next morning.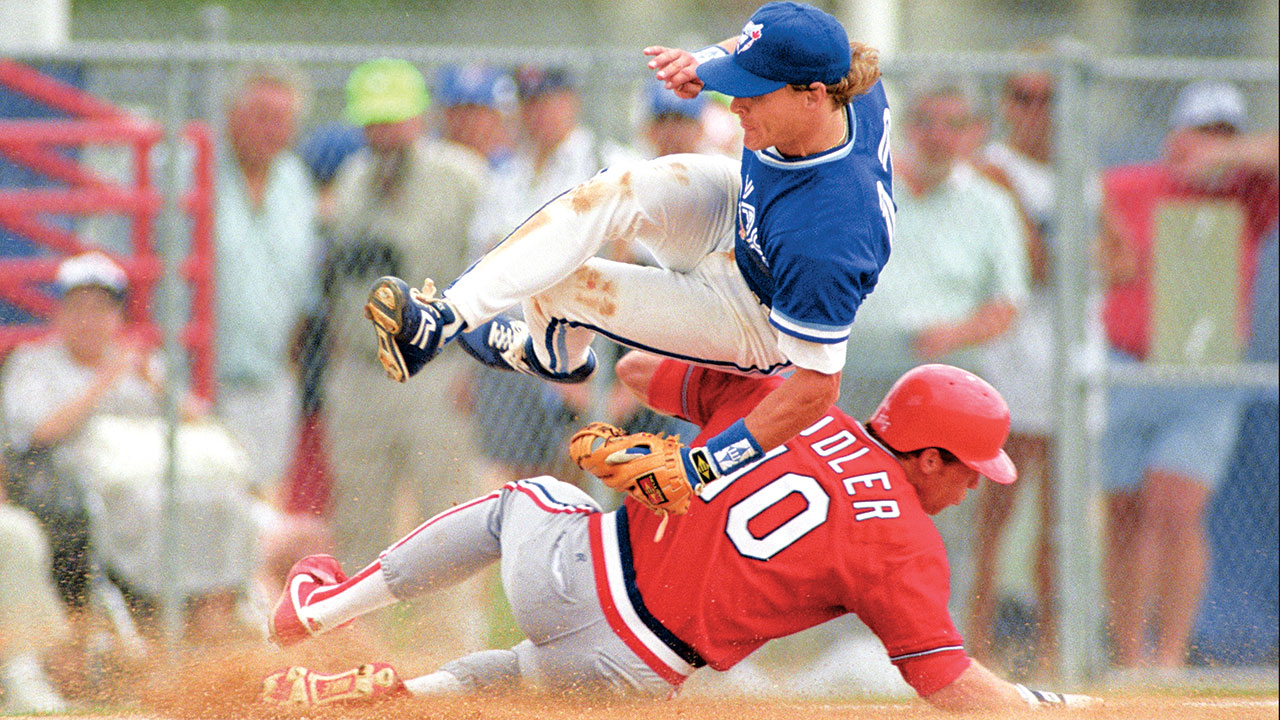 Roberto Alomar 2B
I never expected to be traded, especially at such a young age. When I came here, nobody really knew who Roberto Alomar was. I had just three years in the game and I was traded for two of the most popular guys here, Tony Fernández and Fred McGriff. It wasn't guaranteed that the fans would like me, but I felt that the town accepted me right away.
Pat Gillick
We knew we were getting a good player but I don't think we knew at that time we were getting a great player.
The Blue Jays got the better of the deal in 1991 with Alomar winning a gold glove, batting .295 and stealing 53 bases; Carter winning a Silver Slugger Award with 33 home runs and 108 RBI; and the duo finishing sixth and fifth in MVP voting. But even with the stellar production of their two new all-stars, the Jays came up short, losing the ALCS to the Twins, led by their ace Jack Morris, in five games.
Joe Carter RF
When we were beat by the Twins in the ALCS, that was a bad feeling for a lot of us. We made up in our minds that this was not going to happen next year, that we were going to win the whole thing. That was the turning point; that's what got us over the edge. We won by losing.
Jerry Howarth radio
Once the Jays lost to Minnesota, Pat figured out that he had a very good team, but he needed a little bit more.
That little bit more took the form of two major free-agent acquisitions. On Dec. 18, 1991, the Jays signed Jack Morris, fresh off a 10-inning complete-game shutout victory over the Atlanta Braves in game seven of the World Series, to the richest contract in franchise history—$10.85 million for two years. The next day, they locked down 40-year-old DH Dave Winfield to a one-year deal.
Paul Beeston president
We were gung-ho at that point to get the team to the World Series. We were looking at a couple guys, one was Jack [Morris] and one was Frank Viola. Jack had just pitched that magnificent game against Atlanta that went 10 innings. Pat was away and they came up here on a Thursday night some time after the winter meetings. We met— Gordie Ash [then assistant GM], myself, Jack and his agent Dick Moss. Jack obviously wanted to be here; it didn't look like he was going to go back to Minnesota, but he also wanted to go to Boston and see what Boston had to offer. I remember saying to Jack, "Here's the dollars, here's where we are and, by the way, if you go to Boston, by the time that plane lands at Logan [International Airport], Frank Viola will be a Toronto Blue Jay." We got him. We had to go a little higher than we intended, but we got him done that night, went out and had a great celebration.
Cito Gaston manager
I remember [Morris] and Dave Stieb used to have these great battles in Detroit. We left Detroit very unhappy a lot of times, and Jack was part of making us unhappy. You go back and look at '87—Jack beat us the last series to keep us out of the playoffs. So I was happy to have him on my club.
Pat Gillick
For eight or nine years, Paul and I worked hand-in-hand negotiating contracts. Paul was probably the more suave of the two of us. I was kind of the bad cop, he was kind of the good cop.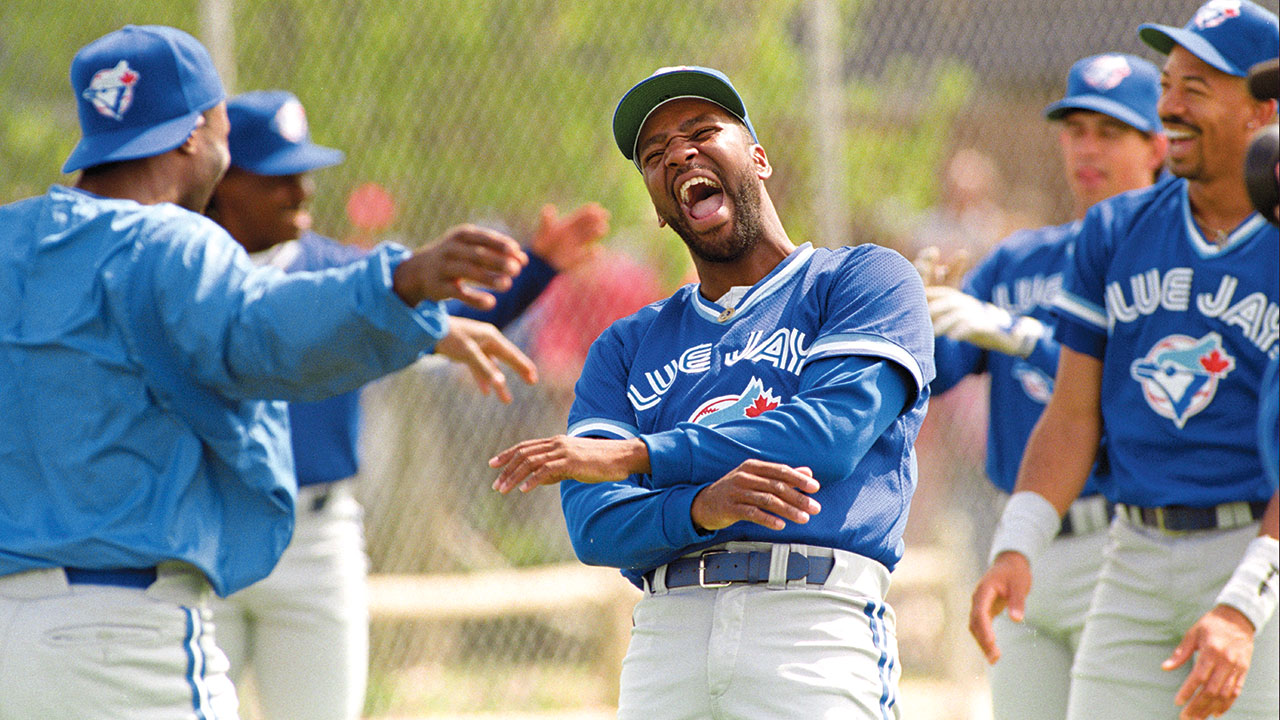 Paul Beeston
The next morning Pat phoned and said, "We have to go out and get Winfield." I said, "I don't know Pat, we're over budget already. I can't even think about getting Winfield right now." Then Winfield's agent phoned and said, "Pat says you want to talk to me." I said, "For what?" I said, "Gordie, here's the scoop," and by that afternoon Gordie had him. One-year contract.
Dave Winfield DH
I wanted a championship, so it was like an early Christmas present for me to sign with Toronto. The team was on the verge of winning it all, they had won a lot of games and were near the top. And then another thing that was key to me was Cito Gaston; Cito was a friend and mentor to me when I started playing.
Cito Gaston
Winfield and I played together in San Diego. He was a kid that came out of Minnesota, had signed and he came straight to the big leagues at the end of the season. The next year, in spring training, he was actually supposed to go to Hawaii—we had a triple-A team in Hawaii—and he must have hit .600. They couldn't get him out. So, he ended up making the ball club, and he and I played together for a year or a year-and-a-half.
Buck Martinez
You had ill-conceived notions that Toronto was not a place that players want to go as free agents. There were thoughts about how challenging it was to play across the border—you had two taxes. All of a sudden Morris signs and Winfield signs the next day. They're the top players in baseball and they are going to Toronto to play. At the time, Toronto was enjoying the success of the SkyDome, they had drawn four million, they were the top draw in baseball. And now all of a sudden they get the hottest pitcher in the post-season in Jack Morris.
Pat Tabler 1b
They were bringing in tough, battle-tested veterans who had won and played in big games.
Morris and Winfield's arrival in the clubhouse sent a loud and clear message: These guys were here to win.
Jerry Howarth
Who was the first one there in the morning on the opening day of spring training? Jack Morris. Then the other pitchers wandered in and they thought, "Oh, this is what it's all about."
Buck Martinez
Winfield had the stature physically, and the stature as a ball-playing icon, to walk into the clubhouse and say "Follow me, boys. Get on my shoulders, I'll show you how to win this thing." He had 28 home runs in '91. Here's another example of the Jays saying, "We need a veteran DH," and not only do they get one, they get arguably the best DH available.
There were other reasons to be optimistic about the team's chances in '92, including a deadly lineup, a wealth of young talent and a somewhat less-heralded veteran.
Dave Winfield
You had speed at the top of the lineup and then you had Joe Carter, a home run and RBI guy, then me, a very consistent hitter, and then John Olerud, who had an exceptional year, and Candy Maldonado. We had lightning up front and thunder right behind it in that lineup.
Buck Martinez
Olerud was 23, Alomar was 24—they were in the prime of their careers. You had guys knocking on the door all over the place. You had Eddie Sprague coming up. Guys that were going to be an important part of this team.
Cito Gaston
We got Candy [Maldonado] [late in the '91 season]. I remember Beeston calling me and telling me we had him, and I said, "Now we're ready to go and play."
The optimism was all well and good, but after a disappointing 13-18 pre-season record, the road to a world championship looked pretty long. It was something no one knew better than Winfield.
Paul Beeston
Dave had a Hall of Fame career and he'd been one of the most important and productive players in the game, but at the time he'd never won the World Series. From the time that team congregated in Dunedin there was only one focus and that was winning the World Series.
PART ONE: "A lot to live up to"
The pre-season came with great expectations for the star-studded Jays
PART TWO: "This is a special team"
Veteran leadership helped the Jays start strong
PART THREE: "Smoking hot in the Big Smoke"
An early-summer winning streak had the Jays looking down on the AL East
PART FOUR: "Feeling the stretch"
After a shaky August, the Jays raised their game when it mattered most
PART FIVE: "Over the hump"
Seven years after choking away a 3–1 ALCS lead, the Jays found redemption
PART SIX: "Three for three"
Victory for the True North Strong and Free in the home of the Braves
This story originally appeared in Sportsnet magazine.