Whenever a trade is made, it's reasonable to take time to let things play out before pronouncing a winner. With that said, the Toronto Maple Leafs are the clear long-term winners of the Dion Phaneuf trade, moving a huge, long-term contract out for a bevy of smaller, shorter term contracts that currently add up to a higher cap hit ($8.8M if Greening stays in the NHL and Michalek comes off injured reserve).
For the extra cap hit the Leafs take, they're rewarded with a second round pick in 2017, and Tobias Lindberg, a solid prospect to add to the already stacked Toronto Marlies.
In the short-term though, the Ottawa Senators get an immediate offensive upgrade on the blueline in Dion Phaneuf, and four prospects who don't have much name value.
There's no debate that Phaneuf is a major upgrade on Jared Cowen in terms of creating offence, but Phaneuf is an odd player. He's undeniably good offensively, but in terms of making plays with and for the puck, almost no defenceman in the NHL is less involved than he is.
So how does he compare to Cowen in terms of individual impact? We'll look at it two ways; each player compared to the team averages for the team they've played on this season, and the compared to the averages of the team they're going to.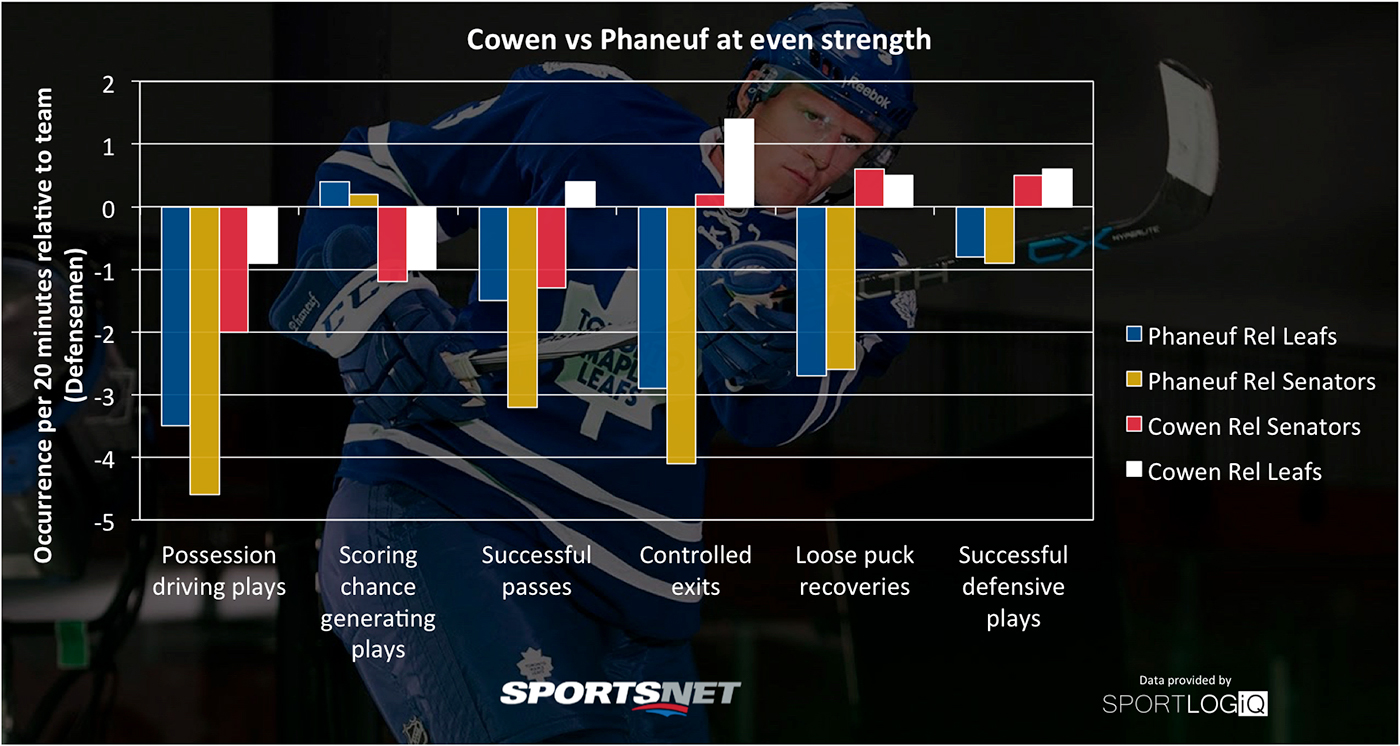 Because Phaneuf is so rarely involved in the play in comparison to his peers, he actually comes out looking worse than Cowen in terms of driving possession, exiting the defensive zone, recovering loose pucks, and removing the puck from opponents.
We know from possession statistics that over the last four seasons, only two of 175 defencemen who played over 2,000 minutes at 5-vs-5 hockey had a worse defensive impact on their linemates than Phaneuf. It has been speculated that Phaneuf was just in over his head in Toronto, playing too often in minutes that were too high leverage for his skill level. The explanation for his lack of play involvement could be about conserving energy, but his role has changed this year, and despite being carried heavily by Jake Gardiner, he remains a negative impact defensively, and his involvement in play hasn't increased despite easier, and fewer, minutes.
All signs point to Phaneuf starting out with Cody Ceci as his defense partner, however in order to be effective Phaneuf needs a partner who can move the puck, a high-event player who can let him be comfortable and use him offensively. The Senators only have one of those players, and he might win the Hart Trophy this season. The way the Senators could get the most out of Phaneuf would be to pair him with Erik Karlsson.
But what about the other big name in the trade, is the injured Milan Michalek of any value?
Unfortunately, the 31-year-old Czech has fallen on hard times. He still has some finishing ability, but injuries have begun to slow him down significantly, and he's a below average player at creating chances for his linemates, driving possession, and transitioning the puck.
It's possible that all these players are more effective on their new teams than they were on their old ones, but as it stands, this deal was heavy on money, and light on impact. Because of how far below average in so many areas all these players are, the fact that the Maple Leafs came out of the deal with less term committed to salary, with a draft pick, and with the best prospect in the trade, makes it a sizeable win.