Last season there was a fair amount of panic across Canada when every single Canadian NHL team missed the playoffs for the first time since 1970. It led to some interesting think pieces on how all seven could miss out in a league where 53 per cent of teams qualify for the post-season.
The panic over national identity has been delayed by a year though, after five of those seven teams managed to put themselves back into the playoff picture for the 2016-17 season, including a division win by the Montreal Canadiens, and perennial bottom dwellers Edmonton and Toronto finally breaking out of rebuild mode.
So if things were so wrong with Canadian hockey last year, what's changed so much that now five of seven teams were able to get into the playoffs (Toronto is yet to clinch, but would need extraordinary circumstances to not make it)?
[snippet id=3332601]
External Factors
All three Canadian teams in the Eastern Conference made the playoffs, but considering they're all in the same division, I think we can assume that if the Tampa Bay Lightning didn't lose about half their lineup for most of the season one of them wouldn't have made the cut. You could argue that maybe Boston would have missed instead of the Leafs or Senators, but even if you give equal odds to each team, there's a 67 per cent chance a Canadian team would have missed.
Even with all their injuries and selling at the deadline, the Lightning are on the Leafs' heels as the season winds to a close.
Natural progression
Despite their poor overall records last season, you could see that the Maple Leafs and Oilers were starting to put things together after lengthy periods of mismanagement. Mike Babcock and Todd McLellan didn't have immediate success working their young teams into proven systems, but the process was there even if the results weren't.
Roster improvement
While the Canadiens and Oilers both made some big backwards (sideways if you're extremely generous) moves in the off-season, overall they both significantly improved their rosters. The Canadiens added Alex Radulov, Shea Weber, Andrew Shaw, Artturi Lehkonen, Phillip Danault (late last season), Al Montoya, and a healthy Carey Price to a team that wasn't nearly as bad as their results last season. The Oilers added Milan Lucic, Adam Larsson, Kris Russell, Patrick Maroon (late last season), and a healthy Oscar Klefbom.
The Maple Leafs boast the most improved roster of anyone, adding Auston Matthews, William Nylander, Mitch Marner, Connor Brown, Nikita Zaitsev, and others, with seemingly every rookie making a big positive impact.
The Flames made fewer roster changes than others, building on a strong, young core with the addition of Matthew Tkachuk, while Kris Versteeg and Troy Brouwer brought some veteran presence to the table.
The Senators had the least amount of roster turnover to begin the season, flipping Mika Zibanejad for Derick Brassard in the off-season, and adding depth players such as Tom Pyatt and Chris Kelly, but beefed up at the deadline with Alex Burrows and Viktor Stalberg.
All these factors, combined with coaching impact, have seen huge leaps forward for these teams over last season, especially at even strength.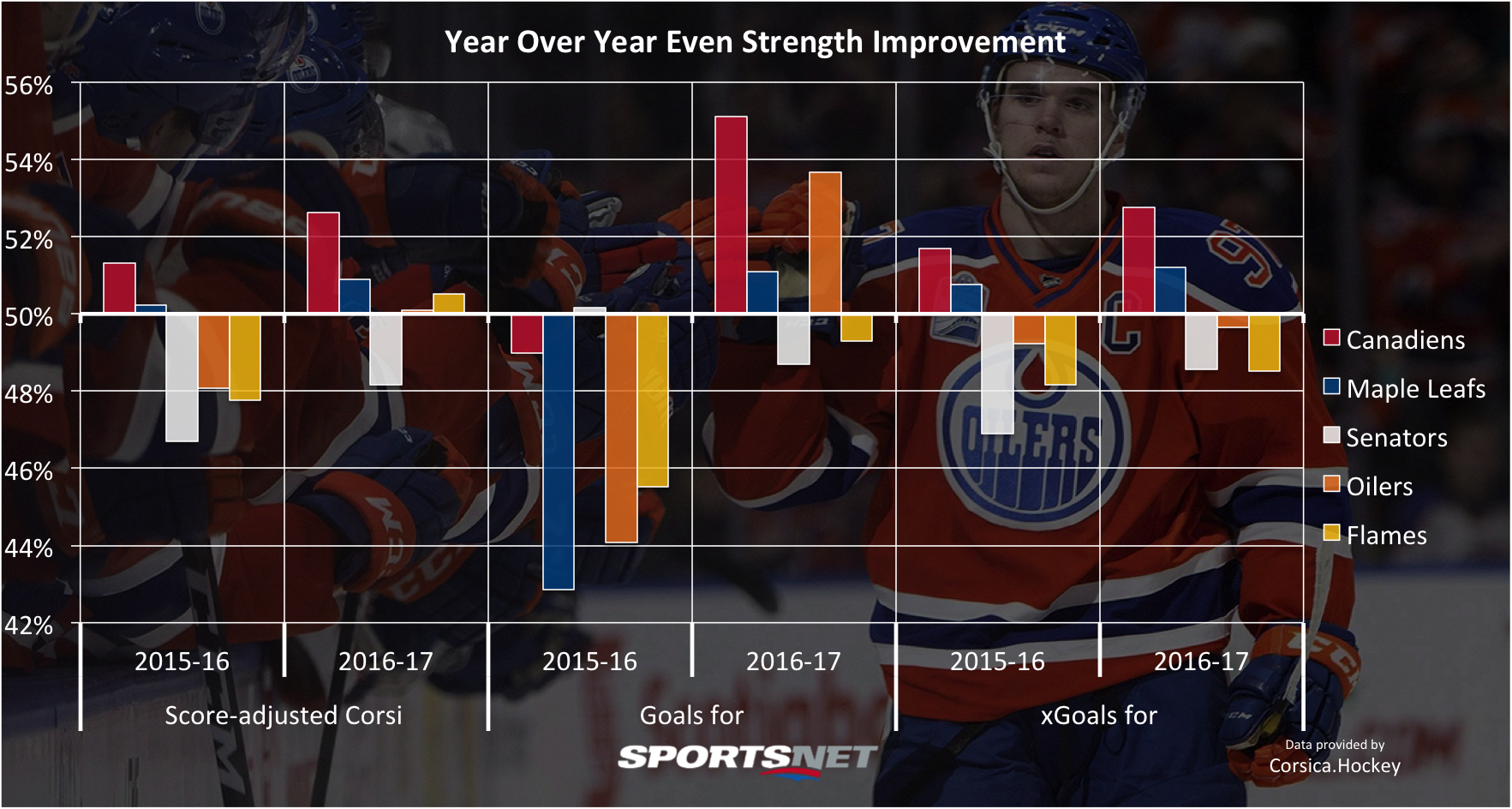 Not every team has improved by the same margins of course, with the Senators lagging behind the other four across the board, but every team has improved in score-adjusted Corsi, goals for percentage, and Emmanual Perry's expected goals model from Corsica.Hockey (Ottawa's goals for percentage being the only stat that dropped).
The Canadiens have seen a huge improvement in goals for percentage despite modest improvements in their Corsi and expected goals, but that makes sense when you consider they've gone from Ben Scrivens and Mike Condon to Carey Price back in net.
Price's return has been the biggest factor in the Canadiens reasserting their dominance as Canada's best team, but don't underestimate the coaching change they made in February, which has brought a new defensive focus evidenced by Price's .942 save percentage since Claude Julien arrived.
The most drastic change of anyone from this year to last is the Edmonton Oilers' goals for percentage, which improved from 44.08 per cent to 53.67 per cent, one of the largest changes since 2008 when 5-vs-5 data became publicly available.
Obviously part of the reason for this has been the improved depth of the team at forward and defence, not to mention some magical work by Cam Talbot, but that kind of jump usually involves some luck too — and not just good luck this year, but bad luck last year. There's an argument to be made that the Oilers punched above their weight a bit this year, just not by as much as it looks since last year was a bit of a train wreck.
Like the Oilers, the Maple Leafs have made an incredible improvement in goals due to a drastically improved roster and a bit more luck on their side. I'm not even sure how to describe adding 120 goals from rookies — it's so crazy that you'd think there'd be even more overwhelming coverage of it.
[snippet id=3317575]
The Flames, meanwhile, got smarter. Last season they played a rope-a-dope counterattacking game under Bob Hartley, and while it had worked before (even earning him the Jack Adams Award) it's not a style that has had sustained success in the NHL.
The Flames under Glen Gulutzan pushed more puck-carrying out of their own zone and into the opponent's zone, and while the results were extremely inconsistent early in the season, they stuck with the changes and it has paid off big time down the stretch.
The Senators are the hardest team of all to figure out, boasting marginal improvement with the least impactful roster changes. There has been improvement, but it's very finely cut, and they're the only team in the playoffs with a negative goal differential.
Then again, if the Senators didn't lose Craig Anderson for large stretches during the season, maybe they wouldn't be in the negatives after all.
Not every Canadian team that made the playoffs is a serious Stanley Cup contender, but the course that seemed so disastrous last season has evidently been reversed, at least for now.
[relatedlinks]