The Winnipeg Jets hold a 2-1 lead in their second round series against the Nashville Predators and to be honest, they appear to be the favourites to come out of the Western Conference, combining lethal offensive ability with strong defence and the capability to physically grind teams into submission.
With the way things have gone, you would think everything would be looking positive on Winnipeg's road to the Stanley Cup, but I've noticed there has been some negativity about the way Patrik Laine has played.
Despite having seven points in eight playoff games, the expectation for Laine is to score goals, which he's only done twice this post-season and they came in the first two games. Crazy things happen in small samples and he's only two goals off his usual pace of one every two games or so. His 6.3 shooting percentage in the playoffs is about one-third of his career average of 18 per cent through 155 regular season games.
That would lead you to believe Laine has seen some unfortunate bounces or near misses that would normally go in for him, but we need to dig deeper, and we can compare his offence-creating plays from the playoffs so far to his work in the regular season.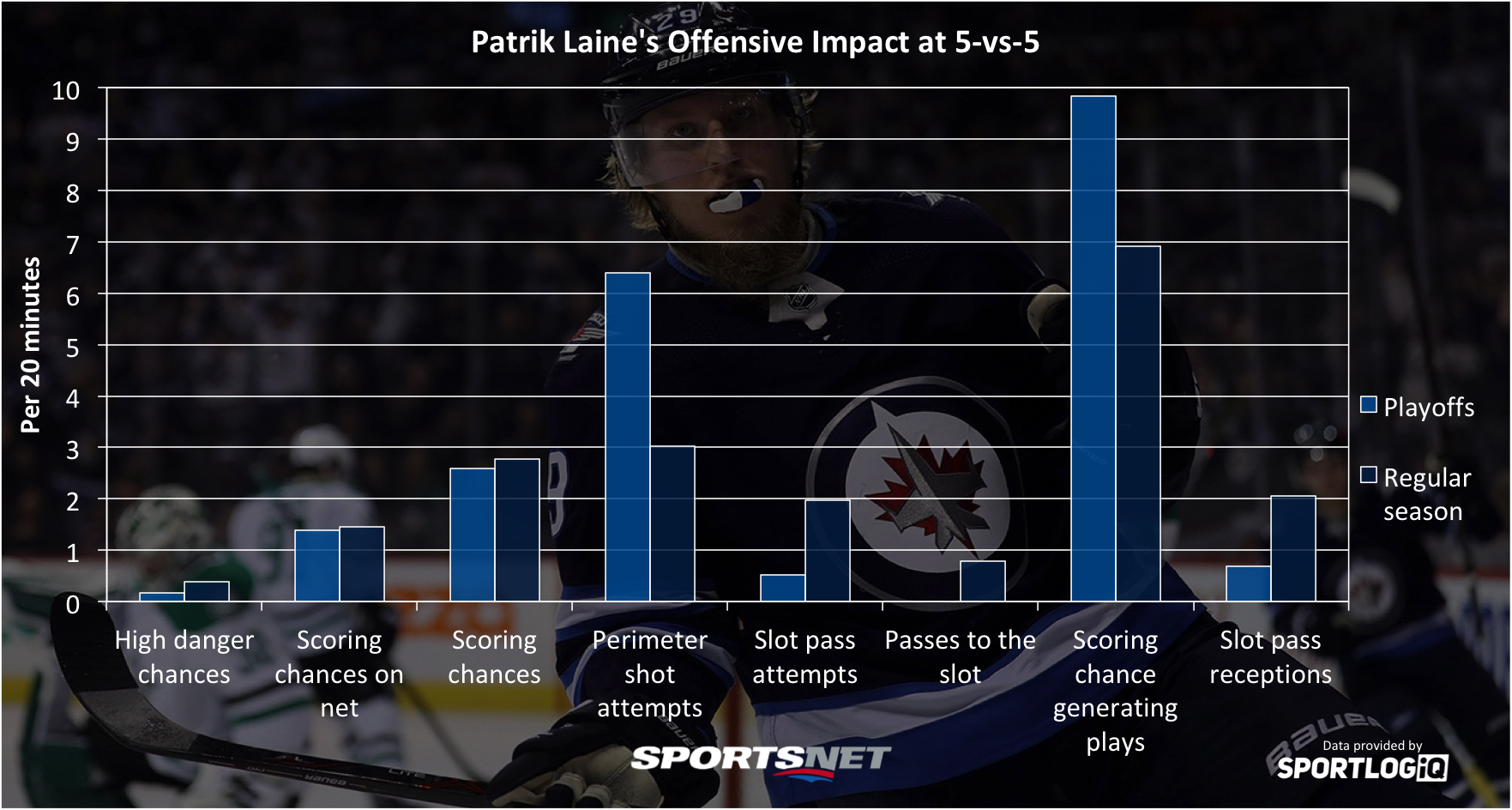 For those who don't watch the Winnipeg Jets regularly (What are you doing? Why not?), it's important to know what kind of player Laine is before breaking down his offensive numbers.
Laine is one of the very few players in this sport who can score from a distance with regularity at 5-on-5. His shot is among the best in the NHL, if not the best, and he likes to keep to the high slot or just outside the high slot in order to get a bit lost in coverage, give himself a bit more room to shoot, and more time with the puck when he wants to change his angle.
In that way, he's a little similar to players like Alex Ovechkin and Steven Stamkos, but he shoots from further out.
Because Laine is primarily a sniper and not a player who jumps on rebounds or tries to deflect pucks, he doesn't get to the high danger area very often, so his low numbers in that area of the ice are not as big of a deal as they would be for almost any other player. However, like any player, Laine's expected shooting percentage rises when he gets into better shooting range, especially in the high slot compared to the perimeter.
With that in mind, it's important to note that Laine has increased his shot production significantly at 5-on-5 in the playoffs, but all of it has been on the perimeter, meaning his shots are of lower quality.
When it comes to playmaking, Laine has created more scoring chances for his teammates in the playoffs than he did in the regular season, but as you see in the table above, he hasn't completed a single pass to the slot. That means most of the scoring chances he's creating are also of slightly lower quality than usual, or the result of rebounds generated by his shots from the perimeter.
Livestream every single game of the 2018 Stanley Cup Playoffs—blackout free—plus the Toronto Blue Jays, key Raptors & NBA Playoffs matchups and the 100th Mastercard Memorial Cup, all in one subscription.
What might be most interesting regarding Laine, though, is that despite receiving an almost identical number of passes in the offensive zone at 5-on-5 as he did in the regular season, the passes he receives in the slot have dropped by 66.5 per cent, which could mean he isn't getting into shooting position as effectively. Or, more likely, teams are extremely focused at cutting off passes to him when he's in a dangerous shooting position.
There are a couple ways to look at Laine's lack of effectiveness at 5-on-5 in these playoffs. The first is that if the Jets are going to win a Stanley Cup, they will likely need a lot more from Laine at some point. That's certainly true, but I prefer the more positive outlook.
The Jets are as close to the Stanley Cup as any other team right now, and they've done it without getting the best out of Laine. We know from watching him for two seasons now that Laine is too clever of a player to be shut down for long stretches, so he's going to find a way to break through eventually, and the Jets are already playing like a dominant team without his best game.
When Laine does figure out a way to break through the defence other teams are throwing at him, the Jets are going to be even more dangerous than they already are, and that should terrify every remaining team.