The Pittsburgh Penguins signed forward Jake Guentzel to a five-year contract extension worth $30 million, the team announced Thursday.
Guentzel is currently in the final year of his entry-level deal, which means his new $6-million salary cap hit will come into effect at the beginning of the 2019-20 season.
The 24-year-old has been an offensive star with the Penguins since breaking into the league during the 2016-17 campaign, frequently playing on Pittsburgh's top line with Sidney Crosby.
Guentzel has scored 53 goals and registered 114 points in 158 career regular-season NHL games yet saves his best for the post-season. The Omaha, Neb., native has 42 points in 37 playoff games, including 21 points in 12 contests this past spring plus an NHL high 13 goals en route to a Stanley Cup in 2017.
"Jake established himself as an impact player for our team from the beginning, especially during 2017 Stanley Cup Playoffs," Penguins general manager Jim Rutherford said in a press release. "He has become a core player on the team and we are thrilled to get Jake signed long-term with the Penguins."
Guentzel has 15 goals and 33 points through 36 games this season, which puts him on pace to set career highs in all major statistical categories.
Cap comparables
Below you'll find a group of wingers in their early-to-mid-20s currently on similar contracts to the one Guentzel just signed.
— Nikolaj Ehlers: seven years, $42 million, $6-million cap hit
— Brandon Saad: six years, $36 million, $6-million cap hit
— Filip Forsberg: six years, $36 million, $6-million cap hit
— Jonathan Huberdeau: six years, $35.4 million, $5.9-million cap hit
— Jonathan Drouin: six years, $33 million, $5.5-million cap hit
— Jason Zucker: five years, $27.5 million, $5.5-million cap hit
— Jaden Schwartz: five years, $26.75 million, $5.35-million cap hit
— Ondrej Palat: five years, $26.5 million $5.3-million cap hit
— Tomas Tatar: four years, $21.2, $5.3-million cap hit
— Nino Niederreiter: five years, $26.25 million, $5.25-million cap hit
— Mike Hoffman: four years, $20.75 million, $5.187-million cap hit
— Tom Wilson: six years, $31 million, $5,166,666 cap hit
— Reilly Smith: five years, $25 million, $5-million cap hit
December 27, 2018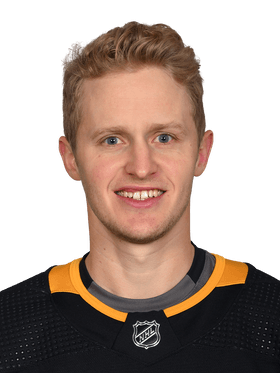 ---
SIGNED BY
Pittsburgh Penguins
CONTRACT TYPE
Contract Extension
SALARY CAP HIT
$6 million