Here's what happened on Wednesday in the UEFA Champions League…
READ ALL ABOUT IT
• Match report: FC Barcelona 3, Arsenal 1
• Match report: Bayern Munich 3, Juventus 2
THE MAIN STORY
An epic game from two epic teams
"I've finally accepted myself for who I am: a beggar for good soccer. I go about the world, hand out-sretched, and in the stadiums I plead 'A pretty move for the love of God.' And when good soccer happens, I give thanks for the miracle and I don't give a damn which team or country performs it." – Eduardo Galeano, Uruguayan journalist and writer.
Galeano would have absolutely loved Wednesday's Bayern Munich-Juventus match in the Round of 16 from the UEFA Champions League. This game, in fact this two-legged tie, between two epic teams was, well, epic.
A pair of two-goal comebacks, a cast of goal-scoring heroes (that included players the calibre of Thomas Mueller, Paul Pobga, Robert Lewandowski, Paulo Dybala and Arjen Robben), countless twists and turns in the plot, and enough drama for an entire group stage worth of games made this Round of 16 tie one of the most entertaining in recent history.
Juventus' amazing 2-0 fight back in the first leg in Turin to earn a 2-2 draw set the stage for what turned out to be an even better return match. The Italians fearlessly turned the tables on Bayern on Wednesday, taking a page from the Bavarians' playbook by using a pressing game to boss the proceedings early on. The Bianconeri deservedly jumped out to a 2-0 advantage through Pogba and Juan Cuadrado—and really, it could have been 4-0 at halftime; Alvaro Morata had a goal wrongly disallowed for offside while Manuel Neuer made a great save just before the end of the half.
Juve was firmly in control, but Bayern, like the Italians did in the first leg, pecked away and clawed their way back into the game, with Douglas Costa being the catalyst. Bayern tried most of the game to play through Juventus, to no avail. Suddenly, they worked the ball out to Costa more often and had him whip dangerous balls into the box. It was his impeccable delivery in the 73rd minute that set up Lewandwoski.
From there, Bayern's subs took over, with Kingsley Coman's firing in a cross that Mueller converted in the dying seconds of extra time. Thiago Alcántara and Coman then scored in the extra frame, completing the comeback for Bayern, and sending a dagger into the hearts of Juventus.
As great as the Germans were on the night, so were the Italians. Playing without three key starters—Paul Dybala, Giorgio Chiellini and Claudio Marchisio, the Bianconeri stormed out of the gate. They simply couldn't finish the job, their legs tiring after being put under constant pressure for the final 20 minutes. How the Italians could have used Marchisio, the elegant midfield creator who could have served as a much-needed pressure valve with his immaculate possession and distributions skills as Bayern poured on the pressure.
There wasn't much between these sides over the two legs. Bayern edged it, and Juventus can take great pride in the way they played, and nearly pulling off a great upset.
In the end, and far more important, partisan fans and neutrals alike were treated to three and half hours of glorious soccer. For that, we should all be thankful.
---
MORE ON THE UEFA CHAMPIONS LEAGUE: Sportsnet panel's picks and predictions || Champions League a last escape for Man City || Photo gallery: 10 to watch in Champions League || Photo gallery: Round of 16 matchups || Guardiola's Bayern legacy incomplete without Champions League || Like Sinatra, Atletico Madrid does it their way || Analytics: Scoring on the up across Europe
---
BEST GOAL
BEST SAVE
David Ospina had to pick the ball put of his net three times, but Arsenal's Colombian goalkeeper also made a number of quality saves. His best effort came in the 17th minute when Lionel Messi was played in on goal by Neymar—Ospina was equal to the task in denying the Argentine.
BEST MOMENT
It has to be that brilliant solo run by Morata on the counter in setting up Cuadrado for Juventus' second goal.
BEST QUOTE
"You must in our sport admire art, and they have two or three players who transform normal life into art." – Arsenal manager Arsene Wenger on Barcelona.
BEST TWEET
SIX PACK OF STATS
• Arsenal has gone out at the Round of 16 of the Champions League in each of the last six seasons.
• Gianluigi Buffon set new club record on Wednesday with his 90th Champions League appearance for Juventus (one more than Alessandro Del Piero).
• Lionel Messi has set a new Champions League record by scoring more goals vs. a single opponent than anyone else (nine vs. Arsenal).
• Pep Guardiola has reached at least the Champions League quarterfinal stage in each of his seven seasons as a manager.
• Barcelona is in the quarterfinals of the Champions League for nine seasons in a row, the best run ever in the tournament.
• Robert Lewandowski has scored 30 Champions League goals since the start of 2012-13 season; only Messi (31) and Ronaldo (52) have more.
Stats courtesy of Opta
BURNING QUESTION

THREE STARS
1) Douglas Costa: Positively marvelous is sparking Bayern's comeback with his deft touch and dangerous balls played into the box from the flank.
2) Paul Pogba: One of the most mature performances from the Frenchman. Scored the opener, but also immense in his defensive duties.
3) Luis Suarez, Neymar and Lionel Messi: Each scored at the Camp Nou and contributed to Barca's win over Arsenal.
---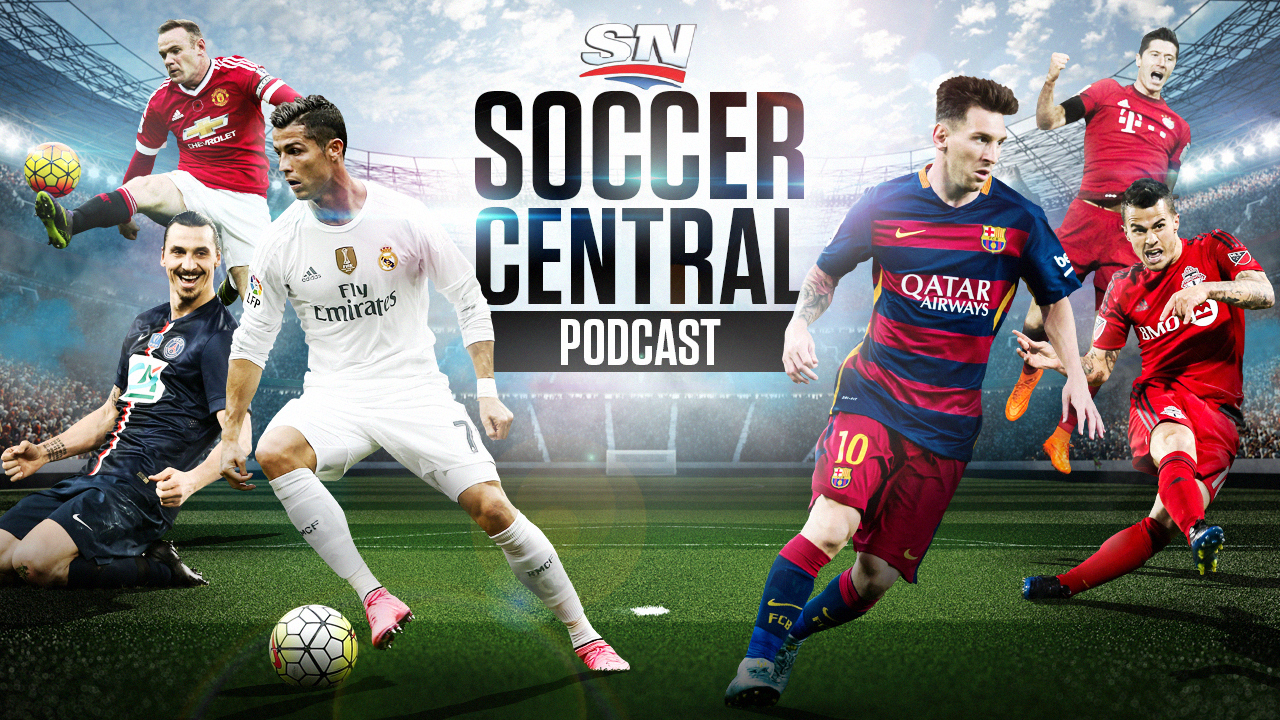 SPORTSNET.CA's Soccer Central podcast, hosted by James Sharman, takes an in-depth look at the beautiful game and offers timely and thoughtful analysis on the sport's biggest issues.
Listen here | iTunes | Subscribe to the podcast
---