The 2015-16 UEFA Champions League concludes with Saturday's final between Atletico Madrid and Real Madrid at Milan's San Siro.
Sportsnet's soccer panel of broadcasters, writers and pundits offer their picks and predictions below.
You can also follow all of the action from Saturday's final online with SPORTSNET'S LIVE MATCH TRACKER
SPORTSNET'S LIVE MATCH TRACKER

James Sharman, Sportsnet : En route to La Decima two years ago, Real Madrid had to weather the storm, so to speak, as Atletico reached into its bag of dark arts to forcibly shove los blancos off its game. It worked for much of that final, resulting in match that was hardly a classic, but certainly a contest we won't soon forget because of the late drama it provided, with Real eventually emerging from its hell to lift a tenth European Cup.
Let's hope we get some better football to watch this Saturday in addition to some great drama. Atletico knows this Real team better than any, and have bossed them over the last ten encounters with six wins, yet it would still take a brave person to bet against Real, who look a more complete team under Zinedine Zidane than the one that stumbled under Rafa Benitez. Atletico came up just short late in the La Liga season, dropping points at the death as Barcelona narrowly edged Real to the title. Has Atletico run out of steam after a wonderful late run in the Champions League? We will find out this weekend.
Prediction: Real Madrid wins 2-1.
John Molinaro, Sportsnet.ca: For me, Atletico Madrid enters this contest as the favourite, having dominated the series against their city rivals in recent times, and having dispatched teams no less the calibre of Barcelona and Bayern Munich in quick succession in the Champions League.
Los rojiblancos are as a balanced side as there is in club football today—a stalwart goalkeeper in Jan Oblak, an impenetrable defence anchored by Diego Godin, a midfield featuring the cultured duo of Koke and Gabi, and a world-class forward in Antoine Griezmann
Much has been made of Atletico's defensive prowess, and rightfully so. Diego Simeone's men proved a tough unit to break down, conceding a miserly 18 goals during the entire La Liga campaign. But somewhat lost in the fawning over Ateltico's defensive record has been Real's resolute defending—they've conceded the fewest goals in this year's Champions League, and they've been breached just twice in the knockout round.
This is going to be a tight and cagey contest, and I suspect the familiarity factor is going to lead to a cat-and-mouse tactical affair, with both sides feeling each other out and looking for an opening to pounce upon.
No question, Atletico has the momentum, and they're playing with great confidence. But Real has routinely found ways to win when they've been far from their best in booking their spot in the final. I suspect this is going to come down to one individual act of brilliance from Cristiano Ronaldo.
Prediction: Real Madrid wins 1-0.
---
MORE ON UEFA CHAMPIONS LEAGUE FINAL: Sportsnet panel's picks and predictions || James Sharman: A lot has changed since the 2014 final || 10 players to watch in the final || Atletico wants it more than Real || Real can match Atletico in defensive intensity
---
Noah Love, Sportsnet.ca: In 2014, my prediction that Atletico would win the final was a mere two minutes away from accuracy. Then, of course, Sergio Ramos's head met a Luka Modric cross, the ball found its way past Thibault Courtois, and the rest is Real Madrid's most coveted piece of history: La Decima.
Two years later, I'm picking Atletico again. But where the final in Lisbon was a virtual coin toss, this result feels a bit more certain. Diego Simeone's side comes into the match having triumphed over reigning champions Barcelona in the quarterfinals and Pep Guardiola's heavily favoured Bayern Munich squad in the semis. In contrast, Zinedine Zidane's Real squeaked out of the quarters against Wolfsburg and needed a single own goal from Manchester City's Fernando in the semis to advance to Milan.
Both Madrid sides are capable of beating anyone on any day, but Atletico has had a historic run of success against Real, dating back to the Champions League final in 2014. Since then, the Madridistas have beaten Atletico only once—a 1-0 victory in the second leg of last year's Champions League quarterfinals. It's either been Atletico victories or draws in the other nine matches between them. Simeone has clearly figured out how to trap and frustrate Real's tremendous skill, and Milan should be his finest hour.
Prediction: Atletico Madrid wins 2-1.
Thomas Michalakos, Sportsnet.ca: Destiny—if you believe in that nonsense—has gifted Atletico another chance to stick it to their noisy neighbours; the countdown to redemption is upon Diego Simeone and Atletico Madrid. It wasn't just a simple defeat in the Champions League final to their eternal rivals two years ago—the 4-1 final isn't an accurate interpretation of the match itself—it also handed Real Madrid their tenth European Cup trophy, La Decima. All four goals were scored after 90 minutes, with Sergio Ramos netting the equalizer deep into injury time. The rest is history.
The present provides an entirely different narrative than in 2014; this will define both teams' season, as neither side lifted another piece of silverware in 2016. Recent results suggest Atletico has the upper hand, since they've won two and draw two versus Real this term. I don't buy that for a minute; a one-off final rarely stays on course with statistics. Although, I've grown tiresome of the Spanish conquest of European football—five Champions League titles and seven Europa League titles in the last decade—it's hard to argue against their continental dominance based purely on merit.
No one with even half a football brain can deny Atletico and Real are currently the best two teams left in the competition. Unlike two years ago, Atletico won't run out of gas this time when it matters most; Simeone won't allow it—'no mas'!
Prediction: Atletico Madrid wins 2-1.
Donnovan Bennett, Sportsnet magazine: This game is all about Cristiano Ronaldo. With the possibility that this is his last game in a Real Madrid kit, he will want to go out with a bang. Winning this trophy is paramount for Real because they already lost the La Liga title to Barcelona and Ronaldo's rival Lionel Messi. The ideal ending is not just a win but also a few Ronaldo goals. He has 16 goals this Champions League campaign, and needs just two more to break his record set in 2013-14.
Prediction: Real Madrid wins 3-1.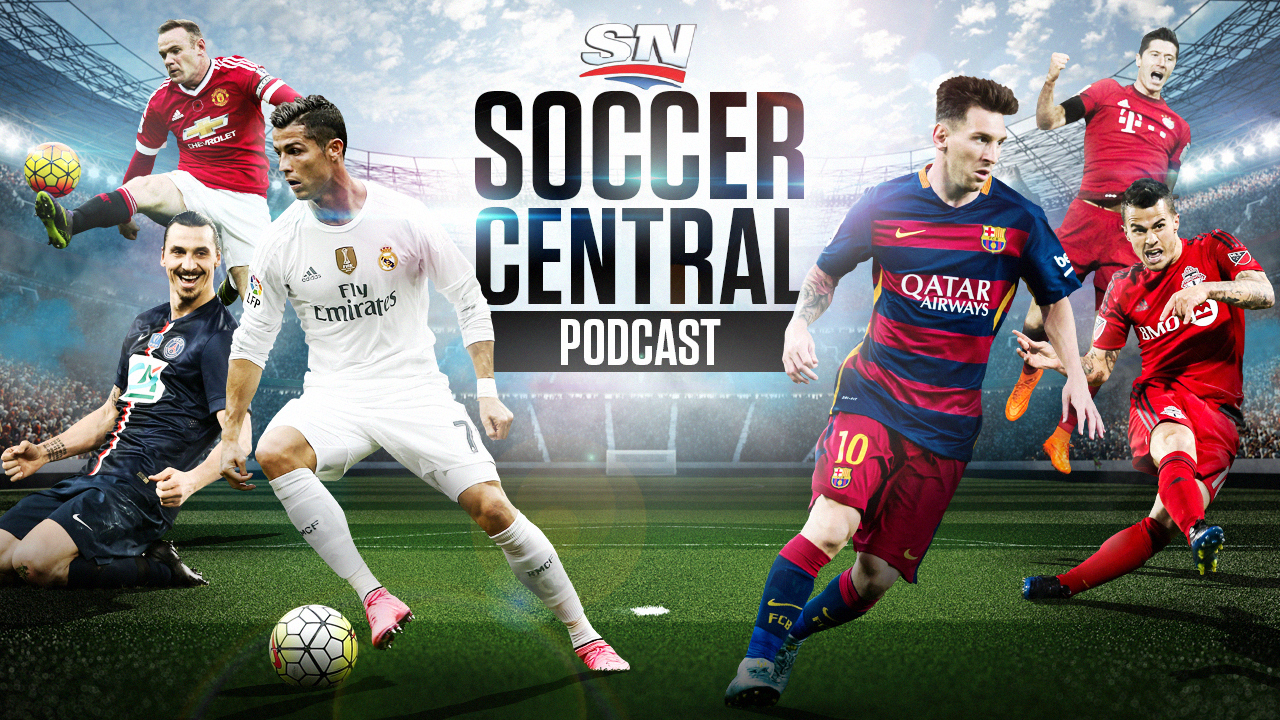 Sportsnet's Soccer Central podcast (featuring Thomas Dobby, Brendan Dunlop, John Molinaro and James Sharman) takes an in-depth look at the beautiful game and offers timely and thoughtful analysis on the sport's biggest issues.