The Canadiens wanted to clear up one thing from the postmortem of Monday's ugly 6-2 loss in Arizona: the players were not ordered to sit as a group and wait for the media to enter.
"It just worked out that way," one Canadien said. "We were having a meeting…and it was time for the reporters to come in."
Alex Galchenyuk referred to that game as "pitiful." Behind closed doors, the language undoubtedly was stronger. Not included in that conversation was Michel Therrien, who, like most coaches, does not speak to the team after games. It's not as if there was much to add Tuesday.
"We didn't need to say anything. They knew," he said of his players. "Sometimes, the silent treatment is better."
The coach let his whistle do the talking, putting the Canadiens through a tough skate. There are clubs who avoid this at all costs in the Denver altitude, but not this team at this time. Hard sprints at the start of practice, full-length one-on-ones throughout. Therrien explained it was a drill Jacques Lemaire ran when Therrien was a 19-year-old and current assistant Jean-Jacques Daigneault was a 17-year-old in QMJHL Longueuil. That was 1982-83.
"First time I've used it during these four years in Montreal. You're like a boxer, one-on-one with no place to hide."
"Whatever makes you play your hardest, bring it," Lars Eller said.
Therrien was careful to give short responses during most of his question-and-answer session with reporters. He knows the fire is raging and declined to pour gasoline on it. But, he did disagree with the assessment the Canadiens were never in it against the Coyotes.
Down 3-2 midway through the game, Paul Byron hit the post on a breakaway. Moments later, Oliver Ekman-Larsson made it 4-2.
"(The) reaction from the guys I didn't like after…I wanted to see them fight back. On this trip, we haven't allowed a lot of scoring chances, but the ones we allow are bad."
They will go back to Ben Scrivens in goal against the Avalanche. David Desharnais is out, wearing a walking boot on his left foot after blocking a shot. Eller centres Max Pacioretty for the first time ever.
"Hopefully it can spark something," Eller said.
But is it so easy to put things behind you after a horrid defeat, as the losses mount and the tension grows?
"It's a little harder," a weary-looking Galchenyuk answered. "We know the situations with the standings and the playoffs…We can talk here all day, what's positive, what's negative."
"We have to move on."
30 Thoughts
1. Guessing Marc Bergevin has already decided to sell, but may have to wait to do so. Some options aren't yet available as teams wait to see where they are, so interested clubs can sit back until they know who's really on the market and who isn't. For example, I can see Anaheim kicking the tires on someone like Dale Weise, but there's no rush for the Ducks to do it now.
2. Steve Yzerman's announcement Monday that Tampa would not be trading Steven Stamkos explains why the Lighting captain dodged questions about his future last week, because he knew this statement was coming. My guess is contract talks are off, too, as everyone concentrates on making the playoffs and chasing Stanley. I don't think it was a distraction for a long time, but, eventually became one. It probably affected Stamkos the most. This settles the situation. Just play.
3. Stamkos has ultimate control over the situation with his no-move clause. But, did the Lightning ever seriously explore trading him? There were a couple of teams rumoured to ask, but both denied it, offering up zero info. (Yzerman puts the fear of God into some people.) It's hard to believe no one inquired, because these guys wouldn't be doing their jobs if they didn't. The Tampa GM wasn't thrilled when his trade talks from the draft got out in September, and I do think he was careful, pointing out he still intends to sign the forward. Whatever the case, there's no indication Stamkos ever was asked — even gently, to gauge his interest.
4. Funny how two weeks changes things. Fourteen days ago, Jordan Eberle was part of the acquisition conversation. Not now. The Oilers pulled him off the market, as he developed into a dangerous finisher alongside Connor McDavid. As one coach said, "When you find two players who work well together, you keep them together." Edmonton wants to see how this progresses.
5. GM Peter Chiarelli would not confirm Eberle's recent availability, and similarly dodged two other rumblings sent his way. First was talk about Justin Schultz and Tampa Bay. The defenceman needs a fresh start, and it was rumoured the Oilers were scouting Anthony DeAngelo, the 19th overall pick in 2014. DeAngelo had a few recent healthy scratches at AHL Syracuse. The contracts do not match, so, if this was a possibility, the Albertans would have had to take back someone or some salary. The other — and I do believe it to be true — was interest in Florida's Brandon Pirri. Unfortunately, he suffered an ugly ankle injury last weekend and will be out a while. Pirri could be a very nice fit with Edmonton's forwards.
6. Prior to Yzerman's statement and the info on Eberle, I was working on a blog about Stamkos Trades That Might Make Sense But Will Never Happen. One of them had Eberle for Stamkos as the base of the deal. It would give the Lightning another quick forward as a replacement, someone with elite hands who's proven he can play with top-level talent. As for the Oilers, the pitch would be, "We'll guarantee your regular spot on the power play, but you need to play wing — next to McDavid." Another idea was Stamkos for Rick Nash. Nash's contract ends as Tampa needs cap space and the Lightning are looking for size.
7. Quote of the Week: "If Toronto acquires a right-hand shot defenceman who can make a good pass on the power play, go nuts," one coach said. Wonder what he's referring to?
8. Last season, after the Wild righted themselves from one of their typical swoons, GM Chuck Fletcher said in a telephone conversation that "he didn't believe in late-season coaching changes" and believed "Mike Yeo is and will be a great coach." Fletcher did not want to talk Monday, but as he sat in disbelief watching Minnesota's 4-2 loss to Boston last Saturday, you could see it on his face: he was going to do something he didn't want to do.
The reservation about a late-season switch is that, if you go out and get someone from outside the organization, how long is it going to take for everything to mesh? What if system changes don't work or relationships don't form? You haven't solved your problem. An in-season change means less time to go through a formal interview process, which increases the chances of a mistake. That's why he went with John Torchetti, who already knows the players. When Pittsburgh hired Mike Sullivan (also the team's AHL coach) in December, they signed him for two extra years after this one. Torchetti holds an interim title for now — and a 5-2 win in his first game.
9. According to several sources, Fletcher tried just about everything before firing Yeo. He worked the phones, but the three players asked about the most were Jonas Brodin, Charlie Coyle and Nino Niederreiter. The Wild did offer Brodin for Ryan Johansen, only to see Columbus opt for Seth Jones. That tells you what it would take to pry loose the defender. As for Coyle and Niederreiter, losing either would negatively effect an already smallish team without a similar-style return. Coyle was particularly sought after. Now with 16 goals, he's signed to a great-value contract, and is able to play centre or wing in your top nine.
In a cap world, that versatility is critical. Fletcher wasn't going there. Word is he held one-on-one meetings with most of his roster over the past couple of weeks in another attempt to get things going. Nothing worked. Remember: Fletcher hired Yeo after firing another first-time NHL coach, Todd Richards. He fought to make the hire when conventional wisdom pushed towards experience. That's how much the GM believed in him.
10. We'll see where Minnesota goes from here, but the fall out of the playoffs (four points back after Monday's games) seriously downgrades chances the Wild goes the rental route. No sense when there's no guarantee you make it.
11. There's a lot of talk about what this could mean for Fletcher, but you've got to think we're also looking at a "last stand" for this roster. At 41 games, Minnesota had 52 points, the highest halfway total in franchise history. Since then it's been a freefall, with one alarming quote after another. After the victory in Vancouver, Torchetti said he told his players to "enjoy your buddy for working hard tonight for you." That's very true to his persona. During his various coaching stops, he's demanded a deep bond between the group. If it doesn't happen? Well, let's just say Torchetti is "Boston blunt." He also has a good Xs-and-Os reputation.
12. There are things you say, expecting them to be news. They go nowhere. There are things you say, expecting them to be nothing. They land like a neutron bomb. That's pretty much what happened in the Toronto/Vancouver broadcast last weekend. Let's address Alex Burrows first, because I thought if something was to make headlines in Vancouver, it would be that. Burrows had a great line in denying the report he would be willing to waive his no-trade clause, telling reporters, "Obviously, I think Elliotte had the same game as we had — not a very good night — because there's no truth to that. I've never talked to management or coaches about it or to teammates." GM Jim Benning asked Burrows and agent Paul Corbeil after the game if it was true. Both said no. (It should be mentioned Burrows has a young family.) Later, he was specifically asked what would happen if the team came to him. "Then you've got to talk to my agent and I've got to talk to my wife because we love it here." That's a different answer.
My error here was using the word "willing" instead of "consider." He continued, "I've always wanted to stay here, even if the team is in a rebuild mode because I want to be a part of it. When I signed my contract, I wanted to be here forever and that hasn't changed." No doubt Burrows loves it, and his legacy is important to him, as it should be. But, he's got to see what's happened to Chris Higgins and Brandon Prust. He played 10:32 Monday night. It makes sense in theory, because his cap hit is $4.5M, but his salary in 2016-17 is $3M. It would also make sense for them to look at a defenceman another team might want to drop, since they look thin for that position next season. Thirty-six hours later, my sense is the Canucks have quietly explored the possibility and don't see it happening. They offered to keep a percentage of Higgins' and/or Prust's salary, too. The other thing to remember here is Vancouver already retained salary on Roberto Luongo. That stays in effect until 2022, and you're only allowed three at a time.
13. Dan Hamhuis's decision will be interesting. Personally, you can see him saying no. Big-time family man. Professionally, does he ask himself, "Is my next contract better if I go elsewhere?"
14. As for ownership, we're seeing situations (Arizona, Carolina and New Jersey) where rebuilding teams find themselves in surprising playoff contention. It's similar to Vancouver in the sense that their management is looking at it like, "Are we really this good? Shouldn't we acquire more youthful assets?" while also thinking, "This really drives up interest. We can sell more seats, our fans are surprised and excited. If we give up, we're going to lose that momentum and people are going to question if we want to win. Plus, it sends an awful message to our young players." So, you're stuck until the deadline, at least.
After that loss to Toronto, I thought it was time for the Canucks to give up on this year's attempt. That went over well. Clearly, everyone is extremely sensitive to the charge of ownership interference — the Aquilini family, the hockey operations department and the fans. Look, the Canucks have an empty seat problem. They don't win, people don't go. It happened with the Griffiths family and John McCaw. We've all wondered how Mike Gillis was instructed to solve the Luongo/Cory Schneider conundrum. But, I suspect Benning will be allowed to do as he desires. Aquilini wishes to change that reputation and this firestorm makes him more determined to let it happen. We're seeing turnover on the roster. Check out AHL Utica's payroll. The interesting one will be what happens with the cap room.
15. There's been speculation Benning leaked an "Aquilini interference narrative" to me. For the record, that's not true.
16. The Dustin Byfuglien signing is a huge win for Winnipeg. There's such stigma attached to the Jets ability to keep players. Byfuglien is such a presence and could have written his own ticket, so this singlehandedly changes the negativity. Term can kill you more than salary, and the organization made the proper tradeoff. The $7.6M AAV is higher than they projected, so there will be ripple effects on the roster. The first is a final decision on Andrew Ladd. Again, this is one where the talks are quiet, but GM Kevin Cheveldayoff did have some kind of conversation with agent JP Barry not long after the Byfuglien extension was announced. My sense is Cheveldayoff told Barry the team needed some time to figure out exactly what that new AAV meant for Ladd, while the captain re-iterated he wants to stay. What I don't know is if Winnipeg's six-year, $36M offer is still on the table. Not sure it can be, financially.
17. One source on the assumption the Jets can't keep three-righthanded defencemen in Byfuglien, Tyler Myers and Jacob Trouba: "Don't assume anything. Winnipeg's been using Trouba on the left side." Very fair point. One GM was confused by last week's notes, pointing out how I was questioning the possibility of Hamonic/Trouba months after mentioning the Islanders asked about it. He reminded that Kyle Turris, another Kurt Overhardt client, signed a reasonable contract in Ottawa after getting traded from Arizona. "If a player is somewhere he wants to be, things get done," he said. "Whether it's Winnipeg or the Islanders, if that's his destination."
18. Other negotiations to watch: Kris Russell and Calgary, on now I think. Probably the last attempt to see if there's a match. Mikkel Boedker in Arizona. Hits the market at 26. This one is not easy for the Coyotes. Very impressive season for the organization after a brutal year that stressed everyone in it. Sounds like a starting ask in the $6M range from a homegrown talent who is second on the team in scoring. Meanwhile, very hard to pinpoint where things stand between Boston and Loui Eriksson. Doesn't sound like there've been a ton of talks to this point. But, if you're the Bruins, you're probably thinking Brad Marchand's ask starts with a 7. Can you fit both?
19. Since the Maple Leafs pumped up Dion Phaneuf before trading him, the conspiracy theories are out in full force that Nazem Kadri could be next. Both GM Lou Lamoriello and coach Mike Babcock have waxed poetic on the young centre at different times. The sense I get is that Toronto will not rush with Kadri or James van Riemsdyk, another player with legit value and a good contract. They have time with these players. Kadri is under team control until July 2018, while van Riemsdyk has two years remaining on his deal. There's definitely been interest in him.
20. Phaneuf's situation was different, as Toronto was willing to accept short term salary pain for long-term gain. The Senators, very active in trade discussions, wanted to move quickly. The defenceman said this one caught him by surprise, since the Maple Leafs did not need permission to deal him to Ottawa. He did admit that, last season, he worked with the organization on a potential trade. (I assume that's the Red Wings, although there were also lengthy talks with Los Angeles.)
The team's dressing room in Detroit was a hilarious place as the media rushed in to speak to Phaneuf after his first skate. I can't remember who it was, but someone pointed at Shane Prince and said, "He scored last game!" as reporters ignored everyone else. Others timed the length of the scrum. Craig Anderson looked at it in disbelief: "It's been 12 minutes already." It's disappointing for the Senators to get no "bounce" from the trade. The Detroit players talked about how a move like that energizes you, but Ottawa is 0-3 since it happened.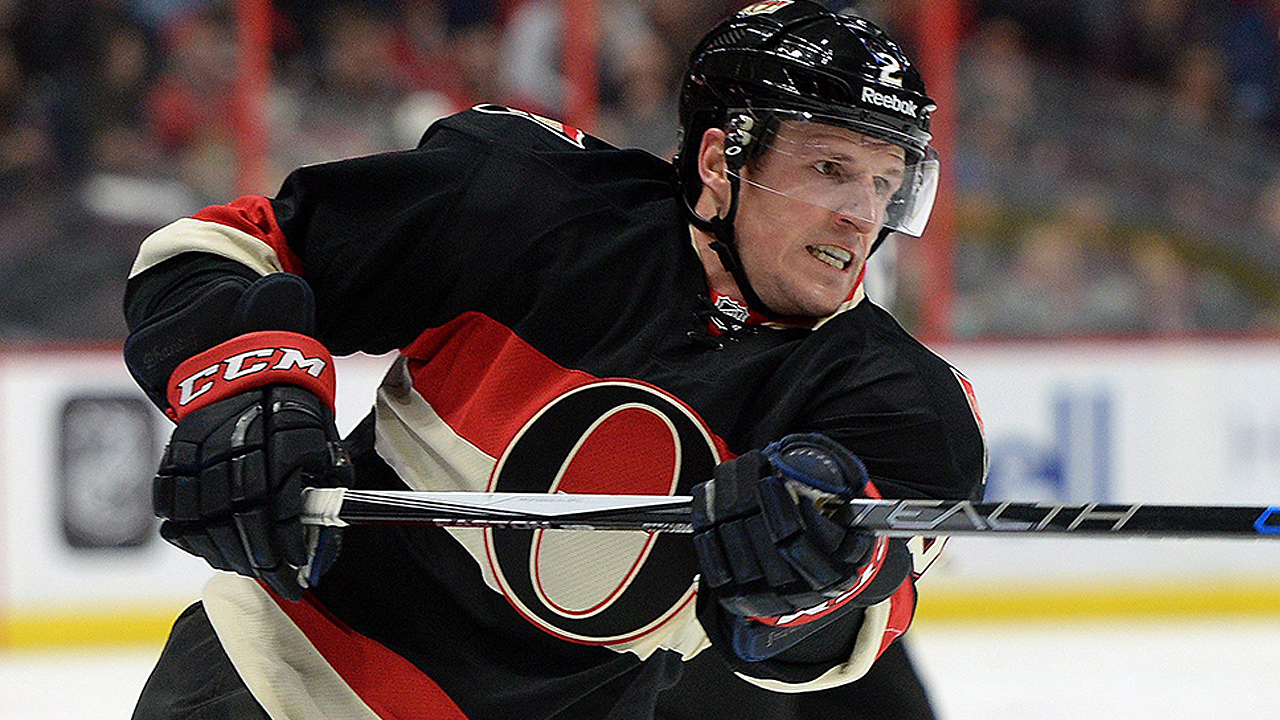 21. Don't know how the snowstorm affects things, but there's a meeting scheduled this week between Senators owner Eugene Melnyk and GM Bryan Murray. (It has not happened at the time this blog is published.) They'll go over how Murray feels and a road map for the organizational structure. Murray was his feisty best discussing the Phaneuf trade, which was great to see.
22. It's not about words for Evander Kane. He's not a kid anymore. People think he doesn't care how people perceive him, but he does. Last year, Kane tweeted the link to an article about him from Sportsnet Magazine's Kristina Rutherford. Earlier this season, he thanked The Buffalo News' Amy Moritz for using his full quotes in a feature, not ones that were cut up or edited. During an interview, I asked him about that. "If that was the persona I had where I didn't care how I was looked at or what light I was put in, that was false, because I do care about my image," he replied. "I care about my family's image and my team's image and the organization that I represent. Those are all things that are real important to me." Time to prove it.
23. The Sabres suspended Kane for Tuesday's game in Ottawa, but there are limits to what a team can do. If Buffalo was to extend the punishment, eventually the NHLPA would interject with a grievance. One CBA expert said it would be interesting to see if the team warned him with some kind of letter prior to this. That might give the Sabres more leeway. However, a club can send a player home for as long as it wishes — with pay. Kane sleeps in the day after the NBA All-Star Game. Lance Bouma, Johnny Gaudreau and Sean Monahan are benched for tardiness the day after the Super Bowl. Darryl Sutter had the Kings practice at 8:30 am that morning. It's the second time he's done it this season, both in advance of a lengthy flight, but you have to wonder if this catches on.
24. You're always looking for tidbits that give you an indication of how teams rate their own players. In explaining why Tomas Tatar stayed with Larkin, while Gustav Nyqvist moved down, coach Jeff Blashill explained Tatar had the best scoring chance plus-minus on the team. And, the Red Wings further break it down by the quality of the chance gained or allowed. "Grade A" is a top-level opportunity.
25. Dylan Larkin's phone exploded with text messages when he set the fastest-skater record at All-Star, although the one he liked best came from a fellow speed demon, teammate Darren Helm. "He wished me congratulations, but said I still couldn't beat him," Larkin laughed. "Maybe in a straight line he could win, but around the turns is where I'd get him." What he enjoyed best about his All-Star experience? "I was proud (Detroit's) veterans said I represented the organization so well."
26. Red Wings GM Ken Holland on Larkin and Petr Mrazek: "I hate the word transition, but they've given us two building blocks as we go through it. Pavel (Datsyuk) is 37, Henrik (Zetterberg) is 35, Niklas Kronwall is 35. They are going to be the faces of our franchise when it is time." For all of the credit Mrazek receives, teammates say a major asset is how well he plays the puck. "We spend much less time in our zone," one said. As for Larkin, one advantage Detroit had in scouting him was he played in the Wings' backyard. On the elite teams, he didn't always get power play time behind the Jack Eichels of the world. "We could certainly see his passion," Holland said. "But we didn't see this." The GM would not discuss it, but rumour is if Larkin was gone, David Pastrnak would've been the pick.
27. This week's 2016-17 outdoor game update: John Shannon reported Edmonton at Winnipeg in October. We're expecting the Winter Classic in St. Louis on Jan. 2, with Chicago as the opponent. So, that leaves Jan. 1 to Toronto, as has been mentioned. I originally thought it would be against the Rangers, but now I'm going with Detroit. As Regis Philbin would ask, that's my final answer. Hope I didn't need a lifeline. By the way, Toronto fans are not happy Montreal got everything for its 100th anniversary while Los Angeles got All-Star and the draft went to Chicago for theirs. At the NBA All-Star Game, I ran that by a Maple Leaf Sports and Entertainment exec who said, "When everything is announced, it will all make sense." If you're not satisfied then, please send your complaints to anonymoussource@mlse.com.
28. The NHL and NBA are such different leagues, racially and philosophically, it's almost ridiculous to compare them. But, if there was one thing I'd like the hockey players to take from their basketball counterparts, it's the love for All-Star Weekend. They want to be there. Commissioner Gary Bettman, asked in Nashville about increased punishment for skipping the festivities, dodged that and said even if NHLers don't play, he'd want them to simply come and be part of the weekend. The basketballers do a tremendous job of that. In the past, hockey players complained things were too regimented, wanting more down time to be themselves. The league moved to address that. For the first time in a long time, the NHL All-Star Game itself was better than the NBA's. To fully grow the event, everyone must want to be there.
29. NHL.com is taking a beating, but I'm happy the shift charts are back. Now, let's see them sortable in-game.
30. I've always admired passion; don't think you can be great without it. Two years ago, at a sports dinner in Ottawa, Stuntman Stu Schwartz got up on the stage to run the live auction and absolutely owned the crowd. You could tell he loved doing it, and the audience ate from the palm of his hand. Schwartz throws himself into everything he does, whether as a morning radio man or the public address announcer at Senators games. No doubt he will use that same vigour in his battle against leukemia. All the best, Stu.