With the first round of the NHL Entry Draft set to go Friday, June 26 in Sunrise, Florida, Sportsnet's Gare Joyce takes a look at the first round through a mock draft.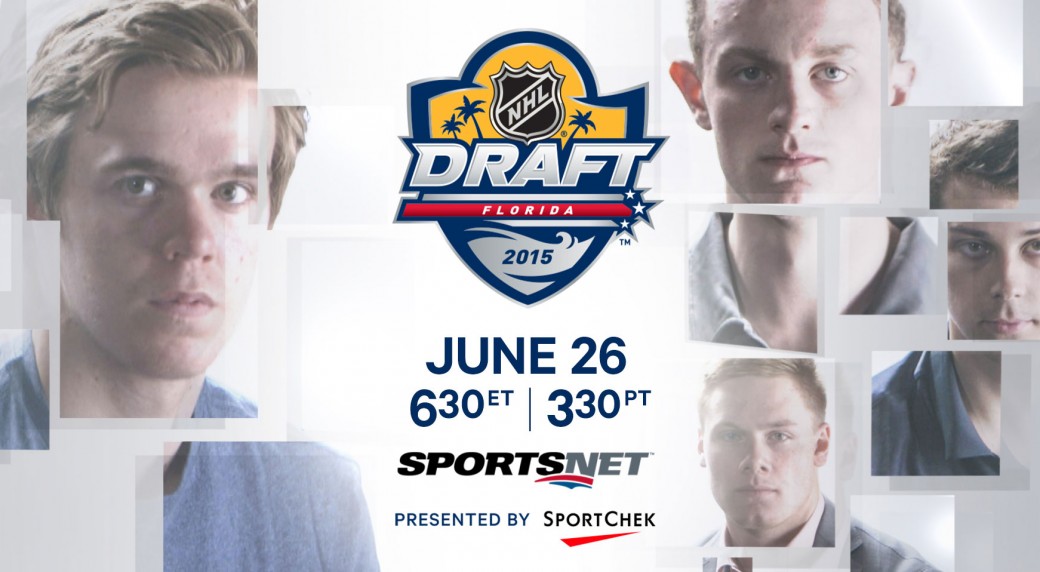 ---
1. Edmonton Oilers: Connor McDavid, C, Erie
Some things are self-evident.
---
2. Buffalo Sabres: Jack Eichel, C, Boston University
Some other things are self-evident.
---
---


Download it FREE now: iOS | Android | Windows
---
3. Arizona Coyotes: Mitch Marner, C, London Knights
The most skilled player outside the two franchise players. Magical hands, vision and hockey sense.
---
4. Toronto Maple Leafs: Ivan Provorov, D, Brandon Wheat Kings
Rival scouts are thinking the Leafs are leaning to Provorov over Noah Hanifin. It would be a gamble to trade down in the top 10 and hope to land Provorov there (unless they also like Zach Werenski).
---
5. Carolina Hurricanes: Noah Hanifin, D, Boston College
Think Rob Blake. Some scouts aren't crazy about his read of play.
---
6. New Jersey Devils: Dylan Strome, C, Erie Otters
Mat Barzal would be of interest to the Devils, but might not have expected Strome to still be available. Some scouts think Strome's skating limits him to second-line upside.
---
7. Philadelphia Flyers: Mikko Rantanen, RW, Turku
A prototypical power forward. Comparisons to Joel Armia are not operative. Rantanen has a better motor.
---
8. Columbus Blue Jackets: Zach Werenski, D, University of Michigan
After losing the rights to sign Mike Reilly, Jackets' pipeline lacks a defenceman with power play up side.
---
9. San Jose Sharks: Mat Barzal, C, Seattle Thunderbirds
Stock soared late in the season. Played out on the perimeter more than some scouts liked, but skating and puck skills give him first-line upside. Best player available.
---
10. Colorado Avalanche: Lawson Crouse, LW, Kingston Frontenacs
Regarded as a top five earlier in the season, some scouts question his ability to generate and finish chances. Size makes him a good fit in Colorado
---
11. Florida Panthers: Kyle Connor, LW, Youngstown Phantoms
Have to think the Panthers will have this pick in play. Connor is a useful, second-line-upside forward and best player available, but overlaps with talent the Panthers have on hand.
---
12. Dallas Stars: Pavel Zacha, C, Sarnia Sting
Questions about his ability to finish or dish in the way that you'd like from a first-line forward. Big body means he can make third-line as an entry position for league.
---
13. Los Angeles Kings: Travis Konecny, RW, Ottawa 67's
Two inches taller and 20 pounds heavier he's in the top 10. But you can say that about a lot of guys.
---
14. Boston Bruins: Colin White, C, USNTDP
USDT players always get seen and some teams put a premium on kids out of the Ann Arbor program because of emphasis on 200-foot game. This might be overdrafting White — a lot of teams would have him closer to 30. Fourteen might be where the perceived drop is in this draft pool.
---
15. Calgary Flames: Jansen Harkins, C, Prince George Cougars
Playmaker rather than finisher, Flames would wish that Connor, Konecny or White fell here.
---
16. Edmonton Oilers: Gabriel Carlsson, D, Linkoping
Oilers might look at Ilya Samsonov or Mackenzie Blackwood here but might also look to acquire an already drafted goaltender. Carlsson is second-pair upside simply because of lack of PP skill, but seems a safe play when shutdown blueliner is a need.
---
17. Winnipeg Jets: Oliver Kylington, D, Farjestads
Precipitous fall from start of season, getting him at 17 ranks as a bargain. Will be a nice fit with Josh Morrissey down the line.
---
18. Ottawa Senators: Dennis Yan, LW, Shawinigan Cataractes
Figure they'll go with speed up front and he's conspicuously gifted.
---
19. Detroit Red Wings: Evgeny Svechnikov, RW, Cape Breton Screaming Eagles
Fits the profile of skilled players who are coveted by the Wings and thrive in their organization.
---
20. Minnesota Wild: Paul Bittner, LW, Portland Winterhawks
Not his birthplace that matters, but size. Minnesota needs more thump up front.
---
21. Buffalo Sabres: Ilya Samsonov, G, Magnitogorsk
Best goaltender in the pool. Worries about ability to sign and KHL allayed with Igor Larionov stepping in as agent.
---
22. Washington Capitals: Jakub Zboril, D, Saint John Sea Dogs
Need for some offensive juice from the blueline if Mike Green departs — or in two years even if he stays. Joel Ericksson-Ek a consideration.
---
23. Vancouver Canucks: Brock Boeser, RW, Waterloo Black Hawks
They would have liked to see Bittner here.
---
24. Toronto Maple Leafs: Nick Merkley, RW, Kelowna Rockets
Cast him as Leafs' Brendan Gallagher or a donor for a heart transplant.
---
25. Winnipeg Jets: Daniel Sprong, RW, Charlottetown Islanders
Top 10 skill but a lot of teams think he needs an attitude adjustment.
---
26. Montreal Canadiens: Thomas Chabot, D, Saint John Sea Dogs
Canadiens would have loved to see Nicholas Roy play his way into consideration but he didn't. Some aging on blueline and with only Jarred Tinordi in the wings.
---
27. Anaheim Ducks: Timo Meier, LW, Halifax Mooseheads
Gets results but some teams wonder if he's already bumping his head on his ceiling.
---
28. Tampa Bay Lightning: Jordan Greenway, LW, USNTDP
Lightning under Steve Yzerman have taken big swings in their drafts and Greenway is the highest risk, highest reward player. Some scouts wouldn't like him in the third round. One of five best pure athletes in the draft. With size and occasionally flashed skill, first-line upside. But with effort and judgment very spotty.
---
29. Philadelphia Flyers: Filip Chlapik, C, Charlottetown Islanders
Recent drafts have been focused on the blueline. Some scouts don't like his skating and think he lacks a fourth gear or even a third. Goalie Mackenzie Blackwood a shot here.
---
30. Arizona Coyotes: Mackenzie Blackwood, G, Barrie Colts
Can't hope to select him later than this. Big fall-off after the top two netminders.