TORONTO — It may be July 6, but it won't be long before the Maple Leafs are looking ahead to the trade deadline.
Should the coming season be as "painful" as coach Mike Babcock and others inside the organization expect, few teams will have as many assets to sell off during the annual trading derby. The Leafs added another potentially valuable one on Monday by signing free agent forward Shawn Matthias to a one-year, $2.3-million contract.
The move was consistent with others that came before it already this summer: Matthias is a player with positive underlying numbers and was added on an affordable short-term deal.
This is officially the summer of moneypuck in Toronto.
Matthias could be the best of the players the team has signed in free agency. He's coming off a career-best campaign of 18 goals — 17 at even strength — and managed that output despite playing a little more than 13 minutes per game for the Vancouver Canucks and shooting at a sustainable percentage.
The 27-year-old from Mississauga, Ont., can play both centre and the wing and should find more opportunity with his hometown team.
With the Leafs in the midst of a rebuild, a clear strategy has emerged: Stockpile useful players on cap-friendly deals that can be parlayed into more assets down the road. As an added bonus, the recent signings of Matthias, P-A Parenteau, Daniel Winnik, Matt Hunwick and Mark Arcobello should allow the Leafs to keep younger prospects in the American Hockey League for further development.
It must be noted that these are reciprocal relationships. Two weeks ago, assistant general manager Kyle Dubas told Sportsnet that the team would sell free agents on the positives of playing for a big-market team.
"You can go back to the last couple years and see guys that have come in on one-(year) or short-term deals and parlayed that into a lot of visibility, a lot of good coverage and now they'll cash in here in July," said Dubas. "So we'll be looking to do that. I think especially now with having Mike (Babcock) as our coach that how those types of players are viewed by the other teams will only improve."
Winnik, for example, played for the Leafs last season and was dealt to Pittsburgh at the trade deadline. He returned to Toronto on $4.5-million, two-year contract last week.
The Leafs have been bargain shopping with Parenteau ($1.5-million, one year), Arcobello ($1.1-million, one-year) and Hunwick ($2.4-million, two years) all signing on July 1. The team also added winger Nick Spaling — owed $2.2-million in the final year of his contract — as part of the Phil Kessel trade.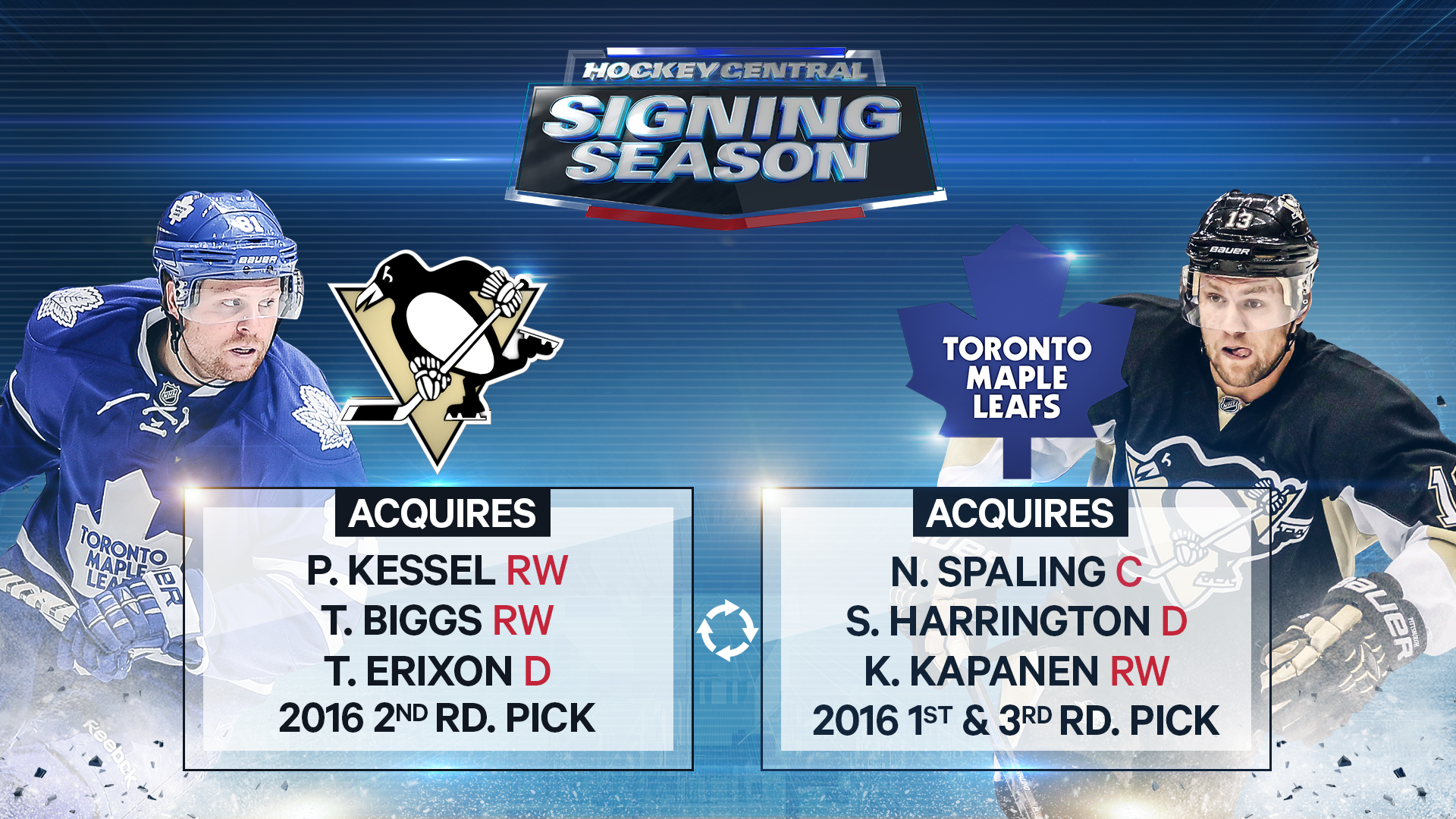 Assuming the Leafs are well out of playoff position by late February, each of them will be available on the trade market.
While that might seem like a cynical view of roster construction — traditionally, the story behind Monday's signing would be all about Matthias returning home to play — it's a savvy way to do business in the NHL's salary cap era.
Ultimately, Toronto's front office has recognized the long-term need to build from within and the only way to do that is to draft well and develop. The organization already holds 10 picks in next year's draft and is extremely well-positioned to add more in the months ahead.
So while Matthias is a player that can make a positive impact on the Leafs immediately, his was a signing made with the bigger picture in mind.