MONTREAL — Nine Canadian men enter the 2017 Rogers Cup with the opportunity to accomplish what none of their countrymen have been able to before: win a championship on home soil since the open era of men's tennis began in 1968.
Four of them — Frank Dancevic, Filip Peliwo, Philip Bester and Benjamin Sigouin — must qualify this coming weekend in order to join Milos Raonic, Vasek Pospisil, Denis Shapovalov, Peter Polansky and Brayden Schnur in the main draw before getting their crack at earning the distinction.
Raonic came painfully close to making magic happen in 2013 in front of the crowd in Montreal. He had fought his way through France's Jeremy Chardy in three sets before disposing of Russia's Mikhail Youzhny and Argentina's Juan Martin del Potro in Rounds 2 and 3 with ease. He then took out Latvia's Ernests Gulbis in three sets before facing and defeating Pospisil in a thrilling match that catapulted him into the final. A 6-2, 6-2 loss to Spain's Rafael Nadal ended his bid.
But Raonic has been chasing the Canadian title ever since and remains the country's best hope at this year's event.
Without further ado, here's a look at his profile — and those of his Canadian competitors — ahead of the tournament, which is scheduled to begin Monday, Aug. 7.
Milos Raonic
Age: 26
Thornhill, Ont.
World Rank: 10
Record in 2017: 26-9
The six-foot-five righty has risen to prominence on the strength of his booming serve and a hammer of a forehand. He is already the most successful Canadian singles player in history — ranking as high as No. 3 in the world in 2016 — and he is the first player in the country's history to have made it to the quarter-finals in three of the four Grand Slam events and the first to have made the final at Wimbledon.
Hard court specialist: All eight of Raonic's ATP singles titles have come on hard courts.
Rogers Cup highlights: Making the final in 2013, a run to the semifinal in 2016.
Rogers Cup outlook: Raonic enters the tournament as the sixth seed and has a bye in Round 1.
Vasek Pospisil
Age: 27
Vernon, B.C.
World Rank: 72
Record in 2017: 8-7

Canada's second-best player once ranked as high as 25th in the world. He's a six-foot-four right-hander with a solid all-around game and a mean two-handed backhand.
A champion at doubles: Though Pospisil has never won a singles title on the ATP tour, he's a six-time doubles champion. The pinnacle of his career came at Wimbledon, in 2014, when he and American partner Jack Sock won the championship.
Rogers Cup highlights: He entered the 2013 Rogers Cup as a wild card and fought his way to an all-Canadian semifinal match up with Raonic, losing 4-6, 6-1, 6-7.
Rogers Cup outlook: This will be Pospisil's seventh appearance in the main draw at this tournament. He is not among the tournament's top 16 seeds.
Denis Shapovalov
Age: 18
Richmond Hill, Ont.
World Rank: 134
Record in 2017: 1-5

Shapovalov is a rising star who had a remarkable junior career. The six-foot lefty, who was born in Tel Aviv, Israel, captured the junior Wimbledon title in 2016. He's won three of 10 matches since turning pro last year.
It's in the blood: Shapovalov's parents run a tennis academy in Vaughan, Ont., and his mother Tessa is listed as one of his coaches.
Rogers Cup highlights: Beating Australia's Nick Kyrgios 7-6, 3-6, 6-3 in Round 1 of last year's tournament.
Rogers Cup outlook: Shapovalov enters the tournament for a second consecutive season as a wild card.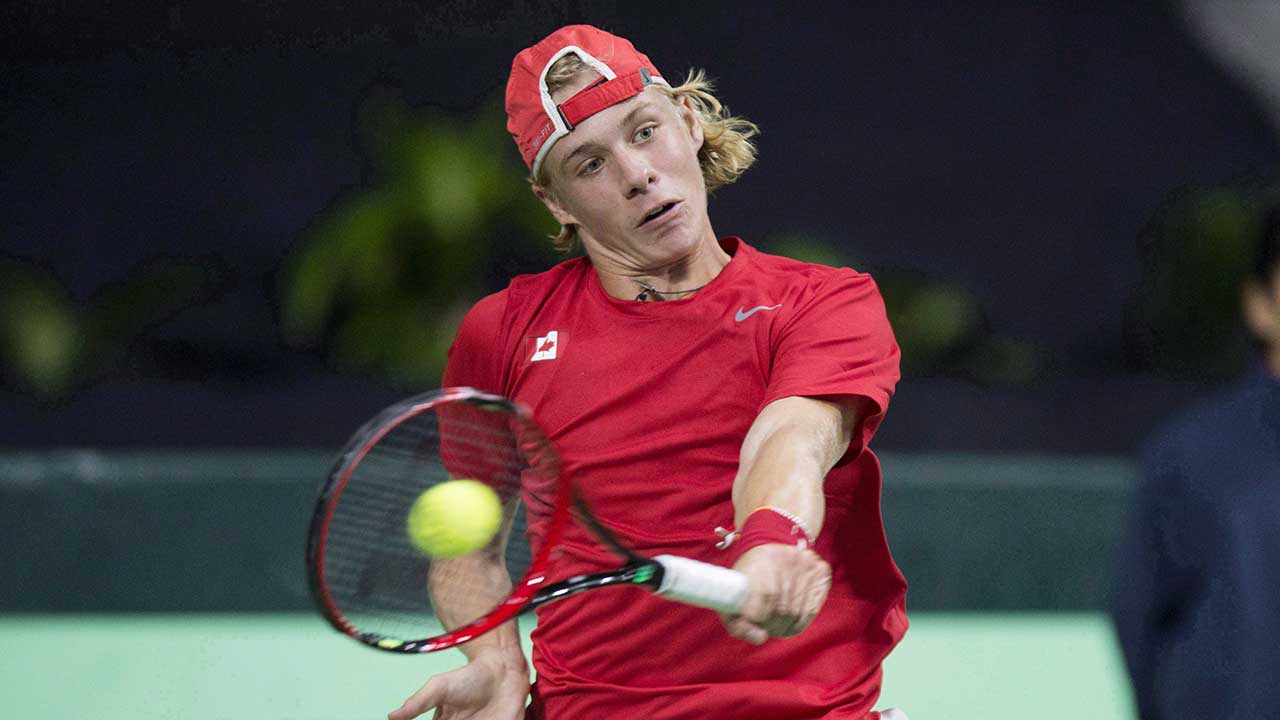 Peter Polansky
Age: 29
North York, Ont.
World Rank: 115
Record in 2017: 0-2
The six-foot right-hander has never held a higher ranking than the one he currently holds. He's coming off three straight losses in the finals at Challenger Tour events, and has yet to win a match on the ATP Tour this season.
A survivor: Polansky had a life-threatening accident 11 years ago, sleepwalking before falling off a third-storey hotel balcony at a Davis Cup event in Mexico City. He recovered and returned to tennis just four months later.
Rogers Cup highlights: Polansky has made it to the second round of the Rogers Cup on four occasions.
Rogers Cup outlook: This will be Polansky's 10th appearance in the main draw. He enters as a wild card.
Brayden Schnur
Age: 22
Toronto
World Rank: 194
Record in 2017: 0-0

The six-foot-four Toronto native is in his second season as a pro, having competed at the University of North Carolina from 2014-16. He's only played in one match on the ATP Tour and is 14-16 on the Challenger Tour.
A four-time Futures champ: He first won a Futures tournament in Calgary in 2013, and has since won three more, in Calgary, in Tallahassee, Fla., and in Little Rock, Ark.
Rogers Cup history: Failed to qualify in 2016.
Rogers Cup outlook: Enters the main draw for the first time as a wild card.
Dream come true. Thank you @TennisCanada and @CoupeRogers for the WC. Stoked to play in Montreal! #CoupeRogers pic.twitter.com/Z7cnUiO8Oh

— Brayden Schnur (@BraydenSchnur) August 1, 2017
Potential Canadian qualifiers:
Frank Dancevic (Niagara Falls, Ont., World Rank 357), Filip Peliwo (Vancouver, World Rank 267), Philip Bester (Vancouver, World Rank 511), Benjamin Sigouin (Vancouver, World Rank 921).