Miami Heat (54-28, Second Seed)
Points For: 102.2 (League Rank: 12)
Points Against: 97.4 (5)
Starting Five: Mario Chalmers, Dwyane Wade, LeBron James, Chris Bosh, Udonis Haslem
Leaders:
Points: James 27.1 (3)
Rebounds: James 6.9 (T-40)
Assists: James 6.4 (14)
PER: James 29.3 (2)
Playoff Experience on the Roster: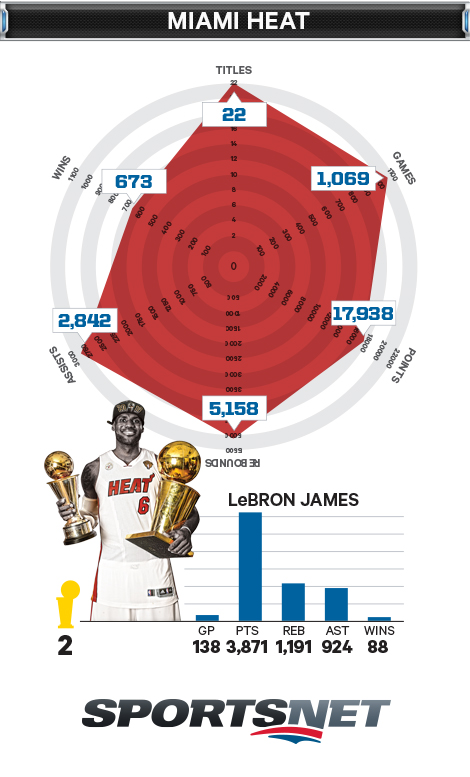 Key Reserve: Ray Allen. He makes threes and, maybe more importantly, he scares the hell out of teams. After averaging just 7.0 and 7.9 points per game in January and February, respectively, Allen has shot and scored better since the all-star break. In his month-to-month season splits you can practically see him getting his head right for the playoffs. (By the by, how Ray Allen is it that he played exactly 26.5 minutes per game before and after the all-star break?)
X-Factor: Health. Using last year's playoffs as a guide, the Heat need Wade playing at close to full capacity to beat their toughest competition. But his knees and hamstring have kept him out of a lot of games this year. In all, Wade's played in only four of the Heat's past 15, though one of them was the final game of the season against the 76ers in which he scored 16 in 23 minutes.
Breakout Candidate: Depending on matchups (and, again, health), both Greg Oden and Michael Beasley could have a coming-out moment, proving once and for all that they are the players we thought they were coming out of college. Both are free agents at the end of the season. If either gets a shot and doesn't make the most of it, this might be the end.
Charlotte Bobcats (43-39, Seventh Seed)
Points For: 96.9 (23)
Points Against: 97.1 (4)
Starting Five: Kemba Walker, Gerald Henderson, Michael Kidd-Gilchrist, Josh McRoberts, Al Jefferson
Leaders:
Points: Jefferson 21.8 (11)
Rebounds: Jefferson 10.8 (8)
Assists: Walker 6.1 (T-18)
PER: Jefferson 22.6 (12)
Playoff Experience on the Roster: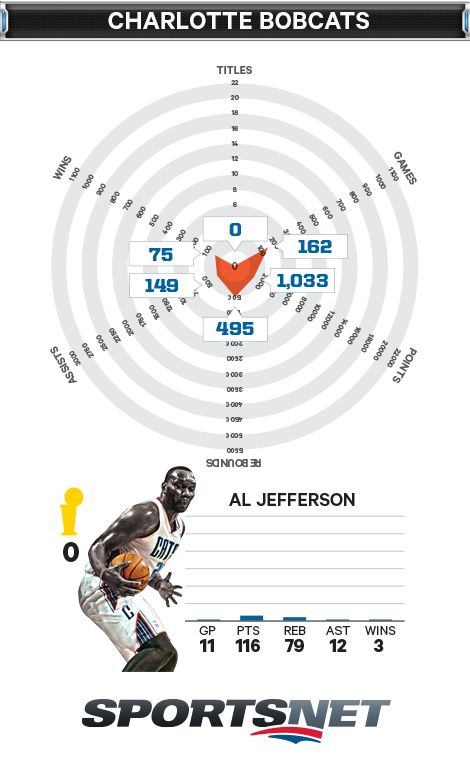 Key Reserve: Gary Neal. This time last year Neal was gearing up for a long playoff run with the Spurs. Along with fellow breakout backcourt mate Danny Green, he hit several big threes (two per game in the Finals versus the Heat) and showed no fear whatsoever on the biggest stage in basketball. These Bobcats will need to mine that confidence for all it's worth.
X-Factor: Post play. If there's one thing Miami's proven vulnerable to in recent years it's big games from opposing big men. Jefferson is a beast (24.5 points per game to go along with 14.3 boards per game down the stretch in April) and McRoberts is a smart and savvy player with great passing ability (4.3 assists per for the season).
Breakout Candidate: Walker. The main thing preventing him from garnering more accolades and having a greater effect on his team's win-loss record is a shaky field-goal percentage (39.3), which is partly due to late-clock heaves in an often-stagnant offence. But we've seen him go on runs in big moments in the past, and he could be on tap for some big games under the bright lights.
Marquee Matchup 1: Bosh vs. Jefferson
Jefferson lives in the paint and made 157 shots in the 5–9 ft. area—nearly 40 more than the next most prolific in that zone. Which all goes to say, when he's on offence, he's going to beat Bosh to a pulp. But Jefferson is far from the fleetest defender, and Bosh is going to give him fits on the other end, dragging him away from the rim with the threat of his jump shot.
Marquee Matchup 2: James vs. Kidd-Gilchrist
In early March, James scored 61 on the Bobcats with Kidd-Gilchrist as his primary defender. All in all, he averaged 37.8 points in four contests versus the team this season. This matchup will get really good when Kidd-Gilchrist stops playing D mid-play and screams into the rafters at the basketball gods: "WHHHHYYYYY?!"
Season Series: 4–0 Heat
Prediction:
Charlotte's looked pretty good lately. Jefferson is a bonafide stud. Kidd-Gilchrist hasn't had 60 points hung on him in more than a month. Ah, who are we kidding? The Bobcats will steal one (probably their first at home) as Miami rounds into playoff shape. Heat in five.
First-round playoff previews: Pacers (1) vs. Hawks (8) | Heat (2) vs. Bobcats (7) | Raptors (3) vs. Nets (6) | Bulls (4) vs. Wizards (5) | Spurs (1) vs. Mavericks (8) | Thunder (2) vs. Grizzlies (7) | Clippers (3) vs. Warriors (6) | Rockets (4) vs. Trail Blazers (5) |